9 Best Iron Filters For Well Water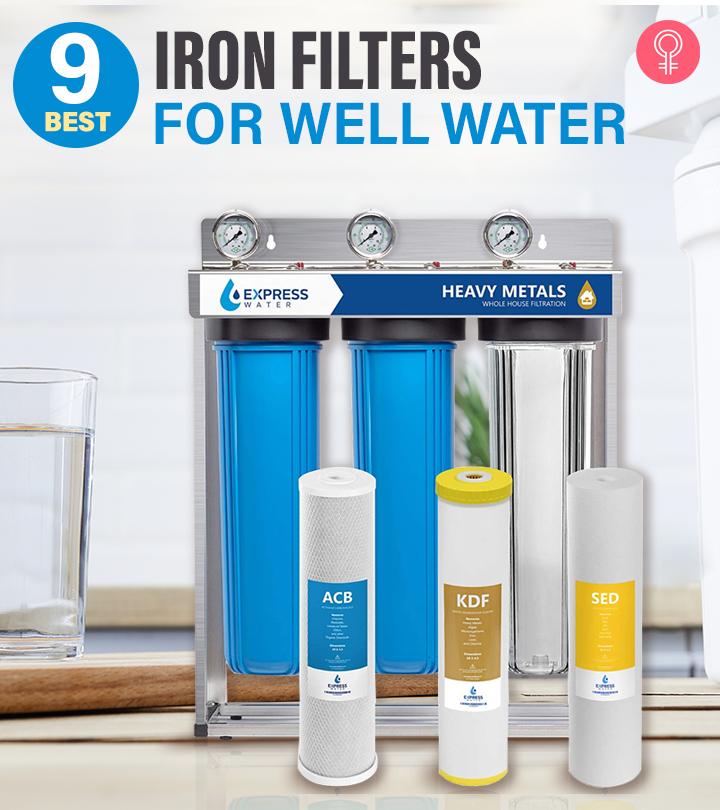 Iron water filters can be termed a refinement tool that can be used to remove excess iron (along with other trace metals and chemicals) present in the well water you use for drinking, cooking, and other purposes. Most iron filters operate on the general principle of oxidation, where the iron is oxidized to convert it from the ferrous to the ferric state. Once the conversion is done, the iron is precipitated on a filter bed. This results in clean, iron-free water.
Here we have listed the 9 best iron filters for well water that you can find online. Keep reading.
9 Best Iron Filters For Well Water
The AFWFilters Iron Filter is made from plastic. It is an air injection tool that helps extract sulfur, manganese, and iron from well water. The extraction is done automatically. The device is easy to install and comes with the relevant instructions. You also get a free water bottle from the manufacturer that you can use for drinking purposes. This iron filter system is perfect for use in an average-sized home.
Features
Filter Size – 1 Cubic Foot
Water Pressure Delivered – 20-90 PSI
Filtration Capacity – 10 Gallons Per Minute (Peak)
Tank Width – 12″ x 52″
Warranty – 10 years on tank, 5 years on valve
Pros
Easy to set up
Affordable
WQA-Certified
No use of chemicals
Automatic operation
Cons
With the help of the iSpringFiltration System, you will be able to protect your home appliances and family from the harmful effects of metals and water contaminants. The installation process is easy and can be carried out in a DIY fashion with minimal maintenance procedures later on. The overall build quality of the filter is top-notch, as the device has been made from high-quality coconut shell-based carbon materials. You can expect the maximum amount of filtration efficiency as well as enjoy extended filter life. Furthermore, the well water iron filter can filter with 100,000 gallons of water before needing a replacement.
Features
Filter Size – 4.5″ x 20″
Water Pressure Delivered – 80 PSI
Filtration Capacity – 15 Gallons Per Minute (Peak)
Tank Width – 16" x 8" x 27"
Warranty – 1 year
Pros
Lifetime tech support
Premium quality
Low working pressure
Good construction
Effortless to use
High efficiency
Cons
The Pelican Water Systems Iron Filter can remove up to 10 ppm of iron. The iron removal filter carries out four distinct water treatment processes, including filtration of the water source, before finally outputting the filtered water. These four stages are pre-filter, chlorination, iron removal, and carbon filtration. Filter installation is easy since the system comes in complete shape. The pump used in the filter is non-electric and is safe to be used along with the septic system.
Features
Filter Size – 5 microns
Water Pressure Delivered – 25-80 PSI
Filtration Capacity – 15 Gallons Per Minute (Peak)
Tank Width – 23.5" x 38" x 62.5"
Warranty – 7 years on the microprocessor, lifetime on tank and parts
Pros
Efficient
Non-electric
Less maintenance
A microprocessor for added efficiency
Cons
No addition of extra, oversized filters
The Express Water Iron Filter can help filter out contaminants such as iron or chlorine and other trace metals like lead, dirt, mercury, viruses, sand, and so on. Once you install the device in your household, you can expect to obtain clean water from any water faucet. The iron filter is easy to use and can quickly produce the safest consumable water for home-usage. You will be able to monitor your system and thereby replace your filters whenever necessary. Furthermore, maintenance is easy and quick, and you also get a one year warranty from the manufacturer.
Features
Filter Size – 4.5" x 20"
Water Pressure Delivered – 45-80 PSI
Filtration Capacity – 15 Gallons Per Minute (Peak)
Tank Width – 23.5" x 8.5" x 29.25"
Warranty – 1 year
Pros
Excellent construction
Durable
Fast filtration
Saves time
Easy to install
Convenient to use
Cons
Loss of water pressure during operation
The DuraWater Iron Filter is an all-in-one package. It not only filters out impurities but also softens hard water. The device has a 48,000 grain capacity. It has elegant mesh protection that helps remove iron in the best possible manner while also extending the overall shelf life of the device. The valve in the system is highly efficient and very easy to use. The iron removal capacity of the filter ranges between 6-8 PPM, while that of manganese is up to 6 PPM. The device can also filter out rust, sand, and sediments. It is perfect for households having two to five residents.
Features
Filter Size – 1.5 Cubic Feet
Water Pressure Delivered – >50 PSI
Filtration Capacity – 15 Gallons Per Minute (Peak)
Tank Width – 14" x 14" x 34"
Warranty – 5 years
Pros
Simple to use
Easy install
Sizable warranty
Saves water
App integration
Cons
The Apex 3-Stage Iron Filter is capable of removing almost 99 percent of water-soluble metals, including mercury and lead. The filter also helps in controlling the build-up of any fungi, bacteria, or algae. The product has been certified by the NSF and has been constructed using high-quality coconut shell-based carbon materials. You can expect it to even filter out any volatile organic compounds (VOCs), along with pesticides and insecticides. The overall peak water flow is rated to be around 15 GPM, and the inlet/outlet is measured at one-inch. Installation is easy as it gets connected to the primary water source in your household.
Features
Filter Size – 20" x 4.5"
Water Pressure Delivered – 60 PSI
Filtration Capacity – 15 Gallons Per Minute (Peak)
Tank Width – 30" x 24" x 12"
Warranty – None
Pros
Heavy duty
Efficient
Three-stage filtration
Easy to use
Straightforward installation
Has activated carbon for better filtration
Cons
The Home Master Iron Filter comes with a triple-layer filtration system that helps in delivering high-quality water to your home. It does not cause any water pressure issues. Its three-stage removal process is designed to remove almost 95 percent of all contaminants, including sediments and chemicals. You can expect the device to keep your family healthy and protect your household appliances from odor or staining. The rated filtration load is up to 3 PPM for all types of contaminants. Furthermore, you also get access to extra filters to improve the flow rate and reduce the overall need for frequent maintenance.
Features
Filter Size – 25 micron
Water Pressure Delivered – 20-90 PSI
Filtration Capacity – 15 Gallons Per Minute (Peak)
Tank Width – 24" x 9" x 25"
Warranty – 2 years
Pros
Two years warranty
Steady water pressure
Easy to use
Removes 95 percent contaminants
Cons
Installation is cumbersome
The Aquasana Iron Filter has been designed to filter iron along with other contaminants from your well water. The overall filtration system also comes with a salt-free softener, and unlike other devices in the market, this one does not require electricity to operate. You can purchase the equipment based on your needs as it comes with two different variants – one being a five-year system and the other being a ten-year system. Both the systems come with a UV sterilight filtration technology. The system can also filter out pesticides and herbicides, but will never demineralize your drinking water.
Features
Filter Size – 20"
Water Pressure Delivered – >50 PSI
Filtration Capacity – 7 Gallons Per Minute (Peak)
Tank Width – 69" x 10.5" x 57"
Warranty – 5 years or 10 years, depending on the system
Pros
Water softener
No electricity required
UV filtration
Effortless usage
Easy installation
5/10 years warranty
Cons
None
The iFilters Iron Filter is capable of reducing dirt, sand, rust, heavy metals, VOCs, and chlorine from your well water. The device comes with a two-stage filtration procedure with a 30-micron filter that can efficiently purify most contaminants. The system comes with accessories such as a heavy-duty bracket, wrench, and a built-in relief button for pressure optimization. The system is also approved by the NSF.
Features
Filter Size – 4.5″ x 10″
Water Pressure Delivered – >50 PSI
Filtration Capacity – 10 Gallons Per Minute (Peak)
Tank Width – 22" x 12" x 10"
Warranty – 1 year
Pros
Easy to use
Softens water
Can treat most contaminants
Comes with additional accessories
Cons
Design is prone to leakage.
These are the top iron filters available online. In the following section, we have listed the factors you need to check for before buying one. These can help you make a better purchase.
WhatTo Consider BeforeBuying An Iron Water Filter
Size – The overall size of your filter is essential, especially if you have more than two people living in your household. The filter size should be directly proportional to your family size. Most iron filters are designed for households with four residents. In case if you have a larger family, you need to opt for a higher capacity filter.
Also, take a look at the Gallons Per Minute specification provided by the manufacturer. The GPM rate denotes the rate of water flow per minute.
Filter Type – Different types of filters will remove iron from your well water in different ways. Even though the results could be the same, what matters more here is the overall procedure.
The first type of filter has the stand-up tank style, which comes with an in-built water softener. A water softener can be defined as a cation exchange machine that removes or reduces constituents such as magnesium, calcium, and iron from the well water. However, you do need to add salt to the water softener to maintain it over time. Removal of impurities such as iron, magnesium, and calcium and replacing them with sodium ions (from the salt) is the primary function of the water softener. Such a procedure helps in reducing rusting or scaling. Moreover, it will enhance the overall life of your household appliances. If you are on a low sodium diet, opting for a water softener-based iron filter would not be the right choice.
You can also find stand-up tank filters that do not come with any kind of water softeners.These also function the same way.
There also is the three-stage well water iron filter system that has unique media for filtration at each stage. This system will be responsible for removing a certain kind of impurity from the water. Together they combine to eliminate or reduce most of the significant water contaminants. The three-stage filtration system is excellent for removing metals and chemicals (pesticides, industrial solvents, etc.).
In case you do not like using a water softener, opting for a three-stage filter system should be the way to go.
Tank Width – The iron filter tank width will be directly proportional to the type of filtration process the filter follows. The tank will hold all the filtered impurities that must be cleaned at regular intervals. You may choose an iron filter with a moderate tank width so that you do not have to clean it too often.
Installation – Most iron filters come with guidelines for installation. You may want to check if the filter has a set of guidelines before making the purchase.
Testing Your Water – Getting your well water tested will help you understand how efficient of a filter you need in your iron filter.
Maintaining Your System -The filter's lifespan will depend on the quality of water it should filter and how much you plan to use it. Most manufacturers provide a close approximation of the overall lifespan of the filter in terms of gallons.
If the system incorporates a water softener, you need to spend extra on purchasing the required salts. The same goes for filter cartridges, which need to changed every four to six months. Hence, filter maintenance will be an additional cost that you take into consideration.
Water Softener – Some iron water filter systems come with additional features such as a water softener. Depending on your budget and requirements, you can check if you need to opt for a water softener. Having a water softener would incur additional expenses.
Conclusion
Even though the iron in your well water may seem harmless, the long-term consequences can be serious. In most cases, excessive iron accumulation can lead to health deterioration and hamper the overall functionality of your appliances. An iron filter can help prevent these issues. Choose your favorite filter from this list. We are sure it will add value to your household.
Expert's Answers For Readers' Questions
Can you filter iron out of well water?
Yes, you can filter iron out of well water with the help of the iron water filters we have discussed in this article.
How often will I have to replace my iron water filter?
This largely depends on the filter design, the quality of water, and your daily water consumption. While certain filter cartridge types can last up to three to five years, others would need to be replaced within a year.
Can vinegar kill the bacteria in the iron water?
Yes, you may kill the bacteria in the iron water using the household, food-grade vinegar.  However, chlorination is a more natural process.
How does iron affect the human body?
Iron is an essential component of hemoglobin present in red blood cells. Hemoglobin is responsible for carrying oxygen to the lungs and other parts of the body. Insufficient iron in the body can lead to a deficiency of red blood cells, causing anemia.
On the other hand, excess iron intake can lead to deposits inside the heart, liver, and pancreas. This could eventually lead to heart failure, diabetes, or cirrhosis.
Recommended Articles
The following two tabs change content below.

Latest posts by Harini Natarajan (see all)

Harini Natarajan
As Chief Editor, Harini sets the tone and editorial direction for StyleCraze to deliver engaging, interesting, and authentic content revolving around women's health, wellness, and beauty. She has over 14 years of experience in content writing and editing for online media. She specializes in the areas of Beauty, Lifestyle, and Health & Wellness and is proficient in Medical Sciences (Biology, Human Anatomy and Physiology, and Biochemistry). Her background in Biomedical Engineering helps her decode and interpret the finer nuances of scientific research for her team. Harini is a certified bibliophile and a closet poet. She also loves dancing and traveling to offbeat destinations.