7 Best Japanese Conditioners For Those Who Want Smooth And Frizz-Free Hair – 2023
Let these products create magic so you can fulfill your dream of achieving healthy hair.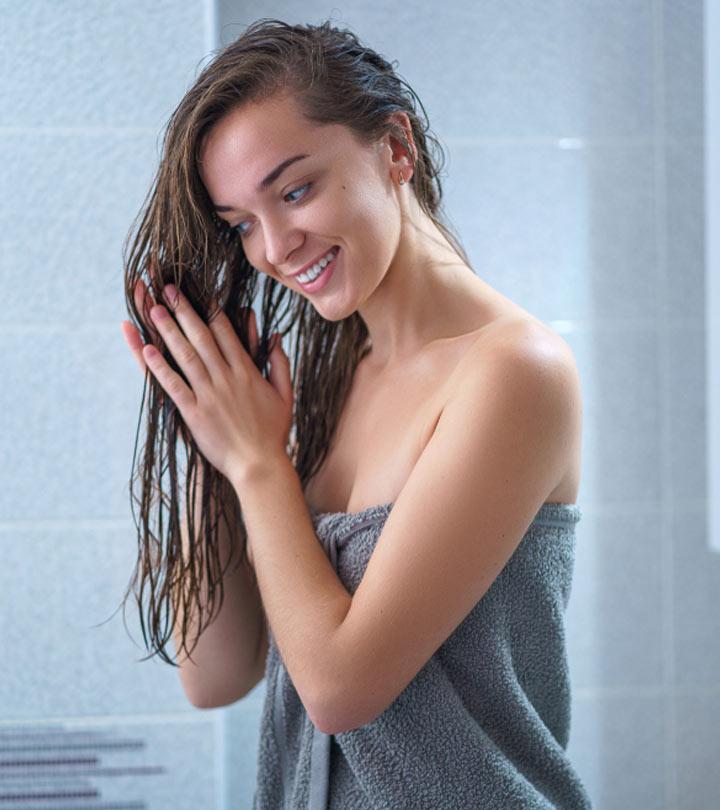 Have you ever thought about using the best Japanese conditioner on your hair? Well, we have plenty of reasons why you should give it a try. Our hair loses its elasticity and strength with age, and that is why through the decades your hair stops shining as much as it did before. Besides aging, pollution and a stressful lifestyle make it worse for our skin and hair. And while we shampoo our hair thinking that we're cleaning it, sometimes it just rips off the natural oils that are essential for moisture balance. If you think using a conditioner can help reverse the effect, it has to be the best one to nourish your hair deeply and bring back its lost shine. Here is a list of 7 chosen Japanese conditioners that improve the health of your hair and prevent breakage, dryness, split ends, and other hair-related issues. All you need to do is take a few drops, rub them in your hands and massage them on the shaft of your hair, leaving your scalp. Go through the list we have curated and choose the one made for your hair needs.
Top 7 Japanese Conditioners Of 2023
This Kunoma Horse Oil Conditioner is a good Japanese conditioner that treats damage-prone hair, detangles it, and adds thickness. This hair conditioner is made with horse oil and Tsubaki oil that help reduce hair loss, add shine, and promote hair growth. This conditioner can deeply nourish your hair and make it feel light and soft. Its incredible texture can do wonders, and moreover, it has no chemical-like odor. This product is non-greasy, smells floral, and spreads evenly. Two pumps of this conditioner is all you need to get easy-to-brush soft and beautiful hair.
Pros
Silicone-free
Easy to use
Smells great
Good texture
Lightweight
Cons
Not suitable for vegans as it contains horse fat
Price at the time of publication: $13.0
This Shiseido Super Mild Green Conditioner is one of the best Japanese leave-in conditioners and for good reason. It has a thick texture and makes hair smooth and thick. It works best on dry hair and promotes hair growth, making it ideal for fine hair as well. This conditioner is lightweight and smells pleasant. It has excellent nourishing and moisturizing properties and makes hair feel light and non-greasy. This product has the goodness of chamomile flower extract, rosemary leaf extract, and many other amazing ingredients.
Pros
Makes hair soft
Non-greasy
Adds volume to hair
Perfect for dry hair
Cons
Might make hair a bit frizzy for some
Price at the time of publication: $12.41
This Tsubaki Volume Touch Hair Conditioner will pamper your scalp and hair, thanks to the camellia oil infused in this formula. It is also rich in linoleic acid and oleic acid. This conditioner has a floral fragrance and makes your scalp healthy and nourished, making for easy detangling. It adds moisture to your hair and improves the blood circulation in your scalp.
Pros
Softens hair
Adds shine
Great smell
Ideal for oily scalp
Cons
Might make hair a bit flat
Price at the time of publication: $41.27
This Kracie Dear Beaut'e Oil In Conditioner is the best conditioner to use if you want silky hair. It makes your hair manageable, improves the pH level, balances the essential oils, and provides moisture. It consists of 4 types of amino-based ingredients that enhance the benefits that you may not get from any other conditioner. Get rid of frizz and prevent breakage with this highly nourishing and healing hair treatment.
Pros
Sulfate-free
Fruity fragrance
Hydrates hair
Adds shine
Silicone-free
Cons
Might cause itching on the scalp
Price at the time of publication: $38.63
This Komenuka Bijin Hair Conditioner comprises natural rice bran that combats dryness, split ends, and dullness, and hence it is suitable for all hair types. It adds shine and detangles your hair, making it more resilient. The nourishing ingredients in the conditioner also rejuvenate your scalp and slow down the degeneration of cells. This product works well on damaged and color-treated hair as well. Use this Japanese hair treatment product to get beautiful and healthy hair you have always wished for.
Pros
Paraben-free
Sulfate-free
Cruelty-free
Mild fragrance
Cons
Might make hair a bit puffy
Price at the time of publication: $19.9
This Tsubaki hair conditioner can give you good results after the first wash itself. The 5 unique ingredients, which are  botanical essence, soy protein, lemon fruit water, camellia oil, and royal jelly, provide nourishment to your scalp and hair,  improving your hair's health and growth. It also contains Tsubaki flowers that are rich in oleic acid and linoleic acid, that readily get absorbed into the skin and hair. This Japanese deep conditioner is ideal for rough and coarse hair.
Pros
Mild fruity aroma
Makes hair soft
Adds shine
Moisturizes and hydrates hair
Works well on flat and dry hair
Cons
The consistency might be thin.
Price at the time of publication: $27.87
This Kracie seaweed moisturizing conditioner is formulated with powerful ingredients that consist of 11 types of seaweed that improve scalp and hair health. This conditioner is also enriched with collagen and hyaluronic acid. It has the ability to strengthen your hair and repair damage. It will also help lock in the moisture your hair needs.
Pros
No harsh chemicals
Adds shine
Softens hair
Prevents breakage
Treats split ends
Works well on dry hair
Smells great
Suitable for colored and damaged hair
Cons
Price at the time of publication: $11.85
Japanese hair conditioners offer many productive solutions to hair problems. But, how do you decide which one is best for your hair? Given below are some important factors to keep in mind while choosing a Japansese conditioner for your hair.
How To Select The Best Japanese Conditioner For Smooth, Frizz-Free Hair
Form
Leave-in: Japanese leave-in conditioners can come in oil or cream forms. These are rich formulas enriched with ingredients that maintain the pH levels of the scalp. They lock in moisture and hydration and protect the hair from heat and pollution. These can be used even without shampooing the hair and offer a quick-fix for a refreshed look.
Wash-off: This type of conditioner is good as a regular hair treatment. These are essentially used after a hair wash. Apply the conditioner and leave it on for a few minutes before washing it off thoroughly. The formula penetrates the pores and hair follicles and nourishes the hair from the roots. These conditioners can provide a long-term solution to frizzy dry hair.
Ingredients
Hair gets frizzy and rough due to moisture-loss and dryness. To make the hair smooth and frizz-free, you need to look for a conditioner with ingredients like shea butter, glycerine, ceramides, essential oils like argan, coconut, camellia seed oil, extracts like rosemary leaf extract, and chamomile flower extract. Hydrolyzed compounds and honey are also excellent moisturizers for the hair and scalp. These ingredients give the hair a glossy appearance. Horse oil and Tsubaki oil reduce hairfall and promote hair growth. Natural rice bran also prevents split ends.
Hair-length
The length of the hair is an important point to consider while choosing a conditioner.
Long: Long hair is prone to split ends, tangles, and knots. A Japanese conditioner with detangling ingredients will keep the hair smooth. Moisturizing agents keep the hair nourished and protect from further damage. A lightweight formula will not weigh the hair down, making it look flat and limp.
Short: If you have short hair, pick a lightweight conditioner that will prevent loss of moisture and add volume without weighing down the hair. Look for nourishing ingredients rich in proteins, which promote hair growth.
3. Additional Benefits
Chemical procedures tend to dry out hair and make them frizzy and dull. Proteins, botanical butters, and essential oils lock in moisture and repair the damages caused by chemicals and heat. Pick a Japanese conditioner which offers color protection to prevent your hair color from fading and discoloration.
Why Trust StyleCraze?
Kirtana Divakar, who authored this article, is a haircare aficionado. She knows that Japanese hair products are much loved owing to their outstanding results. So, she went on a hunt for the best Japanese conditioners for her readers. After thorough research, she has curated a list of them. The listed products can easily combat hair breakage, split ends, and other hair woes.
Recommended Articles