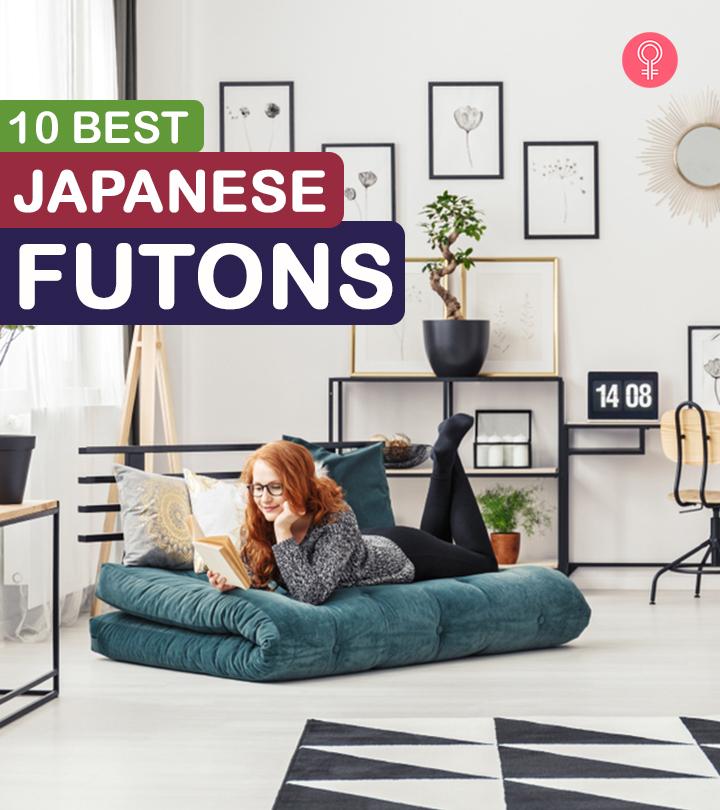 Are you looking for a compact and comfortable mattress for your room? Japanse futon mattresses are a boon for small and compact spaces. Shikibutons or traditional Japanese futons are flexible mattresses used for bedding. They are flexible enough to be folded, aired, and stored in a big closet. You can use them as sitting mats, sofa cushions, or loungers. The versatility and portability of these mattresses have made them popular in Japan and around the world.
Japanese futons are made of organic cotton and often used with a tatami mat that provides a softer and comfortable base to the futon. These mattresses are good for the joints and prevent back pain. If this has got you interested, check out the 10 best Japanese futons available online, along with a buying guide. Scroll down!
10 Best Japanese Futons
The EMOOR Japanese Traditional Mattress is a great pick for comfort-conscious people. This premium grade mattress features a sandwich quilted design where the firm pad is not sewn with the outer fabric. This prevents the quilted part from becoming hard. The firm polyester pad provides better stability and comfort. If you have back pain issues, this mattress offers the right firmness and softness to support your back.
Specifications
Dimensions: 5 x 28 x 3.5 inches, Twin size
Weight: 11 pounds
Construction Type: Polyester
Firmness: Firm
Pros
Lightweight
Easy to store
Antibacterial
Comfortable
Cons
The MAXYOYO Japanese Futon Mattress is available in four sizes and plenty of vibrant colors. This mattress features a unique and 5-layer structure design. The top and bottom layers are made of brushed cotton, the middle two layers feature soft microfiber cotton, and the central layer consists of high-quality memory foam. The 10 cm thick mattress is sturdy and will not collapse easily. It comes with a canvas storage bag, a pair of bandages, and a dust proof cover, so you don't have to worry about cleaning it.
Features
Dimensions: 24 x 21 x 15 inches, Twin size
Weight: 83 pounds
Construction Type: Cotton and foam
Firmness: Low
Pros
Easy to fold and store
No sink spots
Durable
Versatile
Cons
The Luxton Shiki Futon Mattress comes with extra padding but a thin build for a comfortable sleeping experience. The fabric is 100% organic cotton, which is soft and durable. The mattress's firmness is just right, and this prevents back pain and aligns the spine for improving posture. You can also use it as a yoga mat, a sofa cushion, or camping gear for sleeping comfortably outdoors. The futon folds seamlessly and is easy to store in compact closets. It is antibacterial, hypoallergenic, and safe for babies.
Features
Dimensions: 39 x 83 inches, Twin-long
Weight: 59 pounds
Construction Type: Cotton
Firmness: Firm
Pros
Lightweight
Antibacterial
Hypoallergenic
Odorless
Cons
The conventional mattresses can build up dust, dust mites, and hair over time, but the best part of the FULI Japanese Traditional Futon Mattress is that this mattress is easy to clean. You can either use a vacuum or leave the mattress in the sun for a while for sanitizing it.  The mattress closely resembles the traditional Japanese mattresses used in Japan for years. Additionally, it comes with 100% polyester filling and 100% cotton cover to offer a cushiony and soft base for sleeping.
Features 
Dimensions: 55 x 3 x 83 inches
Weight: 14pounds
Construction Type: Polyester
Firmness: Medium 
Pros
Ultra-lightweight
Foldable
Durable
Flexible
Cons
The D&D Futon Mattress is filled with two fiber layers, a foam layer, and white cotton battings, which make it remarkably comfortable. It is available in black and other vibrant shades. The unique tufted design looks exceptional in your bedroom or living room. You can also use this mattress for sleeping on the floor or on the couch as a cushion. The mattress is made using high-quality cotton. It is durable and easy to fold and roll up effortlessly. If you need a portable and easy to clean mattress, this is the perfect option.
Features
Dimensions: 80 x 39 x 3 inches, Twin size
Weight: 62pounds
Construction Type: Polyester
Firmness: Medium
Pros
Versatile
Affordable
Easy to roll
Easy to flip
Durable
Cons
The Magshion Store Japanese Futon comes in a variety of color options, so you can pick the color that adds to your home's aesthetics. The cotton batting makes it compact and easy to store in your closet. The mattress also comes with ties to secure the roll-up for efficient storage. You can carry it along on your camping trips or use it as a yoga mat, lounger cushion, or a space mattress for the guest room.
Features
Dimensions: 80 x 27 x 3 inches
Weight: 3pounds
Construction Type: Polyester
Firmness: Medium
Pros
Reduces motion transfer
Lightweight
Includes ties to roll up
Cons
The J-Life Japanese Traditional Shiki Futon is a highly versatile and space-saving mattress. The 4-inch thick mattress cover is made using premium-grade 6.5-ounce natural cotton and provides extended comfort. It is free of innerspring, wool, and foam, just like the authentic Japanese futons. It comes with a 5-year manufacturer warranty.
Features
Dimensions: 75 x 39 x 4, Twin size
Weight: 37pounds
Construction Type: Polyester
Firmness: Medium
Pros
Comfortable
Durable
Elegant design 
Cons
If you prefer design over other features, the Colorful Mart Japanese Futon will impress you. The mattress goes through reactive printing, quilting, and binding process and looks exceptional. Especially you have a minimalist space and want to buy a mattress that adds to the beauty of your home, go for this one. The cover of this material is made using 100% polyester while its filling is made from 100% microfiber to provide the utmost comfort. Also, the mattress is airtight, so wait for 2-3 days for it to fully expand.
Features
Dimensions: 9 X 78.7 inches, Kingsize
Weight: 37pounds
Construction Type: Cotton
Firmness: Medium
Pros
Easy to fold
Odor-free
Easy-to-clean
Durable 
Cons
Thin
Not as firm as stated
The LJ Japanese Floor Futon Mattress features a 3D design padding that prevents deformation and collapsing. The 10 cm thick mattress comes with a cotton cover and polyester filling. Its ergonomic design adjusts as per the structure of the human body and the sleeping position. This cervical mattress relaxes the body, improves the orthopedic function, and prevents pain caused by back stiffness. You can use it as a sleeping futon or children's play mat and take it along on your camping trips.
Features
Dimensions: 35 X 78 X 3 inches
Construction Type: Cotton
Firmness: Low
Pros
Breathable
Soft
Great quilting
Available in 5 color options
Safe and supportive 
Cons
The ZDiane Japanese Traditional Futon is made of cashmere lambskin fabric that is soft and comfortable. The fiber filling maintains elasticity, improves sleep, and provides needed comfort. The three-dimensional stereoscopic quilting ensures that the filling is evenly distributed and does not clump or sink. The mattress adjusts according to the curves of the human body and does not sink or collapse. It has excellent ventilation, is breathable, and features moisture-absorbing material. This multifunctional mattress can be used as a floor mat, kid's play mat, tent mat, or a space mat for guests.
Features
Dimensions: 39 X 79 X 3 inches, Twin size
Construction Type: Wool
Firmness: Plush
Pros
Wear-resistant
Anti-slip
Flexible
Portable
Foldable
Cons
If you want to buy an authentic Japanese futon, browsing the best options alone will not help. Here is a detailed guide to help you buy a functional and affordable Japanese futon mattress. 
Things To Consider Before Buying A Japanese Futon
These mattresses are made of 100% cotton or blends of cotton, polyester, and foam that is inserted between the cotton batting to lend extra support. Pick one based on your preferences.
Japanese futons are highly foldable and available in bi-fold and tri-fold designs. The foldability of a mattress reflects how compact, storage-friendly, and portable it is. Some mattresses also come with ties to hold them when you roll them up.
If you are going to use the mattress on a bed, buy a mattress according to the bed's frame size. However, if you are using it for multiple purposes like a floor mat, yoga mat, kid's play mat, etc., you can pick any size you like. These mattresses are easy to store, so you can pick one of any size.
The purpose of a Japanese futon is to offer comfort and portability and use a small space efficiently. If you want to use one mattress in different rooms and for various purposes, make sure that you pick a lightweight mattress that is easy to carry.
While investing in a mattress, think about its aesthetics. Japanese futons are visually appealing and minimalist. They are available in plenty of vibrant and refreshing color options. Pick a color that compliments the furniture and décor.
Some Japanese mattresses are washable, while some are not hand or machine washable. The traditional way of cleaning a futon is to place it in the sun. This process sanitizes the mattress and removes dust mites. You can also use a vacuum to clean the mattress and remove dirt, hair, and debris. Choose a mattress that offers ease of cleaning.
Now that you know what factors to look for, let's look at the purpose and types of Japanese futons.
Why Do You Need Japanese Futons?
If you have visitors and guests, you can use a Japanese futon to prepare a comfortable and elegant bed for them.
Are you living in an area that is too hot? If yes, a futon mattress is best for you as it is made of cotton fabric that is breathable, keeps you cool during any time of the day, and promotes airflow.
A Japanese futon is eco-friendly, and purchasing it is a great way of protecting the environment.
These mattresses are highly versatile and can be used as mats, workout mats, kid's play mats, couch cushions, loungers, etc.
If you have a small living space, Japanese futons help you save space. Use the mattress when required and store it conveniently in a closet after use.
The futon mattress helps in improving posture and relieving back and joint pain. If you have back pain and joint pain issues, go for a futon mattress.
The traditional Japanese futon mattresses are foldable, thin, and made using cotton. They offer comfort and support while sleeping. The two types of Japanese futon mattresses are listed below.
Types Of Japanese Futons
Traditional Shikibuton Mattress: The traditional shikibuton mattresses are made of 100% natural cotton or silk. These mattresses feature a zipper cover and are filled with cotton batting. As they are not thick, they are used with tatami mats for added comfort and fluffiness.
Foam Futon Mattresses: While the traditional futons are made of cotton and silk, some modern variations feature foam construction. These mattresses are not authentic Japanese futons but contemporary foam futon variations. They are firmer and thicker than the Japanese mattresses and offer excellent comfort.
Here are a few tips to take care of a Japanese futon.
How Do You Take Care Of A Japanese Futon?
Like other mattresses, a futon can also accumulate dirt, debris, hair, and bacteria. It is recommended to dry the mattress in the sun. The cotton fabric can also absorb moisture and sweat. You can remove moisture and sanitize the mattress by placing it in the sun. Air out the mattress and remove the dust mites.
You can also use a vacuum to get rid of dirt, dust, and other tiny particles from it.
The futon may develop stains and dead mites that cannot be removed by drying or vacuuming. In this case, you can wash it. Check the care instructions and follow the guidelines mentioned to prevent wear and tear.
Use a futon cover to keep the mattress clean. If the futon is not washable, use a washable cover to protect the mattress from dirt and dust particles. Wash the cover regularly.
Don't overexpose the futon to the sun – 1-2 hours between 10 AM to 3 PM is enough.
Don't beat the futon with sharp or strong objects to remove dirt or dust from it. Use any of the above ways to clean and maintain it. 
Whether you want to free up some space or ensure comfort for guests, a Japanese futon is a perfect option. A traditional Japanese futon mattress offers plenty of benefits, including portability, affordability, elegance, convenience, versatility, and health benefits. Take your pick from the above list and get comfy!
Expert's Answers for Readers Questions
Are Japanese futons comfortable?
Japanese futons are not as thick as foam and spring mattresses but are comfortable. These mattresses are laid on the floor and have a soft filling, so you can enjoy a sound sleep throughout the night.
Are Japanese futons healthy?
Yes. Japanese futons improve posture, disperse weight equally, support the joints, alleviate back pain, don't sag or cause sink spots, and are healthy and beneficial for the body. These mats are also breathable and promote ventilation when used on beds.
Why do Japanese sleep on futons?
There are many reasons for Japanese people to sleep on futons. They are comfortable, space-saving, foldable, and offer plenty of health benefits.
Can you wash a Japanese futon?
You can wash the Japanese futon once or twice a year if it is washable. If it is not washable, you can place it in the sun or vacuum it. However, you can use a futon cover to protect the futon and clean the cover regularly.
Do the Japanese still use futons?
Futon mattresses are still very common in Japan. You can see futons hanging in the balconies of Japanese houses. However, some Japanese people prefer modern and thicker futons rather than traditional ones. You can also find futons in Japanese hotels.
Recommended Articles
The following two tabs change content below.

Latest posts by Harini Natarajan (see all)

Harini Natarajan
As Chief Editor, Harini sets the tone and editorial direction for StyleCraze to deliver engaging, interesting, and authentic content revolving around women's health, wellness, and beauty. She has over 14 years of experience in content writing and editing for online media. She specializes in the areas of Beauty, Lifestyle, and Health & Wellness and is proficient in Medical Sciences (Biology, Human Anatomy and Physiology, and Biochemistry). Her background in Biomedical Engineering helps her decode and interpret the finer nuances of scientific research for her team. Harini is a certified bibliophile and a closet poet. She also loves dancing and traveling to offbeat destinations.