Best Japanese Hairstyles – Our Top 10
Japanese women are known for their flawless skin and beautiful hair. Their hair is just God-gifted and they have learnt to experiment with it in unique ways.
So, here are some best Japanese Hairstyles you should definitely try on:
1. Messy Cropped Bob:
via Pinterest
Japanese women have flawless skin and silky straight hair, and hence their hair looks the best when left simple. However, modernization has got a few of them to cut the long tresses. Then the messy cropped bob emerged which not only got selected for the best designer look but also became a part of a few ramp shows.
2. Centre Virtual Bouffant:
via Pinterest
The centre virtual bouffant is one of the Japanese school girl looks, now seen in various countries. It highlights the cuter side of a girl as they pull the centre hair to form a bouffant, leaving the hair on the side loose.
3. Glam Doll:
via Pinterest
The glam doll look is inspired by the Barbie dolls and a clan in Japan which dresses up like dolls, showcasing their cuter side. It includes fringes, bouncy curls and gives a normal girl the best makeover she would ever want. This look is accessorized with funky clips, hats, tiaras and a floral bouffant.
4. Shimada:
via Pinterest
The Shimada hairstyle includes a high artificial piece called chignon, worn by the Geishas. Geishas are one of the renowned clans from Japan who have been highly noted globally. They are pretty, elegant and chic, and use their hairstyles and accessories to charm the world as they pass by.
5. Kepatsu:
via Pinterest
The Kepatsu is one of the most traditional Japanese hairstyles in which the noble women would dress their best for occasions. It was by this hairstyle that a woman's class would be judged and respected. The hairstyle till date has been prevalent in Japan only with minute tweaks. The hairstyle needs a boxy bouffant, leaving only a sickle-shaped pony at the back, tied with a ribbon.
[ Read: Japanese Short Bob Hairstyles ]
6. Tokugawa: Box Shimada:
via Pinterest
Inspired by the classic Shimada, the Tokugawa region in Japan renovated the entire look to make it more comfortable for their women, calling it a box Shimada. The hairstyle, made with a lot of patience, would have one form a Box Shimada look, leaving the box at the lower neck area.
7. Butterfly:
via Pinterest
The butterfly hairdo is all about making flaps by rolling the hair on three sides of the head. The hairdo, best seen on ramps and among fashion divas, was inspired by the old Geisha looks. Though they ornamented it with gold, the modernized version left it messier than before, leaving it more grungy and chic.
8. Swirled Bouffant:
via Pinterest
The swirled bouffant is a beautiful and non-hassle manner of giving your hair the best Red Carpet look. Post your layering cut, you can hold onto some side tresses and pull them back to form a half pony. Instead of just tying up the pony, you can swirl it up in one side and clip it with thin bob pins, leaving the rest of the hair loose. The sway looks elegant and quite fashionable as you walk.
9. Roller Buns:
via Pinterest
The roller buns are one of the most popular Japanese short hairstyles, opted by many young girls or hair stylists in Japan. It is funky, grungy and trendy, and gives your fashionable side a boost as you sport it. Dividing you hair with a centre parting, you can make an untidy bun on each side of the head. If you have fringes or flicks, they look pretty and add the oomph.
[ Read: Most Beautiful Japanese Women ]
10. Knot Pony:
via Pinterest
The knot pony is best for short hair and looks very pretty on young girls who have frizzy hair. Pulling back some of your hair from the sides you can tie a knot in the centre. To keep the rest of the hair stable, you can hold it with a funky hair band and let go loose and free.
Hope you enjoyed the article on Japanese hairstyles. Please leave us a comment.
Recommended Articles:

The following two tabs change content below.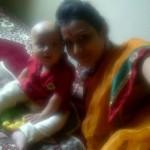 Latest posts by Khushboo Mehta (see all)