A Guide To The 13 Best Japanese Knives Of 2023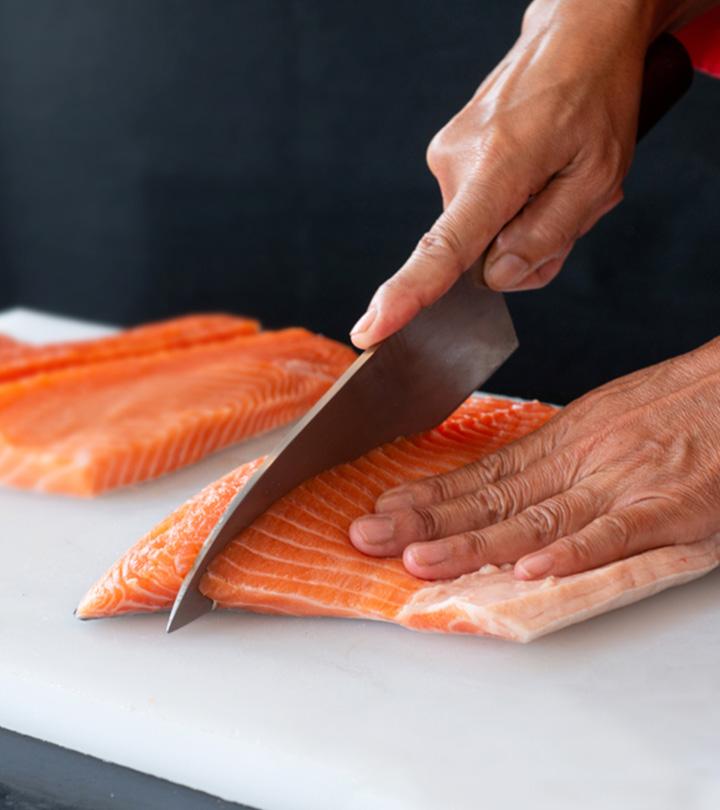 In the culinary world, knives are a fundamental tool. If you are a culinary aficionado then you know that buying something that holds such an indispensable value, should be done right the first time. We are here to present you with some of the best Japanese knives that will give you precise results while at work in the kitchen. The Japanese are well-known to forge high-quality blades for centuries now. Blades have played an integral part in Japan's history and it still continues to do so. The blades inspired by their culture are sure to impress you.
Most people are lost in the battle between Japanese vs German knives, and cannot decide which ones they should buy. Although there will come a time when we can talk about German knives, for now, we have a list of the 13 best Japanese knives that will fit right in your kitchen. Home cook or a professional chef, we've got a suggestion for everyone.
What Is The Best Japanese knife?
Thinner, harder, and sharper – any Japanese knives that have all these features, should be the one you should be looking at. So, continue reading our article and find out which blades feature these factors and you can decide on your own about which one should be called the best.
13 Best Japanese Kitchen Knives You Can Find In 2023
Zelite Infinity is one of the top-rated Japanese knives brands on our list. They are specifically designed in a way so that they can be used by both professional chefs as well as home cooks. They have a 2.4 mm thick blade with a beautiful Damascus pattern and the Classic 3-Metal mosaic rivet to give you a stylish and elegant feel while you handle it. Additionally, the rounded razor-sharp edge is made for a better edge retention. Be it chopping, slicing, dicing, or mincing, all you need to do is push the knife through the ingredients without much effort.
Specifications
Length of the knife: 12.95 inches
Handle: Rounded Military-grade G10 handle
Blade Material: AUS610 67-layer Damascus Steel
Pros
Stain and rust resistant
Lightweight
Full tang with double bevels
Ergonomically designed with a military-grade G10 handle to fit small and large hands comfortably.
Cons
They are not dishwasher-friendly. 
Need a blade that supports all your variety of chopping requirements? The Shun Store is sure to check every box on your list. They take pride in utilizing Japanese roots and traditional blade-making practices to manufacture knives that provide exceptional performance. They are one of the highly-respected brands that are known for making beautiful, modern, and premium-quality knives. It takes at least 100 individual steps to construct the knives from scratch. While manufacturing, the knives also go through a Heat Treatment procedure which makes the blade thinner, sharper, and gives a long-lasting edge.
Specifications
Length of the knife: 15 inches
Handle: D-shaped Ebony Pakka Wood
Blade Material: VG-MAX Steel with extra tungsten for a sharper edge
Pros
Curved blade for simple cutting tasks
The handle has a water-resistant finish for easy cleaning.
It has 34 layers of stainless steel of Damascus cladding on each side bringing the total to 69 layers.
Cons
The edge might chip when it is used for harder tasks after a long time. 
These handmade Japanese knives are made of CROMOVA 18, which is a combination of Molybdenum and Vanadium stainless steel. Global Knives are like most western knives, the blades are sharpened towards the edge. However, instead of having a bevel shape, they are sharpened to an acute angle to retain the sharpness for a longer time. The stainless steel handle is their signature feature. The grills on the handle are meant for a comfortable grip and it is filled with sand to ensure balance and comfort while you continue with your activity.
Specifications
Length of the knife: 14.72 inches
Handle: Stainless-steel
Blade Material: High-tech Molybdenum-Vanadium stainless steel
Pros
Rust and stain resistant
Recommended for people with small hands
They should be hand washed to retain the edges.
They are ideal for mincing, slicing, chopping, cutting, and prep work.
Cons
The knife is a bit heavy.
Prepping meals for a party could prove to be quite the hassle and we understand your desire to make it as easy as possible. The major part of these preps is slicing and dicing your vegetables, filleting meat, and everything nice that goes into the recipe. This series of 8" silver Japanese knives are going to make things much easier for you. The dimples on the blade allow the knife to just glide through all kinds of food without sticking to it. They are high-quality steel knives that make cooking a lot more efficient and convenient.
Specifications
Length of the knife: 12.63 inches
Handle: Pakka wood
Blade Material: Stainless-steel
Pros
Lightweight
Comfortable handle
Made to last a long time
Extremely sharp out of the box
Cons
This Gyutou-style multipurpose knife is put together to be used by professional chefs, culinary experts, food caterers, or even home cooks — so basically everyone. If you need a knife that can cut, chop, dice, mince, fillet, and slice, this is the one for you. The carbon blade is mixed with 16-18% chrome which not only gives it a glossy finish but also provides extended durability. The Pakka wood material that is used for the handle is known to originate from Africa and is noted to be exceptionally comfortable to protect your hand from any kind of finger aches or numbness.
Specifications
Length of the knife: 13 inches
Handle: Pakka wood
Blade Material: High-carbon stainless steel
Pros
Anti-tarnish blade
Corrosion-resistant
It needs only water and a little soap to clean.
To further improve its strength, the steel contains 0.6-0.75 carbon.
It falls in the range of 56-58 on HRC (Rockwell Hardness Scale).
The knife handles tasks like cutting or removing bones from tough meat with ease. 
Cons
Not to be used in the hot flame
Not recommended for cutting through frozen foods
These Japanese Shun knives are appearing twice on our list, so they must be making some fine kitchen knives, don't you think? The word "Shun" (shoon) means the definite moment when the fruit or vegetable is at the peak of its ripeness, which kinda fits right in with the quality of the blades that they manufacture — they are some of the most trusted brands for making premium Japanese kitchen knives in the market. This Premier line has a hand-sharpened 16-degree cutting edge with layered Damascus and is finished off with an exquisite-looking hammered Tsuchime finish.
Specifications
Length of the knife: 13.25 inches
Handle: Contoured, Walnut-colored Pakka Wood
Blade Material: VG-MAX Steel
Pros
Comfortable grip
Thinner and lighter blade to reduce the muscle aches.
Hammered Tsuchime finish releases food from the blade with ease.
The blades have a double-bevel, quick taper, and flat ground for the razor-sharp feature. 
Cons
Prone to chipping and rusting after a certain period.
When you have a large pile of vegetables or fruits to slice through, your hand will beg you to stop if you don't have the right equipment. The lightweight ceramic knife series from Kyocera makes meal preparation less gruesome as their soft-touch ergonomic handle lets your fingers have a pleasant posture during the entire task. They are a great option for cutting fruits, vegetables, and boneless meats. When using, it is highly recommended to cut food on a plastic or wooden board. And, if you are wondering about how to sharpen them, Kyocera offers professional sharpening service; check out their care and use guidelines.
Specifications
Length of the knife: 12 inches
Handle: Soft-touch ergonomic handle
Blade Material: Advanced ceramic (proprietary of Kyocera)
Pros
Blades hold their edges 10 times longer than others
Beveled and double-sided edge
No artificial weight to balance the weight
They are also available with black blades
They are dishwasher-safe, but it is suggested to place them separately from metal utensils. 
Cons
Not meant for hard or frozen foods
Need a knife to cut your day-to-day veggies and not something fancy? Chopping vegetables can be very unpleasant with a dull knife, especially onions. This vegetable cleaver with a double-beveled edge is commonly used for slicing thin layers for vegetables, fruits, and meat. They are made from authentic molybdenum steel that is ideal for edge retention and easy blade sharpening. Without any swaying of the knife, the straight edge allows you to cut through your veggies like tomatoes, peppers, and onions in a matter of seconds. Generally used by professional Japanese chefs to perform Katsura-muki, a Japanese technique where you cut vegetables like cucumbers into very thin slices, these knives have proven to be a great utilitarian for home kitchens as well. 
Specifications
Length of the knife: 6.5 inches
Handle: Pakka wood
Blade Material: Molybdenum steel
Pros
Lightweight
Fit for creating paper-thin slices
The handle is made from Pakka wood for ergonomic features. 
Cons
Not advisable to be used as a heavy cleaver
When it comes to high-end Japanese knives, KUMA understands your needs. You shouldn't be spending a fortune on buying knives. KUMA wanted to design a knife that is meant to be a combination of razor-sharp performance and lightweight for flexibility, all packed in one. And that is exactly what they have achieved. This Japanese-inspired design has a premium carbon steel blade that is robust and chip-resistant to endure harsher cutting tasks. Their blades providing clean and precise cuts with very minimum pressure is what makes these knives so rare.
Specifications
Length of the knife: 13.39 inches
Handle: Balanced ergonomic handle
Blade Material: Carbon steel
Pros
Stain-resistant
67 layers of protective carbon steel
Includes a sheath and knife guard
Hand-polished soft spine for a balanced and secured grip
They have a score of 58-60 on the Rockwell hardness. 
Cons
They seem to lose the sharpness after a few months.
The Simple Song 8-Inch Professional Gyuto Kitchen Chefs Knife features heat-treated 420HC German steel blades . It is made of high-quality stainless steel with optimal hardness and a razor-sharp edge. It is corrosion- and oxidation-resistant with a single beveled ground. The knife has the most precise and sharp edge, with one side at 15° edge and the other flattened to separate food slices. The traditional rosewood handle stands the test of time and enables precision while cutting vegetables and meat smoothly. This Japanese knife is strong and durable and has a polished look.
Specifications
Length of the knife: 8 inches
Handle: Rosewood
Blade Material: German Steel
Pros
Corrosion- and oxidation-resistant
Flat side helps separate food slices
Can cut vegetables and tough meat
Easy to hold
Resistant to stain and wear
Cons
Price at the time of publication: $43.84
We understand that when it comes to food, aesthetics matter. Following the steps of their traditional blade making process, Miyabi combines beauty with expert craftsmanship to give you a balance of aesthetics and functionality. In terms of quality and sophistication, hardly any other blades can beat this beauty. With just a few strokes you can perfectly slice all your vegetables in just moments. These shiny high-performance knives are hand-forged by experts in Seki, Japan.
Specifications
Length of the knife: 14.75 inches
Handle: Special Cocobolo rosewood pakka wood
Blade Material: SG2 Micro-carbide steel
Pros
Ergonomic handle for a comfortable holding
Hammered finish gives it an elegant look
Hand-honed by three-step Honbazuke process
Ice-hardened blades to a 3 on the Rockwell hardness scale 
Cons
Should not be used on hard foods
The Enowo Damascus Chef Knife 3-Piece Set addresses various cooking needs. The cryogenic method of forging 67 layers of VG-10 Japanese high-carbon stainless steel imparts hardness. The blade features an 11° V-shaped cutting edge. These knives display stunning craftsmanship with the Damascus rose pattern, mirror-polished surface, and intricate dimples. The G10 handle with triple rivet and full tang design balances the knife and makes it sturdy. The tapered bolster design makes this kitchen tool comfortable to hold by providing the right grip.
Specifications
Length of the knife: 4.5, 7, and 8 inches
Handle: G10
Blade Material: Damascus steel
Pros
11° cutting angle
Ergonomic grip
Super Damascus steel blade
VG10 steel core
Precision and extreme cut
Rust- and stain-resistant
Cons
None
Price at the time of publication: $139.99
You no longer have to worry about wiping the sticky food off your knife while cutting them as the clad dimples on this FAMCÜTE chef knife releases food without any effort. This is an all-purpose kitchen knife that will help you in your day-to-day activities without giving up on you. Made from Japan's high-quality steel, the hand-polished, 16-degree V-shaped edge is sure to maintain its sharpness for an extended duration. You won't be needing your sharpening tools for a long time with this one.
Specifications
Length of the knife: 15.35 inches
Handle: African rosewood
Blade Material: 3 layer 9CR18MOV clad steel
Pros
Less wear and tear due to its weight balance
The African rosewood octagon design gives you stability for every hand motion. 
Cons
Do not cut hard food like bones or frozen foods
There you go! That was our list of the top 13 best Japanese knives. But we are pretty sure seeing so many good Japanese chef knives, you might still be confused about which one to choose. Take a few extra moments and read our buying guide that is sure to help you choose the Japanese cutting knives that fit your needs.
Buying Guide On How To Pick The Right Japanese Knife
A knife is a very basic tool in the kitchen, choosing the right kind of professional knife can be a little overwhelming. So, here are some points that you need to bear in mind while deciding which and what kind of Japanese knife you need. 
Type of Knife: Santoku, Gyu to, Cleaver, and there are so many other types of Japanese knives you can find in the market. The type of knife you need to purchase is totally dependent on your prepping activity. For example, if you need an all-in-one knife, Santoku knives can cut, slice, and dice all your raw vegetables and fruits, if you need something for filleting meat, then Gyuto is the best type. 
Steel Type: They are constructed from majorly of two types of materials — Carbon steel or Stainless steel. Carbon steels are very tough which makes them resistant against chipping and retain their shape. Stainless steels have Chromium content that provides protection against rusting.
Blade Style: Japanese blades are divided into two major categories — single-bevel and double-bevel. Single-bevels provide very accurate results and are mostly used in specific cases by professionals. Whereas, the double-bevel blades are multi-purpose. For this reason, we would recommend using double-bevel blades if you are not a professional.
Blade Shape: Most Japanese blades have a curved blade that lets you push the tip first and follow it up with the remaining part. And something like Mac's Vegetable Cleaver has a flat profile that lets you cut in a straight, horizontal direction without any swaying. So, if you are looking to cut just veggies at home, then you will benefit the most from a cleaver style blade. 
Handle Type: If you are a professional chef or aspiring to be one, then you will use knives pretty much a large chunk of the day. So, having the right type of handle is very important. The most preferred material for the handle is Pakka wood, which provides a soft and comfortable holding of your knife. 
Sharpness: When the talk is about knives, it all comes down to how sharp the blades are. And believe us, Japanese knives are known to have some of the sharpest blades that cut through ingredients like hot butter. The edges are razor-sharp to an acute angle for those ultra-thin slices. 
Hardness: The hardness of the blades goes hand-in-hand with how sharp the blades are. Because, the harder the blade is, the longer the blade is going to retain the sharpness and shape. Carbon steel knives is where you put your money if you are looking for the most durable ones. 
Finish: A lot of the knives on our list mention that they have a Damascus finish or that they have dimples on the blades. Their main purpose is to allow the food to slide off the blade easily without leaving any residue behind. If you are planning to handle food that has the tendency to stick to food items, then you should consider buying a knife with such finishes. 
That was our list and the buying guide to the 13 best Japanese knives. We hope that the list and buying will help you in making an educated decision while buying the Japanese knife you need. Arigatōgozaimashita! 
Frequently Asked Questions
Are Japanese or German knives better?
The primary difference between the two is the steel hardness and the blade edge. The steel in Japanese blades has more carbon than the German ones which makes them hard in nature but they are also prone to breaking. And, the thin blades on the Japanese knives result in sharper edges as opposed to their German counterparts.
Are Japanese knives worth it?
All the traditional Japanese knives that have high costs are hand-forged with expert craftsmanship and high-end material cost. They are known to be forging blades for centuries and a product culture where so much time is spent in perfecting each piece is definitely a great investment.
Is Japanese Cutlery a suitable choice for Home chefs?
Absolutely! Some of the Japanese cutlery knives are constructed by keeping both professional chefs and home cooks in mind. There is something for everyone.
Can I etch on the blade of my knife?
Yes, you can get custom-made Japanese kitchen knives in the market.
Is there a way to prevent rusting?
The process of rusting is amplified when you use it on acidic foods and the best way to prevent rusting is by immediately washing the knife and keeping it dry after use.
Are Japanese knives cheaper in Japan?
Yes, the price difference between the US and Japan is high due to the import exchange charges.
What should I look for in a Japanese knife?
The quality of materials used on the blade and handle, the durability it offers, ease of maintenance, resharpening convenience, and most importantly, the blade sharpness.
How long do Japanese knives last?
It depends on how the knives are used and maintained over the years. If you use a vegetable cleaver to cut through bones or frozen food, they probably will chip within the first few uses. In the same way, if the knives are not washed properly, they will start to rust.
Which is better, Santoku or Chef knife?
Santoku is in a way similar to a Chef's knife but varies in the shape. Santoku is ideally used for precision cutting for the desired thin slices whereas it is difficult to achieve the same with Chef knives.
How often do you sharpen Japanese knives?
It is highly suggested to sharpen the blades regularly rather than wait a long time before it loses the sharpness.
What type is the best knife sharpener for Japanese knives?
There are two types of knife sharpeners that you can use — Electric sharpeners and Whetstones. Electric sharpeners are super easy-to-use but you get better results with whetstones. However, whetstones require a lot more effort and skill.
What angle do you sharpen a Japanese knife?
While sharpening a single-edge knife, anywhere between 15-17 degrees should be fine and double-edge knives should be sharpened between 20-30 degrees.
Are Japanese knives dishwasher-safe?
Most Japanese knife brands do claim the knives to be dishwasher-safe, but we highly suggest you hand wash them. Just a little clean water with soap and drying should do the trick.
Do knives come with a sheath?
Not all knives come with a sheath. But, you should be able to find them in stores or on e-commerce sites.