15 Best Japanese Shampoos To Get Gorgeous Hair – 2022
The first step towards a good hair care routine for long, luscious locks.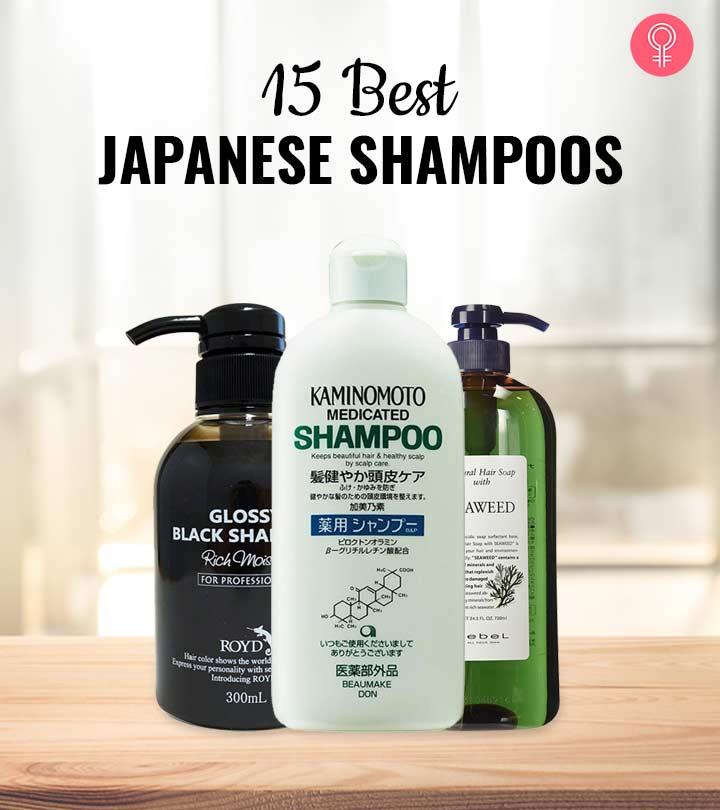 Rich in natural ingredients, such as rice water and camellia oil, Japanese shampoos are perfect for your hair. To this end, we have prepared a list of the 15 best Japanese shampoos that you should have right now! These shampoos can strengthen your hair and make them look super healthy and shiny. So, instead of worrying about spending tons on expensive salon treatments, you can just go ahead, check this list and pick your right fit. With these shampoos in place, your days of flaunting gorgeous hair are not far away!
Important Factors To Consider When Buying Shampoo
Before we get to the 15 best Japanese shampoos, here are a few pointers to keep in mind when shopping for hair care products like shampoos.
Hair Type: Keep your hair and skin type in mind. Shampoo for oily hair and scalp can cause damage to someone with a dry scalp. Also, if you have colored hair, choose a color-safe product that extends the life of your color treatment.
Scent: The fragrance plays a significant part in the shampoo you choose. As Japanese shampoos are mostly formulated with natural ingredients, their aromas are usually fruity or floral. Pick one according to your taste.
Ingredients: Simply put, harsh chemicals are not good for your hair. Try to steer clear of parabens, silicones, and sulfates, and opt for formulas with natural ingredients. These are sure to be gentle and beneficial for your hair.
Now, let's take a look at the 15 best Japanese shampoos that will work wonders for your hair.
Top 15 Japanese Shampoos
The Royd Glossy Black Shampoo is ideal for maintaining your hair color. It prevents the fading of hair dye and nourishes the hair. This Royd shampoo is formulated for black hair and helps extend the life of your black hair color. You can use it as a regular shampoo once you have left it on your hair for 5 to 10 minutes. It also moisturizes dyed hair and prevents hair from drying out. The formula protects against damage and keeps the hair from yellowing post dyeing.
Pros
Non-drying
Prevents yellowing of the hair
Extends the life of hair dye
Adds brilliant shine to hair
Does not fade easily
Available in several colors
Pleasant fragrance
Cons
None
The Kaminomoto Medicated Shampoo is an effective remedy for dandruff and itchy scalp. It cleanses the hair and scalp thoroughly with its germicidal formula. The medicated shampoo suppresses inflammation of the scalp and preserves hair and scalp health. The sterilizing properties of the shampoo also inhibit the growth of harmful germs that cause itching and dandruff. With regular use, this shampoo encourages the growth of healthy hair.
Pros
Suitable for normal to oily hair
Regulates sebum secretion
Soothes itchy scalp
Prevents dandruff
Promotes hair growth
Safe for color-treated hair
Makes hair soft and smooth
Non-greasy 
Cons
None
The Lebel Cosmetics Natural Hair Soap With Seaweed comes with an acidic soap surfactant base. It is gentle for your hair and scalp, as well as the environment. Seaweed extract is the primary ingredient in this shampoo. It nourishes damaged hair and adds a bright luster to your locks. The refreshing fragrance lingers and keeps your hair smelling fresh all day.
Pros
Suitable for all hair types
Keeps hair hydrated
Makes hair soft and shiny
Non-drying
Lathers well
Nourishes damaged hair
Value for money
Pleasant fragrance
Cons
The Shiseido Adenovital Shampoo cleanses your hair and scalp without being harsh. This shampoo may help if you are struggling with scalp dryness. It preserves the moisture in your hair and does not strip the scalp's natural oils. The Adenovital Shampoo is also suitable for treating thinning hair. It prevents hair loss and encourages healthy, thick, and voluminous growth of hair.
Pros
Suitable for thinning hair
Prevents hair loss
Moisturizes dry scalp
Suitable for daily use
Silicone-free
Pleasant fragrance
Paraben-free
Cons
This natural shampoo is made using plant-based cleansing ingredients that remove dirt and impurities from your hair without stripping its natural oils. The silicone-free formula thoroughly washes your hair and scalp with enough foam to preserve hair health. Gardenia is an excellent anti-dandruff ingredient, making this shampoo perfect for treating dry and damaged hair. The fragrance is a sensual blend of gardenia, lemon oil, and ylang-ylang.
Pros
Almost natural formula
Non-drying
Suitable for all hair types
Removes dandruff
Silicone-free
Pleasant fragrance
Can be used daily
Cons
Contains sulfates
Difficult to use without a dispenser.
The Shiseido Tsubaki Extra Moist Shampoo is formulated with oil extracts from camellia flowers. Camellia flowers are known as Tsubaki in Japanese, and they are rich in linoleic and oleic acids. Both ingredients are easily absorbed, making them ideal for nourishing your skin and hair. The Tsubaki Extra Moist Shampoo helps add a rich texture to your hair, making it smooth and soft. It moisturizes dehydrated hair and rejuvenates flat, lifeless hair, restoring shine and elasticity.
Pros
Suitable for dry and flat hair
Makes hair silky smooth
Non-drying
Pleasant fragrance
Pump dispenser
Lathers well
Cons
May irritate a sensitive scalp.
The Pelican Clay & Charcoal Shampoo uses a silicone-free formula to provide natural cleansing for your hair and scalp. It nourishes your hair and preserves scalp health. The shampoo is enriched with Sumi charcoal and bentonite clay, which contain potent cleansing properties. It effectively gets rid of sebum and dirt and helps repair damaged hair. The shampoo contains a refreshing fragrance of the hinoki cypress herb.
Pros
Eliminates dirt and sebum
Repairs damaged hair
Pleasant fragrance
No artificial colors
Silicon-free
Affordable
Cons
Contains parabens
May not work on all hair types.
The Shiseido Sea Breeze Rinse-In Shampoo thoroughly cleanses your hair and scalp, getting rid of dirt, sweat, and excess grease. It leaves your hair feeling light and smooth to the touch. The formula is a nourishing blend of crystal amino powder, plant-derived ingredients rich in repairing amino acids, and refreshing ingredients that help revitalize dull, damaged hair. The aquatic citrus aroma recharges your senses and keeps your hair smelling fresh all day.
Pros
Suitable for oily hair
Repairs sun-damaged hair
Removes dirt and grease from the scalp
Leaves behind no residue
Paraben-free
Pleasant fragrance
Cons
May dry out hair.
Contains SLES
The Moist Diane Botanical Refresh and Moist Shampoo is formulated with a blend of more than 90% naturally-derived ingredients. The oil-cleansing elements effectively cleanse dirt and oil buildup on the scalp. Organic argan oil helps restore moisture to the scalp and keeps your hair hydrated. The nourishing formula leaves your hair feeling healthy and incredibly soft. The presence of plant extracts and olive cleansing oil makes the shampoo gentle for sensitive skin. Take a look at this video to get more information on the product.
Pros
Gentle on sensitive skin
Contains 90% naturally derived ingredients
Paraben-free
Sulfate-free
No synthetic dyes
Pleasant fragrance
Cons
May make hair feel greasy.
Does not lather well.
The Kumano Yushi Horse Oil Rinse In Shampoo is enriched with horse oil extracts that are very nourishing for damaged hair. It helps repair and moisturizes weak and damaged hair. The shampoo promotes strong and healthy hair. It transforms coarse, dry hair into soft, smooth tresses. The silicone-free formula helps encourage hair growth and preserve hair and scalp health.
Pros
Repairs damaged hair
Provides intense hydration
Leaves hair soft and smooth
Refreshing menthol fragrance
Silicone-free
Cons
Contains parabens
Contains sulfates
The Kracie Dear Beaute Himawari Oil In Shampoo corrects the oil and moisture balance in your hair that may cause unruly and frizzy hair. It repairs damaged hair and leaves you with manageable tresses. The Dear Beaute Himawari range uses premium organic sunflower extracts sourced from the seeds, petals, and oils of the plant. The formula also contains the goodness of honey, along with a fruity fragrance, which is a blend of apple, peach, jasmine, rose, and musk.
Pros
Repairs damaged hair
Makes hair manageable
Calms frizzy hair
Pleasant fruity fragrance
Sulfate-free
Silicone-free
Cons
Expensive
Not easily available
The Elence Premium 2001 Twin Scalp Shampoo EX-2 is suitable for applying on fine and weak hair. If you are dealing with hair breakage and thinning hair, this shampoo is meant for you. It boosts hair volume in a short period, making your hair look healthy, long, and full with every use. The formula is enriched with 30 herbal extracts that moisturize dehydrated hair and replenish your scalp and hair with revitalizing nutrients.
Pros
Suitable for fine hair
Prevents hair loss
Promotes hair growth
Lathers well
Pleasant fragrance
Non-drying
Cons
Contains sulfates
Contains parabens
The Deep Moist Shampoo from &Honey provides intense hydration to dry, brittle hair. It nourishes the hair from the roots to the tips, working on individual strands to repair damage and restore shine. The powerful formula contains nutritious ingredients, such as royal jelly, argan oil, organic Moroccan oil, and three types of honey – manuka honey from New Zealand, raw honey from Japan, and Hungarian acacia honey. The natural ingredients cleanse your hair and scalp of dirt and impurities without drying it out. This video offers a more detailed explanation of the product.
Pros
No irritating chemicals
No preservatives
Non-drying
Paraben-free
Sulfate-free
Pleasant fragrance
Cons
Expensive
May not work well on all hair types.
The MyKirei By Kao Nourishing Shampoo features a gentle, balanced formula. The shampoo is enriched with rice water and the intensely hydrating Japanese Tsubaki extract. It provides deep nourishment and balance to all hair types. Japanese Tsubaki is rich in proteins, oleic acid, and glycerides. Rice water is rich in vitamins and has long been revered as the secret behind sleek, shiny, and healthy hair.
Pros
Suitable for all hair types
Vegan-friendly
Non-drying
Sustainable packaging
Paraben-free
Cons
Expensive
Strong fragrance
The Rishiri Black Hair Color Shampoo leaves a little color on your hair every time you shampoo. While this shampoo is suitable for black hair, Rishiri has a similar shampoo for brown hair. This gentle formula is free of parabens, perfumes, and mineral oil. It is perfect for those with sensitive skin or people who are allergic to chemical hair dyes.
Pros
Gentle on sensitive skin
Suitable for color-treated hair
Paraben-free
Mineral oil-free
No synthetic perfume 
Cons
Expensive
Color does not last long.
Recommended Articles