9 Best Jasmine Perfumes For Women That Keep You Fresh – 2023
Entice your senses and fall in love with the sensually rich, fruity scent of jasmine.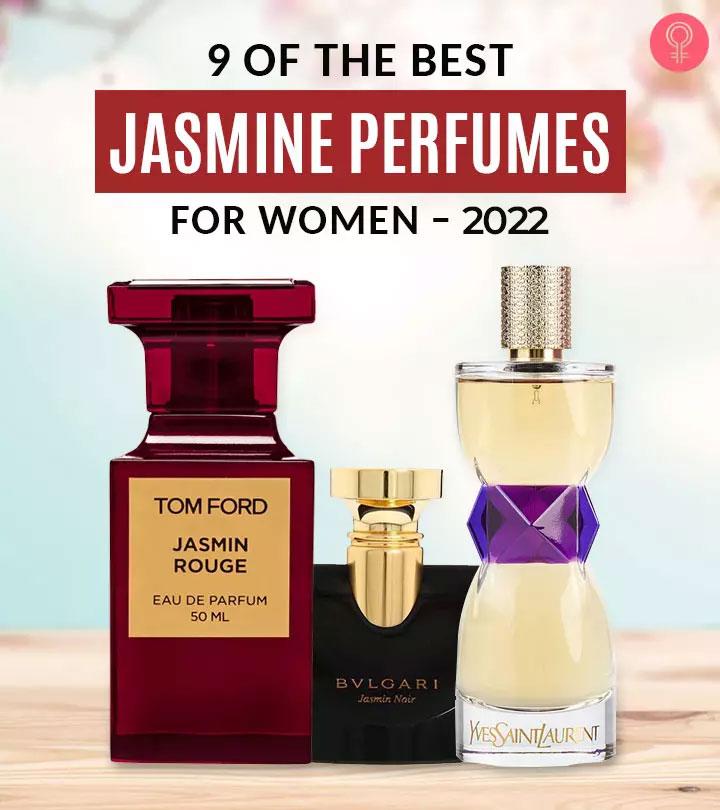 Jasmine is the most widely used note in perfumes. The fragrance keeps your nerves calm and relaxed. This is why you need the best jasmine perfumes to make your evenings special. The sweet aroma will keep your spirits high all day. The incredible fragrance will keep your acquaintances enchanted. The fresh scent of jasmine relaxes your anxiety and rejuvenates your senses. Here, we have listed the 9 best jasmine perfumes to keep you refreshed. Add one jasmine floral scent to your perfume collection and give it a floral upgrade! Keep reading!
The 9 Best Jasmine Perfumes To Try This Year
Review
Tom Ford's Jasmin Rouge is an enticing white floral scent paired with delicate jasmine and ylang-ylang notes. It has a spicy musk base that blends beautifully with the florals. It is one of the best jasmine-scented perfumes.
The jasmine scent in this perfume is so natural and classy that it makes you feel bold and sophisticated. If you are a fan of jasmine, then natural jasmine perfume is the ideal fragrance for you for those cold winter evenings. Before buying, have a look at this video for more details.
Pros
Authentic
Ideal for all occasions
A few sprays do the job
Not overpowering
Luxe bottle design
Paraben-free
Cons
Price at the time of publication: $216.9
Review
Bvlgari Jasmin Noir is a rich, floral Eau de parfum. Wearing it feels like being showered with baskets of gardenia and jasmine. It highlights the fresh green aspects of the jasmine flower and mutes it with a soft nutty quality. The scent dries down to warm woods and smells very romantic. Here's the best part: although this fragrance falls on the sweet side, it never feels cloying. It is quite a popular perfumes for women and a perfect choice for night-outs or special evenings. Watch this video to know more about the product.
Pros
High-quality material
Ideal for romantic dates
Suitable for all-time wear
Woody and floral fragrance
Long-lasting
Cons
Defective sprayer
Expensive
Price at the time of publication: $239.99
3. Roberto Cavalli Paradiso
Review
This aromatic woody-citrus fragrance is recommended primarily for summertime daywear. The top notes of Paradiso are comprised of citruses like mandarin and bergamot, which lead to a heart note of jasmine and a refreshing green base. The notes come together to create a fragrance that is lovely for vacations.
Review
Michael kors glam jasmine perfume is a simple white floral scent that only has four notes, with jasmine being a particularly significant one. Its other notes include white flowers, cassis, and sandalwood. Michael kors jasmine perfume is best described as a fresh, out-of-the-shower, clean, feminine scent.
We highly recommend this perfume for spring daywear.
[ Read: Best Musk Perfumes For Women ]
Review
Ellie Saab Le Parfum is a delightful blend of orange blossom, gardenia, and jasmine. It has a delicate sweetness of flowers that never feels cloying. One of the most wonderful things about this fragrance is that it starts off smelling heavenly and smells lusher and fresher as time passes. If you are looking for a happy and playful daytime fragrance, this one checks all the boxes.
Pros
Ideal for daytime wear
Exquisite floral fragrance
Not overpowering
Long-lasting
Cons
None
Review
Manifesto by YSL was designed to be an expression of desire and a declaration of femininity. This jasmine and vanilla perfume is best described as a deep, sensual floral fragrance that is perfect for a night out. This fragrance is beautifully blended with Sambac jasmine, lily of the valley, green accords, blackcurrant, vanilla, and tonka bean. It is the best obsession perfume for her.
Review
See By Chloe is a light and fresh scent that is subtly romantic. Its top notes of bergamot and apple blossom give it a pleasant honey-citrus aroma. The middle notes of jasmine and ylang-ylang make it soft and sweet. This fragrance is a modern take on vintage perfumes. It smells both elegant and chic and is great for daytime wear.
Pros
Pleasant fragrance
Great gift
Cons
None
Price at the time of publication: $249.99
[ Read: 10 Best Carolina Herrera Perfumes For Women (2019) ]
Review
Looking for a lighter jasmine fragrance? This one by Jo Malone is a fresh, minty jasmine scent that invokes a sense of serenity in you. Its refreshing mint notes stand out and complement the jasmine exceptionally well. All its notes smell very true to life, making it ideal for daily wear. It is the best perfume with jasmine fragrance.
Pros
Boosts moisture
Energizing scent
Not overpowering
Cons
Expensive
Price at the time of publication: $199.0
9. L'Occitane Jasmin & Bergamote Eau de Toilette
Review
This Jasmin perfume from L'Occitane is a harmonious accord of jasmine and bergamot. It is aimed at women who are looking for a delicate floral scent that is both fresh and clean. Its citrusy top notes of bergamot are soon pushed aside to reveal a rich yet subtle jasmine note, which is the heart of its composition. If you are looking for a daily wear perfume that smells classy and elegant, this one is worth a try.
Jasmine is considered one of the best and most-loved fragrances in the world of perfumes. There are close to over 200 types of jasmine, that provide richness and intensity to fragrances. Depending on the other notes it is paired with, jasmine has the versatility of offering a musky, encircling fragrance or transforming into a fresh and crisp scent. Therefore, it comes as no surprise that it is used in some of the most coveted perfumes for women. To help you choose yours, we have compiled a list of features to keep in mind while choosing the best jasmine perfumes that will keep you fresh.
How To Choose The Best Jasmine Perfumes
Jasmine may be known as a floral note, but thanks to the different types of jasmines used in fragrances, it can offer different aromatic experiences. Egyptian jasmine and Madagascan jasmine add musky notes for a seductive perfume, while Indian Sambac jasmine is ideal in more natural fragrances, for a greener, fresher and lighter scent. Choose the one that you are drawn to, and that matches your personality.
Perfumes are made up of top, middle, and base notes. So along with jasmine, it will have hints of other aromas. For an aromatic woody-citrus scent, choose a perfume with notes of mandarin and bergamot. Top notes of apple blossom and bergamot with a middle note of ylang-ylang give a honey-citrus cum sweet feminine scent. Pay most attention to the base note as that is what defines the core of the fragrance.
The most popular perfumes are the Eau De Toilettes which have a lower concentration of perfumes. If you prefer a more concentrated and stronger perfume, then choose an EDP or Eau De Parfum. Parfums have the highest level of concentration and will stay on the longest.
Why Trust StyleCraze?
Esha Saxena, the author of this article, is a perfume connoisseur. She is always on the lookout for new perfumes to add to her collection. She has conducted a thorough investigation of several reviews given by users on trusted online forums and curated this list of the top jasmine perfumes available on the market. These best jasmine perfumes will rejuvenate your senses and keep you feeling refreshed all day long.
Frequently Asked Questions
How do I make my jasmine perfume smell last longer?
•  Take a bath or a shower before using the scent.
•  Keep your skin hydrated.
•  Spritz the perfume on your pulse points.
•  Avoid misting perfume on the clothing.
Is jasmine perfume attractive?
Jasmine improves your mood, which is a crucial component of attractiveness. It is also a well-known aphrodisiac and is frequently used in fragrances due to its strong, sweet scent, and its reputation for being both comforting and attractive.
Does jasmine smell seductive?
Yes, jasmine has a rich, sweet, fruity, and seductive flowery aroma.
What goes well with jasmine perfume?
Jasmine pairs beautifully with citrusy aromas like lemon, grapefruit, and orange, adding a vibrant touch.
What smells similar to jasmine perfume?
Gardenia has a scent similar to jasmine.
Is jasmine perfume expensive?
It takes a lot of jasmine flowers to make one oz of the jasmine oil needed for the scent. Jasmine perfumes, therefore, can be quite expensive.
Recommended Articles