10 Best Jelly Face Masks To Try In 2023
Get hold of these must-have masks because it is time to rock a skin as smooth as jelly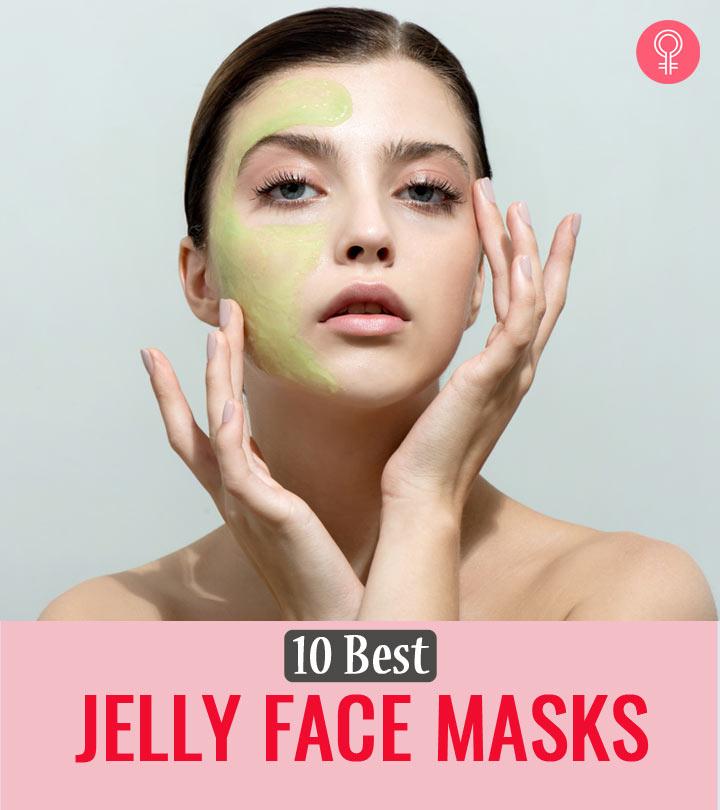 With K- beauty, sheet masks have gained immense attention, and now it is the trend of jelly masks. The best jelly face masks are included by many in their facial care regime for their hydrating, brightening, anti-aging, and exfoliating properties. These unique masks are made of jelly – they can be applied easily, and you can rinse them off after some time.
There are different types of jelly texture masks with varied formulas which address unique skin issues.
If you want to replace your regular sheet masks with jelly masks, this article will help you. We have listed top jelly face masks to suit your skin care regime based on the positive reviews online.
Top 10 Jelly Face Masks For Your Face
This mask helps clarify acne-prone skin and keeps it calm and clear. It contains fruit enzymes, white willow bark, aloe vera extracts, and blue tansy essential oil that reduce the appearance of redness, giving you clear skin. Shawnda Dorantes, beauty advisor, says, "White willow bark contains compounds called flavonoids and polyphenols, which have anti-inflammatory properties. This makes it a useful ingredient for reducing redness and inflammation associated with acne or other skin irritation." This mask is best suited for oily, acne-prone, and blemish-prone skin types and has garnered several positive reviews. However, if you have sensitive skin, do a patch test to see if it suits you.
Pros
Paraben-free
Sulfate-free
Phthalate-free
Mineral oil-free
Formaldehyde-free
No synthetic fragrances and preservatives
Cruelty-free
Exfoliating mask
Cons
Expensive
This jelly face mask has a bouncy texture and is a breathable sleeping mask. This overnight mask has a pillow-proof formula that helps to boost skin radiance. It contains hyaluronic acid that provides intense hydration while you are asleep to offer visible results overnight. It is formulated with amino-acid rich watermelon extract and AHAs that refine your skin pores and gently exfoliate and clarify your skin. This is suitable for all skin types and clinically-proven to regenerate skin cells in 4 weeks.
Pros
Vegan
Cruelty-free
Paraben-free
Sulfate-free
Mineral oil-free
Formaldehyde-free
Alcohol-free
No synthetic fragrances
No artificial preservatives
No harmful chemicals
Cons
Price at the time of publication: $30.0
The BRÜUN Jelly Mask with activated bamboo charcoal draws out excess oil and dirt, unclogs your pores, and keeps acne trouble at bay. It is enriched with 33% extra concentrated charcoal powder, which exfoliates your skin and clears blemishes. The mask also helps balance your skin's pH and has a cooling effect on the skin that keeps you feeling refreshed. The electrolytes in the formula gives your reenergized, radiant young skin. This mask is not just for oily skin, its hydrating gel formula relieves skin dryness, nourishes, and gradually brightens your skin tone with continued use.
To prepare your jelly mask mix the powder and water in a 4:3 ratio. The mask conceals your face and pushes in nutrients for enhanced skin health, texture, and tone. This mask can reduce skin redness and hence, can be used in other parts of the body such as the armpits and bikini line after a waxing session. It can also be used for skin healing after cyrotherapy.
Pros
Offers more than 10 options
Suitable for all skin types
Hydrating
Skin Brightening
Cons
Price at the time of publication: $38
The Kiehl's Calendula & Aloe Soothing Hydration Masque is crafted to meet all skin needs. Its gentle, soothing formula heals and hydrates damaged skin. It is enriched with two super-ingredients calendula and aloe vera. Aloe vera reduces inflammation and imparts a cooling effect to the skin and the calendula effectively soothes skin redness. According to reviews online, the mask revitalizes the overall skin for a brighter complexion.
Pros
Moisturizes
Gentle on the skin
Suitable for all skin types
Paraben-free
Sulfate-free
Cons
None
Price at the time of publication: $48.99
This jelly mask literally melts into your skin after application. It has a dual scrub effect, which is gentle yet effective. It is clinically-tested to smoothen, clarify, and give a fresh glow to the skin. It works like a light peel due to the presence of citrus fruit extracts and a physical scrub as it contains apricot kernel extracts. It feels extremely refreshing and has a water-rich gel-like texture that helps rejuvenate your skin. With regular use, it reveals clear, radiant, and bright skin.
Pros
Paraben-free
Sulfate-free
Phthalate-free
Suitable for normal and combination skin
Dermatologically tested
Cons
The fragrance can be overpowering.
Price at the time of publication: $57.44
If your skin is stressed out, this jelly mask packed with superfoods for the skin is what you need. It contains ginger and turmeric extracts that comfort your stressed out skin and vitamin C that helps brightens it. Shawnda Dorantes, beauty advisor, says, "Both ginger and turmeric contain compounds that have anti-inflammatory properties, which can help reduce redness and inflammation associated with acne, eczema, psoriasis, and other skin conditions." This jelly mask provides intense and cooling hydration and helps restore the supple skin. This addictive jelly mask has an invigorating fragrance that awakens your senses and reveals a healthy-looking complexion with regular use.
Pros
Alcohol-free
No artificial colors
No synthetic fragrances
Paraben-free
Mineral oil-free
Talc-free
Formaldehyde-free
Allergy-tested
Gluten-free
Nut-free
Soy-free
100% vegan
Suitable for sensitive skin
Nano-free
Cons
None
Price at the time of publication: $14.97
The Lancôme Rose Jelly Mask is an intensively hydrating overnight gel mask that locks in moisture and makes your skin look plump and hydrated. This jelly mask contains hyaluronic acid, rose water, and honey – all of which are hydrating ingredients that quench the thirst of your skin.
Pros
Helps to reduce uneven texture
Contains niacinamide
Makes the skin smoother
Cons
Contains alcohol
Contains artificial color
Feels a bit sticky after application.
Price at the time of publication: $50.7
This jelly mask is great for those who have uneven skin texture. This is an exfoliating and retexturizing jelly mask. It contains a blend of AHAs, like glycolic and lactic acids, that exfoliate your skin and reveal a brighter and even texture. It is infused with hyaluronic acid that hydrates and revitalizes the skin. It also contains vitamin B3 to improve radiance and make your skin healthy and plump.
Note: The product may undergo discoloration with time. It is natural and happens due to its formula. Do a patch test before you apply this mask to your face. It might cause a bit redness initially.
Pros
Contains niacinamide
Paraben-free
Sulfate-free
Phthalate-free
Makes the skin smoother
Cons
Might feel a bit sticky if too much is applied.
The VogueNow Brightening Complex 24K Gold Jelly Mask is a must-have for dry, aging, or dull skin. Its professional-grade brightening formula removes dead skin cells, excess oil and grime, hydrates, and gives your skin a radiant glow. It comes as a powder that turns into a smooth, lump-free jelly mask that envelops your skin in a moisturizing layer. It deeply nourishes your skin, fights signs of aging, stimulates collagen production, and helps maintain your skin's natural pH balance. The mask reduces dark spots and blemishes and improves your skin texture leaving your skin smooth, soft, and supple. The pack includes a free spatula that makes application super easy. It also comes with a free jade roller that you can use while moisturizing your face after removing the jelly mask.
Pros
Hydrating
Brightening
Easy to mix
Paraben-free
Cruelty-free
Vegan
Cons
Price at the time of publication: $34.97
If you are looking for an anti-aging jelly mask or you have mature skin and are struggling with dryness, this is the mask for you. The Collagen Age Signature Jelly Mask helps restore skin elasticity and regenerate your skin fibers. It contains snail secretion filtrate, a powerful skin regenerator that keeps your skin renewed, rejuvenated, and moisturized. It also contains collagen, hydrolyzed elastin, and other antioxidants that give you firmer and younger-looking skin.
Pros
Contains natural ingredients
No harmful chemicals
No synthetic preservatives
Cons
None
Price at the time of publication: $53.0
Beauty face masks are a dime-a-dozen in the market but jelly masks are taking the industry by storm. These day and night masks are designed for specific skin types and issues and come in a water-based gel-like consistency. Here are some factors that will help you select the best jelly face masks.
Things To Consider While Buying The Best Jelly Face Mask To Try
1. Skin type And Ingredients To Use
If you have dry skin, you primarily need a hydrating jelly mask. Ingredients like rose water, cucumber, honey, hyaluronic acid, and carotenoids and phytonutrients offer excellent water replenishment to the skin. These ingredients will replenish lost moisture and restore skin vitality. Ingredients like aloe vera and papaya calm sunburnt and irritated skin while reducing blemishes and pigmentation.
What an oily skin needs the most is proper cleansing and exfoliation. Pick a non-comedogenic jelly mask with ingredients like kaolin clay and charcoal. These have exfoliating properties that pull out impurities and soak in excess oil from the skin. Ingredients like coconut water and glycerin also provide mild hydration while maintaining the pH balance of the skin.
If you have acne-prone and sensitive skin, pick a dermatologist-recommended jelly mask that will soothe the skin and keep it clear and calm. A clarifying mask infused with aloe vera, fruit enzymes, white willow bark, and light essential oils will provide protection, moisturization, and overall nourishment to the face. It will help reduce blemishes, redness and irritation, while cleansing and smoothing the skin tone. Additionally, make sure to perform a patch test to ensure the product suits your skin.
2. Ingredients To Avoid
Avoid harmful chemicals like parabens, sulfates, artificial fragrances, and other toxic ingredients that are harmful to the skin in the long run.
3. Additional Benefits
Glow: for a special radiance, pick an overnight jelly face mask that plumps the skin and is breathable. Look for ingredients like hyaluronic acid which offers slow hydrations to the skin giving it a renewed glow, and AHAs for gentle exfoliation.
Exfoliation: deep cleansing is a necessity for all skin types. Look for ingredients like lactic acid, glycolic acid, and other AHAs for exfoliation and fruit extracts and vitamin B3 for nourishment. Look for masks with single or dual scrub effects. These jelly masks are physical scrubs or peel-off formulas.
Anti-Aging: for aging skin, look for a mask with ingredients that help to promote collagen production. Collagen increases skin elasticity and restores skin fibres. Antioxidants and snail secretion masks are effective for powerful skin regeneration.
Why Trust Stylecraze
Shiboli Chakraborti, the writer of this article, is a certified skin care coach with a love for skin-enhancing K-beauty products like jelly face masks. She scoured the internet to find products and analyzed their reviews across various forums to curate this handpicked list of the most enriching jelly face masks. Each of these masks provide benefits like anti-aging, hydrating, exfoliating, brightening, and nourishing properties.
Frequently Asked Questions
What is a jelly mask?
A jelly mask is a face mask that has a jelly-like texture and is rich in potent ingredients (just like any other face masks).
How often should you use a jelly face mask?
You can use it every day or as directed by the manufacturer.
How do you use a jelly face mask?
Scoop out the product with the spatula provided in the box and spread it on your face. Let it stay for the time mentioned on the package or leave it on overnight. Wash it off the next day.
Do Hydrojelly masks really work?
Yes. Hydrojelly masks hydrate, exfoliate, and smoothen the skin. These masks also help reduce inflammation.
How long do you leave a jelly mask on?
Leave a jelly mask for five to ten minutes, then wash it off with lukewarm water with clean cotton pads.
Do jelly face masks contain gelatin?
Yes, jelly masks contain gelatin. This ingredient promotes collagen production and improves skin elasticity. Gelatin also binds with dirt and toxins on the skin. Therefore, when peeling the mask, dirt comes out.
What is the difference between a jelly mask and a Hydrojelly mask?
A jelly mask contains algae and clay, while a hydrojelly mask does not contain clay. Hydrojelly masks combat free environmental radicals and prevent skin inflammation. On the other hand, jelly masks supply oxygen to the skin and strengthen the tissues.
Recommended Articles