10 Best Jelly Face Masks To Try In 2021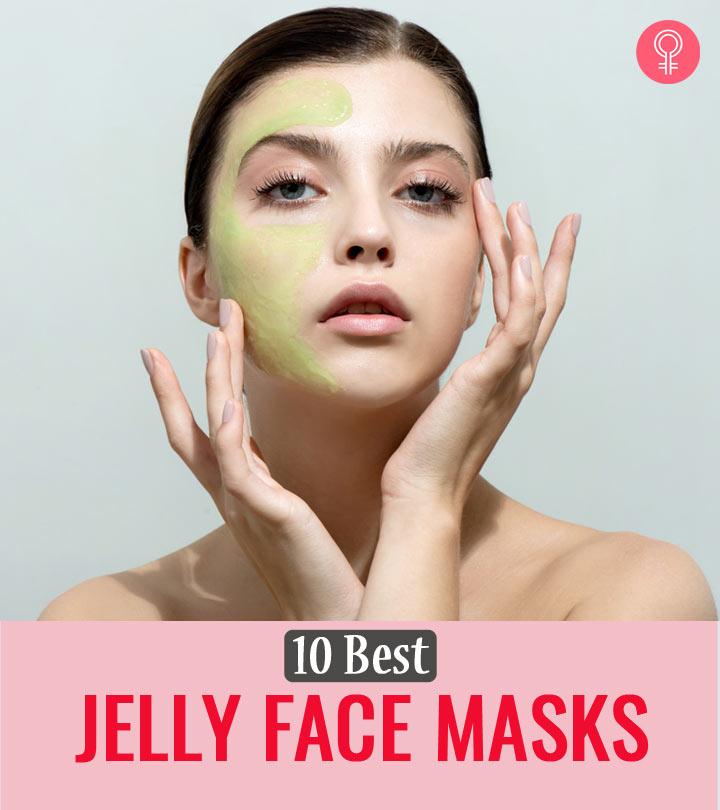 Move over sheet masks – it's time to up your skin care game with jelly masks. Jelly masks have been popularized by K-beauty and are the next level of inventive skin treatment. These have a unique jelly-like texture, which is easy to apply and rinse.
Jelly face masks primarily provide intense hydration. However, their benefits depend on the formula and the skin care issue they address. Hence, these masks can hydrate, brighten, and exfoliate your skin and have anti-aging benefits. If you are ready to switch from sheet masks to jelly masks, check out our list of best jelly face masks for all your skin care issues.
Top 10 Jelly Face Masks For Your Face
This mask helps clarify acne-prone skin and keeps it calm and clear. It contains fruit enzymes, white willow bark, aloe vera extracts, and blue tansy essential oil that reduce the appearance of redness, giving you clear skin. This mask is best suited for oily, acne-prone, and blemish-prone skin types. However, if you have sensitive skin, do a patch test to see if it suits you.
Pros
Paraben-free
Sulfate-free
Phthalate-free
Mineral oil-free
Formaldehyde-free
No synthetic fragrances and preservatives
Cruelty-free
Exfoliating mask
Cons
Expensive
This jelly face mask has a bouncy texture and is a breathable sleeping mask. This overnight mask has a pillow-proof formula that helps to boost skin radiance. It contains hyaluronic acid that provides intense hydration while you are asleep. It is formulated with amino-acid rich watermelon extract and AHAs that refine your skin pores and gently exfoliate and clarify your skin. This is suitable for all skin types.
Pros
Vegan
Cruelty-free
Paraben-free
Sulfate-free
Mineral oil-free
Formaldehyde-free
Alcohol-free
No synthetic fragrances
No artificial preservatives
No harmful chemicals
Cons
This is a bouncy, memory-shape gel-cream that molds itself as you apply it on your face. The refreshing overnight mask is specially formulated to address the early signs of aging. If you have uneven skin texture and fine lines, get your hands on this face mask. It contains babassu oil and edelweiss extracts that help to keep your skin hydrated, make it feel softer and smoother.
Pros
Dermatologically tested
100% vegan product
Ethically traded organic ingredients
Paraben-free
Gluten-free
Cruelty-free
Cons
May cause a sticky feeling in the morning.
The J.ONE Black Jelly Pack is an overnight mask and has a rich formula. This is an ultralight gel and gets immediately absorbed into the skin. It has a gel-like texture, and the black color is due to the presence of ingredients like black cumin, blackberry, black currant, black truffle, black bee propolis, and more. It is rich in antioxidants and essential nutrients that keep your skin glowing and radiant.
Pros
No synthetic dyes
No harmful chemicals
Contains natural extracts
Overnight hydration
Cons
None
This jelly mask literally melts into your skin after application. It has a dual scrub effect, which is gentle yet effective. It works like a light peel due to the presence of citrus fruit extracts and a physical scrub as it contains apricot kernel extracts. It feels extremely refreshing and has a water-rich gel-like texture that helps rejuvenate your skin. With regular use, it reveals clear, radiant, and bright skin.
Pros
Paraben-free
Sulfate-free
Phthalate-free
Suitable for normal and combination skin
Dermatologically tested
Cons
The fragrance can be overpowering.
If your skin is stressed out, this jelly mask packed with superfoods for the skin is what you need. It contains ginger and turmeric extracts that comfort your stressed out skin and vitamin C that helps brightens it. This jelly mask provides intense and cooling hydration and helps restore the suppleness of your skin. This addictive jelly mask has an invigorating fragrance that awakens your senses and reveals a healthy-looking complexion with regular use.
Pros
Alcohol-free
No artificial colors
No synthetic fragrances
Paraben-free
Mineral oil-free
Talc-free
Formaldehyde-free
Allergy-tested
Gluten-free
Nut-free
Soy-free
100% vegan
Suitable for sensitive skin
Nano-free
Cons
None
The Lancôme Rose Jelly Mask is an intensively hydrating overnight gel mask that locks in moisture and makes your skin look plump and hydrated. This jelly mask contains hyaluronic acid, rose water, and honey – all of which are hydrating ingredients that quench the thirst of your skin.
Pros
Helps to reduce uneven texture
Contains niacinamide
Makes the skin smoother
Cons
Contains alcohol
Contains artificial color
Feels a bit sticky after application.
This jelly mask is great for those who have uneven skin texture. This is an exfoliating and retexturizing jelly mask. It contains a blend of AHAs, like glycolic and lactic acids, that exfoliate your skin and reveal a brighter and even texture. It is infused with hyaluronic acid that hydrates and revitalizes the skin. It also contains vitamin B3 to improve radiance and make your skin healthy and plump.
Note: The product may undergo discoloration with time. It is natural and happens due to its formula. Do a patch test before you apply this mask to your face. It might cause a bit redness initially.
Pros
Contains niacinamide
Paraben-free
Sulfate-free
Phthalate-free
Makes the skin smoother
Cons
Might feel a bit sticky if too much is applied.
This is an intensely hydrating honey face mask. It contains a proprietary blend of honey, which makes this mask rich in antioxidants. Honey also provides intense hydration and nourishment. The mask also contains glycerin that attracts moisture to the skin and keeps it soft and B vitamins that help renew the skin and relieve dryness.
Pros
Cruelty-free
Recyclable package
Paraben-free
Sulfate-free
Phthalate-free
No artificial fragrances
No artificial color
No synthetic preservatives
Formaldehyde-free
Alcohol-free
Visible results
Cons
If you are looking for an anti-aging jelly mask or you have mature skin and are struggling with dryness, this is the mask for you. The Collagen Age Signature Jelly Mask helps restore skin elasticity and regenerate your skin fibers. It contains snail secretion filtrate, a powerful skin regenerator that keeps your skin renewed, rejuvenated, and moisturized. It also contains collagen, hydrolyzed elastin, and other antioxidants that give you younger-looking skin.
Pros
Contains natural ingredients
No harmful chemicals
No synthetic preservatives
Cons
None
Although most jelly masks predominantly focus on hydration, depending on their ingredients, they can do a lot more for your skin. For instance, they can have anti-aging benefits, they can exfoliate and brighten your skin or boost its radiance. The above list has a mix of all types of the best jelly masks. Pick one that suits your needs.
Frequently Asked Questions
What is a jelly mask?
A jelly mask is a face mask that has a jelly-like texture and is rich in potent ingredients (just like any other face masks).
How often should you use a jelly face mask?
You can use it every day or as directed by the manufacturer.
How do you use a jelly face mask?
Scoop out the product with the spatula provided in the box and spread it on your face. Let it stay for the time mentioned on the package or leave it on overnight. Wash it off the next day.
Recommended Articles