8 Best Jelly Lipsticks For 2023
Have these new formulas for color-changing lipsticks that you will regret missing.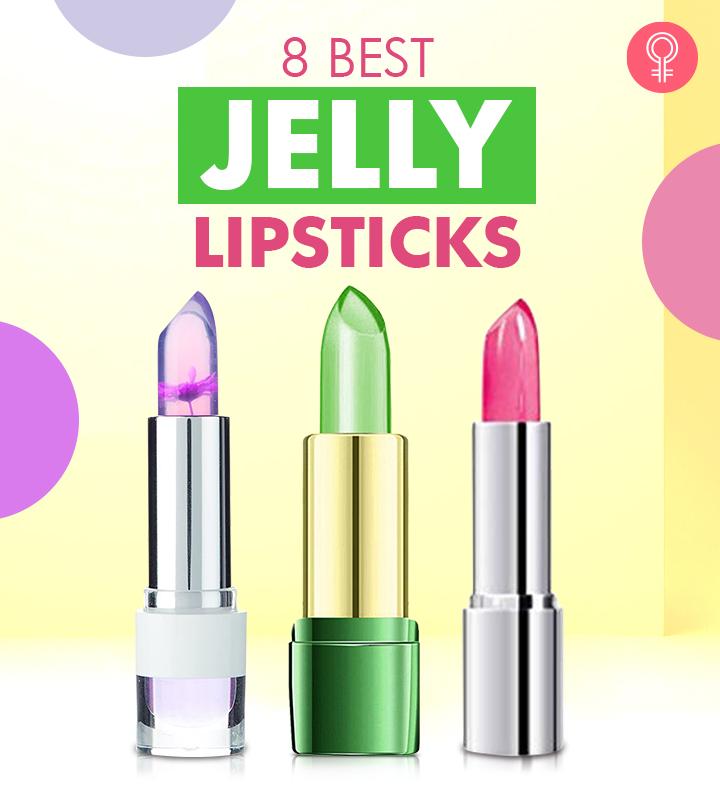 Lipsticks are must-have beauty products. With the large variety of lipsticks available now, there is a lipstick for everyone, for every mood, and every occasion! The best jelly lipsticks are the newest addition to the lipstick world. These lip colors offer multiple benefits, like moisturizing your lips and adding a hint of color. Jelly lipsticks mostly have color-changing formulas that offer unique, personalized shades according to the wearer's body temperatures. In this article, we have listed some of the best jelly lipsticks that are doing the rounds right now. If you, too, want to hop onto the trend and try these, keep scrolling ahead to check them out!
What Are Jelly lipsticks?
Jelly lipsticks are essentially a bridge between liquid and solid lipsticks. They use jelly-based lip stain formulas and provide fully buildable coverage and a seamless, smooth, and clean finish. They also have supreme smudge-proof and feather-resistant benefits to ensure they last all day. These jelly lipsticks have recently gained a lot of popularity and are one of the top lipstick trends. So, let's check out the best jelly lipsticks on the market right now and jump on the bandwagon!
Let's check out the best jelly lipsticks on the market right now.
8 Best Jelly Lipsticks
Try the SuperThinker Crystal Jelly Flower Lipstick to get a lip color that is unique to you. It changes color according to the body temperature and humidity of your lips, adjusting the depth of the pink pigment. It is enriched with moisturizing ingredients like vitamin E, avocado, and honey that nourish your lips. This lipstick features a small natural flower with gold flakes inside a clear jelly stick. The pack includes six non-drying lipsticks that will make you look gorgeous, no matter the occasion.
Pros
Pleasant fragrance
Waterproof
Non-drying
Long-lasting
Pack of 6
Value for money
Cons
None
Price at the time of publication: $12.85
The color-adapting jelly flower lipstick by PrettyDiva is a flame red shimmery lipstick that is designed to give you a customized color payoff, which deepens based on your body temperature and humidity. This smooth, satin-like lipstick features an organic blend of vitamin E, candelilla wax, jojoba seed oil, and squalane that lends moisture as well as a subtle hint of aroma to your lips.
Pros
Moisturizing
Lightweight
Pleasant fragrance
Long-lasting
Cons
None

Price at the time of publication: $12.98
The Amazfly Aloe Vera Lipstick employs a color-changing formula to give you a lip color that is unique to you. It is enriched with a rich moisturizing blend of aloe vera, avocado, olive oil, jojoba oil, vitamin E, and lavender oil that reduces dryness and flakiness and retains moisture. This lightweight and transfer-proof lipstick is suitable for all ages.
Pros
Natural ingredients
Lightweight
Moisturizing
Pleasant fragrance
Pack of 2
Budget-friendly
Cons
None
Price at the time of publication: $5.99
Get a shiny and extra-glossy, wet finish with the Kiko Milano Jelly Stylo Lipstick. Its unique gel base and enveloping polymer allows the lipstick texture to be extremely smooth for maximum performance and provides a sheer to medium coverage. The hypoallergenic lipstick is enriched with a blend of humectants and plant-based amino acids that softens your lips and makes them look visibly plump, supple, and healthy. While this lipstick shade is ideal for fair skin tones, there are 14 additional shades like pinks, reds, browns, and black that are suitable for warm and neutral skin tones.
Pros
Hypoallergenic
Softens the lips
Non-sticky
Long-lasting
Pleasant fragrance
Highly pigmented
Cons
None

Price at the time of publication: $11.99
The Absolute New York Match Maker Jelly Lipstick comes in two luscious shades of light and dark pink. It uses a color-adapting formula that reacts with your lip's natural temperature and pH level to give you a customized depth of pigment. The non-sticky lipstick glides on smoothly to offer a silk-like finish and create the perfect glossy lip look.
Pros
Non-sticky
Mild fragrance
Smooth application
Cruelty-free
Vegan
Phthalate-free
Sulfate-free
Cons
None
Price at the time of publication: $9.98
Get nourished lips along with a subtle lotus aroma that lasts all day long with the INC.redible Jelly Shot Lipstick. It is enriched with a blend of vitamin E, rice bran oil, and avocado oil. The avocado oil adds moisture, vitamin E provides antioxidant protection, and the rice bran oil smoothes and conditions your lips. This nourishing lipstick glides on so smooth that it feels like simply applying a lip balm with color. It also help in maintaining plumpy lips all day long. The lipstick features a clear jelly shot with a real flower inside and comes in three different shades – Luscious Lilac, Aqua Blue, and Orange.
Pros
Smoothens the lips
Nourishing
Long-lasting
Cruelty-free
Cons
None
Price at the time of publication: $13.95
The Btspring Clear Flower Jelly Lipstick provides a color changing effect that decides the depth of the pigment based on your body temperature. This matte lipstick is formulated with cocoa butter, beeswax, and essential oils that provide lasting hydration to your lips. This creamy lipstick is highly pigmented and stays for a long time. The design features a clear stick with a small natural flower and gold flakes right inside for a touch of beauty. The set includes six matte jelly lipsticks and a compact case, making it travel-friendly.
Pros
Pleasant fragrance
Glossy finish
Moisturizing
Non-sticky
Long-lasting
Cons
None
Price at the time of publication: $9.99
This is a set of three jelly lipsticks that come in different tints of baby pink, orange, and dark pink. These stunningly subtle yet bold lipstick colors are enriched with natural flower extracts that leave your lips feeling soft and smooth. They change colors upon application, depending on your body temperature, which stays lighter if you are cool and deeper if you are warm. This jelly lipstick formula contains vitamin E, beeswax, olive oil, and aloe vera to keep your lips hydrated throughout the day.
Pros
Moisturizing
Non-greasy
Softens the lips
Set of 3 l
Cons
None
Price at the time of publication: $7.95
Similar to regular lipsticks, there are a few factors to take into consideration when choosing a jelly lipstick. Let's take a look at them.
How To Choose The Best Jelly Lipsticks
Formula: Choose a lipstick that features a moisturizing formula with emollients to ensure that your lips stay hydrated and nourished throughout the day.
Shade: Check if the shade is ideal for your skin tone. Warmer undertones should ideally go for shades like red, brown, and orange. They also have some ideal lipstick shades for cool undertones like pink, purple, blue, and lavender.
Why Trust StyleCraze?
Baishali Bhattacharya, the author of this article, is certified in makeup artistry. As a person with a knack for trying out new things, she likes reviewing new makeup products and trends. She has prepared this list of the best jelly lipsticks after going through many reviews and online feedback. These are unique color-changing formulas that help you achieve that glamorous look. They are long-lasting and waterproof.
Frequently Asked Questions
Which one is better – jelly lipstick or lipgloss?
A jelly lipstick changes color and adjusts based on your body temperature. It is quite pigmented, shiny, and lasts longer as well. Lip gloss, on the other hand, makes your lips appear larger and fuller. They don't stay on for a long time and wear off when you eat or drink. So, make your choice based on your requirements.
Is jelly lipstick appropriate for a teenager to wear?
Yes. Jelly lipstick hydrates the lips while adding a subtle tint, making it ideal for teenagers to wear on special occasions.
Is it easy to remove jelly lipstick?
Yes, removing jelly lipstick is simple and straightforward. You can wipe it with any makeup remover.
Is it okay to use jelly lipstick daily?
Yes. Jelly lipstick is very easy to apply and take off which makes it ideal for daily use. The subtle lipstick shades are also suitable for everyday wear.
Can we use lip gloss with jelly lipstick?
Although you can wear lip gloss with jelly lipstick, you won't find the need to do so because of the sheen and fuller look that jelly lipstick offers.
What is special about jelly lipstick?
Jelly lipsticks offer a truly-your, unique, personalized look that has folks guessing what color it is!
Recommended Articles