7 Best Jinri Hair Dryers
Achieve a perfect bounce and shine with advanced hair care tools from this brand!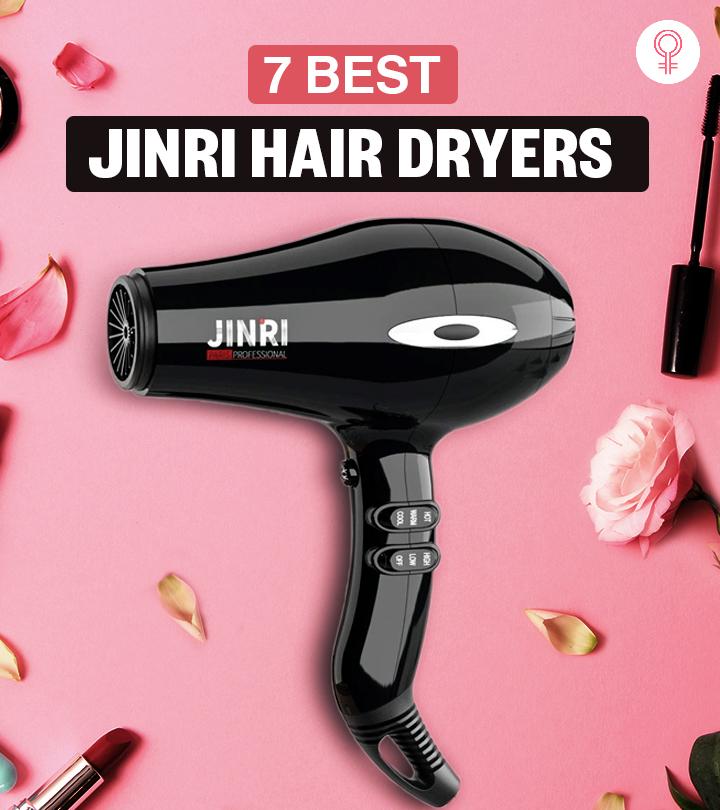 Jinri Paris Professional has made phenomenal hair dryers with ionic and tourmaline technology that benefits your hair. With a dozen or more hair dryers in their product line and each having its own unique set of features, choosing the best jinri hair dryer can seem confusing. However, we have put together a detailed list to help you choose the best jinri hair dryer, along with the appropriate accessories and features for your hair.
7 Best Jinri Hair Dryers
Pros
Ease to hold
No-slip grip
Suits all hair types
Removable filter
Lightweight
Anti-leakage plug for added safety
Cons
None

Price at the time of publication: $49.99
The innovative modes and ergonomic design make this Jinri Hair Dryer one of a kind. Its negative ion and anti-frizz infrared technologies clubbed with the high cool-shot airflow dry your hair 45% faster. It comes with a concentrator and diffusor attachments. Its 9-feet long cord makes it easier for you to style your hair.
This 1875-watt ceramic dryer emits non-damaging infrared heat and reduces hair frizz by 60%. It has 3 heat and 2 speed settings. Its cool-shot button offers flexible airflow that suits different hair textures. The filter is removable and can be cleaned easily. This dryer also comes with an ETL- and ALCI-certified power cord with a hanging loop.
Pros
Lightweight
Ideal for curly hair
Lengthy cord
Ergonomic design
Reduces frizz by 60%
Hanging loop
Dries hair 45% faster
Cons
None
Price at the time of publication: $56.88
This Jinri Infrared Professional Salon Hair Dryer is among the most affordable in the range. This lightweight hair dryer comes with a professional AC motor that dries hair with the least damage. Its ionic technology seals moisture within the cuticles and avoids the build-up of static on the head. It neutralizes the positive charge and reduces heat damage. The dryer also includes a concentrator nozzle, a diffuser, and a styling pik.
Its 2 speed and 3 heat settings offer faster, more efficient drying. Its AC motor lasts thrice as long as dryers with DC motors. Its infrared heat penetrates the cortex of the hair cuticles and heats hair from the inside out. The dryer's anti-leakage plug offers added safety. Click here to check out a detailed personal review of this product.
Pros
Lightweight
Reduces static
Long-lasting motor
Anti-leakage plug
Styling pik included
Cons
None

Price at the time of publication: $45.98
The Jinri Hair Dryer With Ionic Sterilization comes with the latest tourmaline ceramic technology clubbed with infrared that pampers your hair. The dryer also protects your hair from damage. Its technology reduces static and frizz. Its 2 speed and 3 heat settings and an 1875-watt long-lasting AC motor make your hair dryer process a breeze.
The dryer also comes with a hanging loop guard and a filter cap for easy storage and cleaning. Its 9-feet cord allows comfortable use. The package comes with a diffuser suitable for curly hair and a concentrator nozzle. Its lightweight body and ergonomic handle offer added comfort.
Pros
Lightweight
Ergonomic handle
Faster drying
Cons
Uncomfortable switch placement
Price at the time of publication: $45.99
The Jinri Ceramic Tourmaline Blow Dryer comes with an ion generator that produces millions of anions that protect your scalp from heat damage. The dryer works by sealing moisture into the hair cuticles and making your hair look smooth and shiny all day. It claims to dry your hair in under 3 minutes.
The hair dryer comes with 2 speed and 3 heat settings. Its soft, non-slip handle allows easy operation. It has a concentrator included. It suits all hair types. The detachable rear filter is easy to clean. Its far-infrared heat technology dries hair 50% faster than other hair dryers. Its anti-leakage plug offers added safety.
Pros
Lightweight
50% faster drying
Non-slip grip
Ergonomic design
Low-noise motor
Detachable filter
Anti-leakage plug
Cons
Price at the time of publication: $99.99
Pros
Foldable
Lightweight
Compact
Travel-friendly
Cons
None
Price at the time of publication: $109.99
Pros
Ultra-fast drying
Detachable filter
Low-noise operation
Flame-retardant housing
High voltage control
Cons
None
Price at the time of publication: $52.96
Why Trust StyleCraze?
Our in-house skin and hair care expert, Shiboli Chakraborti, understands the readers' requirements and conducts exhaustive research to recommend the latest and most durable products. She has curated this list of the best Jinri hair dryers after considering their efficiency and safety. These hair dryers come with various features and in multiple designs. She has also included a buying guide to help you make the right choice.
Frequently Asked Questions
Is Jinri a good hair dryer brand?
Yes. Jinri is known for using advanced technologies in its hair dryers. Its products are also comparatively affordable. Most Jinri hair dryers come with a 1-year replacement guarantee and a 2-year warranty. They also have generally positive reviews online.
Are expensive hair dryers worth the money?
Yes, most often. A hair dryer is supposed to reduce the drying time, and hair frizz and damage. Using a cheap hair dryer with uncontrolled heat may cause your hair to become dry, brittle, and prone to heat damage. Ensure you do thorough research before picking a hair dryer that suits your needs the best.
How do you use a Jinri hair dryer?
•  Semi-dry your hair and section the strands.
•  Plug in the dryer.
•  Set the dryer at a medium heat level, point the nozzle towards the hair, and dry the hair.
•  Once the hair is dry, set the temperature high and change the look of your hair with a comb.
•  Then, set the dryer in a cool setting, tame dry flyaways, and set the style.
•  Unplug the dryer and let it cool down before storing it.
How to clean Jinri's hair dryer?
•  Unplug the hair dryer.
•  Twist and remove the filter from the dryer.
•  Rinse the filter under running water and remove the dirt.
•  Use a toothbrush to scrub off the stubborn dirt from the filter surface.
•  Use a lint-free paper towel to dry the filter.
•  Attach the filter back to the dryer.
How long does a hair dryer take to dry the hair?
Short and fine hair takes five to 10 minutes to dry, while long, thick hair takes 15 to 30 minutes to dry completely.