15 Best Joggers For Women That Are Super Comfy and Stylish
Walk around with this stylish apparel that is also super comfortable.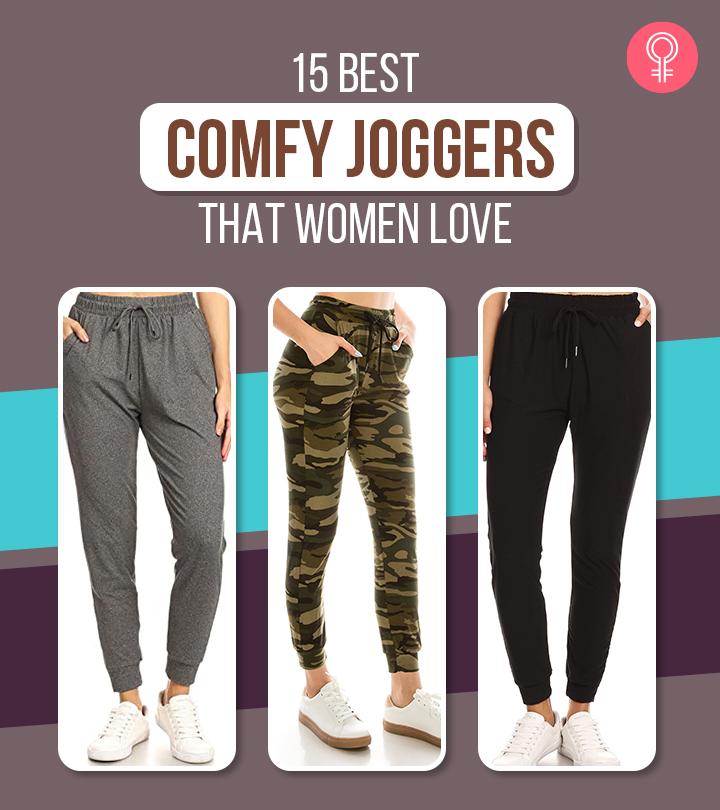 Morning or evening walks help us release our stress after a long day. But that is only possible if you have the best jogger for women in your wardrobe. A good jogger will be slouchy and wide while fitting around the ankles. It must also be breezy, ensuring you have nothing pulling you back while running errands, lounging, gymming, or traveling. Michelle Wagman, a fashion industry entrepreneur, says, "A jogger is a casual, tapered pant of absorbent fabric, typically with elastic at the waist and ankles. These stylish pieces are both fashionable and comfortable. The fit is a casual style. That offers a relaxed looked." These joggers offer easy movement without making you feel uncomfortable or attracting stares. Also, these versatile pants can be paired effortlessly with heels, flats, shoes, wedges and are great to live in them forever. They are far more ideal than wearing well-fitted jeans or leggings. If you want to get a few pairs for yourself, scroll down to explore the 15 best joggers for women that are trendy, chic, and meant to look great on everyone.
15 Best Comfy Joggers That Women Love
If you are looking for a jogger to work out at the gym, this is the one for you. The jogger from Leggings Depot has a slim-fit design. The fashionable heather charcoal shade makes it perfect to pair with almost any top, whether it is a tee, tank, sweater, or bootie. These joggers are high-waisted and taper to the ankles with an attached string that lets you adjust the fit to your hips. In addition, this jogger features pockets on both sides, enabling you to slip in your essentials and carry them along. The brand offers these joggers in a wide range of shades from black, charcoal, gray, and navy blue to vibrant shades of lilac, mustard, orange, and more.
Pros
 Durable
 Versatile
Machine-washable
Cons
 Don't suit short individuals
Price at the time of publication: $14.99
The LA12ST black Joggers are non-see-through, enabling women to wear them out with confidence. They come with an elasticized waistband that comfortably fits onto your hip. The bottoms can be slipped on with ease and held tight with long drawstrings at the hip and cuffed hem at the ankles. There are also deep pockets on either side that hold your items without sagging or weighing down the joggers. They are made of 87% polyester and 13% spandex and are available in 22 shades (some are plain neutral ones while others are multicolored). The sizes of the joggers offered include small, medium, large and extra-large.
Pros
 Soft and durable
 Stretchable
 Pull-on closure
Machine-washable
Cons
 Could be too long for some
Price at the time of publication: $13.99
Your search for flexible yet snug-fit joggers ends here! Amazon Essentials offers one of the best joggers for women tailored to ensure free movement of the limbs and hip without rubbing on the insides. Moreover, these branded joggers come in plus-size options as well. While 60% of the joggers is made of cotton, 40% is polyester. The joggers can be slipped on and fastened with the drawstring. The elasticized cuff maintains a snug fit at the ankles. In addition, the attractive peach shade of the product makes it more desirable. The joggers from this brand come in 21 darker to vibrant shades that range from black, charcoal heather, and burgundy to blue provence, cantaloupe, green, peach, light aqua, and more.
Pros
 Waist-high
 Durable
 Pull-on design
 Machine-washable
Cons
Price at the time of publication: $21.5
The Always Women Drawstring Jogger Sweatpants give an ultra-soft feel. They are made with highly stretchable, sweat-ready fabric that has excellent recovery. The material is 92% polyester and 8% spandex. The Jog143/2 shade jogger offers a full-length skinny fit design with a high rise waist featuring an elastic waistband and adjustable drawstrings. Two front pockets are provided on either side. As the joggers are designed for a 4-way stretch, they keep you comfortable as you go about your daily activities. The product is both hand- and machine-washable for your convenience. They are available in an impressive range of shades with plain and multicolored options for you to choose from.
Pros
 Soft material
 Breathable
 Lightweight
 Low friction
 Drawstring closure
 Deep pockets
 Convenient movement
Cons
 Too tight elastic waistband
Price at the time of publication: $16.95
These joggers from the Leggings Depot feature a buttery smooth brushed polyester and spandex blend perfectly fit for almost any season or occasion. These well-knit pants are designed to be active flex slim fit that stretch over your waist and thighs in all directions without causing friction. The joggers are not see-through and comfortable to wear at all times. Their cushiony material absorbs the sweat from your workouts without causing squishy movements.
Pros
 High-rise waist
 Soft and stretchy
 Long drawstrings
 Strong knit pockets
Broader ankle band
Cons
Price at the time of publication: $11.99
The CRZ Yoga Joggers are made of 88% polyester and 12% spandex. They are ideal for workouts, hiking, cycling, lounging, running errands, and travel. The product stays on your waist with both the elastic waistband and drawstrings. The drawstrings are provided with knobs at the tips that keep them from slipping into the band. The designers have provided broad inseams at 27.5 inches for a snug, comfortable fit.
The fabric easily absorbs sweat and dries quickly with a breezy feel, making it perfect for the sweltering summers. The roomy design of the pant enables free movement without making it look too baggy. The navy jogger pants for women have two side and back pockets for safe storage of small items. They are available in 26 shades.
Pros
 Soft material
 Ultra-light
 Dry fit
 Highly durable
Ribbed ankles
Cons
None
Price at the time of publication: $30
The Dragon Fit Black Joggers feel ultra-soft and breathable as they are made of 80% polyamide and 20% spandex. The tapering at the ankles provides a versatile and athletic fit that allows you to wear them with confidence for activities like visits to the gym, walks, jogs, hiking, or just lounging at home. The two front pockets are broad to keep small items like keys, wallet, and phone without worrying about them dropping out. They also ensure easy access to your belongings. The high-rise waistbands fit well with tummy control, making it a must-have for women with an active lifestyle. The brand offers joggers in 16 shades, from dark gray to faux leather coated.
Pros
 Pull-on closure
 Tummy tucker waistband
 Strong elastic
 Lightweight
 Deep pockets
 Elasticized ankle cuffs
 Machine-washable
 Multipurpose use
Cons
Price at the time of publication: $28.98
The broad and high-waist joggers from Oalka are made of 80% nylon and 20% spandex that provide support to your lower back and control the stomach muscles. The waist and thighs are covered comfortably and flatteringly. As these black joggers are an athletic fit, they are ideal for both indoor and outdoor workouts. Two side pockets are stitched to the sides of the hiking jogger, and there is a hidden one at the back waistband. Each of the pockets is deep and wide to fit small belongings like your phone, wallet, cards, or keys for convenient access. The jogger looks stylish and classy as you lounge around the house, run errands or go shopping, further enhancing the appearance of the person wearing it.
Pros
 Lightweight
 Breathable
 Seamless tummy control
 Stretchable fabric
Machine-washable
 Large back pocket
 Hidden pocket on waistband
 Absorbs moisture
Cons
Price at the time of publication: $22.99
The Southpole Basic Joggers are made of 100% polyester. The design is simple yet classy and tailored with imported material. The bottoms are a bit loose at the waist and tapered down with ribbed elastic at the ankles. These joggers have a deep pink shade that is attractive enough to turn heads. The fabric is thick and perfect for workouts without causing friction or tears. The pants are held tight at the waist with a combination of both elastic and a drawstring. They are available in 13 shades.
Pros
 Easy slip-on
 Pull-on closure
 Machine-washable
 Easy maintenance
 Durable
Sweat-absorbing
Cons
Price at the time of publication: $12.99
The Powerblend Jogger make you look and feel like a true champion! The athletic Navy-y07459 shade joggers feature a printed script logo on the lower left leg that motivates you to train and perform at your peak. They are made with 60% polyester and 40% cotton. The ribbed detailing adds not only style but also comfort. There are two front pockets on each side for secure storage of carry-along items like wallets, keys, etc. The ribbed waistband and cuffs hold the pant in place at the waist and ankles, respectively, enabling seamless fluid motions during exercises. The joggers are offered in 23 shades that range from beloved orchids to athletic navy.
Pros
 Soft and smooth material
 Non-shrinking
Non-pilling
 No friction
 Signature stripe locker loop
 Durable
Recycled fibers
Cons
Price at the time of publication: $31.5
The Roskiki Joggers are made of 95% polyester, French terry, and 5% spandex. These soft joggers for women feature a broad elastic waistband with a drawstring that can be adjusted for a custom fit over your hip. The super soft and comfortable cloth fits close to your body without the baggy, heavy feel. The two side pockets fit most items like your phone, hairband, wallet, keys, or other accessories. At the same time, the ribbed cuffs at the ankles make the joggers easy to wear or remove. The green joggers pair well with active tanks, tees, sports bra, and other tops.
Pros
 Soft fabric
 High waist fit
 Loose fit
 Secured cuffs
 Non-creasing
 Machine-washable
Multipurpose use
Cons
Price at the time of publication: $27.98
The Leinidina Joggers are professionally tailored with 76% nylon and 24% spandex that deliver soft-touch wear every time. They never get hot or too sweaty as the pants disperse heat and absorb sweat. The black joggers have a broader waistband compared to others for better tummy control. They enable you to carry on with your squats and other exercises without worrying if they would slip down your waist.
Even though the material is quite dense and stretchy, it feels light without causing pulls during workouts. The firm pockets let you keep small items inside and focus on your training. The product is perfect for active activities such as aerobics, cardiac, jogging, running, hiking, pilates, yoga, and more.
Pros
 Loose-fitting
 No pilling
 Breathable
 Versatile wear
Long-lasting
Cons
None
Price at the time of publication: $25.99
The ultra-lush and premium fabric of the Fullsoft Joggers loosely fits onto the hips. They are made of 92% polyester and 8% spandex and are suitable for use all year round. The firm elastic waistband lets you adjust the joggers to fit your size and keeps them from slipping when you work out. They are tailored to show off your curves for a boost of confidence. The side pockets add functionality and security as you go about your daily activities. They are stylishly paired with casual tees, hoodies, tanks, and sweaters. The joggers are available in shades ranging from black to slate heather and wine.
Pros
 Super-soft
 All-day comfort
 Absorb sweat
Airy and breathable
Cons
Price at the time of publication: $16.95
The opaque, stretchable material of the Qeesmei Jogger makes them perfect for yoga, jogging, errands, and other gym activities. The product looks classic and stylish for pairing with daily wear tees, cropped tops, tanks, swingers, and more. The hemmed ankle cuffs make the pants taper down for unrestricted movement, preventing them from coming in the way during exercises. The waistband and drawstring ensure the joggers fit different sizes without being too tight to leave marks. The pockets are stitched at the sides of the pant for added convenience. The brand offers joggers in darker shades that include army green, black, dark gray, olive, wine red, and navy blue.
Pros
 Slip-on wear
 Stretchable fabric
 Comfortable
Easy to wash
Cons
Price at the time of publication: $9.99
These ready-to-wear joggers from Puli are breathable. They diffuse the built-up heat and sweat. They do not deform, pill, or cause friction, and neither does the color fade or run. The product ensures maximum durability, enabling you to move freely and live life conveniently. The form-fitting, comfortable pants let you indulge in running, jogging, walking, long hikes, baseball, basketball, football, yoga, and more. The side pockets store your essentials and keep your palms warm as well. They taper down to the ankles and are held by an elastic, while two stripes run along the sides. The range of shades available from this brand includes black, charcoal, dark gray, and army green.
Pros
 High durability
 Ultra-soft
 Slant pockets
 4-way stretch
 Machine-washable
Cons
Price at the time of publication: $27.99
Why Trust StyleCraze?
The author, Baishali Bhattacharya, is a certified image consultant and fashion expert. She has a good understanding of comfort fitness clothing, and finds her passion in reviewing them for the users. She has extensively researched joggers for women and curated the above list of products, considering comfort, trendiness, versatility, and durability. These joggers are machine-washable and endorsed by the users through their reviews on trusted online platforms.
Frequently Asked Questions
Do joggers look good on curvy girls?
Yes, joggers look great on curvy girls as they are tailored to accentuate the body shape. They fit the hips and taper down a bit loosely without looking too baggy.
What shoes look best with joggers?
Different types of shoes look good when worn with joggers. You can pair them with sneakers to walking shoes, runners, wedges, flats, sandals, and more.
Will joggers work in a tropical climate?
Joggers are pretty cozy for cooler temperatures. The key to using joggers in a warmer tropical climate lies in the fabric. Those with breathable, stretchable, and comfortable fabric are ideal for such temperatures. They wick away the sweat and air it out faster.
Do joggers provide leg warmth?
Yes, the thick material of most joggers keeps your legs warm in the winters.
Can I pair joggers with heels?
When joggers are paired with heels, they bring out the confident and creative side of a woman. So go for heels with ankle zippers and pumps to pull off a classy look.
Are joggers a great alternative to denim?
Joggers are a great alternative to denim as they are not tight-fitting. They also have the length and ankle features of skinny denim. In addition, joggers do not constrict movement at the thighs, and their fabric is sweat-absorbent and breathable.
Recommended Articles