5 Best Jones Road Makeup Products For Every Women
Put yourself in the spotlight with these gems that won't break the bank.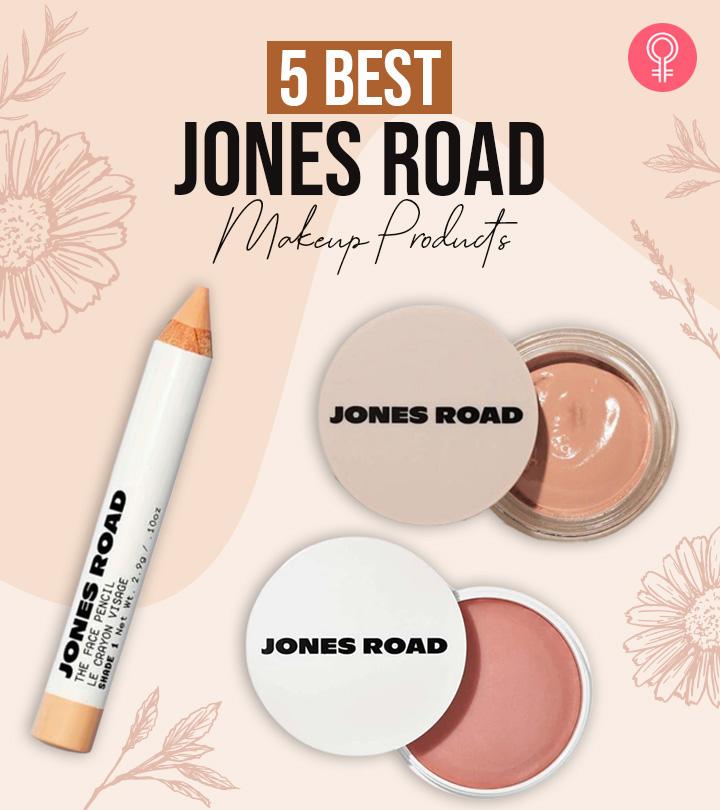 Jones Road, founded by renowned makeup tycoon Bobbi Brown, is a well-known clean makeup brand that has gained recognition for its exceptional, multi-purpose, and high-quality products. The brand is inspired by the philosophy that the world doesn't need "more" , but "better" beauty products that deliver optimum results without damaging the skin. With so many great Jones Road beauty products, it can get confusing over which one to pick! Here are the 5 best Jones Road products worth adding to your stash to embrace your ideal makeup look like a pro.
5 Best Jones Road Makeup Products For Women
The Jones Road Miracle Balm is a versatile product that does it all. It is packed with nourishing jojoba seed oil, vitamin E, and argan oil, which deeply nourish your skin. Get hydrated and achieve a refreshing summer glow with a subtle shine whenever you need it, whether on your lips, face, or other specific areas. This product works for all skin tones to enhance your best features. While it's technically makeup, the product also delivers skincare benefits. This subtle multitasker is perfect for a simple yet stunning look for various occasions! To know more about how the product performs, take a look at this video.
Pros
Hydrating
Adds a subtle glow
Blends seamlessly
Non-greasy
Cruelty-free
Cons
May not suit acne-prone skin

Pro Tip
Mix a small amount of the Miracle Balm with your liquid foundation or moisturizer for a natural, luminous finish.

The Jones Road What The Foundation is a star product from this range of cosmetics. This tinted moisture balm comes in 12 shades, catering to almost all skin tones from fair and porcelain to deep and dusky. It seamlessly blends into the skin, creating an even and fresh skin tone. This foundation is packed with skin-nourishing ingredients like jojoba oil and hyaluronic acid, which offer buildable coverage without making the skin dry. The oil-based formula is a dream come true for those with dry or combination skin. The best part is, despite its creamy consistency, it feels weightless on the skin and provides decent coverage with just one layer. Check out this video for a detailed review of the product.
Pros
Dewy finish
Creamy consistency
Easy to blend
Nourishing
Lightweight
Non-cakey
Cons
The Jones Road The Face Pencil covers acne, blemishes, redness, and dark spots. It enhances your skin tone within seconds and is perfect for people who prefer a natural, no-makeup makeup look. This product offers long-lasting coverage and eliminates the need for constant touch-ups. The clear base, avoiding chalky undertones makes this product deserve a spot in your beauty arsenal. This multi-purpose pencil is also travel-friendly and you can carry this alone on your vacations.
Pros
Easy to use
Compact design
Non-drying
Travel-friendly
Lightweight
Cruelty-free
Available in various shades
Cons
Not ideal for full-face makeup
The Jones Road The Oil Stick is the new-age face oil that is suitable for people with oily skin. This multipurpose face oil does more than just nourishing your skin; it also highlights your visage. It is formulated with some high-grade ingredients, including coconut alkanes, and other skin-loving oils, including apricot, jojoba, rosehip, and sunflower. This lightweight oil easily glides on your face and gives you skin so supple, you won't stop touching it.
Pros
Infused with natural oils
Blends easily
Lightweight
Non-greasy
Cruelty-free
Travel-friendly
Cons
Not suitable for people allergic to fragrances.

Quick Tip
Glide the Oil Stick over dry patches or areas of the skin that need extra moisture, such as elbows, knees, and cuticles, for targeted hydration.
The Jones Road Hippie Stick is all you need to flaunt that glowing skin. It is a nourishing balm that you can use all over, including your face, body, hair, etc. The stick is packed with antioxidants and antibacterial ingredients that act as a barrier against environmental aggressors. This product is biomimetic, as it mimics your body's natural processes and helps restore natural oils. Using this salve around your fingernails restores hydration to dry and cracked cuticles. This lightweight stick has a pleasant peppermint fragrance that works wonders for all skin types.
Pros
Nourishing
Easy and quick to use
Can be used all over the body
Easy to blend
Multipurpose
Non-greasy
Cons
Can be sticky in humid weather.
If you are still unsure which product to choose, here's a detailed buying guide. This lists the factors you should look for while selecting the ideal Jones Road makeup for you.
What Should I Look For When Buying A Jones Road Product?
When choosing makeup products, such as foundation, salve, or lip tint, it is crucial to consider what works best for your skin. Understanding your skin type is essential, even when trying out a new brand. For example, you should opt for lightweight and matte finish foundation, if you have oily skin. On the other hand, people with dry skin should look for products that are nourishing.
While all Jones Road products harness the power of skin-nourishing ingredients, it is still advised to go through the ingredient list to ensure they suit you. These products should be free of harsh ingredients such as phthalates, petrolatum, silicones, BPA, PEGs, and EDTA.
When it comes to purchasing Jones Road products, the shade range is an important consideration. Luckily, whether it is the Jones Road Lip Tint, eye cream, or foundations, you will find a selection that leans towards neutral to pink tones. These versatile hues make it effortless to incorporate them into your daily makeup routine, achieving a flawless no-makeup look.
Before purchasing Jones Road makeup products, check if it serves your purpose accurately. If you like full-glam makeup, choose a full-coverage foundation. Whereas, someone who prefers minimal makeup should opt for tinted moisturizers or light tints.
The Bottom Line
With Jones Road, you can confidently create your desired makeup looks without compromising on your skin health. Each product is infused with skin-nourishing ingredients and formulated to meet the needs of makeup minimalists and beauty enthusiasts alike. The Jones Road Miracle Balm is a gem that combines makeup with skincare benefits to offer nourishment with a subtle shine, while the Jones Road The Face Pencil is perfect to spot conceal any blemishes, or skin imperfections with ease. By incorporating these top Jones Road products into your routine, you can elevate your makeup game and achieve a flawless finish, all without going over-budget.
Why Trust StyleCraze?
The author of this article, Srijita De, loves experimenting with various makeup products. She has curated a list of the best Jones Road products that are nourishing and highly versatile after doing extensive research. Not only are these products safe for your skin, they also incorporate ingredients that promote overall skin health, ensuring you never have to compromise.
Frequently Asked Questions
Why is it called Jones Road?
Waze is where "Jones Road" got its name. According to rumor, the brand owner chose the name at random while looking at directions because the team couldn't agree on anything.
Who owns Jones Road Beauty?
Makeup artist Bobbi Brown is the founder and CEO of Jones Road Beauty.
Where is Jones Road sold?
Jones Road products are currently available in the United States, Canada, the United Kingdom, and Northern Ireland, excluding Crown Dependencies.
Is Jones Road Beauty ethical?
Yes, all Jones Road Beauty products are ethical, gluten-free, non-GMP, and clean. It adheres to EU guidelines and is free of the notorious 2700+ harmful ingredients.
Is Jones Road non-comedogenic?
No, not all Jones products are non-comedogenic. For instance, its well-known Miracle Balm contains Coconut Alkane, which has a high comedogenic scale and may clog pores if not removed entirely before hitting the bed.
Can you use Jones Road Miracle Balm as a foundation?
Yes, you can. Jones Road Miracle Balm can be used instead of foundation because it is light-reflecting and leaves a sheer tint.
Is Jones Road vegan?
Not all Jones Road products are vegan. Vegan brushes, mascara, and some skincare products are available in the Jones Road collection. However, others may contain animal-derived products such as beeswax and carmine.
Is Jones Road cruelty-free?
Yes, all Jones Road products are free of animal cruelty. They never put finished products or ingredients through animal testing.
The following two tabs change content below.