9 Best Jwoww Tanning Lotions For Sun-Kissed Skin – 2023
Get a perfect sun-kissed glow with the Jwoww tanning lotions that bring a shine to your body.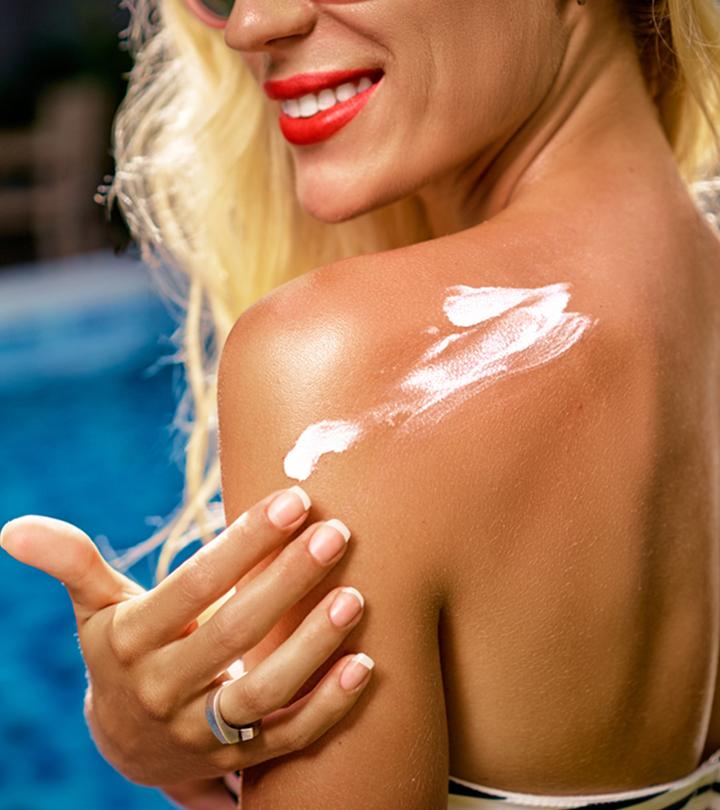 The art of self-tanning can be tricky, and that is why you need the best Jwoww tanning lotion that will give you the perfect sun-kissed glow. When the summers are approaching, you obviously want to put away your winter sweaters and go all out with your colorful summer wardrobe. However, pale-looking skin can be a bummer to the season's thrill. So, there is no better way to pull off the amazing summer outfits and enjoy those sundowners than gorgeous-looking tanned and beautiful bronze skin that automatically brings a shine to your body.
While there is an array of options to choose from, all tanning lotions might not be the same. You have to be careful about the shade that goes with your natural skin tone as the tanners differ from being orange to bronze. The shades also depend on the quality of the tanning lotion you use.
Sunless tanners have come a long way over the years, and now they are available in multiple forms. Be it traditional tanning lotions or tan serums, they are easy to use and offer skin care benefits like hydration and gentle exfoliation. Jwoww tanning lotions are the best solution to get the desired tanned skin that you want. You can use them on areas like your knees, elbows, ankles, neck, and feet. If you want a healthy, sun-kissed glow, keep reading this article to see our top picks of the best Jwoww tanning lotions. Scroll down!
9 Best JWoww Tanning Lotions For Beautiful Bronzed Skin
If you're looking for a natural tanning lotion that gives you a dark bronze luminous color that lasts from sunrise to long after the beach clubs have closed, you're going to love this gorgeous Jwoww tanning lotion. This lotion is quick-absorbing and features a powerful combination of moisturizing ingredients, which ensure a luxurious, velvety after-feel and a silky finish that lasts all night. The silicone softening technology provides even coverage and helps boost skin's elasticity for toned skin that is oh-so-touchable. So what are you waiting for? Bring out the cute strapless dress and your dazzling dancing shoes, and get ready to flaunt glowing, bronzed skin with confidence and oomph.
Pros
Rich, long-lasting color
Infused with hydrating and nourishing ingredients
Pleasant sparkling kiwi fragrance
Quick-absorbing and easy to use
Cons
Some might find that this tanning lotion tends to streak a bit.
Price at the time of publication: $72.9
Get party-ready instantly and experience extravagant color with this dazzling dark bronzer, making you the center of attention with its attractive, flawless finish. Quick absorbing and intensely hydrating, this Jwoww tanning lotion is a hot favorite amongst those looking for bronzed perfection and a silky, soft finish without any color transfer. Infused with caffeine, protein, and silicone, this lotion blurs all imperfections for an even-toned look that is luxuriously velvety to the touch.
Pros
Instant event-ready results
Quick-absorbing and long-lasting
Enriched with caffeine, silicone, and protein
Delicious confetti cupcake fragrance
Cons
Some might find the consistency of this tanning lotion a bit thin.
Price at the time of publication: $55.5
Get the gorgeous, bronzed tan of your dreams without spending hours baking in the sun! This Jwoww tanning lotion is one you're sure to fall in love with. The fast-absorbing, lightweight formula ensures dark color development after UV exposure for flawless results that are sure to have the compliments rolling in. A potent combination of hydrating ingredients and caffeine brings vitality to the skin for a toned, youthful complexion that will have you beach-ready instantly.
Pros
Lightweight, fast-absorbing formula
Enriched with caffeine and hydrating ingredients
Sparkling kiwi fragrance
Dark, even color development
Cons
Some might find the scent of this tanning lotion a bit strong.
Price at the time of publication: $39
Fitness enthusiasts can now rejoice because this great Jwoww tanning lotion is perfect for highlighting the toned muscles you've spent hours at the gym building. This non-greasy formula is enriched with caffeine which energizes and tightens skin, while calming stevia and antioxidant-rich green tea rejuvenate skin and slow down environmental damage. And there's more! This tanning lotion also has shea butter, beeswax, and vitamin E, which protect and prolong the life of your gorgeous ink art so you can flaunt your tattoos worry-free.
Pros
Non-greasy, lightweight formula
Enriched with shea butter and vitamin E
Tones and tightens skin
Long-lasting results
Cons
Some might find the consistency of this tanning lotion a bit thick.
Price at the time of publication: $42.95
Here's the perfect tanning lotion for the experienced tanner, which gives deliciously dark color with intense levels of bronzers and tingle. This popular Jwoww tanning lotion has a yogurt base blended with pear and anti-wrinkle ingredients for visibly smooth and even-toned skin. Vitamin B2 and shea butter keep skin looking young and oh-so-radiant. So what are you waiting for? Get your hands on this fantastic tanning lotion, and get ready to turn heads with your gorgeous tan.
Pros
Contains anti-wrinkle ingredients
Light, relaxing fragrance
Infused with shea butter and vitamin B2
Easy to apply
Cons
Might not be best suited for those with extremely sensitive skin.
Price at the time of publication: $174.99
Made with a real yogurt base, this unique Jwoww tanning lotion is rich in proteins and nutrients, which helps prime the skin for optimum tanning. Get instant results and flaunt a deliciously dark tan with this nourishing formula enriched with vitamin E and shea butter to hydrate the skin for a silky soft finish. DHA and a black walnut blend ensure advanced color while pear and black currant oil shield skin from environmental damage.
Pros
Proprietary black walnut blend for darker color
Infused with pear and blackcurrant oil
Rich, fast-absorbing formula
Suitable for all skin types
Cons
Some might find the consistency of this tanning lotion a bit runny.
Get an enviable fresh-off-the-beach tan and sport radiant, glowing skin with this fragrant Jwoww tanning lotion which promises an unmatchable natural-looking complexion. This formula is enriched with a unique Ink-Drink Complex, a blend of shea butter, beeswax, and raspberry, which helps restore and rejuvenate your pretty tattoos. Kendi oil softens and hydrates skin without a greasy after-feel for skin that is gorgeously tanned and oh-so-touchable.
Pros
• Instant dark, long-lasting color
• Infused with moisturizing kendi oil
• Refreshing tropical coconut fragrance
• Natural, glowing finish
Cons
• Might not be best suited for those with very dry skin.
Price at the time of publication: $149.99
If you're looking for a tanning lotion that provides rich, streak-free color and intense moisturization in one quick session, you're in the right place. This fast-absorbing formula is enriched with tyrosine which helps promote melanin production for the bronzed goddess look you've always wanted. A blend of luxurious oils and shea butter gives skin a radiant, healthy-looking complexion while protecting your tattoos from fading and color-loss. This Jwoww tattoo tanning lotion also has a vitamin-rich formula that protects and prevents tattoos from evaporating or being affected by UV exposure!
Pros
Rich, streak-free results
Promotes melanin production
Infused with a blend of luxurious oils
Contains herbal extracts
Decadent midnight pear fragrance
Cons
• Might not be best suited for those with allergy-prone skin.
Price at the time of publication: $115.78
It's time to take out your flirty summer dresses and flaunt your gorgeously tanned shoulders and legs! This Jwoww tanning lotion ticks all the right boxes when it comes to a product that delivers superior, streak-free color, intensely moisturized skin, and a finish that is perfectly bronzed and radiant. The decadent yogurt base with pear and blackcurrant oil works with black walnut extract and white DHA for skin with rich, delicious color.
Pros
• Fast-absorbing, long-lasting formula
• Streak-free, deliciously dark color
• Infused with caffeine and avocado oil
• Protects tattoos and ink-art
Cons
Some might find the scent of this tanning lotion a bit overpowering.
Price at the time of publication: $99.99
Now that we've had a look at our pick of the 9 best Jwoww tanning lotions in 2023, let us look at some things to consider when picking the best lotion to give your smooth skin an unmatchable glow.
How To Select The Best Jwoww Tanning Lotion
Whether you're looking for a natural, healthy glow or prefer going more than a few shades darker, there's a Jwoww tanning lotion designed to help you achieve your desired results. Of course, a fitness enthusiast and honeymoon vacationer will have different tanning needs, and it is best to pick a tanning lotion that provides the kind of color and finish you're looking for.
A tanning lotion should have a fast-absorbing and non-greasy consistency so that it goes on smoothly for a luxuriously soft finish. A tanning lotion that is too thick might be difficult to apply and could leave an oily after-feel. For best results, pick a tanning lotion that gives instant results without staining your clothes while remaining streak-free.
Depending on your skin type, keep a lookout for active ingredients that will benefit your skin texture. If you're struggling with dry and flaky skin, pick a tanning lotion that is enriched with nourishing ingredients like shea butter and avocado oil. Pick a hypoallergenic tanning lotion if your skin is prone to sensitivity and allergies. A tanning lotion formulated with non-comedogenic ingredients is the ideal choice for someone with oily, acne-prone skin.
How To Use Jwoww Tanning Lotion
Step 1 – Use a damp washcloth to exfoliate your skin and remove dead skin cells, paying extra attention to your knees, elbows, and ankles.
Step 2 – Massage the tanning lotion into your skin in circular motions, starting at your arms and legs and moving onto your torso.
Step 3 – For a more natural look, blend at your wrists and ankles and extend the lotion to your fingers and feet.
Step 4 – Wait at least 10 minutes before getting dressed to avoid staining your clothes.
Step 5 – Apply an appropriate sunscreen before you step out into the sun and get ready to get your glow on!
Advantages Of Using Jwoww Tanning Lotions
Natural bronzers – Jwoww tanning lotions contain natural bronzers that help build a gorgeous color in a healthy way without harming your skin. Enriched with skin-loving natural ingredients like kendi oil, raspberry, shea butter, and beeswax, these tanning lotions nourish and moisturize the skin while building lasting color.
Yogurt-based formula – All Jwoww tanning lotions are yogurt-based. This magic ingredient makes skin soft, supple, and intensely hydrated. Bid goodbye to crocodile skin and say hello to sun-kissed gorgeousness!
Safe for tattoos – Jwoww tanning lotions are enriched with shea butter, beeswax, and raspberry which help protect your tattoos from fading and color-loss, keeping them vibrant and beautiful while you get your tan on.
Carlee Spath, a licensed esthetician, explains, "When adding products like self-tanners into your skincare routine, many formulations contain DHA (dihydroxyacetone). DHA will make the skin more susceptible to UV radiation the first 24 hours after application, which can cause more damage over time. If you purchase a self-tanner with DHA, be sure to stay out of the sun for the first day after application."
Why Trust Stylecraze?
Kirtana Divakar, the author of this post, is a skin care enthusiast. She is passionate about reviewing the best skin care products for readers. She has thoroughly researched and read many online reviews on various trusted platforms to compile the list of the best Jwoww tanning lotions. These lotions give you a perfect sunkissed look. They are easy to apply, long-lasting, and are lightweight.
Frequently Asked Questions
Are Jwoww tanning lotions worth it?
Absolutely! Your skin deserves the best, and Jwoww tanning lotions deliver a deliciously dark color while nourishing and protecting your skin. Enriched with a wide variety of skin-loving ingredients, they are the obvious choice for those looking to tan in the safest and healthiest way possible.
Can a tanning bed lotion be used outside?
A tanning bed lotion can be used outside, however, make sure you wear good sunscreen as well. Most indoor tanning lotions come without SPF and might not protect your skin from sun damage sufficiently.
Can you put Jwoww tanning lotion on your face?
Yes, you can put Jwoww tanning lotion on your face. But if you are prone to acne and breakouts, it is better to avoid it. You can try diluting the tanning lotion with your facial moisturizer. However, consult your dermatologist if you have sensitive skin.
What bronzer does Jwoww use?
For their tanning lotion, Jwoww uses the Jwoww FITSPIRATION Ultimate Tanning Bronzer. It makes the skin glow, while ingredients like aloe vera nourish your skin.
Should you shower before or after tanning in a tanning bed?
It is better to shower after two to three hours of getting yourself tanned in a tanning bed. This will get rid of the toxins and chemicals from your body. Also, many prefer showering before tanning to exfoliate the skin and remove dead skin cells.
Recommended Articles