The Top 13 Kama Ayurveda Products In India Of 2023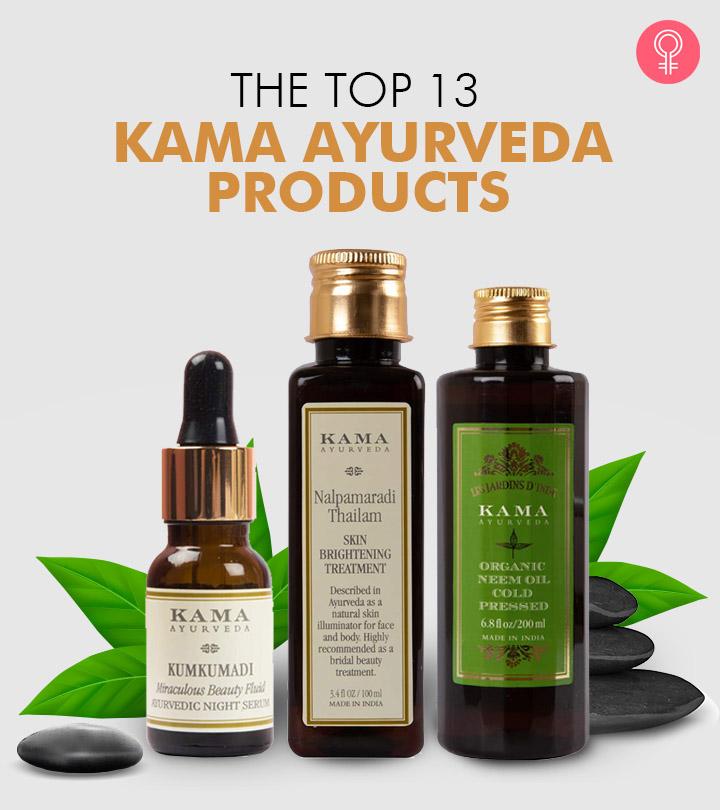 If you are tired of using chemical-infused beauty products and want to switch to organic or Ayurveda products, Kama Ayurveda would be ideal. The best Kama Ayurveda products are carefully crafted using herbal ingredients and natural ingredients that won't damage your skin. The brand offers a wide range of skin and hair care products. These products are free of artificial colors, paraben, and other nasty chemicals. Be it a face serum or cleanser or neem oil or any other product, this listicle contains it all. Read on!
Top 13 Kama Ayurveda Products In India Of 2023
This hydrating pure rose water mist is extracted from the best of roses in the Kannauj region in India. It balances your skin's pH level and restores the natural glow of the face and body. The antibacterial, antiseptic, and purifying characteristics of rose are infused in this product.
This mist deals with blackheads, aging effects, redness, pigmentation, and skin irritation, keeping the skin supple, fresh, and radiant. It helps tighten pores, removes cleanser residue, and prepares the skin for further skin care treatment. It is alcohol-free and ideal for oily or acne-prone skin.
How To Use: Spray it on your face and body as required.
Pros
Hydrates the skin
Pleasant fragrance
Alcohol-free
Refreshes the skin
Restores skin's pH level
Suitable for all skin types
Cons
The Kama Ayurveda NalpamaradiThailam Skin Brightening Treatment is best if you are a to-be bride or all set for a religious function. It treats dull or saggy skin and restores skin luster by targeting tan and acne. This beauty treatment kit is infused with natural essentials like sesame oil, vetiver, turmeric, and gooseberry. It is an ideal skin illuminator.
The natural ingredients have antibacterial, antiseptic, and anti-aging properties that contribute to the ultimate nourishment needed for fresh, glowing skin. This product boosts the natural skin texture, strengthens facial tissues, and helps reduce pimples. Using it for 90 days gives you a blemish-free, de-tanned, and youthful skin. The classical formula lightens complexion and softens and repairs the skin.
How To Use: Massage this oil gently into your skin and leave it on for 30 minutes to get absorbed. Wash your face with a mild cleanser.
Pros
Mild aroma
Removes tan
Can be used on face and body
Reduces pigmentation
Nourishes the skin
Cons
Don't have the entire day to improve and follow a beauty regimen? This night serum will do the trick for you. Apply this Ayurvedic overnight serum and wake up to a bright and even skin tone. It repairs pigmentation and reduces aging lines and dark circles with the power of natural extracts of Indian madder, licorice, sandalwood, lotus, saffron, and vetiver.
Indian madder has antibacterial properties that combat skin rashes, swelling, acne breakouts, and bruises. Licorice has antiseptic and skin lightening properties. Saffron improves skin texture and lightens dark circles and pigmentation, while sandalwood has antiseptic and antimicrobial properties that soothe the skin, clear blackheads, and tackle the early signs of aging. This miraculous beauty fluid gives you clear, naturally glowing skin. The serum works faster than night creams to reduce signs of fatigue to rejuvenate and brighten your skin.
How To Use: Apply 3-4 drops of the serum all over your face with your fingertips and gently massage until it is absorbed.
Pros
Brightens the skin
Lightens pigmentation
Moisturizes the skin
Treats fine lines
Heals dark circles
Cons
Might not suit all skin types
This gentle face cleanser from Kama Ayurveda is the best beauty product for everyday use. It contains rose and jasmine essential oils, aloe vera leaf juice, black cumin seeds, vetiver root, and jojoba oil. Rose essential oil moisturizes your skin and keeps it soft and supple. Jasmine essential oil tones your skin and reduces spots and scarring.
Black cumin seeds and vetiver protect the skin from pollutants, while aloe vera juice soothes and smoothens the skin. Jojoba oil conditions, softens, and rejuvenates your skin and minimizes fine lines. This floral scented cleanser is effective in removing light makeup. Use 2-3 pumps on damp skin. Massage lightly, rinse your face with water, and pat dry.
Pros
Floral scent
Gentle
Makes the skin soft and supple
Evens out the skin tone
Prevents oiliness
Minimizes fine lines
Suitable for daily use
Gentle formula
Cons
Want a facial cream that melts into your skin without being sticky? The EladiFace Cream by Kama Ayurveda is your answer. The olive oil extracts enable high skin absorption without stickiness or heaviness. It increases blood circulation and tightens the facial muscles with the help of beauty ingredients picked from nature.
The soothing effect of costus and cardamom oil enhances your skin texture and nurtures dull skin. The face cream also contains aloe vera that prevents acne, blemishes, and fine lines and provides sun protection. Jasmine and rose oils prevent aging signs and reduce blemishes and acne to make your skin clear and glowing. The face cream is processed in pure coconut milk and sesame oil, which is described in ancient AshtangaHridayam Ayurveda text as an ideal treatment for smooth, soft, and clear skin.
How To Use: Massage the cream in upward strokes on a clean face.
Pros
Absorbed easily
Moisturizes the skin
Non-sticky formula
Softens the skin
Protects from sun damage
Prevents acne and blemishes
Reduces fine lines
Cons
Might cause sweating
Not suitable for all skin types
The pure neem extracts rich in antioxidants make this oil a must-have skin and hair remedy. Its antibacterial action is beneficial in treating skin rashes, acne, hyper-pigmentation, burns, abrasions,and other skin issues.Neem oil can help in retaining skin elasticity and soothing chronic skin conditions. This cold-pressed oil makes your hair dandruff-free, stimulates hair growth, protects from environmental damage, and adds natural volume. It also contains essential fatty acids and vitamins that moisturize, protect, purify, repair, and heal your skin.
How To Use: Cleanse your face. Mix equal parts of neem oil and sweet almond oil and massage it into your skin in the upward direction. Leave it on for 20-30 minutes and wash off with a mild cleanser.
If you are using it for the body, dilute neem oil with sweet almond oil in a 70:30 ratio. Massage the mixture all over your body and leave it on for 20-30 minutes. Wash it off in the shower.
If you are using it for the hair, dilute neem oil with sweet almond oil in equal parts  and massage it into your scalp. Leave it on for 30 minutes and wash it off with your usual shampoo.
Pros
Suitable for all skin types
Made of 100% pure neem
Heals burns and abrasions
Reduces dandruff
Treats acne and hyperpigmentation
Stimulates hair growth
Clarifies the hair and scalp
Cons
Get rid of dead skin and repair dull skin with this brightening face scrub from Kama Ayurveda. This skin polisher contains 12 natural skin-enhancing beauty ingredients that illuminate the skin and promote cell growth. The almond granules exfoliate and deeply hydrate the skin to make it glowing and smooth.
Almonds are also rich in vitamins E and D that nourish the skin and lift away impurities.Kashmir saffron has antioxidant properties that repair damaged skin and pigmentation and reduce the signs of aging. The 2-in-1 scrubbing and moisturizing formula makes it a great product for everyday use.
How To Use: Massage a small amount of the face scrub for 2 minutes onto damp skin. Rinse your face with water.
Pros
Brighten
Reducess pigmentation
Reduces fine lines
Moisturizes the skin
Gentle formula
Removes impurities
Made of 99.45% natural ingredients
Cons
This acne treatment cleansing foam is effective in clearing out blocked pores so that your skin breathes easily. This product is infused with tulsi extracts that help detoxify your skin and prevent further inflammation or skin issues. The tea tree oil reduces breakouts and boosts the skin's renewal process.It contains neem oil that reduces pimples, lightens acne scars, and restores the skin's lost moisture. The pure calendula flower and aloe vera extracts have a cooling and soothing effect on acne-prone skin, keeping it calm and smooth.
How To Use: Pump out a small amount of the product onto your palm. Apply the cleansing foam on damp skin and massage in circular motions. Rinse your face and pat dry.
Pros
Made of 100% natural ingredients
Soothes the skin
Unclogs pores
Gentle formula
Minimizes blemishes
Reduces acne scars
Reduces breakouts
Cons
Replace your soap with this face cleanser that clarifies your skin without drying. It helps even your skin tone and imparts a fresh and glowing complexion. The coarse powdery texture helps exfoliate damaged skin and makes your face soft and smooth. This soap-free cleanser contains a traditional blend of cereals, herbs, and pulses that are gentle on your skin but tough on dirt, oil, and impurities.
Turmeric has anti-inflammatory and antiseptic properties that help in treating various skin conditions. Sandalwood has antimicrobial and antiseptic properties that clear blackheads and spots and soothe itching and inflammation. Almond replenishes nutrients in the skin, moisturizes it, and keeps it healthy. Neem has antibacterial properties that work well in reducing acne and acne scars.
How To Use: Mix 1-2 teaspoons of the powder with rose water or milk to make a smooth paste. Apply the paste to moist skin and massage lightly in circular motions. Rinse with water and pat dry. Followup with a moisturizer.
Pros
Non-drying
Suitable for sensitive skin
Gentle formula
Adds radiance
Made of 100% natural ingredients
Non-foaming
Evens the skin tone
Cons
Might not be suitable for all skin types
Enjoy absolute skin nourishment with this night cream from Kama Ayurveda. It is made with saffron, vetiver, lotus, aloe vera, and Indian madder. These ingredients help illuminate the skin and promote cell growth. This cream is the one-step solution to healthy, supple, and radiant skin.
Saffron brightens the skin and reduces age spots, dark circles, fine lines, and pigmentation. Indian madder and aloe vera heal the skin and slow down skin aging. Vetiver and lotus extracts soothe the skin and clear blemishes, while licorice protects the skin from bacterial and fungal infections. This overnight treatment seeps into your tissues, helps repair skin damage, reduces dark circles and pigmentation, and minimizes age spots.
How To Use: Cleanse your face and pat it dry. Apply this cream on the face and neck and massage in upward strokes until it is fully absorbed.
Pros
Lightens pigmentation
Repairs the skin
Reduces dark circles
Minimizes age spots and fine lines
Cons
Takes time to show results
This face pack contains anatural blend of vetiver, ashwagandha, red sandalwood, coriander, lodhra, and licorice that heals your skin and prevents hyperpigmentation. The antibacterial, astringent, and antimicrobial properties of coriander seeds tone the skin and reduce blackheads. Vetiver soothes dry skin and irritation, clears acne, and prevents skin aging.
Red sandalwood has antiseptic and antimicrobial properties that clear blackheads and spots and relieve itching and skin irritation.  Ashwagandha decreases inflammation and discomfort and treats the early signs of aging. Lodhra has astringent and anti-inflammatory properties that cool the skin and stimulate skin cell turnover. This face pack is beneficial for treating post-acne scarring, dark circles, and pimples.
How To Use: Mix 1-2 teaspoons of the powder with water, rose water, or buttermilk until you get a smooth paste. Apply the paste to your cleansed face and leave it on for 10-15 minutes until it dries. Rinse it off with lukewarm water.
Pros
Lightens acne scars
Prevents aging
Brightens the skin
Clears blackheads
Lightens dark circles
Cons
Expensive
May dry out the skin
This gentle and deep cleansing foam soothes irritated and sensitive skin. It lightens blemishes, relieves itchiness, and controls flaking and redness. It contains cold-pressed aloe vera leaf juice that hydrates and comforts inflamed skin. The calendula flower protects the skin and heals damage caused by pollution and environmental irritants. Aloe vera has anti-inflammatory properties and is rich in minerals and antioxidants that accelerate healing and lighten blemishes. This ultra-gentle foam cleans excess oil and impurities without stripping away skin's natural moisture. The soft, plush foam keeps the skin fresh and healthy.
How To Use: Apply a small amount of the cleansing foam on damp skin and gently massage in circular motions. Rinse with water and pat dry.
Pros
Soothes the skin
Gentle formula
Lightens blemishes
Relieves itchiness
Made of 100% natural ingredients
Suitable for sensitive, allergy-prone, irritated, and rosacea-prone skin
Cons
None
This body butter is a nourishment package that contains vitamins and minerals needed for healthy and glowing skin.It is made with cold-pressed sweet almond and coconut oils that relieve dryness and remove dead skin cells.The product is rich in vitamins A and E and minerals that help enhance skin elasticity and delay aging. The pure shea, cocoa, and kokum buttershelp regenerate skin cells and lighten stretch marks. This body butter also contains aloe vera juice that protects the skin with its antiseptic properties. This intensive moisturizer hydrates the skin and restores its natural glow.
How To Use: Apply this body butter after a shower and massage it in. Focus on rough areas like the elbows and knees.
Pros
Hydrates the skin
Lightens stretch marks
Enhances skin elasticity
Imparts a natural glow
Cons
None
Kama Ayurveda offers a range of skin care products that address various skin concerns. Purchase one that m atches your skin type and needs. What are you waiting for? Take your pick from our list!
Frequently Asked Questions
Are Kama Ayurveda products genuine and natural?
Yes. Kama Ayurveda is one of the most trusted brands that uses natural ingredients and follows the path of age-old Ayurveda treatments to deliver authentic beauty and wellness solutions.
Do Kama Ayurveda skin care products guarantee effective treatment?
The foundation of Kama Ayurveda relies on plant-based healing, used as per one's skin type and condition, driving better results.
Are there any side effects of Kama Ayurveda skin care supplies?
Since Kama Ayurveda skin care treatments are formulated with natural ingredients, they have no side effects if used as per the skin requirements.
Is Kama Ayurveda a verified and trusted brand?
Kama Ayurveda is well-known for supplying beauty and wellness products across the world since 2002. It has also gained certification from over six organizations.
What types of products does Kama Ayurveda distribute?
Kama Ayurveda distributes various beauty products and wellness solutions based on ancient Ayurvedic teachings.
Recommended Articles