11 Best Kegel Exercise Videos And Their Benefits
The exercises to tighten and avoid issues of urinal incontinence are called Kegel exercises. These workout regimes help to strengthen the pelvic core muscles as well as help to maintain a good sex life. Here are the best Kegel exercise videos picked up for you to reap their benefits if practiced regularly.
Benefits of Kegel Exercises and their Videos
Here are some kegel exercises for women videos that will help you do them at home
1. The Pelvic Tilt:
To begin with the hardcore pelvic workout regime, one needs to warm up first. This is an exercise that helps the blood flow to gush through the pelvic area, which in turn gives the muscles good stretching. The exercise needs you to lie on your back with knees raised upside and slowly raise your buttocks towards the sky. Maintain the position for 10 seconds which will give a good warm up session to the pelvic area. This kegel exercises video will help you get a clear picture.
2. Classic Kegel:
The Classic Kegel exercise benefits you to strengthen your pelvic floor muscles. This exercise is a must during pregnancy to strengthen the pelvic area. To perform the same, one can lie down on the floor or sit on a gym ball with legs wide open. Then without pressurizing the lower abdomen area or thigh, just tighten the pelvic opening area and rest. It's a matter of contraction and release at least 4 to 5 times every day.
[ Read: Floor Exercises]
3. Pelvic Push-ups:
Push-ups are not just meant to tone the arms, shoulders and abs but also can be a good way to fortify the pelvic floor muscles. This style can be a bit different from the regular one. All you need to do is keeping yourself in the position for push-up; try to raise your feet upwards balancing on your knees and palms. Then push yourself down with a slight bend in your elbows and rise again. Remember don't keep your feet down till you are done with 10 repetitions of the exercise.
4. Shoulder bridge:
The bridge exercise is a great way to tighten your abdominal muscles and the pelvis area. The shoulder bridge is one such exercise which gives the endurance your pelvic area needs. As you lie down on your back and rise your knees towards the ceiling, slowly lift your hip upward to form a bridge and then stretch out your left leg straight. After 10 seconds lift the stretched leg upwards, as if you are marching your way ahead.
[ Read: How To Practice Yoga At Home ]
5. Side leg lying lift:
The side leg lift is an exercise to get the nasty love handle in place but they do help in tightening the pelvic muscles also. Lie facing the left side of your body with your left hand underneath and on your hip and lift your left leg up and down five times. Once done, shift base on the right side and repeat the same.
6. The Butterfly:
The butterfly flutter is quite a fun exercise and helps one de-stress easily. As it's performed focusing on the pelvic area, it does form a very important kegel exercise. Sit in an upright position with your feet close to your pelvic area. The formation will have your knees bent towards the left and right side simultaneously. Hold on to your feet and start fluttering your thighs up and down for at least 10 times. This will strengthen the inner thigh muscles giving pressure to your pelvic area.
7. Deep Breathing:
Breathing is the best way to exhale the stress and inhale fresh air and in the same way the contraction of the pelvic area breathes in and out. Sitting in a comfortable crossed leg posture breath in and out; take 5 deep breaths and each time you take one breath contract the pelvic floor muscle and release when you exhale.
8. Spinal twist:
Spinal twist is good way to relax your abdominal muscles. All you need to do is to bend forward keeping your hands on the knees and bend towards your left and then right. Repeat the same for at least 10 times.
[ Read: Hula Hoop Workout ]
9. Rolling knees:
Lying down on the floor you can give your pelvic muscles a good push and pull with the knee roll. Lift your knees towards your chest and make a virtual circle in the air with your knees. As you do that the pelvic area tightens ups each time you take a roll.
10. Clams:
To perform this exercise you need to lie facing the left side and pull up your knees towards your chest. Once you are in that position, hold your feet together and raise your left knee up sideways and slowly bring it down. Do this exercise five time and change position to the right side to perform the same.
[ Read: Exercise During Pregnancy ]
11. Leg – Pelvic stretch:
The leg-pelvic stretch is about loosening your leg muscles and strengthening the pelvic muscles together. Take the position lying on your stomach and lift your legs backwards. Perform it with a rhythm of stretching each leg backwards and let them touch your buttocks.
Follow these kegel exercises for women videos and strengthen your pelvic floor muscles. Don't forget to leave us a comment!

The following two tabs change content below.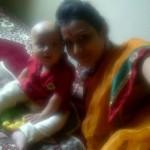 Latest posts by Khushboo Mehta (see all)