13 Best Kenra Hair Products You Should Try Right Away – 2023
Maintain the strength and shine of your tresses with hair care miracles from Kenra.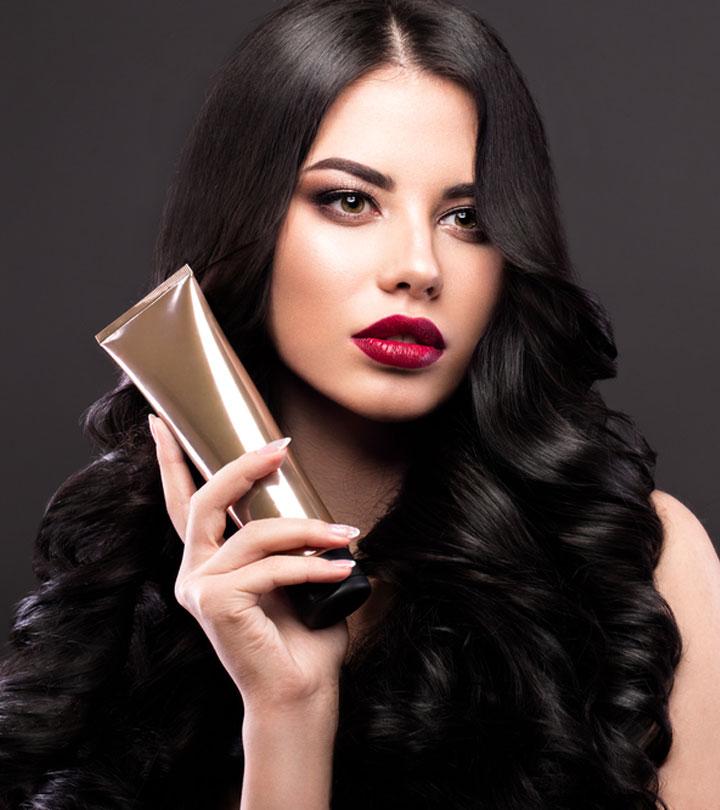 If you need to up your hairstyling game, you should get your hands on some of the best kenra hair products. Used by many professional stylists across the world, they help keep your hair protected and damage-free. Taking care of your hair after a long day is essential in maintaining the strength, texture, and shine of your precious tresses. However, you tend to come across a bad hair day once in a while, no matter how diligently you take care of your locks. But then, certain products can help counteract that damage and nourish your hair back to the best of its health. Starting from shampoos and conditioners to hairsprays and color, Kenra has a product suitable for all your hair needs. You need to know your hair type and concern to select the right product for you. To help you decide, we have listed down the 13 best Kenra hair products for you to choose from.
13 Best Kenra Products Of 2023 For Lustrous Hair
Down with dull and lifeless hair? Well, revive your hair's natural shine and bounce with this Kenra Volume Spray. It offers maximum volume, imparting a luscious bouncy sheen on your hair that will make your hair look stunning whether you tie it in a ponytail or just let it flow. It is great for beach parties or anywhere where you'll be worried about humidity, as this formula resists humidity for an impressive 20 hours. Oh, and did we tell you, this volume spray has a wind resistance of up to 25 mph? It dries quickly, is easy to use, and protects your hair, making it one of the best hair care sprays in the market today.
Pros
Flake-free
120-hour hold
Strengthens hair
Makes style last all-day
Cons

Pro Tip
If you want to get the most out of this volume spray, use it on your damp hair after washing first. Then, go in again for round 2 once your hair is dry and styled the way you want.
Price at the time of publication: $30.99
Worried about your flat iron damaging your hair? Here's an instant fix. This Kenra Platinum Blow-Dry Spray will let you style your hair the way you want and offer intense heat protection. Just spritz it on before parting your hair, give it a blow-dry, and voila, you've got yourself the hair you've always wanted. It will reduce your blow-dry time by 50%, detangle knots, and shield it from damage caused by heating tools. Need more information? Watch this video to make an informed decision about the product.
Pros
Eliminates frizz
Smoothens hair
Humidity-resistant
Prevents breakage
Long-lasting results
Lightweight formula
Cons
The fragrance may be a bit too overwhelming for some.

Trivia
Kenra was founded in 1929 in Indianapolis and sold only one hair remover product, "No Tweeze," for 30 years.
Price at the time of publication: $41.99
Styling your hair can be a bit of a pain, if they aren't in a healthy state. This Kenra Platinum Texturizing Taffy 13 will add texture and definition to your hair strands for flexible styling. This pliable formula offers superior memory and separates strands for moveable feel. Style it, air-dry, or blow-dry it, to get the look you want without worrying about stiffness.
Pros
Smells lovely
Delivers shine
Smoothens strands
Superior control for styling
Cons
May not hold the style for too long
Price at the time of publication: $19.19
Looking for that luminous shine in your hair? This Kenra Platinum Silkening Gloss is the answer to your prayers. With its premium formula, this silkening gloss offers unmatched styling, lending you silky and lustrous hair of your dreams. To finish your look after applying the product, just run down a flat iron to get that polished optimum shine and appearance of healthy hair. If you need further convincing, check out this YouTuber's review.
Pros
Tames frizz
Ultra-lightweight
Smoothens flyaways
Offers protection against humidity
Cons
May not offer heat protection
Price at the time of publication: $21.19
Pros
Smooth consistency
Easy to work
Matte finish
Cons
Might have a strong scent
Price at the time of publication: $34.18
Pros
Paraben-free
Ideal for hard water
Brightens highlights
Color-safe formula
Delivers salon-style finish
Cons
Price at the time of publication: $35.99
Pros
Easy styling
Delivers shine
Salon-style finish
Humidity-resistant formula
Cons
The smell may be a bit too overwhelming for some.
Price at the time of publication: $15.19
Pros
Smells great
Adds definition
Leaves no white residue
Style lasts longer
Lifts hair at the roots
Cons
Price at the time of publication: $7.99
Pros
Smells lovely
Salon-style finish
Premium formula
Heat protection of up to 450°F
Cons
The shine may not last long.
Price at the time of publication: $21.19
Pros
Smoothens hair
Lasting benefits
Improves manageability
Suitable for color-treated hair
Cons
Price at the time of publication: $45.03
Pros
Smells lovely
Adds definition
High-end formula
Encourages hair growth
Cons
Price at the time of publication: $17.99
Pros
Alcohol-free
Does not flake
Revives dull hair
Helps extend the life of colored hair
Cons
May not hold style for too long
Price at the time of publication: $14.39
Pros
Alcohol-free
Frizz control factor
Does not flake
Humidity-resistant
Glazes curls for shine
Cons
Price at the time of publication: $19.99
Now that you are all caught up on the best Kenra products, here's a closer look at how to pick one for yourself.
Choosing The Right Kenra Products For Hair
If you follow hairdressers on Instagram, you know that most stylists use Kenra products. So, how do you know which Kenra product is for you?
Types: Kenra has three product lines — Kenra, Kenra Platinum, and Kenra Color. Kenra has the good old hair care products that's catered for all, Kenra Platinum is the luxe version with superior formula, and Kenra Color includes products to be used on color-treated hair.
Know what you need: Understand what your needs are and pick a product accordingly. If you have curly hair, pick a Kenra product that is customized for curls, like the Curl Defining Cream and the Curl Glaze Mousse.
Experiment: There is no one product that suits all. So until then, you will have to bank on the good old trial and error method before you find the one.
You must be wondering, sure okay, so I got these professional hair products, but how do I use them? Well, don't worry, we've got you.
How Do You Use Kenra Products?
One of the best things about Kenra products is that they have customized product lines. You can opt for a product depending on what your needs are and what hair problem you are trying to solve. They are super easy to apply too.
The styling and dry shampoo sprays should be held 8-10 inches away from your hair during application. Also, don't forget to shake the bottle before you spray.
If it is a gel or a mousse, take some product on your palm, rub your palms and gently massage the product on the hair strands.
Why Trust StyleCraze?
Kirtana Divakar is a skin and hair care enthusiast who conducts extensive research to recommend the right products for her readers. She has compiled this list of the best Kenra hair care products based on numerous user reviews and product listings. These products range from dry shampoos to volume sprays and aim to satisfy your various hair requirements. She has also included a buying guide and mentioned the pros and cons of each product.
How good are Kenra hair products?
They are very good and effective. They are used by several hairdressers and hair stylists in salons to deliver polished hair looks.
Are Kenra products vegan?
No, currently, Kenra does not have any vegan-friendly products.
Are Kenra products sulfate-free?
Kenra has a range of sulfate-free conditioners and shampoos.
Are Kenra products cruelty-free?
Yes, none of Kenra's products are tested on animals.
Is Kenra a good brand?
Kenra is one of the best brands that offer hairstyling and hair care products. Kenra is known for its professional approach to tackling hair issues and is loved by many hairstylists.
Who owns Kenra?
It is owned by the German multinational company Henkel.
Do Kenra products have silicone?
Yes, some Kenra products like the blow dry spray have silicone in the formulation.
How often should I use Kenra clarifying shampoo?
Use a Kenra clarifying shampoo no more than once in 10 days. Excessive use of clarifying shampoos will overdry the hair and cause dryness, dullness, and brittleness.
Does Kenra shampoo have protein?
No. not all Kenra shampoos have protein. Kenra's moisturizing and volumizing shampoos have protein in their formulation.