13 Best Keratin Conditioners Of 2022 For Nourishing Your Hair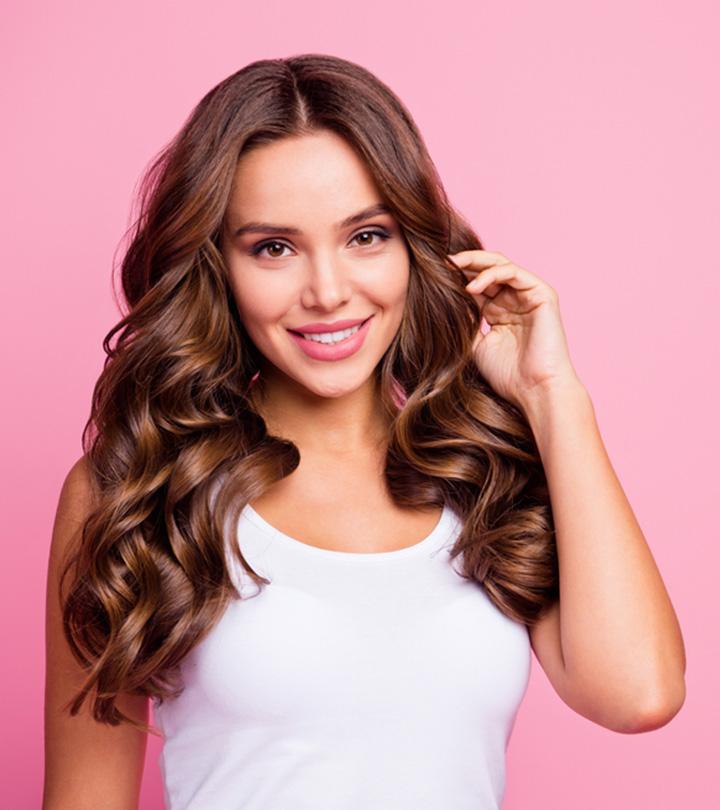 Keratin conditioners are becoming popular these days because of their protective properties, and many brands are jumping on the keratin bandwagon, and rightly so. If you want to know which are the best keratin conditioners, stay tuned till the end of this article. Keratin is a protein commonly found in your fingernails, toenails, and hair. Given its ability to withstand some challenging conditions. Cosmetic companies have synthesized keratin and use it in shampoos and conditioners to help improve hair health. In this article, we discuss 13 of the best keratin conditioners you can choose from.
Top 13 Best Keratin Conditioners To Get Soft And Silky Hair
This Nexxus Conditioner For Damaged Hair contains PROTEINFUSION, which is a combination of black rice and keratin protein. This conditioner smoothes your hair and repairs damage. This formula penetrates through the hair fiber and deeply nourishes it. Formulated with 90% protein, it adds shine and silkiness to your hair. Revitalize your hair with this benefit-loaded hair conditioner that will surely make your hair more gorgeous than ever!
Pros:
Replenishes hair
Detangles hair
Provides instant results
Makes hair stronger and healthier
Cons:
Keep you hair hydrated and add some much needed shine with this OGX Ever Straightening + Brazilian Keratin Therapy Conditioner. This conditioner is infused with the richness of coconut oil that adds luster, while ingredients like avocado oil, cocoa butter, and Brazilian keratin protein helps in moisturization, leaving your hair smooth and lustrous.
Pros:
Adds shine
Amazing scent
Strengthens hair
Smoothens hair cuticles
Sulfate and paraben-free
Suitable for all hair types and textures
Cons:
Might make hair a bit oily
This Biolage Advanced Keratindose Conditioner is the most highly recommended product for dry and damaged hair and for all the right reasons. It provides replenishment and nourishment to weak, over-processed, and fragile hair. The combination of silk and pro-keratin in the formula helps you achieve shiny and easy-to-manage hair.
Pros:
Paraben-free
Makes hair silky
Smoothens and detangles hair
Boosts thickness and length
Has anti-frizz properties
Cons:
The consistency might be too watery.
Suave Keratin Infusion Color Care Conditioner is a sulfate-free formula that works well on all hair types, especially on color-treated hair. It has a well-balanced pH level, which means it does not damage your hair; instead enhances your hair's quality. This conditioner smells good and makes your hair feel fresh and clean. Get beautiful and shiny hair within no time with this highly nourishing hair conditioner.
Pros:
Smoothens hair
Enhances hair color
Enriches with UV complex
48-hour frizz control
Makes hair manageable
Deep conditioning properties
Cons:
Might make hair flat and weighed down
This It's A 10 Haircare Miracle product is a deep conditioner ideal for dry hair as it revitalizes and repairs damage in less time. With the goodness of keratin protein, it improves dull and damaged hair, making it healthier and nourished. This conditioner also has moisturization and superior penetration qualities.
Pros:
Provides shine
Restores elasticity
Safe for colored hair
Protects against sun damage
Helps prevent split ends
Smoothens and strengthens hair
Cons:
Might cause irritation for some
CHI Keratin Reconstructing Conditioner restores moisture levels in your hair with keratin and natural essential oils. These ingredients are known to promote long-lasting and healthier hair. If you are looking for a  keratin-enriched conditioner that can help prevent breakage and maintain good hair growth and texture, this is the right formula for you.
Pros:
Adds shine
Strengthens hair
Seals hair cuticles
Enhances elasticity of hair
Protects hair from damage
Cons:
Might make hair a bit oily
This Pure Brazilian Leave-In Conditioner is a rich and nourishing conditioner formulated to add softness and shine to your hair. This product is enriched with keratin, pink sea petals, and Bulgarian rose water. It keeps your hair hydrated and smoothens it too. This leave-in keratin conditioner protects your hair from damage while also preventing split ends and sealing cuticles.
Pros:
Adds shine
Moisturizing properties
Anti-frizz formula
Reduces styling time
No sodium chloride
Minimal use of chemicals
Cons:
Might not make hair tangle-free
This Alfaparf Milano product delivers keratin therapy with its hair conditioner that offers nourishing benefits to your hair. This keratin treatment conditioner has a pleasant fragrance, removes frizz, and makes hair look silky. It is considered to be one of the best hair conditioners, thanks to its salon quality formulation and unique properties. This formula is enriched with keratin, collagen, and babassu oil that will leave your tresses moisturized for long.
Pros:
Salt-free
Leaves hair soft
Sulfate and paraben-free
Improves texture of hair
Makes hair tangle-free and glossy
Cons:
The conditioner might have a thin consistency.
Natural Formula Keratin Intense Conditioner contains keratin that gives your hair its structure and the right texture. It helps rebuild strands and allows hair to remain straightened. This pro-keratin conditioner is ideal for damaged hair as it provides moisture and shine. With this formula, you can improve your hair's elasticity and softness to attain healthy and glossy hair that's easy to manage without any tangles.
Pros:
Cruelty-free
Prevents breakage
Increases strength
Suitable for all hair types
Sodium chloride salt-free
Protects hair from heat and chemical damage
Cons:
Might make hair look flat
Strengthen your hair and restore its texture and shine with this hair conditioner that works on all hair types! This smoothing keratin conditioner is enriched with natural plant extracts, natural seed oils, and keratin, which prevents hair from aging and protects against damage. All while also locking in the natural keratin of your hair to strengthen and smoothen your locks. If you have color-treated hair, you will be glad to know that this product is known to protect and increase the durability of the color.
Pros:
Lends manageable hair
Removes dryness
Anti-frizz properties
Sulfate and phthalate-free
Cleanses and moisturizes each strand
No paraben, gluten, DEA, or TEA
Cons:
Buy this Ion Keratin Smoothing Conditioner that is well known for improving hair quality. An excellent cure for all your hair problems, this creamy formula restores keratin, elasticity, and lost moisture in your hair, making it healthy with beautiful texture and volume. You will get smooth and shiny hair with just one use.
Pros:
Sulfate-free
Eliminates frizz
Smells pleasant
Safe for any hair type
Strengthens hair follicles
Cons:
Might have a thin consistency
Botanic Hearth Keratin Hair Conditioner will help you achieve healthy-looking hair that you can flaunt wherever you go. It contains the goodness of argan oil, which provides the nourishment your hair totally deserves while also smoothing frizz. Bid goodbye to
damaged and rough hair and embrace gorgeous hair instead, with this natural formula!
Pros:
Cruelty-free
Fortifies hair
Makes hair soft
Can be used daily
Adds moisture to hair
Anti-frizz formula
Safe for color-treated hair
Paraben and sulfate-free
Cons:
Luseta Keratin Conditioner is a nourishing and smoothing formula that allows hair to remain strong, shiny, and healthy. This conditioner gently locks in moisture and cleanses your hair, giving a glossy look, hence making it easy to manage. Dry and frizzy hair is something you would never experience again once you begin to use this highly nourishing formula that increases hair elasticity too. Get thicker and healthier hair in no time!
Pros:
Repairs damage
Sulfate-free
Hydrates hair
Safe to use
Protects hair color
Reduces hair breakage
Protects against heat
Cons:
Might not work well on thick hair
Here is a buying guide to help you understand which keratin conditioner will work the best for you.
Buying Guide
How To Choose A Keratin Conditioner
It is essential to know what to expect from a conditioner before purchasing it to get the full benefit from it.
Hair type: People with dry and frizzy hair look for a conditioner that provides nourishment and moisturization. If you have limp or fine hair, a volumizing conditioner will work best for you.
Ingredients: Buy conditioners that are not made up of harsh chemicals and can be safely used on a daily basis.
How To Use Keratin Conditioner
Step 1: Firstly, remove tangles from your hair and shampoo it.
Step 2: You may gently massage your scalp with your fingertips, and avoid using your nails when shampooing your hair.
Step 3: Now apply a generous amount of the conditioner to the hair strands and massage well.
Step 4: Leave the conditioner on your hair for 5-10 minutes.
Step 5: Rinse your hair thoroughly
We have brought you the best solution for all your hair problems! Use any of these keratin hair conditioners that promise to bring your dull hair to life. It nourishes each strand, hydrates it, and allows your hair to breathe. These conditioners are made from natural ingredients and are free from harsh chemicals. They will repair your hair without damaging it. Check out the 13 best keratin conditioners mentioned above and give your hair the most incredible gift! Get voluminous, shinier, and healthier hair in no time.
Why Trust StyleCraze?
The author, Kirtana Divakar, is a hair care enthusiast who loves writing comprehensive beauty and lifestyle articles for her readers. She went through numerous reviews and feedback available on multiple forums and websites to curate a list of the best keratin conditioners. The conditioners listed in this post provide replenishment and nourishment to weak, over-processed, and fragile hair. They also have moisturization and superior penetration qualities.
Frequently Asked Questions
Is keratin conditioner good for your hair?
Yes, it indeed is! The keratin conditioners are known for their anti-frizz and smoothing properties, which make the hair soft and deliver shine.
Can I use a keratin conditioner every day?
Yes, it can be used daily, as it will revitalize your damaged hair, remove tangles, and treat the coarseness and dryness of your hair.
Is keratin conditioner terrible for curly hair?
No. It is an excellent solution for curly hair. It helps remove frizz and makes hair healthier.
Does keratin conditioner straighten hair?
It does not straighten hair, but it surely smoothens it, making it easier for you to style your hair.
Recommended Articles