13 Best Keratin Hair Masks For The Perfect Hair Spa Day At Home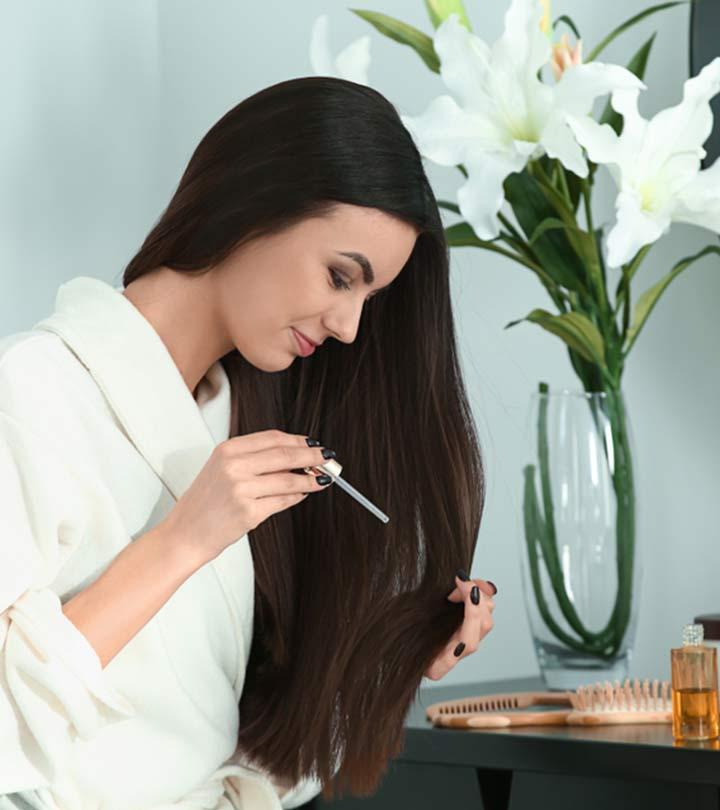 Your hair is just a keratin hair mask away if you're looking for ways to pamper it and keep the frizz away. But, what's so great about keratin when there are so many types of masks out there? Keratin is a protein that our hair is made of. When we undergo too many treatments or expose our hair to environmental elements, our hair becomes dull as these factors strip the hair of keratin. A keratin hair mask magically fills these gaps in each strand to restore the shine and enrich the hair from within.
Anybody who knows how transformational a keratin hair mask can be would never want to say no to it. If you want to make the most out of its benefits, your first task would be to buy a good keratin hair mask. We've rounded up the 13 best keratin hair masks from some of the best brands that your hair will love. Give this list a read and get ready to reveal softer, smoother, and lustrous locks.
13 Best Keratin Hair Masks That Pack Moisture And Nourishment
If hair damage keeps you from experimenting with different hair colors, invest in this keratin repairing hair mask and fear no more. It is formulated to replenish the missing protein so that the natural shine of your hair is restored. You will witness visibly stronger and frizz-free hair upon regular use of this keratin mask treatment. It blesses your hair with a wealth of ingredients like retinol, citrus aurantium, green tea, coconut oil, and vitamin E for intense nourishment. Pick any hair styling tool that impresses you and leave the task of repairing your hair to the Revicare keratin mask.
Pros
Replenishes moisture
Suitable for all hair types
Paraben-free
Free of sodium chloride
FDA and GMP-certified
Cons
May not fix severe brassiness
No longer do you have to hit the salon to make your hair and scalp feel loved and pampered. Using the Blondwood Labs keratin mask for hair is a healthy concoction of keratin, biotin, and collagen— everything you need to improve your hair's condition. Its intensive repair formula helps repair, nourish, and strengthen hair from within and prevents hair damage. You can expect this hair mask to have your back whether you have straight, curly, or wavy hair. Give this keratin repair hair mask a try if you're all for shinier, softer, smoother, and more manageable hair.
Pros
Prevents hair loss
Nourishes scalp
All-natural ingredients
Paraben and sodium chloride-free
Cons
May not suit extremely dry hair
This deeply moisturizing, restorative formula is a one-stop solution for a range of hair problems like hair damage from treatments, environmental aggressors, and chemical-laden products. With ingredients like organic jojoba oil, shea butter, aloe vera, and keratin, it repairs dry and damaged hair and is equally useful for color-treated hair. It boosts natural hair growth by providing nourishment to the hair follicles and fights hair fall— thanks to argan oil that packs omega fatty acids, linoleic acid, and antioxidants. The natural oils intensely hydrate and their aromatic scent gives a multi-sensory experience.
Pros
Organic ingredients
Paraben and sulfate-free
Hypoallergenic
Cruelty-free
Certified vegan
Cons
This intensive, deep conditioning keratin treatment is infused with hair-loving ingredients like keratin, Moroccan argan oil, rosemary leaf oil, wheat germ oil, tea tree oil, sunflower seed oil, and vitamin E for intense hydration and enrichment. It works like magic for all kinds of hair from straight, curly, to chemically-treated hair. This hair mask locks in moisture for long-lasting hydration and a healthy mane. It is the best professional keratin treatment and has some of the added benefits include advanced frizz control and recovery from extreme brittleness.
Pros
Repairs split ends
Weightless formula
Paraben and sulfate-free
Suitable for color-treated hair
Cruelty-free
Cons
Some may find the scent too strong
If you've recently straightened your hair, you must not say no to the best keratin hair mask that can help you maintain straightening outcomes 3 times longer. This quick-acting formula rebuilds and restores your hair's structure while adding a natural sheen. It also packs extra moisture to help your hair fight the drying effects of straightening treatments. It also equips your hair to resist breakage along with chemical and heat damage. While keratin in itself is quite a potent ingredient that provides your hair a good dose of protein, it also contains pentanol, so you have no reason to say no to this hair mask.
Pros
Suitable for heat-damaged hair
Adds shine to hair
Free of sodium chloride
Paraben-free
Cruelty-free
Cons
May not completely tackle frizziness
If you find it hard to resist bleaching to achieve that perfect shade of blonde, you need something as healing as this keratin restore bonding mask. This protein keratin hair treatment can be your perfect companion for healthier hair by creating new bonds within hair fibers. This means improved hair growth, intense hydration, and beautifully smooth and shiny tresses. This keratin hair mask is all the more useful if you have porous hair or if your hair has suffered damage from straightening and other treatments that involve exposing hair to heat.
Pros
Suitable for color-treated hair
Hydrates
Softens hair
Climate pledge-friendly
Cons
Contains artificial fragrance
Contains parabens
We deserve a day's break every once in a while, to use a face mask, hair mask, and Netflix and chill while at it. Pick this keratin hair mask for a relaxing hair spa day at home and give your hair all that's good for it. This keratin therapy treatment hair mask is infused with hydrolyzed keratin and collagen that softens hair and restores moisture. It is also a fantastic detangler that allows your comb to glide through your hair effortlessly. Allow this super effective hair mask to sit for 5 minutes and it'll work like magic for a glorious mane.
Pros
Infused with hydrolyzed keratin
Prevents dryness
Smoothens hair
Color-safe
Cons
It may weigh down fine hair
A weekly dose of the Awapuhi intensive keratin treatment is the only solution you need for extremely dry and damaged hair. The star ingredient of this hair mask, wild ginger is rich in fatty acids that prevent hair thinning and helps stimulate hair growth. Its proprietary KeraTriplex formula helps repair the hair from the roots to the end. You can count on this professional formula if you have color-treated or chemically processed hair. Invest in this healthy, ginger-infused keratin hair mask to give yourself a well-deserved good hair day after every spa session.
Pros
Packs intense moisture
Fights dullness
Ideal for color-treated hair
Free of parabens
Cons
Contains artificial fragrance
If you have severely damaged hair, this is a good keratin treatment to depend on. This professional keratin treatment at home bestows your hair with vitality-boosting bamboo stem cells that nutrifies every strand of hair. Other ingredients like prickly pear oil and argan oil in this smart keratin formula strengthen the hair from the inside-out. Not only does it repair damage caused by treatments but it also fights the effects of environmental factors like damage from UV exposure and pollutants. A little bit of patience and a tad bit of consistency is all it takes for this natural keratin hair treatment to deliver impeccable results.
Pros
Color-protecting formula
Paraben-free
Free of mineral oils and sulfates
Gluten and phthalate-free
Cons
May take some time to show results.
This keratin hair repair treatment can transform your hair from frizzy to flowy in no time. Thanks to its advanced hair repair system that targets each hair strand to repair and rejuvenate your tresses. It is a nutritious infusion of argan oil, keratin, coconut oil, shea butter, and rosehip seed oil that offers all things good for the mane. This formula also soothes and relieves an oily scalp of excessive oils that results in flat and greasy hair. While it is made to suit dry and sensitive hair, you can also use it for color-treated hair to restore the luster of your hair.
Pros
Deeply conditions
Revives dull and dry hair
Free of parabens and sulfates
Makes hair manageable
Cons
Some may find the scent too intense
The Wellution keratin hair conditioning treatment mask will make you say wow right after a couple of washes. It is formulated to fight frizz and dryness to give you visibly supple hair. It works actively to restore elasticity, prevent hair breakage and address the problem of split ends. Since it is a gentle formula, you can use it daily if you're trying to repair severely damaged hair and want relatively quick results.
Pros
Strengthens and repairs
Suitable for all types of hair
Free of phthalates and parabens
Sulfate and silicone-free
Free of mineral oil and petroleum
Cons
The Embelleze hair mask is an affordable alternative to expensive keratin treatments that salons offer. What makes it one of the best restorative hair masks is that it offers multiple benefits. This carefully-created Brazilian keratin hair mask formula helps add life to dull hair by controlling excessive frizz and strengthening the hair cuticle. It also packs vitamin E that hydrates the hair and adds body to it, minus the greasiness. Use it on a regular basis and it will help your hair achieve maximum volume and shine over time. It is the best hair mask for fine hair.
Pros
Ultra-hydrating formula
Fights frizz
Reconstructs hair fiber
Free of formaldehyde and salt
Cons
May not deliver prolonged softness
This coconut keratin hair mask for platinum, silver, and blonde hair is an absolute must-have if you're trying to keep away from nasty yellow tones. While it neutralizes and prevents yellow tones, it also protects the hair from brassiness and dryness that frequent bleaching may cause. It is a blend of the best of natural ingredients like keratin, aloe vera, argan oil, vitamin C, green tea, and coconut oil— a powerful concoction that strengthens the hair from within and promotes hair growth. All in all, if you'd want to perfect your blonde, investing in this purple keratin hair mask is worth it.
Pros
Neutralizes yellow tones
Moisturizes
Prevent split ends
Suitable for all blonde shades
Cons
May not offer intense toning of the hair color
If you want your hair to regain its strength and stay healthy, any of the keratin hair masks listed above can help you achieve that. But before investing in a keratin hair mask, there are a few factors that you must consider. Let's take a look.
How To Choose A Keratin Hair Mask?
Keratin hair masks are an excellent choice for intense nourishment and hydration. While keratin itself strengthens the hair, other natural ingredients boost the effectiveness of the hair mask. This is why you should check the list of ingredients to ensure that your keratin hair mask contains elements that help nourish your hair.
Ingredients like argan oil, coconut oil, shea butter, vitamin E, and avocado oil are an amazing addition to a keratin formula. Avoiding chemicals like sulfates and silicones can help you stay away from hair masks that might dry your hair in the long run.
If you want your keratin hair mask to offer the best results, it is important to identify your hair type and buy a hair mask that's specifically crafted to suit your type of hair. If you have dry and frizzy hair, you need a hair mask with an intense hydrating formula. If you have color-treated or chemically-treated hair, you might need a keratin hair mask that can reverse, repair, and prevent the effects of such treatments.
One major reason why people prefer to use keratin hair masks as opposed to keratin treatments at salons is that the latter can burn a hole in your pocket. When that's the case, you wouldn't want to spend a lot on a keratin hair mask unless it has rare and expensive ingredients like argan oil. So, make sure that you invest wisely in a keratin hair mask based on its ingredients, reviews, and how effective it seems to be.
Now that you know what to consider when buying a keratin hair mask along with our list of 13 best products, here's how you should use a keratin hair mask for best results.
How To Use A Keratin Hair Mask?
Wash and towel dry your hair to prepare for the keratin hair mask of your choice.
Start by creating several sections of hair so that you cover each strand.
Take an adequate amount of the hair mask, start applying to the roots, and go all the way down to the tips with your fingers. Cover each section one by one.
For better results, cover your hair with a hot towel.
Let the mask sit for 5 to 10 minutes or the time indicated on the package of the hair mask to bestow its benefits. Wash it off with lukewarm water.
We all know how coloring and heat styling can damage the hair in different ways, but should that stop us from experimenting? A regular conditioner is often not the most effective antidote that could counter serious hair damage, and you can't do without a good hair mask at such times. The 13 keratin hair masks that we just talked about will have your back by restoring the hair protein so that you can style your hair without worrying about your hair suffering perpetual dryness and dullness.
Frequently Asked Questions
Is keratin hair mask good for hair?
Our hair is majorly made of keratin, which is a protein. When our hair is stripped of keratin, it becomes dull and lifeless. Keratin hair masks are an excellent choice as they help replenish the very protein that makes our hair smooth and shiny.
Does keratin cause hair loss?
While keratin in itself does not cause hair loss, if you're using a keratin hair mask that has harsh ingredients, it may cause hair fall.
Is keratin good for dry and damaged hair?
Yes, keratin fills the protein gaps in the hair that may be causing dryness. Therefore, when your hair is coated in keratin, it hydrates and locks in moisture so that your hair has a natural luster.
Is keratin good for curly hair?
Keratin is beneficial for different types of hair, which includes curly hair. Curly hair is more prone to dryness and damage from environmental elements. When that's the case, a keratin hair mask can help fight the damage.
Recommended Articles