15 Best Keratin Shampoos For Smooth Hair And Shiny Locks – 2022
Cleanse and smoothen your tresses without worrying about dryness, frizz, or split-ends.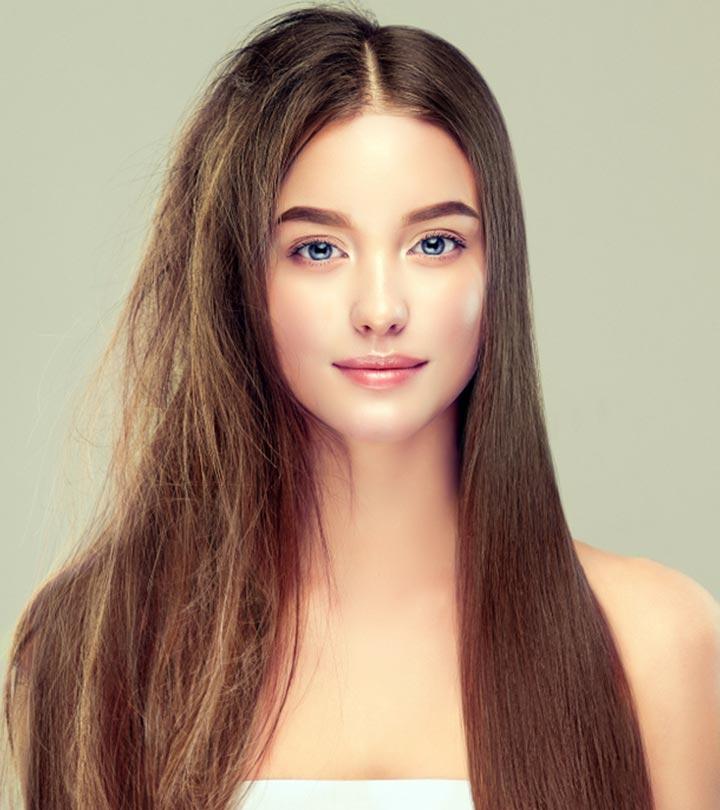 The quickest way to get hair that is manageable and frizz-free is to grab a bottle of the best keratin shampoo you can get your hands on. Yes, keratin shampoos are like magic potions for hair that can make the dreams of gorgeous and manageable tresses free of frizz a reality for all women and every hair type. And that's not all. It does a great job of cleansing and nourishing your hair at the same time too. How does it do it? We have explained all about this wonderful hair protein in the buying guide below and listed out all the best keratin shampoos in the market for you to choose from.
Now, are you ready for some keratin cleansing and nourishing? Check out our list of the 15 best keratin shampoos of 2022 that you must try!
Best Keratin Shampoos To Repair Damaged Hair
Packed with natural ingredients such as saw palmetto, vitamin E, green tea, rosemary oil, biotin, vitamin B, amino acids, and keratin, Pure Biology is making healthy hair possible with its ultra-nourishing blend! From preventing breakage, repairing damages to reducing hair loss with a keratin boost, it also helps with alopecia and hair thinning. Plus, this plant-derived blend guarantees to extend follicle life over 3 weeks! Cleansing gently and helping hair grow thicker and stronger naturally, keratin shampoo for hair growth is a must-try.
Pros
Mild formula
Provides intense nourishment
Repairs with deep conditioning
Adds volume and eliminates split ends
Paraben-free, Non-GMO, and cruelty-free
Ideal for both men and women
Safe for dry, curly, and all hair types
Cons
May not be suitable for colored hair
Price at the time of publication: $27.99
No less than a miracle for hair, this shampoo, other than gentle cleansing, will impart keratin proteins, moisture and protect your tresses from thermal styling! Yep, it leaves hair softer, smoother, and supple to eliminate the chances of future breakage too. Also, do you have color-treated damaged hair? If yes, then this shampoo with keratin is a must-try for it repairs damages and claims to restore elasticity as well. Give it a try to experience the miracle! Check out the review of this product on YouTube to know why it is one of the best out there.
Pros
Ideal for daily use
Protects hair from UV rays
Prevents color fading and tangling
Controls frizz and shields from humidity
Provides intense nourishment and strengthening
Cruelty-free, sodium chloride-free, and sulfate free keratin shampoo
Cons
Price at the time of publication: $32.0
Quit blaming the humidity for the frizz when all your hair needs is a Keratin boost to stay soft, shiny, and frizz-free! Claiming to smoothen out the texture and improve elasticity, you no longer have to worry about fly-aways or frizz with this one. Also, other than intense cleansing, this keratin smooth shampoo forms a protective shield around the strand to strengthen, add shine and volumize with the infused hydrolyzed keratin. Stimulating your scalp to soak in the nourishment and be healthier, try Keranique Scalp Stimulating Shampoo if you haven't already!
Pros
Mild cleanser
Improves manageability
Prevents breakage and hair thinning
Protects from environmental damages
Provides intense hydration for dry hair
Leaves hair looking younger, softer, and smooth
Sulfate-free and paraben-free
Cons
Price at the time of publication: $15.97
Are you wondering why your hair looks dull, dry, and lifeless? Lack of keratin could be the reason, which is why you must try CHI Keratin Reconstructing Shampoo! With a powerful Keratrix technology, it claims to treat all kinds of damaged hair instantly and leaves your hair soft and shinier than ever. Infused with jojoba oil and argan oil as well, it provides a unique combination of cleansing and nourishing at the same time! Just what you need to protect your hair from future damages all day long, do not skip this hair reconstructing shampoo.
Pros
Gentle cleanser
Ideal for all hair types
Strengthens weak hair
Locks in hair's natural keratin
Provides intense hydration
Prevents breakage and improves elasticity
Cons
Price at the time of publication: $6.3
Infused with keratin and wheat protein, Amika The Kure Repair Shampoo will repair damaged hair and strengthen it too. Restoring your hair to its natural smoothness and softness, also tackles the porosity with hydrolyzed keratin that penetrates deep and strengthens the damaged cuticles. And that's not all, it improves elasticity and makes hair manageable too. One of the best ways to bring back your good hair days (just with a shampoo!). This hydrolyzed bio keratin shampoo also contains avocado oil to provide intense nourishment to the scalp and hair. Give it a try! In this YouTube video, you will find a detailed review of this product.
Pros
Vegan and cruelty-free
Cleanses and corrects damages
Revitalizes dull, dry, and damaged hair
Boosts moisture level and adds softness
Sulfate-free, paraben-free, phthalate-free, gluten-free, and more
Ideal for chemically-treated, color-treated, Brazilian, and keratin-treated hair
Cons
Price at the time of publication: $22.5
Beat the dryness and heal the damages with Vitamins Keratin Shampoo! When bad days are too many, it's a sign that your hair needs something more than just intense cleansing to look gorgeous. And this shampoo, for instance, has a blend of essential oils, herbal complex, Moroccan argan, and keratin to moisturize, condition, restore and revitalize your hair. Yep, its unique formula claims to strengthen tresses, balance the pH levels, prevent breakage, and care for damaged hair too. Still, want to miss this luxury brand?
Pros
Locks out humidity
Controls frizz and detangles knots
Repairs and eliminates split ends
Soothes and calms itchy scalp
Adds a stunning shine and smoothness
Hydrates color and chemically treated hair
Paraben-free, sulfate-free, alcohol-free, and cruelty-free
Suitable for all hair types and textures
Cons
Price at the time of publication: $22.98
What's unique about this shampoo? Its weightless formula! Given how some shampoos can weigh down damaged and sensitive hair, this one will gently cleanse, tame the frizz, improve elasticity, and leave your hair detangled and silky-smooth! Giving your hair a keratin recharge to wake up and shine from its slump, get ready to bring back your good hair days with this one!
Pros
Shields from humidity
Improves manageability
Provides intense nourishment
Strengthens outer fiber and follicles
Safe for sensitive scalp and chemical-treated hair
Cons
Expensive
It has sulfate.
Price at the time of publication: $36.0
Banish dryness and dullness with this TLC cleanser by GK Hair! Global Keratin Moisturizing Shampoo does not joke when it claims to care about your hair. From cleansing excess oil from your scalp, repairing damaged color-treated hair, taming the frizz, preventing breakage, to improving the overall health of the hair, it's a must-try for both men and women. Also, the credit goes to the infused Juvenix, an anti-aging Keratin protein that fortifies, protects, and revitalizes hair with every use. Besides this, it protects hair from external damages and extends color vibrancy as well! Too good to be missed, don't you think?
Pros
Ultra-mild cleanser
Reduces split ends and thinning
Adds shine, volume, and smoothness
Improves manageability and fiber quality
Moisturizes, hydrates, and nourishes intensely
Paraben-free, sulfate-free, gluten-free and phthalate-free
Suitable for chemically-treated, dry, damaged, and frizzy hair
Cons
Expensive
Slightly heavy for fine hair
Price at the time of publication: $59.9
Here's a good keratin shampoo that your tresses will enjoy! This therapeutic shampoo infused with coconut oil, keratin proteins, cocoa butter, and avocado oil is a tonic for happy and beautiful hair. Softening them, strengthening them, and leaving a salon-worthy glow, there's no reason why you shouldn't add it to your hair care routine this season. Also, all that frizz, consider it tamed! Give this keratin straightening shampoo try. Check out this video on YouTube for a detailed understanding of the product.
Pros
Organic keratin shampoo
Adds a silky-smooth shine
Smoothes out the cuticles
Transforms hair from dull to gorgeous with every use
Cons
Slightly drying for dry hair
Price at the time of publication: $5.74
Has frequent chemical or color treatment turned your hair dry and frizzy? If yes, then you need Biolage's magic! Infused with silk and pro-Keratin, it targets damaged and over-processed areas even if you have fragile hair. Fortifying tresses to bask in the nourishment to repair and heal back to the healthy state, this shampoo also tames frizzes and improves elasticity. A great option to try or recommend to a friend dealing with damaged hair, Biolage Advanced Keratindose Shampoo will not disappoint.
Pros
Gentle cleanser
Prevents breakage
Adds shine and volume
Leaves hair soft and manageable
Locks in moisture to eliminate brittleness
Sulfate-free and paraben-free
Cons
Slightly heavy for fine hair
Price at the time of publication: $23.0
This shampoo speaks volume for fine hair! A great option to wake up your dull mane, OUAI Fine Shampoo is packed with the enriching power of 3 that is chia seed oil, keratin, and biotin, which help in moisturizing, strengthening, and nourishing hair instantly. A unique combination to fortify hair and scalp to get stronger and nourished, it also adds an insane volume, thus cutting all those salon trips short just with a hair wash! Yep, ready to say goodbye to fine hair now?
Pros
Cruelty-free product
Adds a bounce and shine
Ensures thorough cleansing
Improves overall health of the hair
Tames frizzes and hydrates intensely
Color-safe, paraben-free, and sulfate-free
Suitable for all hair types
Cons
Price at the time of publication: $60.0
Do you prefer a shampoo with a creamy-rich lather? Then Lanza Keratin Healing Oil Shampoo would be a great pick. This shampoo guarantees to clean thoroughly with a creamy lather and add a bounce and fuller look too! With an ultra-luxurious formula packed with natural ingredients such as acai fruit oil, babassu kernel oil, Abyssinian flower oil, coffee seed oil, and argan oil, your hair can't help but feel ultra-nourished inside out. Besides this, the Keratin proteins and Phyto IV Complex tackle dryness and damages intensely from roots to tips. Yep, ensuring a salon-like glow now at home. Still, want to give this one a miss?
Pros
Reduces split ends and friction
Improves elasticity and tames frizzes
Ensures light detangling and UV protection
Protects and extends hair color vibrancy
Boosts optimal strength and nourishment
Cons
Slightly greasy for oily hair
Price at the time of publication: $95.0
With this Keratin shampoo in your hair wash routine, you can style your color-treated or chemically-treated hair as you want! Infused with natural Keratin, marine botanicals, and vitamin E, it penetrates deep into the strands to repair damages and transform hair back to its natural beauty. Yep, all this while gently cleansing your hair! Just what you need to depend on to give your hair a soft and shiny makeover, give keratin shampoo for color-treated hair a try this season.
Pros
Strengthens hair inside out
Prevents breakage and friction
Leaves hair smooth and manageable
Provides long-lasting thermal protection
Suitable for all hair types
Cons
It may not tame the frizz.
Price at the time of publication: $16.0
Cleansing with TLC, Keratherapy Keratin Infused Moisture Shampoo is what it claims to be— therapeutic! Formulated to rinse out the build-up thoroughly, repair damages, and strengthen hair, it does it gently enough for your hair to bask in the nourishment at the same time. Also, its willow bark extract, aloe vera, keratin, and witch hazel extract blend are no less than a tonic to wake up your beautiful tresses! From preventing breakage, soothing scalp to relieving dryness, there's so much for your hair to love! Try it.
Pros
Ensures weightless hair
Reduces split ends and frizz
Provides intense conditioning
Strengthens the hair shaft and repairs damages
Boosts moisture levels and restores elasticity
Suitable for all hair types
Cons
Price at the time of publication: $27.78
Oily scalp and dry ends are a terrible combination to deal with, right? But not for Giovanni 2chic Ultra-Sleek Shampoo. Cleansing the excess oils and moisturizing the dry ends, this shampoo claims to be a smart cleanser. Infused with Moroccan argan oil and Phyto-keratin proteins to unleash a luxurious and dual smoothing blend on your scalp and hair, watch your tresses transform from dull to dazzling with every wash! Also, do you have colored hair? Then you'll love this coconut oil and shea butter-infused shampoo even more because it is 100% color-safe. Give it a try!
Pros
Ultra-moisturizing shampoo
Infused with organic ingredients
Leaves hair smooth, soft and frizz-free
Vegan and cruelty-free
Sulfate-free and paraben-free
Suitable for all hair types
Cons
It may leave build ups if not rinsed out thoroughly.
Price at the time of publication: $15.99
Say yes to some Keratin love this season! There you go, those were the 15 best Keratin shampoos to give your hair a healthy boost. Are you wondering how to choose the right keratin shampoo for your hair? Or want more details on its benefits, we have explained it all in our buying guide below.
Buying Guide
How To Choose The Best Keratin Shampoo?
Keratin helps damaged hair repair and heal back to its natural beauty. However, choosing the right one for your hair is indispensable, so look out for the following points before buying:
Hair Type: The shampoo should be safe and suitable to use on your hair type, especially if you have chemically-treated, color-treated, fragile, or damaged hair. So, inspect the hair type suitability before choosing.
Gentle cleansing: Since, lack of keratin can lead to fragility, cleansing should be mild yet thorough. So, choose a keratin shampoo that, despite being mild, offers deep and thorough cleansing.
Intense nourishment: Though all of them have keratin as the key ingredient, check if the shampoo has other beneficial ingredients such as essential oils, vitamins, or plant-derived components for intense nourishment. This will not only help your hair get the best nutrients to repair and grow healthy but also deliver a therapeutic experience with every wash.
Chemical-free: If there's something your Keratin shampoo should not have, it is harsh chemicals. Look out for chemicals such as paraben, sulfate, phthalates, alcohol, and more that can end up drying or harming your tresses more.
A multi-tasking formula: Why settle for a keratin boost only when there are keratin shampoos that guarantee to eliminate split ends, improve elasticity and manageability too. Pick a shampoo that can deliver more than just one benefit for the best experience.
Benefits Of Using A Keratin Shampoo
The benefits of using a Keratin shampoo are many, and here some of them:
Targets damaged, dry, dull, and brittle hair
Strengthens hair shaft and heals follicles
Cleanses scalp thoroughly and tresses from roots to tips
Boosts moisture levels, hydrates, and nourishes intensely
Locks out humidity, controls, and tames the frizzes
Improves elasticity, manageability, and adds volume
Leaves hair healthy-looking, shiny, soft, and smooth
Fortifies scalp and hair to bask in the nutrients to stimulate healthy hair growth
Why Trust StyleCraze?
Vaishnavi Kothuri is a hair care enthusiast and loves reviewing products to help her readers pick the best one. She understands the importance of keratin-enriched products, and that is why she has compiled this list of the best keratin shampoos. She checked user reviews and feedback for the products to shortlist them and help you achieve smooth and healthy hair.
Frequently Asked Questions
Does Keratin Shampoo Help Hair Grow?
Keratin shampoos do not directly boost hair growth, but they fortify hair and scalp to soak in the nutrients to create an ideal environment for your hair to grow quicker and healthier. So yes, they do promote hair growth.
Does Keratin Shampoo Stop Hair Loss?
If Keratin shampoo contains harsh chemicals, then it may lead to hair loss in some cases. Hence, you must inspect if it has chemicals such as sulfate, formaldehyde, paraben, and more to avoid hair loss problems.
Does Keratin Thicken Hair?
Yes, Keratin proteins stimulate thicker and healthy hair growth as it provides intense nourishment to the scalp and hair. Also, it adds a shine and volume too.
Is Keratin Bad For Curly Hair?
No, keratin is ideal for curly and wavy hair. Keratin shampoo not only makes curly hair manageable but also controls frizzes, which is a common issue with textured hair.
Does Keratin Shampoo Straighten Hair?
No, unlike keratin treatments, which may give your hair a silky-smooth and straight appearance, a keratin shampoo can only add a shine, volume, tame the frizz and make them more manageable.
Does Keratin Shampoo Cause Dandruff?
Yes, if you do not clean and rinse out the shampoo thoroughly, it will lead to buildup, which can further cause itchiness and dandruff issues. Hence, rinsing out the shampoo is imperative.
Should You Use Keratin Shampoo Daily?
Though most of the keratin shampoos are gentle enough to be used daily, you should leave a day's gap between hair showers or follow the routine that suits your hair the best. Plus, using them daily is also not advised because if not rinsed out thoroughly, it can lead to dandruff or greasiness.
Are Keratin Shampoos Good For Keratin-treated Hair?
Yes, there are keratin shampoos, which are ideal for keratin-treated hair. Amika: The Kure Repair Shampoo is one of the best shampoos if you are looking for an option for keratin-treated hair.
Recommended Articles