Top 12 Keratosis Pilaris Treatment Products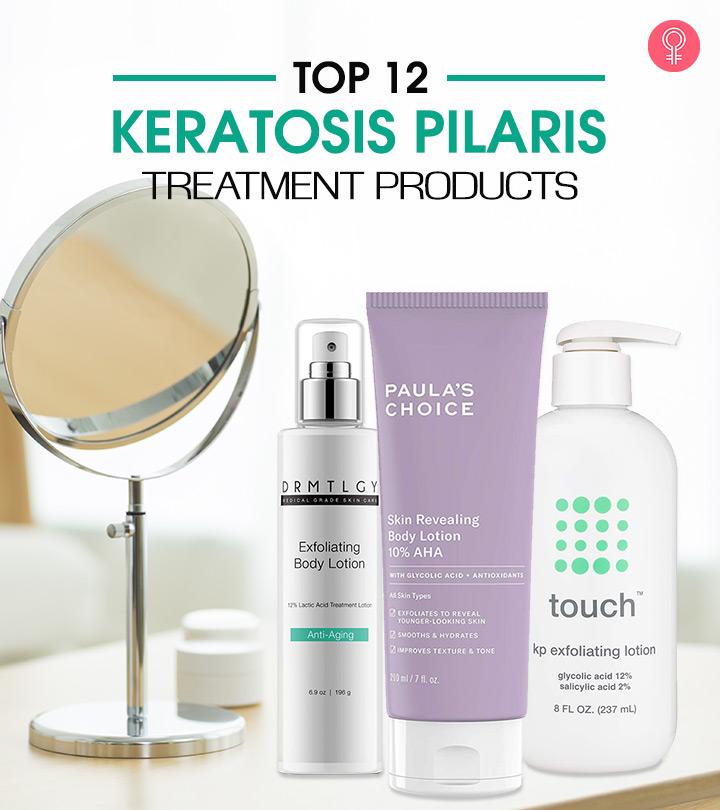 Keratosis pilaris is a condition characterized by small, flesh-colored bumps on your thighs, arms, or face. These bumps are typically harmless and are caused by a rapid build-up of keratin in your hair follicles. However, they may hamper your confidence.
Keratosis pilaris is a genetic condition and is most common in people who have eczema or extremely dry skin. Though there is no permanent cure, there are products that can help reduce the symptoms and make the skin smooth and even.
We have compiled the top 12 products that could help in dealing with keratosis pilaris. Take a look.
Top 12 Keratosis Pilaris Treatment Products
The CeraVe SA Lotion contains AHA and BHA that exfoliate your skin. It also contains salicylic acid that helps soften and smooth the skin and ceramides that help rebuild your skin's protective barrier and lock in moisture all day.
It has a hypoallergenic formula and is unscented, making it great for people with super sensitive skin. The lotion does not cause any irritation. People with keratosis pilaris are often advised not to use products that contain dyes or fragrances as they can lead to irritation and dryness.
Pros
Hypoallergenic formula
Fragrance-free
Non-comedogenic
Gentle
Developed with dermatologists
Cons
Greasy formulation
Not moisturizing enough for dry skin.
May clog pores.
The DRMTLGY Keratosis Pilaris Treatment Lactic Acid Skin Lotion contains 12% lactic acid. This makes the formulation a perfect choice for people with dry skin and keratosis pilaris.
The lotion also contains alpha hydroxy acid. It is unscented and can be used all over your body. The product treats skin issues like keratosis pilaris and folliculitis without causing irritation.
Pros
Contains lactic acid
Cruelty-free
Paraben-free
Sulfate-free
Gluten-free
Cons
It doesn't smell great.
May cause a burning sensation.
Not effective for all users.
The Keratone KP Body Wash contains 10% glycolic acid. It helps exfoliate the skin and reduces skin redness, irritation, and bumps over time. The Keratone KP Body Wash smells pretty good owing to the presence of natural ingredients like organic jojoba oil, aloe, Gotu kola, kernel oil, and glycolic acid. It leaves your skin softer and smoother.
Note: Make sure you apply sunscreen and limit your sun exposure for a week after using this product as it may increase your skin's sensitivity to the sun.
Pros
Gently exfoliates skin
Contains only natural ingredients
Does not contain synthetic fragrances
Paraben-free
Phthalate-free
Petrolatum-free
No xenoestrogens
No PEGs
Cons
Packaging issues reported.
Ineffective for some users.
Paula's Choice Skin Revealing Body Lotion contains 10% glycolic acid that exfoliates dull skin and hydrates dry skin. It is gentle enough on the skin that is prone to keratosis pilaris.
It contains glycerin and shea butter that moisturize dehydrated skin and protect it against environmental stressors. It also contains vitamins C and E, which are antioxidants that provide anti-aging benefits. The grapeseed oil in it hydrates the skin, while the chamomile, green tea, and willow herb help in soothing the skin.
Pros
Improves skin texture and tone
Provides long-lasting moisture to the skin
Fragrance-free
Cruelty-free
Safe
Non-irritating
Cons
Not effective for every skin type.
Expensive
Urea is known to be one of the best ingredients for soothing keratosis pilaris without causing any irritation. The Excipial Urea Hydrating Healing Lotion contains 10% urea that nourishes and hydrates itchy and dry skin. It also gently exfoliates your skin with every use.
Pros
Contains urea
Does not cause irritation
Leaves skin smooth and hydrates it
Cons
Expensive
Some ingredients might cause an allergic reaction.
It can cause breakouts.
The Touch Keratosis Pilaris Treatment lotion contains both glycolic and salicylic acids. These acids treat the symptoms of keratosis pilaris, including bumpy, rough skin, uneven skin tone, and skin dryness.
The lotion goes deep into your hair follicles to reduce redness and inflammation by targeting the source of keratosis pilaris. It has AHAs and BHAs that maintain the right pH balance of your skin.
It also contains moisturizing ingredients, like glycine soja oil that is a natural emollient, CCT (caprylic/capric triglyceride) that makes your skin non-greasy, and aloe vera that soothes your skin and reduces inflammation and irritation.
Pros
Deeply moisturizes the skin
Non-greasy
Paraben-free
Phthalate-free
Sulfate-free
Cruelty-free
No dyes or drying alcohols
Cons
Does not work for all skin types.
May cause itching.
Dermadoctor KP Duty Body Scrub is a cult-classic and has a grainy, rough texture. It exfoliates the skin both chemically and physically, leaving your skin soft and smooth. It is packed with the goodness of willow bark and green tea. It also has the benefits of microdermabrasion and chemical peel.
The Dermadoctor KP Duty Body Scrub revitalizes and refreshes your skin with every use. Along with the scrub, you can also use the DERMAdoctor KP Duty moisturizer containing urea and hydroxy acids for better results.
Pros
Combines the benefits of microdermabrasion and chemical peel
Cruelty-free
Gluten-free
Allergy-tested
Non-drying
Non-comedogenic
No synthetic fragrance or dyes
Cons
Expensive
May make the skin more sensitive.
The KP Elements Keratosis Pilaris Body Scrub & Exfoliating Skin Cream is completely natural and contains essential oils and vitamins. It is known to exfoliate and moisturize your skin by removing excess keratin.
The cream contains glycolic acid, a natural alpha-hydroxy acid that helps dissolve the excess keratin blocking the skin pores. This skin cream is tested and approved by dermatologists.
Pros
Contains all-natural ingredients
Paraben-free
Cruelty-free
Heals and moisturizes skin
Dermatologist-approved
Cons
Takes time to show results.
Does not work for some skin types.
May cause temporary redness of the skin.
The SAL3 Salicylic Acid Sulfur Soap Bar contains 10 % colloidal sulfur and 3% salicylic acid. Sulfur is a keratolytic agent that breaks up keratin plug bonds and helps them shed away, while salicylic acid has anti-inflammatory properties. The combination of these ingredients effectively treats keratosis pilaris.
It also reduces acne breakouts in a gentle and effective manner. The soap is gently exfoliating and does not irritate the bumps on your skin. However, the soap smells of sulfur as it is unscented, but the smell will dissipate as soon as you dry your skin.
Pros
Gently exfoliates the skin
Non-irritating
Anti-inflammatory
Antiseptic
Antifungal
Cons
Unattractive packaging
Smells like sulfur in the shower
May not work for dry skin
The Glytone Daily Body Lotion helps exfoliate the skin and reduce the appearance of dark spots. It contains 17.5% glycolic acid. Though this is a higher percentage of the acid, your skin will not feel any irritation.
Its formulation helps in moisturizing your skin and correcting skin texture imperfections on the body. While vitamin E protects your skin from free radical damage, shea butter hydrates it. This lotion has SPF 15 and protects your skin from UVA/UVB rays.
Pros
Offers UVA/UVB protection
Rejuvenates skin
Enhances skin texture
Makes skin soft
Cons
Expensive
Greasy
May cause rashes.
The Touch Keratosis Pilaris & Acne Exfoliating Body Wash Cleanser contains 2% salicylic acid and 15% glycolic acid that exfoliate and clears your skin with regular use. These acids target the source of keratosis pilaris and acne and reduce inflammation and redness.
The cleanser contains skin-soothing ingredients like aloe vera, Gotu Kola, and vitamin E that moisturize your skin, stimulate collagen production and protect it from free radical damage. It has an optimal blend of surfactants and humectants that deeply cleanse your skin and prevent overdrying. It also contains hyaluronic acid that helps reduce moisture loss from the skin and makes it soft.
Pros
Paraben-free
Phthalate-free
Sulfate-free
No dyes
Alcohol-free
Cruelty-free
Cons
It does not give quick results.
May cause dryness.
Expensive
The AmLactin Daily Moisturizing Body Lotion has 12% lactic acid. It minimizes any bumps on your skin and smoothens the rough texture. It boosts the skin's natural renewal process and also works as a powerful humectant.
It hydrates and smoothes the rough and dry skin on large areas of the body, like the arms, legs, trunk, and back. Daily use helps reveal softer, smoother skin.
Pros
Boosts skin renewal
Deeply moisturizes the skin
Paraben-free
Non-greasy
Cons
Strong smell
Can sting the skin and cause redness.
These are the 12 best keratosis pilaris treatment products. Keratosis pilaris is generally self-diagnosable, and you do not have to visit the doctor for treatment.
However, along with the use of over-the-counter products (like keratosis pilaris lotion or cream), it is recommended you make a few lifestyle changes that will help improve your skin condition. This includes using warm water for baths (rather than hot water) and limiting your shower time. People with keratosis pilaris must avoid soaps that dry out their skin and use gentle exfoliators instead.
Frequently Asked Questions
Can you get keratosis pilaris on your face?
Yes, it is possible to get keratosis pilaris on your face. However, this happens in very rare cases. Keratosis pilaris is typically seen on the thighs or arms. If you develop this condition on your face, there is a high chance that it may look like acne. Moreover, your skin may become dry and damaged due to this condition.
Do not pick at or scratch these bumps as they may leave scars. You can instead use over the counter products for treating keratosis pilaris. Invest in a keratosis pilaris treatment lotion, cream, or soaps – these have effective healing properties.
Recommended Articles