6 Best Ketoconazole Shampoos Of 2023 For An Itch-Free Scalp
The listed ketoconazole shampoos promote an itch-free scalp and boost hair volume.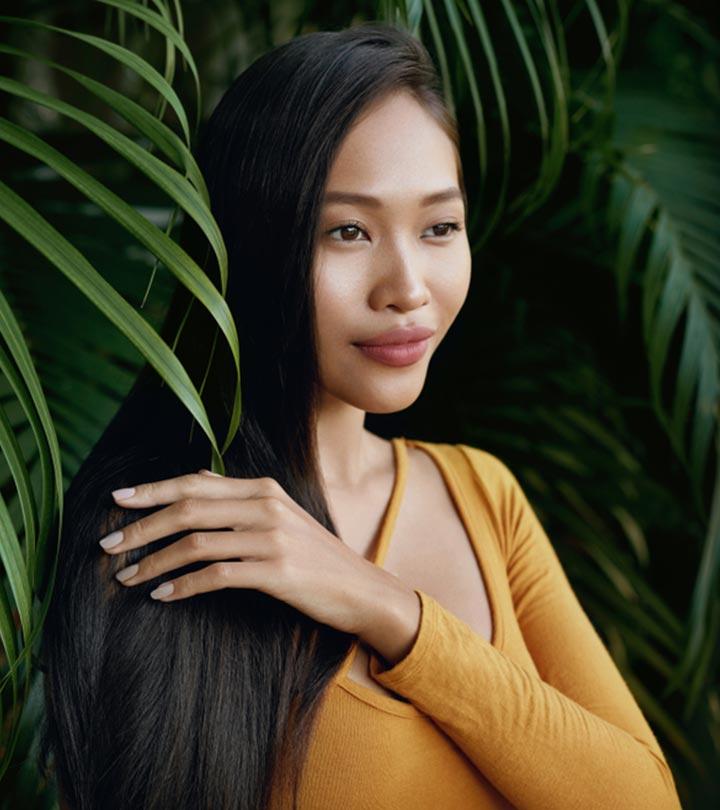 Everybody daydreams about luscious hair straight out of a shampoo commercial, and the best ketoconazole shampoo might be the reality you are looking for, for an itch-free scalp. Sure, DIY hair hacks and fancy advertising might take the cake when you buy your products, but it is also equally important to pay attention to the ingredients in your products. Ketoconazole is found in most medicated shampoos and is promoted by many dermatologists as a very safe and effective ingredient. If you are looking to ward away bacterial infection and reduce scalp irritation to attain thick, strong, and healthy hair, ketoconazole shampoos are the best.
Having said that, if you prefer OTC hair cleansers due to their affordability, there are many such cleansers in the market that contain ketoconazole, even though they will be present in a smaller amount. We have put together a list of the 6 best shampoos infused with ketoconazole for 2023.
6 Best Ketoconazole Shampoos – Say Goodbye To Flakes
Dandruff, an itchy scalp, and flakiness are all the outcomes of dermatitis. If you're on the lookout for an OTC ketoconazole 1% shampoo, look no further. The Nizoral ketoconazole shampoo is an effective and potent formula that controls dandruff-related issues. It is clinically proven to control itchiness and eliminate flaking caused by dandruff. It is also effective in treating fungal infections. The shampoo works like magic, even for color-treated hair without stripping the hair of color. The gentle formula benefits your dry scalp. And if you're wondering how frequently you should use it, twice a week will fetch you optimal results. Click on this video to check out a tester's experience with this shampoo.
Pros
Gentle formula
Relieves itchiness
Lathers well
Suitable color-treated hair
Cons
Contains artificial fragrance
The most immediate outcome of developing dandruff is hair fall. Try this hair loss ketoconazole shampoo to fight buildup for hair loss prevention and effective dandruff and dry scalp treatment. It eliminates any debris and DHT from your flaky scalp, so your follicles get the nourishment they need to promote healthy hair growth. The key ingredients of this shampoo are salicylic acid and ketoconazole which eliminate dry flakes and dead skin cells from the scalp. The shampoo is also infused with nourishing elements like jojoba oil, emu oil, niacin, vitamins B3 and B6, and aloe vera that offer restorative care to your damaged hair. Give this doctor-approved shampoo containing ketoconazole a shot if you prefer chemical-free hair care products.
Pros
Combats hair loss
Hydrates
Free of harsh chemicals
Sulfate and paraben-free
Cons
May not add volume to hair
If your hair falls prey to thinning and you also face dandruff problems, you need a chemical-free, enriching anti-dandruff ketoconazole shampoo for thinning hair like this one. It is the perfect combination of science and nature as it blesses your hair follicle health with a blend of oils, green tea leaf extract, vitamin E, and 0.5% coal tar for a clean and healthy scalp. This shampoo is hydrating enough to lock in moisture, so that you don't have frizzy hair soon after washing it. It is also clinically tested to promote healthy hair growth and minimize breakage. Couple your regular shampoo with this and you'll witness an extraordinary hair transformation. Watch this video to get a detailed review of the product.
Pros
Fights dryness in the scalp
Hypoallergenic
Non-GMO ingredients
Free of harmful chemicals
Cruelty-free
Cons
May not be suitable for extreme buildup
This is yet another thoughtfully formulated dandruff shampoo with ketoconazole that boasts a long, impressive list of natural ingredients. Haircare products from Hair Restoration Laboratories, including this one, are popular for containing 25% more DHT blockers. DHT is a hormone that causes hair loss. This hair strength builder shampoo is a blend of caffeine, aloe vera, ginger extract, hops extract, vitamin E, pea extract, lemon oil, white nettle extract, cayenne pepper extract. These ingredients enrich your hair strands right from the roots to the tips and treat abnormal hair texture. Invest in this OTC ketoconazole shampoo for clean scalp health and longer, stronger, and thicker hair. Here's a video to help you know more about this product.
Pros
Blocks DHT
Thickens hair
Reverses hair loss
Free of sulfates and parabens
Silicone-free
Cons
May not be as hydrating as expected
If you're a fan of tropical scents, make the most out of this shampoo with ketoconazole with pleasant notes of mango. It gives your hair follicles a good wash while nourishing them with a blend of vitamins, aloe vera juice, hops extract, mango seed butter, among other natural elements. It also stimulates the follicles to promote hair growth. To add to the host of benefits, the shampoo contains biotin that gives your damaged hair the strength and resilience it needs to be healthy and look supple.
Pros
Prevents hair loss
Invigorating formula
Promotes hair growth
Suitable for all hair types
Cons
This vegan ketoconazole shampoo from Sent From Earth is worth the splurge if hair fall prevention is at the top of your hair goals. It is a fusion of ingredients that consists of caffeine, saw palmetto, ketoconazole, biotin, and organic oils that clean the hair follicles and reduce scalp irritation to stimulate hair growth. The shampoo is clinically proven to reduce hair loss, thinning, and breakage, and calm scalp itchiness. The over-the-counter ketoconazole shampoo is formulated without sulfates, parabens, synthetic fragrances, phthalates, and formaldehydes, which gives us more reasons to depend on it without worrying about harsh chemicals weakening our hair in the long run. A consumer test revealed that consistent use of the shampoo resulted in hair growth.
Pros
Clinically tested
Promotes hair regrowth
Prevents hair breakage
Nourishes
Natural formula
Clinically-tested
Cons
*The prices provided in this article are based on the latest available information. However, they may vary due to changes in pricing by the seller and/or promotional offers.
How To Choose The Best Ketoconazole Shampoo?
Ketoconazole concentration
Most over-the-counter, generic ketoconazole shampoos that are as effective as medicated ketoconazole shampoos generally contain 2% ketoconazole. This can be very beneficial for those who have a severe case of buildup and hair fall. However, you can only use a high concentration ketoconazole shampoo once a week. However, shampoos with lower concentration can be used almost daily.
Some of the ketoconazole shampoos may cause dryness. If you have dry hair, you can look for a shampoo that has essential oils, aloe vera, or other hydrating ingredients. For oily scalp and hair, use oil-free shampoos that can help control excess sebum. You can check the product label to see if the shampoo suits your hair type. Make it a point to specifically check if or not the shampoo is suitable for color-treated or chemically processed hair if you have colored or treated your hair.
While ketoconazole in itself is quite effective at tackling hair fall, a few other ketoconazole shampoo ingredients such as biotin, caffeine, and saw palmetto blocks, and herbal extracts can improve the results for your hair fall problem.
Using ketoconazole shampoo for hair fall shouldn't mean that you forget about other hair problems. If you're dealing with other issues like thinning, fungal infection, and severe dandruff or just want your shampoo to stimulate hair growth, look for shampoos with nourishing ingredients like tea tree oil, almond oil, green tea extract, chamomile extract, etc. They promote overall healthy hair and impart scalp care.
Are you confused about how to use a shampoo with ketoconazole? Here's a segment that will help you understand how to use ketoconazole shampoo.
How To Use Ketoconazole Shampoo?
Step 1: Wet your hair
Step 2: Pour some ketoconazole shampoo of your choice on your palm according to your hair length and volume and massage your scalp with it, evenly spreading it across the length of your hair.
Step 3: Once it lathers well, rinses the shampoo off and follow it up with a conditioner of your choice.
If you're wondering what are the many benefits of using ketoconazole shampoo, here are the several ways in which it can transform your hair to be healthy.
Benefits Of Ketoconazole Shampoo
Ketoconazole helps rid the dry scalp of fungi and other microbes that lead to unnecessary buildup and chronic dandruff with its antifungal agents and antimicrobial properties.
It remediates dryness and treats flaky scalp.
It promotes hair growth.
It prevents hair loss.
Finding the right counter shampoo can be an ordeal. But we hope that our list of the 6 best ketoconazole shampoos and our comprehensive buying guide gives you enough options to weigh the pros and cons and settle for purchasing one that does justice to your hair. Ketoconazole can be a blessing in a shampoo bottle if you witness increased hair fall, buildup, and hair thinning. Depending on the concentration of ketoconazole in your shampoo, it can take anywhere between 2 weeks to 2 months for you to witness results. However, we can assure you that the outcomes will be worth the wait and best in long-term use.
Why Trust StyleCraze?
Kirtana Divakar is a hair care enthusiast who loves experimenting with hair products while keeping up with the latest hair trends. She has compiled a list of the best ketoconazole shampoos that help you prevent the growth of fungus on your scalp, keeping it itch-free. She went through multiple user reviews from trusted sources and checked the ingredients list before picking the perfect product for your hair needs.
Frequently Asked Questions
Does ketoconazole shampoo cause hair loss?
No, on the contrary, ketoconazole shampoos are used to remediate hair loss and to promote hair growth. If you're witnessing hair loss from a ketoconazole shampoo, it could be other ingredients causing this problem.
Does ketoconazole shampoo have side effects?
Some of the rare side effects caused by ketoconazole shampoo are itching, hair discoloration, burning sensation, contact dermatitis, hypersensitivity, etc. This is why it is recommended to do a patch test before you start using the shampoo.
Does ketoconazole shampoo treat dandruff?
Yes, ketoconazole shampoos can treat dandruff and buildup.
Is ketoconazole shampoo safe to use during pregnancy?
It is always recommended to consult a doctor before you use a specific ketoconazole shampoo when you're pregnant.
Is ketoconazole shampoo good for acne?
If your facial acne is caused by dandruff and hair buildup, using a ketoconazole shampoo may help reduce your acne by getting rid of the buildup.
How many times a week should I use ketoconazole shampoo?
While higher concentration ketoconazole shampoos should be used once or twice a week, you can use a gentle ketoconazole shampoo like a regular shampoo. You can read the product label to check how many times you can use the shampoo.
Can you use regular shampoo after ketoconazole?
Since ketoconazole shampoo helps clean the scalp and hair pretty much like any regular shampoo, you wouldn't need to follow up with another shampoo when you use ketoconazole shampoo.
Recommended Articles