12 Best Keyless Door Locks – Reviews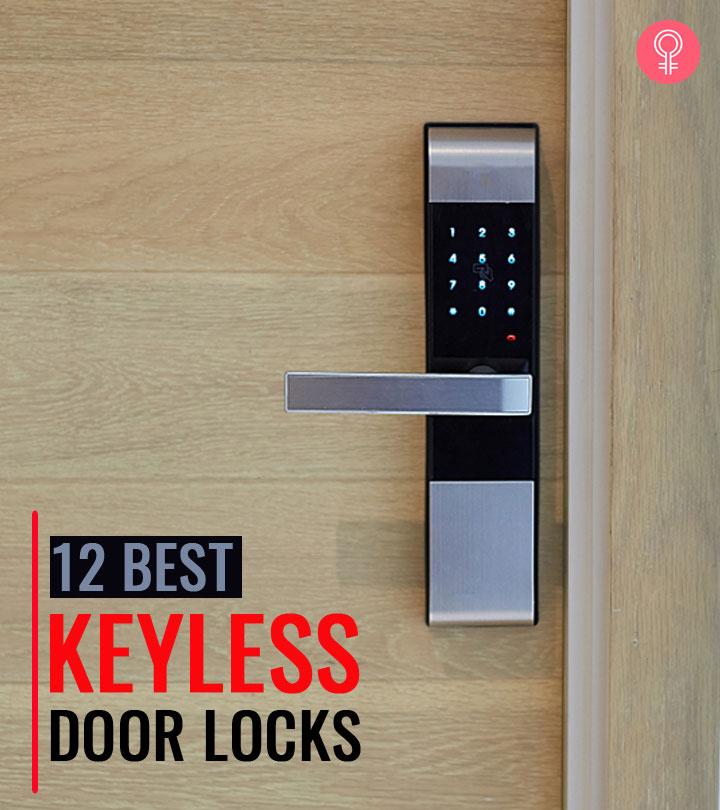 With our busy lives, remembering the little things can get difficult. This includes carrying your keys – misplacing them could mean real trouble. However, the market has a solution in the form of keyless door locks. These locks are in trend today. They come with a security passcode, unlike regular door locks. They offer flexibility and digital security. Additionally, you do not have to carry any key with you or worry about misplacing it. Here, we have listed the 12 best keyless door locks. Take a look!
12 Best Keyless Door Locks – Reviews
The Schlage Encode Smart Keyless Door Lock is enabled with a built-in WiFi system that lets you open and shut the door from anywhere. You need to pair your device with the Schlage Home app on your phone. You can also lock and unlock the door using a key from the Amazon home app and view whoever is entering or exiting your place. The lock can handle up to 100 different passcodes and allows you to set temporary access codes.
This door lock is capable of working with Alexa and has a voice control option. You can check the door lock and battery replacement status with just your voice commands. The lock can be installed effortlessly. It uses the smart Snap n Stay technology that snaps the deadbolt to your door. The lock can fit to any standard door.
Features
Dimensions: 2.24 x 3 x 5.47 inches
Weight: 2.8 pounds
Voice Assistants: Alexa, Google Assistant
Colour: Satin nickel
Mode Of Operation: Battery
Pros
Built-in theft alarm
Fingerprint resistant
One-touch lock
Touchscreen
Durable
Lifetime mechanism
Cons
The Chamberlain Group Clicker Universal Keyless Lockcomes with safety sensing. This ultra-secure keyless lock is equipped with an anti-hacking system and uses a four-digit code to lock and unlock the door. It is adorned with a backlit keypad and offers excellent visibility and quick, keyless access. Its sliding, high-quality cover offers excellent keypad protection in all weather conditions. It can be installed within seconds. Its 9-volt battery gets quickly attached to the sides with wireless programming and no electricity. Besides, this durable and toughened keyless lock is compatible with garage door openers and gates of all brands.
Features
Dimensions: 9.5 x 5.5 x 2.5 inches
Weight: 8 ounces
Voice Assistants: Not included
Colour: White
Mode Of Operation: Battery
Pros
Battery included
One-touch close
Encrypted for security
Includes user manual
Cons
Slightly difficult to program
No voice command
The Kwikset Powerbolt Door Lock lets you match with the other Kwikset locks at your home. This superior quality and durable keyless lock works with 4 AA batteries and customizable passcodes. These allow you to program up to six different passcodes for different family members and friends. The lock can easily fit a door of any size. Its smart key technology lets you rekey the lock in three easy steps. This BHMA Grade-3 deadbolt digital lock comes with two keys, and it locks the door with a single touch. It can be installed very easily with the help of a screwdriver. Also, if you ever forget to lock the door, this lock gets auto-locked in just ten to fifteen seconds.
Features
Dimensions: 3.74 x 5.59 x 7.87 inches
Weight: 2.6 pounds
VoiceAssistants: Not included
Color: Satin Nickel
Mode Of Operation: Battery
Pros
Touchpad
Reasonably priced
BHMA Grade-3 approved
Includes backup key
Cons
The Wyze Smart Keyless Door Lock lets you have total control over your house locking system. It allows you to lock and unlock the door from anywhere with just a single tap of a button using the Wyze app. The lock comes with a smart built-in door positioning system that notifies you when the door is left open. The voice control feature adds more to its design – it works with Alexa and can also be controlled hands-free. Its impressive sensing technology automatically unlocks the door as approach it and locks it again once it closes. This keyless lock also makes sharing easy – you just need to give access to your friends or family and forget about handing over the keys. The lock can be installed in just 15 minutes (all you need is a screwdriver). However, these locks are meant to be installed only on doors with a single-sided keyhole.
Features
Dimensions: 2.5 x 2 x 4.9 inches
Weight: 1.6 pounds
VoiceAssistants: Alexa
Color: Silver
Mode Of Operation: Battery
Pros
No passcodes needed
Advanced encryption
Comes with Bluetooth
Only authorized access
Cons
The August Smart Lock Pro gives you the flexibility to operate your door from anywhere using the August app on your smartphone. It is enabled with a voice control system that works with Alexa to notify you about battery life and replacement. It requires a 110- to 240-volt battery to operate and lets you lock/unlock the door automatically while keeping track of who is entering and exiting your place. Its Door Sense feature tells you whether the door is locked correctly to ensure your home is always safe. It locks the door automatically and opens as you approach it. This device needs just 10 minutes for installation. It attaches conveniently to the existing deadbolt. Besides, this WiFi-equipped device works perfectly with single cylinder deadbolts.
Features
Dimensions: 3.4 x 2.22 x 3.4 inches
Weight: 13.9 ounces
Voice Assistants: Alexa, Siri, Google Assistant
Color: Silver
Mode Of Operation: Battery
Pros
Includes guest keys
Easy to install
Notifies if the door is locked properly
Cons
May have automation issues
The Yale Assure Keyless Lock offers automated and complete security to your door. Its slim and smart design is supplied with a touchscreen keypad for key-free entry. This WiFi- and Bluetooth-enabled lock uses an August app to lock/unlock the door, share access, and keep track of people entering or leaving your place. Its convenient design unlocks the door every time you approach it and relocks it once the door is closed. It comes with voice assistance – it is compatible with Alexa, Google Assistant, or Siri. This keyless lock is fitted with a backlit touch pad, which lets you open the gate with a passcode without a need for a phone. You can also set temporary passcodes to give quick access to the people you trust. The lock can be installed in just a few minutes with a screwdriver.
Features
Dimensions: 6 x 6 x 14 inches
Weight: 3 pounds
Voice Assistants: Alexa, Siri, or Google Assistant
Color: Black, silver, bronze, satin nickel
Mode Of Operation: Battery
Pros
Suits all standard doors
Hosting with Airbnb and HomeAway
Tamper-proof
Visible touchscreen
Cons
The Ultraloq Keyless Smart Lever Door Lock is enabled with a unique fingerprint feature, which is dust-, scratch-, and waterproof. The lock can enroll 95 fingerprints and identifies them in less than 0.5 seconds. It also comes with an anti-peep password option that ensures no password leaks or theft. This feature allows the user to enter any number of random digits and still gain access if the right password is embedded in the longer set of digits. The lock is suitable for both internal and external installation. Its intuitive OLED touch screen allows you to add or delete any number of users and notifies alow battery on the app or the screen. It offers access up to 8000 times with a set of 3 AA batteries.
Features
Dimensions: 7 x 6.3 x 3.5 inches
Voice Assistants: Not included
Color: Satin nickel
Mode Of Operation: Battery
Pros
Easy installation
Hidden keys for security
Includes mechanical keys
Screwdriver included
Long battery life
Anti-peep function
Dust-proof
Scratch-proof
Waterproof
Enrolls 95 fingerprints
Cons
Possibly faulty fingerprint function
No voice command
The Kwikset Keyless Lock is integrated with 2 AA batteries. This highly secure deadbolt provides a one-touch locking system using a backlit keypad. This electronic lock can be easily installed using a screwdriver on the exterior doors and comes with an automatic door locking system that locks the door after a few seconds of being unlocked. It offers customizable user codes that offer 6 customization options, including temporary codes for one time use. This single cylinder deadbolt functions with a keypad or key and fits easily to standard doors with a thickness ranging from 1 to 3/8 inches to 1 to 3/4 inches. Also, the lock is equipped with an alarm that sounds after five consecutive entries, after which the keypad gets inactive for almost 45 seconds.
Features
Dimensions: 1.1 x 4.56 x 3 inches
Weight: 2.5 pounds
Voice Assistants: Not included
Color: Satin nickel
Mode Of Operation: Battery
Pros
Dedicated lock button
Sleek design
Includes adjustable latch
Automatic door locking system
Cons
No voice command
No batteries included
The AP Products Electric Travel Trailer Lock is a self-contained door latch housed with impressive touch technology. Its integrated touch pad comes with a door handle that helps control the deadbolt so that it can be easily installed. The keypad is equipped with lights for use during low light conditions too. The lock is powered with 4 AA batteries. It also has a key that can be used in case of emergencies. Its keypad is programmed with a four-digit pin and has large buttons that can be easily seen.
Features
Dimensions: 8.5 x 5.4 x 4.5 inches
Weight: 3 pounds
Voice Assistants: Not included
Color: Black
Mode Of Operation: Battery
Pros
Hassle-free touch pad
Sturdy
Quick installation
Cons
The Schlage Keypad Lock offers professional-grade security and quality. It comes with the Flex-Lock feature that lets you toggle between automatic locking and unlocking with the turn of a button. This lock can be installed in less than 30 minutes. It offers a simple way to add or remove access codes easily. It allows you to input 19 different four-digit codes while using the pre-existing six-digit programming code. Its backlit digital keypad makes it convenient to use even during the night. The keypad's silicone coating prevents numbers from wearing off. Its universal deadbolts and latches fit a back set ranging from 60 to 70 mm and door thickness ranging from 1 3/8 inch to 1 3/4 inch. The lock is equipped with a power-packed 9-volt battery. This locking system is ideal to be used for home, office, garage, and more.
Features
Dimensions: 2.75 x 3.01 x 6.84 inches
Weight: 1.5 pounds
Voice Assistants: Not included
Color: Satin nickel
Mode Of Operation: Battery
Pros
Suits all standard doors
Includes one key
Weather-resistant keypad
Includes two preset codes
Low battery indicator
ANSI/BHMA Grade-2 certified
Cons
Not compatible with the SchlageLiNK Z-Wave product
The Schlage Link Wireless Keypad Deadbolt ensures quality and safety. This monitoring-enabled keyless locking device is easy to install and use. It comes with 19 personalized codes that can be shared with each member of your family. Its simple programming is capable of notifying the user via text or email if someone enters the house. You can control access to your house from anywhere with this device using your cell phone or a web-enabled computing device. It allows you to create a Z-Wave network by connecting the wireless deadbolt to the internet so that you can control other Z-Wave devices in your house. The lock is equipped with a robust battery. It sends alerts and notifications when a new battery is needed.
Features
Dimensions: 2.18 x 3.17 x 5.42 inches
Weight: 7.04 pounds
Voice Assistants: Not included
Color: Satin nickel
Mode Of Operation: Battery
Pros
Quick installation
Includes ethernet cable for bridging
Battery included
19 personalized codes
Cons
Remote access involves a subscription fee
The LockState Connected Lock gets connected to WiFi. It has a push-button that lets you lock and unlock the door automatically. This smart and secure device notifies when someone opens the door. It also sends alerts when the security is being compromised by issuing new access codes, changing codes, and removing or adding access. This lock is best suited for your rented properties or offices as they can be managed from your phone. It comes with a software app that helps monitor and control access.
Features
Dimensions: 6.75 x 3 x 3 inches
Weight: 5.84 pounds
Voice Assistants: Not included
Color: Satin nickel
Mode Of Operation: Battery
Pros
One-touch lock
Merged with Air bnb and Home Away
Includes key
Weatherproof
LED status indicator
Cons
We have guided you through the detailed specifications of the 12 best keyless locks. Let us now look at what you need to consider before purchasing a keyless lock system.
What To Look For In A Keyless Lock System
Low-Battery Indicator: No matter which keyless lock you go for, it is vital to look for a battery indicator feature so that you are notified on time when the battery is low and needs replacement.
Integrations: It is essential to consider whether your lock can be integrated with voice-enabled devices like Siri or Alexa. Additionally, also check if it can be paired with video cameras, alarms, and surveillance systems for better automation and use.
Durability: Durability is another factor to be considered when it comes to keyless locks. Harsh weather conditions and vandalism can take a toll on the durability of your lock and compromise on the security. Hence, do check if the lock is heat-, water-, and dust-resistant.
Pricing: Pricing becomes vital, especially when there are so many brands offering all kinds of security features. The price range of keyless locks depends upon its features, operability, and functionality. A well-built, high-quality locking device usually ranges from $125 to $299.
How To Install A Smart Lock?
Installing a smart lock is simple. Here is how:
Prepare the door by drilling a hole.
Adjust the bolt depending on the drilled hole.
Extend the bolt entirely to the outside.
Set up the external assembly.
Install the external assembly.
Install the internal assembly.
Secure the internal lock with a screw.
Install the battery.
Install the door strike.
Conclusion
There is nothing more important than the safety of your assets and your home. You need an efficient and reliable locking system in place. A key less door lock is one such device that will safeguard your property by providing only authorized access. Take your time to decide and choose the locking system that fits your requirements.
Expert's Answers For Readers' Questions
Can keyless locks be hacked?
Yes, keyless locks can be easily hacked using any digital technology if they are not programmed or manufactured well.
What are BHMA/ANSI security ratings?
The BHMA or Builders Hardware Manufacturers Association is an organization that is accredited to ANSI or America National Standards Institute to develop and manage the performance of locks, exit devices, and builders' hardware tools etc. They give a grade based on security, durability, and finish of the device.
How do I secure my front door from being kicked in?
The most convenient and straightforward method to secure your front door from being kicked in isusing high quality and durable keyless reinforced locking devices. These locks are easy to install and offer an extra layer of protection to the doors so that they cannot be kicked in so easily.
Can Alexa control door locks?
Alexa is capable of controlling keyless door locking devices. Depending upon the lock's make and features, you can pair it up with the Alexa voice assistant.
What locks cannot be picked?
There are so many keyless locking devices that claim that they cannot be picked. However, that may not be true. While almost all locks can be picked, access codes or security pins can greatly reduce the risk.
What is the best keyless deadbolt?
There are so many keyless deadbolt brands that offer the utmost security and durability. However, based on user reviews, Schlage Connect tops the list when it comes to features and security.
How do smart locks connect to other devices?
The majority of the smart locks are equipped with communication technology such as Bluetooth or WiFi that allow them to be effortlessly paired with your smartphones.
Can Google Smart Lock be hacked?
Google Smart Lock provides an additional layer of protection to the locking device. With this app, your device starts working like a physical key that cannot be hacked easily.
Do keyless door locks have batteries?
Yes, keyless door locks are equipped with a battery.
Can you use a Nest lock without WiFi?
A Nest lock needs WiFi. These locks require a low power connection to interact with the connect. The connect then makes use of WiFi to send data from your locking device to the Nest app.
Recommended Articles
The following two tabs change content below.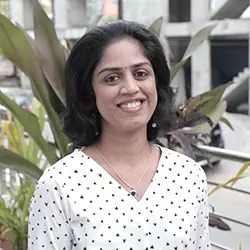 Harini Natarajan
As Chief Editor, Harini sets the tone and editorial direction for StyleCraze to deliver engaging, interesting, and authentic content revolving around women's health, wellness, and beauty. She has over 14 years of experience in content writing and editing for online media. She specializes in the areas of Beauty, Lifestyle, and Health & Wellness and is proficient in Medical Sciences (Biology, Human Anatomy and Physiology, and Biochemistry). Her background in Biomedical Engineering helps her decode and interpret the finer nuances of scientific research for her team. Harini is a certified bibliophile and a closet poet. She also loves dancing and traveling to offbeat destinations.