The 14 Best Swimming Goggles For Kids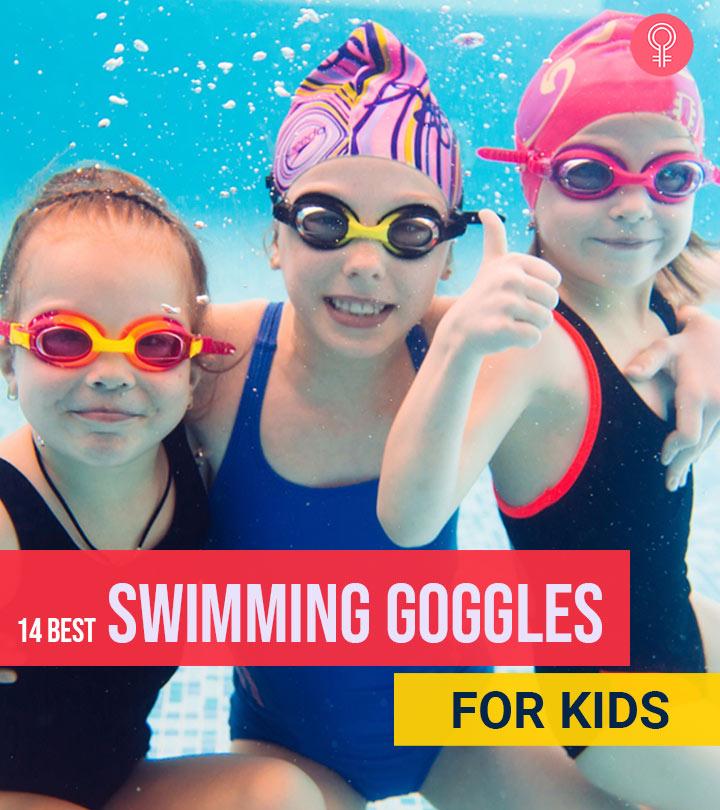 Swimming is a fun and refreshing sport for kids. It makes your kids fit and is also a necessary skill for life preservation. But before they jump into the pool, your child needs to be equipped with all the safety gears. One such essential equipment is swimming goggles. Swimming goggles protect your kids' delicate eyes from chlorine water and provide high visibility under water.
In this article, we have listed the 15 best swimming goggles for kids that fit comfortably and are pocket-friendly. Scroll down to check them out for a safe swimming experience.
14 Best Swimming Goggles For Kids
The Aegend Swim Goggles provide extreme comfort with their silicone frame and gasket. The improved nose piece does not leave a mark on your face or hurt you. These goggles are anti-fog coated with the latest environmental treatment technology. The UV protecting polycarbonate lenses save your eyes from harmful heat and UV rays. These goggles fit perfectly onto any face line and come with a convenient clip at the back to keep them intact on the eyes even in the toughest conditions.
Pros
Flexible frame
Provide UV protection
Shatterproof
Anti-leak
Anti-fog
Cons
The nose strap might malfunction.
The Speedo Unisex Child Swim Goggles are latex-free and have a comfortable frame. The gasket rests within the eye orbital and makes the swimming experience less constricting. These goggles are anti-fog, leak-proof, and have UV protected lenses. The unique side release speed fit clips help in easy head strap adjustment. The GO FIT system offers a comfortable fit for various face shapes.
Pros
Latex-free
Anti-fog
Provide UV protection
Adjustable head strap
Cons
The Eversport Swim Goggles enable a clear and broad view with high-quality lenses. They are anti-fog and provide UV protection to keep your kid's eyes safe from UV rays and bright underwater lights. The one-button click clasp is easy to put on and remove. The silicone frame and gasket with cushions are leak-proof and ensure maximum comfort during swimming.
Pros
Anti-fog
Provide UV protection
12-month warranty
Durable
Cons
Distorted vision under water
The FINIS Frogglez Goggles are super soft and latex- and PVC-free. These goggles come with floating materials that prevent them from getting lost in the swimming pool. They are impact resistant and have UV protected lenses to protect eyes from harmful rays and bright lights. The durable polycarbonate lenses also are fog-proof. The neoprene split strap and silicone eye gasket create a watertight fit to prevent leakage. The loop and lock strap aids in quick and easy strap adjustments. This product is easy to put on and ideal for children between 4-12 years.
Pros
Latex-free
PVC-free
Provide UV protection
Anti-fog
Anti-leak
Adjustable strap
Easy to use
Cons
The OutdoorMaster Kids Swimming Goggles come with a fish eye-style, polycarbonate lens, and frame. The silicone gaskets are skin-friendly and leak-free. These goggles come with a combo of clear and tinted lenses for both indoor and outdoor swimming activities. The unique tetras anti-fogging technology provides crystal clear vision, and the 3D snug fit design gives you a wide view. These goggles are also easily adjustable with an elastic strap.
Pros
Shatterproof
Lifetime warranty
Leak-proof
Provide UV protection
Adjustable strap
Anti-fog
Cons
These swimming goggles are equipped with quick-release buttons for easy adjustments to wear and remove them. The adjustable strap aids and a unibody offer superior comfort. The silicone gaskets are hypoallergenic and leak-proof. The optical grade polycarbonate lenses are anti-fog and provide UV protection. These goggles are lightweight and fit various face types.
Pros
Lightweight
Provide UV protection
Anti-fog
Anti-leak
Cons
No products found.
These goggles have high-quality silicone cushion with a double seal design to provide anti-leak protection. The ergonomic design fits perfectly with any face type. The high-tech anti-fog and UV coated lenses ensure clarity and a safe swimming experience. Their no glare feature protects from harmful rays of the sun and bright underwater pool lights. This product also features adjustable straps, a nose clip, and an ear plug.
Pros
Adjustable straps
UV coated lenses
Anti-fog
Anti-leak
12-month warranty
Cons
Anti-fog coating wears out.
The Frogglez Kids Swim Goggles are equipped with soft, neoprene straps and an anti-slip grip. The adjustable straps are not too tight to cause headaches and ensure maximum comfort. These goggles have silicone seals that prevent the lenses from fogging or leaking. The impact-resistant polycarbonate lenses provide 100% UV protection from the harmful rays of the sun. This product is recommended by swim instructors and Olympic swimmers like Chris Cook and Elvis Burrows.
Pros
No hair pulling
Leak-proof
Provide UV protection
Latex-free
Cons
None
The Aqua Sphere Swim Goggles are easily adjustable by both kids and parents. The curved lens technology offers the clearest possible view. The exceptional hydrodynamics ensure a comfortable swimming experience. These goggles are anti-fog and provide UV protection. The scratch-resistant blue lenses enable light in moderation to prevent glare underwater.
Pros
Provide UV protection
Anti-fog
Anti-leak
Adjustable straps
Scratch-resistant
Cons
These goggles are made with impact-resistant PC lenses that offer optimal clear vision and UV protection to save the delicate eyes from harmful rays. They are latex- and PVC-free and made of odorless silicone, ensuring a safe and steady swim. The quick-fit button and fine elastic head strap are easy to adjust. The soft and pain-free nose pieces do not leave any painful marks. These goggles are available in two colors and come with a 90-day guarantee.
Pros
Provide UV protection
Anti-fog
Anti-leak
90-day guarantee
Latex-free
Odorless
Impact-resistant
Cons
The COPOZZ Kids Swimming Goggles with customized 3D ergonomic design fit prevent any leakage. The one-piece frame cushions provide maximum comfort and protection. The upgraded swim goggles lens technology enables clear vision and an anti-fog swimming experience. These swim goggles are shatterproof and made of hypoallergenic, odor-proof silicone. They also feature UV protected lenses and adjustable straps.
Pros
Easy to adjust
Leak-proof
Anti-fog
Provide UV protection
30-day money-back guarantee.
Shatterproof
Hypoallergenic
Odor-proof
Cons
These impact-resistant goggles are made of polycarbonate material. The soft, silicone integrated goggle frame is comfortable to wear and reduces pressure on the eyes. These goggles are equipped with a plug-in buckle for easy adjustment and wear. They also feature a high definition lens and 100% environmentally-safe silicone nose bridge for the toddler's safety.
Pros
Easy to adjust
Leak-proof
Anti-fog
12-month guarantee
Available in various colors
Cons
None
The Givovanni Tenkey Swim Goggles are made with flexible silicone lenses that provide UV protection. These fog-resistant goggles feature adjustable straps with a quick release buckle, enabling easy putting on and taking off. The double seal, polycarbonate lenses are shatterproof and durable. This product comes with ear plugs, a nose clip, and a swimming cap.
Pros
Anti-fog
Anti-leak
Provides UV protection
Shatterproof
Durable
Cons
The Babiators Submariners Swim Goggles come in various frame designs like hearts, keyholes, navigators, and aviators. The high-quality silicone gasket is durable, and the easy button strap is adjustable. These goggles feature UV protected lens and no-leak frames. They are also anti-fog and shatter-resistant.
Pros
Provide UV protection
Anti-fog
Anti-leak
Adjustable strap
Free replacement
Shatter-resistant
Cons
The following section throws light on the various types of googles and lenses. Scroll down to know more.
Types Of Goggles
Competition Goggles: Competition goggles are low profile, technical, and fit close to the eye socket.
Practice Goggles: Practice goggles are less technical than competition goggles and are meant for daily use.
Recreational Goggles: Recreational goggles are budget-friendly and fairly comfortable. However, they are not durable and suitable for long swimming excursions.
Types Of Lenses
Metallic Lenses: Metallic or mirrored lenses are dark-tinted outdoor lenses suitable for daily use or during competitions.
Clear And Light-Colored Lenses: Clear lenses are suitable for indoor and early morning swimming as they are ideal for dim light conditions.
Polarized Or Dark-Colored Lenses: These lenses give glare protection and are ideal for sunny outdoor swimming. If you want versatile goggles, black or blue lenses are a good pick.
Consider these points before buying swimming goggles for kids to make the ideal choice.
Things To Consider Before Buying Goggles For Kids
Beginner – Swimming goggles
Intermediate – Swimming masks
Advanced – Swimming masks or Swedish goggles
The right size determines how the goggles fit your eye socket. If they do not have proper suction, they can leak or fall off.
The color of the lenses is not only for aesthetics; they also serve a function – they must adapt to where you swim. Choose a color depending on the lighting conditions of the pool and how strong/weak the natural outdoor light is.
Consider added features like UV protection, anti-fog, anti-slip, and accessories for the ears and nose before making a choice.
If your kid is a regular swimmer, invest in a decent pair of swimming goggles. The goggles mentioned above contour to the face comfortably and prevent fogging. Why delay? Pick your favorite product from our list right now!
Expert's Answers For Readers' Questions
Should toddlers wear swimming goggles?
Yes. Toddlers must wear swimming goggles to protect their eyes from the chlorine water and harmful sun rays.
How do I clean my child's goggles?
Wipe the goggles with a cloth and let them dry in the sun.
How do I make sure that my child's goggles are on correctly?
Make sure the goggles fit the head perfectly, and the strap is not so tight that it hurts your kid's face. The fitting should be comfortable and without any leakage. The lenses should fit perfectly around the eyes, or it might cause irritation.
Recommended Articles