7 Best Kiehl's Products Of 2021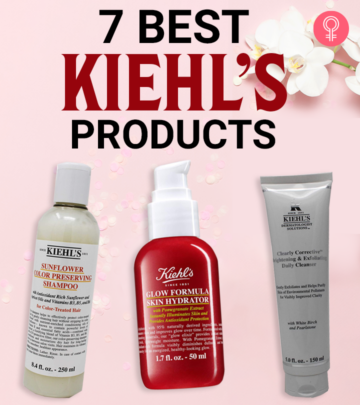 Kiehl's is a brand that has stood the test of time! It has retained its apothecary roots by using powerful ingredients sourced from nature. Kiehl's products are science-backed and safe for all skin and hair types. The brand is environmentally conscious as it is committed to recycling and using responsible packaging and manufacturing practices. If you are looking for a brand that is safe for you and the environment- Kiehl's is a great choice!
To get you started, we have reviewed 7 of the best Kiehl's products available right now. Check them out!
7 Best Kiehl's Products Available Right Now
Kiehl's Glow Formula Skin Hydrator is a moisturizer-highlighter hybrid that gives your skin a subtle and healthy glow. It contains pomegranate extracts and illuminating minerals that boost your skin's radiance. It is also rich with antioxidants that protect and repair your skin. This product blends evenly on the skin while keeping it moisturized. Thus, it imparts a dewy, luminous finish that is perfect for a natural makeup look. Use this product as a highlighter on the cheeks and nose as it reflects light and adds dimension to your face.
Skin Type: All skin types, including sensitive skin
Key Ingredients:
Pros
Instantly illuminates the skin
Protects the skin
Formulated with 95% naturally derived ingredients
Moisturizes the skin
Cons
None
Kiehl's Superbly Efficient Antiperspirant & Deodorant Cream offers 24-hour protection against sweat and odor. It is made of unique micro-sized drying molecules that absorb odors and prevent your skin from drying out. It keeps your underarms soft and moisturized. It does not contain any fragrance, making it the perfect choice for people with sensitive skin.
Skin Type: All skin types, including sensitive skin
Key Ingredients:
Orange
lemon
linseed extracts
Pros
Unscented
Long-lasting effect
Keeps underarms dry
Suitable for sensitive skin
Gentle formula
Does not leave a residue
Cons
None
Kiehl's Amino Acid Conditioner is a lightweight and creamy conditioner that restores moisture and shine to the hair. It is formulated with ingredients like amino acids from wheat extracts, pure coconut oil, and jojoba oil that nourish and strengthen your hair. It is free from parabens and silicones, so it is suitable for all hair types. This conditioner makes your hair manageable and does not weigh it down.
Hair Type: All hair types
Key Ingredients:
Wheat proteins
Amino acids
Jojoba oil
Coconut oil
Pros
Controls frizz
Imparts shine to the hair
Paraben-free
Silicone free
Cons
None
This exfoliating face wash is infused with white birch and peony extracts that help in brightening, refining, and clarifying the skin tone and texture. It helps in buffing away dull skin to reveal clear, bright skin. This gentle face cleanser removes excess oils, pollutants, dirt, and bacteria from the skin, leaving it soft and supple. It also contains Pearlstone, a natural exfoliant obtained from volcanic ash. This facial cleanser can be used twice daily to reduce dark spots and hyperpigmentation.
Skin Type: All skin types, including sensitive skin
Key Ingredients:
Contains Pearlstone
White birch
Peony extracts
Pros
Exfoliates the skin
Brightens the skin
Improves skin texture
Gentle formula
Dermatologically tested
Cons
May dry out the skin initially
Kiehl's Ultra Facial Cream is formulated with glacial glycoprotein and olive-derived squalane that can restore extremely dry skin. This lightweight cream gets absorbed into the skin easily to provide intense and long-lasting hydration. Its non-greasy formula leaves your skin feeling soft, healthy, and well-hydrated by restoring its natural oils and moisture levels.
Skin Type: All skin types, including sensitive skin (tested in everyday and extreme environments)
Key Ingredients:
Glacial glycoprotein
Olive-derived squalane
Pros
Provides 24-hour hydration
Softens the skin
Lightweight
Suitable for extreme conditions
Non-greasy
Cons
None
[ Read – Kiehl's Ultra Facial Cream Review ]
Kiehl's Sunflower Color Preserving Shampoo is gentle and effective. It does not strip away the color or moisture from your hair. It contains nutrient-rich oils of sunflower and apricot that protect and nourish your hair so that it does not lose its vibrancy. Essential fatty acids and vitamins B (B3, B5, B6) strengthen and condition the hair. The UV filters prevent your hair from losing its color and shine. Regular use of this shampoo helps in preventing your hair color from fading. It is also free from toxic chemicals such as parabens, sulfates, and silicones. This shampoo does not leave behind any residue or weigh your hair down.
Hair Type: Color-treated hair
Key Ingredients:
Sunflower oil
Apricot oil
B vitamins
Pros
Prevents hair color from fading
Imparts shine
Moisturizes the hair
Paraben-free
Silicone free
Sulfate-free
Cons
Kiehl's Rice & Wheat Volumizing Shampoo transforms dull, lifeless hair with its active ingredients such as jojoba oil, poly sugars, and rice proteins. It cleanses your hair gently without leaving behind any residue. Thus, it makes your tresses look luscious and healthy. It also adds shine and volume to your hair by restoring its natural lipids and proteins.
Hair Type: Flat, thin, or lifeless hair
Key Ingredients:
Pros
Moisturizes the hair
Lightweight
Imparts shine
Adds volume
Does not leave behind residue
Cons
[ Also Try – Kiehl's Ultra Facial Cleanser ]
Kiehl's products are natural and effective. They are also formulated responsibly without using andy toxic or harmful chemicals to reduce their environmental impact. Try out the products listed above to pamper yourself!
Recommended Articles