10 Best Kinesiology Tapes Of 2020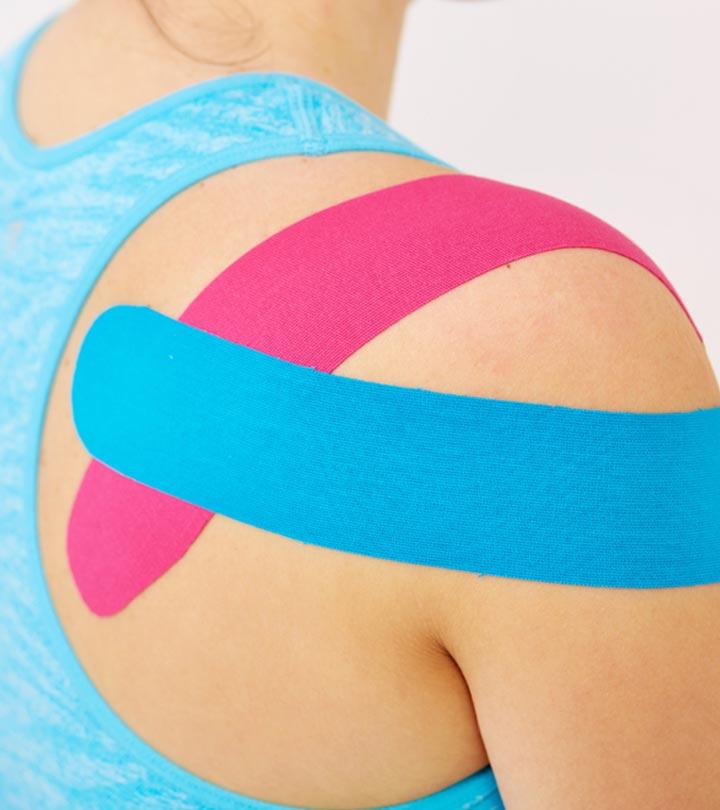 If you are an athlete, you are not new to injuries. If you are tired of missing training sessions and practice games due to injuries, you can start using kinesiology tape to help you carry on with your activities. Take a look at this articleto find out how to use kinesiology tape, its benefits, and the reviews of the 10 best kinesiology tapes.
What Is A Kinesiology Tape?
Kinesio Tape (also known as Kinesio Tex Tape) is an adhesive tape developed by Dr. Kenzo Kase in 1979. It is a proprietary blend of cotton and nylon, designed to facilitate the body's natural healing process while providing support and endurance to muscles and joints without restricting the body's range of motion. It is a therapeutic taping technique that rehabilitates injured individuals. The adhesive is water-resistant and strong enough to stay on for three to five days. It treats a variety of orthopedic, neuromuscular, neurological, and other medical conditions.
How Does Kinesiology Tape Work?
Kinesiology tape, when applied, targets different receptors within the somatosensory system. It alleviates pain by numbing and preventing the pain receptors from sending signals to the brain. It also facilitates lymphatic drainage by lifting the skin microscopically. This forms microscopic space between your skin and tissues, thus decreasing inflammation of the affected areas.
How To Use Kinesiology Tape
Consult a trained individual to learn about the proper application of kinesiology tape before trying it on yourself. Here are the steps to apply kinesiology tape the right way:
Start by cleaning the affected area. Ensure that your skin is free of oils and lotion before application.
You can shave off the hair on that area to avoid pain.
Cut the corners of the tape in a rounded manner. This will prevent the tape from snagging or peeling.
When you first apply the strip, let the ends recoil slightly after you take off the backing paper. Over-stretching the ends of the tape will make it pull on your skin.
Press down on the backing paper with your fingers intact to hold the tape.
After you apply the tape, rub the strip vigorously for several seconds to activate the glue and let it sit for 20 minutes.
Benefits Of Using Kinesiology Tape
1. Relieves Pain
Although it is a non-invasive method, kinesiology tape can relieve both acute and chronic pain. When it lifts the skin, it reduces the pressure on pain receptors. This stimulating effect on pain receptors prevents them from sending signals to the brain.
2.Treats Injuries
Kinesiology tape is used to alleviate pain and swelling. It is extremely effective when used along with other treatments.
3. Trains Muscles
Kinesiology tape can help retrain muscles that have lost their ability to function or gotten used to an unhealthy lifestyle. It can also be used to correct posture and gait.
4. Relieves Muscle Cramps
Kinesiology tape improves blood circulation and helps deliver oxygen and nutrients to fatigued, stressed, injured, or overused muscles. This, in turn, prevents spasms and cramps.
5. Accelerates Recovery
Fatigued and stressed muscles produce lactic acid that contributes to pain and stiffness and limits the ability to move. When kinesiology tape is used on these areas, it inhibits the release of lactic acid, thereby promoting rapid recovery. This, combined with increased delivery of oxygen through enhanced blood flow, results in improved endurance and recovery.
6. Manages Scars
Kinesiology tape can improve the appearance of scars after surgery or injury.
7. Enhances Muscle Strength
Kinesiology tape not only provides support to weak and overused muscles but also improves muscle activation, allowing daily exercises to be carried out more effectively. Application of kinesiology tape can improve posture and tone poor muscles that lack the strength to function, especially in infants and young children.
Now that you know the many ways in which kinesiology tape boosts recovery from an injury, check out the 10 best ones.
Top 10 Kinesiology Tapes To Relieve Pain
Need muscle support for tough workouts? KT Tape Pro is just what you need. It will relieve pain and provide support exactly where you need it. KT Tape Pro stays in place through multiple strenuous workouts for up to seven days. It stays put through daily showers, humidity, and cold. It does not come off even in the pool. It is engineered to work in the harshest environments. It is the world's only 100% synthetic kinesiology tape, re-engineered with stronger adhesive to outlast anything you throw at it. 
Key Features 
Strong Adhesive: KT Tape is designed to perform in the harshest environments and last for up to three days. It features a patented Secondskin Adhesive that sits comfortably on your skin without wearing out.
Superior Support: It features a much longer elastic core that delivers better support for muscles, joints, and tendons without restricting the range of motion.
 Synthetic Microfiber: It can be worn comfortably in the shower, pool, and in the rain as it is made of synthetic microfiber that dries up quickly. 
Pre Cut "I" Strips: It is pre-cut and ready to apply right out of the box. It has rounded corners to prevent snagging on things.
Reflective Safety Design: KT Tape Pro features reflective elements, making it perfect for use in low light conditions. 
Protective Travel Case: It comes in a permanent carrying case for portability. 
Latex-Free For Sensitive Skin: KT Tape Pro is made of an acrylic-based medical-grade adhesive that is gentle on skin.
Pros
Waterproof
Breathable material
Durable
Latex-free
Cost-effective
Available in 10 colors
Each box contains 20 pre-cut strips
Cons
None 
Kinesio Tex Gold Fp 2 is designed exclusively for Kinesio professionals. Dr. Kenzo Kase and Kinesio together bring to you the revolutionary Kinesio® Tex Tape with over 30 years of research and development.Kinesio developed a new enhanced and patented Fingerprint [FP] technology for increased microstimulation to the epidermis and the layers beneath. It mimics a human touch and provides a more effective hold.
Key Features 
Nano-touch stimulation: For epidermis and the layers beneath for deep tissue repair.
Mimics Gentle Human Touch: Provides comfort and effective hold. 
Micro-Grip Deep Set Adhesive: Provides strong grip and hold with less adhesive surface area. 
Higher Grade Cotton: Provides 100% breathability. 
Hypoallergenic And Latex-Free: For all users with sensitive skin. 
Pros
Incredibly durable
Improves blood circulation
Waterproof
Affordable 
Cons
None 
Need support that will endure multiple workouts? The original cotton KT Tape is what you should consider. It provides targeted pain relief and stays in place through multiple workouts for up to three days. It stays put through daily showers, humidity, and the cold, and even in the pool. Each box comes with 20 pre-cut strips of tape and a detailed guide with step-by-step instructions for the most common injuries. 
Key Features 
Stronger Adhesive: KT Tape is engineered to perform in the harshest environments for days. 
Supports Like A Brace: The tape's elastic core delivers strong support for muscles and joints without restricting comfort and range of motion. 
Long-Lasting: KT Tape's cotton fibers are weaved together in a mesh design that sits comfortably on the body. The mesh design is breathable and hypoallergenic. It releases moisture, which is critical to long-lasting comfort. 
Pre Cut "I" Strips: KT Tape is pre-cut and ready to apply right out of the box. The strips have rounded corners to prevent them from snagging on things. Each roll contains 20 10-inch strips.
Latex-Free For Sensitive Skin: KT Tape Pro is made of an acrylic-based medical-grade adhesive that is gentle on the skin. 
Pros
Provides immediate relief
Wide strips
Durable material
Protective travel case
Stays on for a long time
Pre-cut design 
Cons
None 
Are you looking to workout vigorously despite an injury? Do you want to increase your performance endurance? Try Master Of Muscle Beast Tape. This tape is specifically designed to give your muscles much-needed support, allowing you to work out harder. The tape has a bio-mechanical lifting mechanism that lifts the skin away from the soft tissue beneath, allowing more blood to flow to the weak area. It is flexible, waterproof, and completely latex-free, so it can be worn for up to three days!
Key Features
Bio-Mechanical Lifting Mechanism: It lifts the skin away from the soft tissue beneath, allowing more blood circulation to the weak areas. 
Flexible Material:Ensures you don't feel restricted while working out.
Waterproof Technology: The tape can be worn in the shower, humidity, cold, or the pool for up to three days.
Pros
Stretchable
Lasts long
Affordable
Available in multiple colors 
Cons
Not suitable for sensitive skin
Not pre-cut strips 
RockTape is one of the most popular kinesiology tapes on the market. It can be used to treat sports and non-sports injuries, including sprain, plantar fasciitis, knee pain, and back pain. RockTape lifts the skin microscopically away from the muscle, thus reducing pressure and creating a decompressive effect. It is much stretchier, stickier, and stronger than most tapes.
RockTape is specially designed for athletes and medical professionals throughout the world. 
Key Features
LiftsThe Skin: Relieves swelling through decompression and promotes quick recovery.
Maintains Body Posture: Increases awareness of your body position and helps you maintain proper posture and form. 
Ultra-Strong And Sticky: Provides a strong hold that lasts for days. 
Hypoallergenic Adhesive: Suitable for sensitive skin. 
Pros
Lasts up to 5-7 days
Latex- and zinc-free
Waterproof
5-10 applications per roll
Cotton-nylon blend
Cons
This unique kinesiology tape is an exclusive productby TheraBand. It features hexagon elongation indicators for easy application. It is designed to support muscles and joints and provide pain relief from common injuries.
Key Features 
Safe And Effective: Supports muscles and joints.
Provides Pain Relief For Days: Lasts up to 5 days.
Allergy-Tested: Made with non-irritating, latex-free material. 
Stretchable: Exclusive XactStretch for a maximum stretch every time. 
Visual Hexagon Indicators: For easy application for beginners.
Pros
Easy to apply
Very effective
Available in multiple colors
Supports joints without restricting movement 
Cons
Fitdom Revive Premium Kinesiology Sports Physiotherapy Tape is an FDA-approved therapeutic product for knees, shoulders, and elbows. It promotes quick recovery and provides support by allowing you to carry out your daily activities. It is designed for physically demanding sports, such as football, basketball, swimming, weight lifting, yoga, golf, and running. It stays on through intense sweating, humid weather, daily showers, vigorous movements, and in the pool.
Key Features 
Highest Quality And Superior Adhesive:Latex-free, hypoallergenic, water-resistant, and breathable. 
For Everyone And Everything: Used by professional athletes, medical professionals, and physical therapists.
Easy To Use: Detailed instructions included for 7 popular taping techniques that allow first-time users to understand and enjoy the benefits of kinesiology tape with ease. 
Easy-Grid Pattern:To customize the tape application and achieve maximum results. 
Support And Performance: Facilitates muscle contraction, assists joint motion, and provides stability. Supports your movements without restricting your range of motion. 
Pros
Comfortable to wear
Soft and durable material
Incredibly elastic
Affordable 
Cons
Requires testing for sensitive skin 
Are you tired of looking for a kinesiology tape that does not irritate your skin and stays on or days? Well, your search ends here! SB Sox Kinesiology Tape is designed with a skin-friendly adhesive that glides on smoothly and adjusts to your body comfortably. It provides compression support that takes the pressure off your skin to promote quick recovery. It also comes with a step-wise guide with tips to reduce skin irritation.
Key Features 
Premium Fabric: Does not irritate the skin.
Improved Blood Circulation With Compression Support: The compression technology provides the ideal compression to boost blood circulation.
Ergonomic Design: Lightweight, breathable, and well-constructed to fit all. The fabric helps maintain joint stability regardless of any activity.
Pros
Comfortable
Moisture-wicking fabric
Durable 
Cons
StrengthTape Kinesiology Tape is used widely by professionals worldwide because of its long-lasting durability and effectiveness on injuries. Its exclusive patented All-Sport Adhesive helps the tape stick for up to 7 days through showers and sweat. It is designed to support injured muscles and tissues while still allowing full range of motion. 
Key Features 
Breathable Cotton: Made of specialized breathable cotton and quick-drying spandex weave that provides a stretch identical to human skin. 
Wide And Long Strength Tape: The tape is 2-inch wide and 16.5-feet long. It lasts up to 10-12 applications. The pre-cut tapes come in perforated 10" strips that are easy to peel off. 
Provide Support And Stability: Allows you to move without restrictions.
Pros
Relieves pain
Prevents injury
Faster recovery
Reduces inflammation
Stays put up to 7 days 
Cons
Tape Kinetics Premium Kinesiology Tape is designed to assist your every move without restrictions. It is much softer and stays on longer than other brands. It is a lightweight elastic cotton kinesio tape that moves with your body comfortably. It provides gentle support and aids quick recovery by increasing blood flow to weak areas. When properly applied, this kinesio tape stays on through 3-5 days of showering, intense workouts, marathons, and beyond. This athletic tape is also latex-free.
Key Features 
Pre-Cut Strips: Endless personalization options – cut it to a size that fits. 
Step-By-Step Guide: Hasinstructions on how to apply the tape on various parts of your body. 
Strap With Grids: Helps you cut the strips with precision. 
100% Cotton: Can be worn 5 days in a row. 
Pros
Hassle-free application
Reduces pain and swelling
Supports joints during physical activities
Firmly constructed 
Cons
Take a look at the important features you need to keep in mind while purchasing a kinesiology tape.
Features To Look For In A Kinesiology Tape 
1. Material
Pick a kinesiology tape that is made of strong materials. An ideal kinesiology tape has a plastic center and the outer surface made of cotton, synthetic, or nylon. Most people prefer cotton as it stretches more easily compared to other materials.
2. Adhesive
The adhesive on a kinesiology tape is one of the most important aspects of all. Without a strong adhesive, kinesiology tape is almost useless. The tape needs to be able to stretch and stick to your skin effortlessly. The adhesive should be quick-drying to allow you to move on with your activities. It also needs to be waterproof or water-resistant to withstand daily showers, sweat, or rain as it is meant to be worn at all times.
3. Comfort
If you have sensitive skin, test the product before buying because kinesiology tape may irritate your skin. Therefore, check the ingredients thoroughly to avoid irritation and allergic reaction.
4. Durability
It is very important to choose a kinesiology tape that can hold up well during strenuous workouts. You need to keep in mind that the tape should stay put for days to prevent injury.
5. Water-Resistance
This feature is especially important for athletes who participate in water sports.
6. Pain Relief
The tape should be able to lift the pressure off strained muscles by blocking the receptors from sending messages to the brain. Pick the kinesiology tape that offers a compression mechanism. It helps relieve both chronic and acute pain.
Due to its strong adhesive, it is a bit tricky to remove kinesiology tape. Here's how you can do it.
How To Remove Kinesiology Tape Safely
Pour some baby oil directly on the tape. Rub the oil in gently and let it sit for 15-20 minutes.
Remove the tape slowly while keeping it submerged in water.
Remove the tape in the direction of your hair to minimize pain.
Another option is to get in the shower and wet the tape thoroughly. This will loosen up the adhesive and allow you to pull it off easily.
Kinesiology tape is a boon for athletes and gym freaks who don't let injuries get in the way of their goals. We hope we made your job a little easier by listing out the best ones available in the market. Pick one of the kinesiology tapes listed above, try it out, and let us know about your experience in the comments section below! 
Expert's Answers for Readers Questions
When should you not apply kinesiology tape?
Don't apply kinesiology tape on an open wound or if you have cancer, diabetes, or sensitive skin.
How long does the tape last?
Most kinesiology tapes stay on for 3-5 days.
Will kinesiology tape harm my skin?
Latex-free and hypoallergenic kinesiology tapes do not pose a risk to your skin. However, perform a patch test before using it.
Recommended Articles: