30 Top Design Ideas For Couple King And Queen Tattoos
Amazing tattoo design ideas to spark your imagination while honoring your love and relationship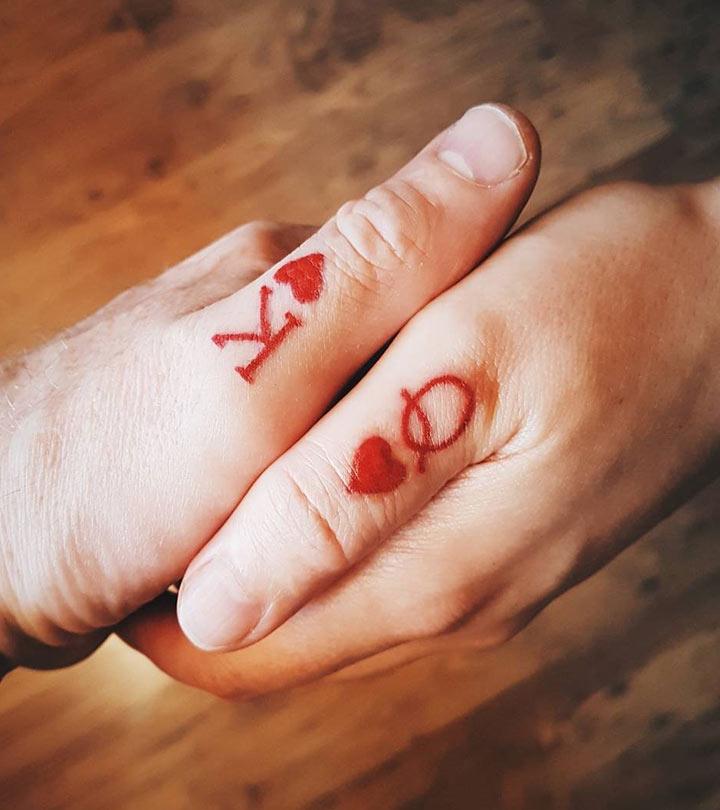 Young couples never miss out on a chance to showcase to the world what they mean to each other. So, what can be better than getting king and queen tattoos? These tattoos are usually worn on the legs or forearm of the couple. They signify that you are the king and the queen of each other's hearts and co-rulers of the life you both have built together. So, are you willing to get inked to show your beloved as equals? In this article, we have listed the 30 best tattoos ideas that inspire you to get one on your body. Let us get started.
Top 30 Best King And Queen Couple Tattoos For You And Your Partner
1. White Ink King And Queen Tattoos
White ink tattoos can look quite classy and elegant. In this design, the outlines of the crowns are done in white, and they are filled with black ink. 'Together' and 'forever' are written below the beautiful intricate pattern of the crowns. This is for the couples who believe in forever love.

Quick Tip

Good placement options for a forever together white ink crown tattoo include the inner wrist, the shoulder area just below the collarbone, and behind the ears (especially if you do not want the words but just the crown design).

2. Cute King And Queen Tattoos
These ankle tattoos depict the initials 'K' and 'Q' with a heart at the bottom. This design can be a reminder of your unswerving loyalty towards each other as well as show how cute you two are as a couple.
3. Regal King And Queen Tattoos
A black silhouette pattern looks regal, no matter where you choose to get it done. This tiny and neat king and queen tattoo design is inspired by playing card designs and has tiny crowns on both the initials.
4. Calligraphy Style Crown Tattoo
When you truly believe that you have found the one, get this beautiful calligraphy inspired king and queen tattoo design with a crown on top. The 'king' and 'queen' are written in calligraphy style in black ink. You can also get these tattoos done in your favorite colors.
5. Puzzle-shaped King And Queen Tattoos
This is an interesting take on the usual king and queen tattoos. The two puzzle piece designs signify that you two fit together in life. You can play with the design a bit and add colors of your choice. However, the classic black and red combination works best.

Quick Tip

A puzzle piece king and queen tattoo works well on the upper arm as it allows you to bump together joyfully as if to let the pieces join together. Other good placement options include the area below the thumb, and the inner wrist, especially if it's not too tiny.

6. King And Queen Crown Tattoo
Crown tattoos are symbols of power, royalty, majesty, nobility, and grace. When you choose to get king and queen crowns inked, you represent these qualities as well. Apart from making quite a stylish statement, these king and queen crown tattoos depict that you believe in treating each other with love, respect, and care at all times.
7. King And Queen Portrait Tattoos
How about getting large portraits of a king and queen etched onto your skin, defining your roles and responsibilities even more beautifully? These detailed and intricate portraits look truly remarkable. You can fill the crowns with a lot of colors or shade them using black ink.
8. King And Queen Tattoos With Rose
The rose has forever been a symbol of love and romance. For couples who put romance before anything else in their relationship and believe in its power, this is a perfect tattoo to opt for.
9. King And Queen Chest Tattoos
Don't these colorful crowns look amazing on the chest, near the collarbone area? These tattoos are done in yellow ink, but you can get them done with any color. Getting intricate crown tattoos with your partner depicts a love that has the ability to conquer any obstacle.
10. King And Queen Wrist Tattoos
This tattoo idea combines text, crowns, and the year the couple started dating, commemorating the relationship and the love the individuals have for each other. They look stylish and chic.
11. Watercolor King And Queen Tattoos
When it comes to tattoos, you can never go wrong with watercolor patterns. Even the dullest tattoos can come to life and become interesting when you add a splash of colors to them. Take the regular crown tattoo outlines done in black, with little red fillings inside, and add a backdrop of watercolors as shown here.
12. 'His' And 'Her' King And Queen Tattoos
Showing the world how much your partner means to you is a grand gesture that anyone in a relationship would appreciate. If your partner is your king and you are his queen, this design is what you have been looking for. The detailed crown designs are done in black and highlighted with red shade for the queen tattoo and blue shade for the king tattoo.
13. Badass King And Queen Tattoos
You can choose the chess icons for king and queen as inspiration for your tattoos. These badass king and queen tattoos not only look sassy but are also statements of power and authority. Choose elements from your personalities to personalize these tattoos further.
14. Skull King And Queen Tattoos
Do you have an intriguing and mysterious side to your personality? Then, look no further. This skull king and queen tattoo design combines two different feelings into one design – one of fear and another of the power of love. It signifies the two contrasting sides of both the individuals in a relationship and how they balance each other well.
15. Chess Style King And Queen Tattoos
The game of chess is one where the queen rules the kingdom. If you are a couple that loves chess, get this king and queen tattoo design done. The chess pieces are done on the background of a chessboard, which makes the designs stand out.
16. Husband And Wife King And Queen Tattoos
This tattoo design shows the king and queen tattoos in the form of a lock and a key with crowns. This shows the eternal link and connection between the couple and signifies that one holds the key to the other's heart.
17. Music Notes King And Queen Tattoos
This is a unique king and queen tattoo idea. It shows your inclination towards music and your love for each other. It can also denote that your bond is so beautiful that it has made your life a musical fairytale. It would look best done on the arm and in black ink.
18. Customized King And Queen Crown Tattoos
This one tops our list of all-time favorites when it comes to king and queen crown tattoos. When you look closely, these tattoos have an amazing number of customizations along with the big crown design. A heartbeat, flowers, tiny hearts, and embellishments with the evidently intricate crowns make these tattoos worth a special mention.
19. Lion King And Queen Tattoos
Now, what screams power and elegance better than the couple that rules the jungle? A brave, courageous, and graceful couple deserves to get king and queen lion tattoos that match their personality down to a tee.
20. Card King And Queen Tattoos
Here comes the classic. When you utter the words 'king' and 'queen,' the first thing that comes to mind is card games. Combining your knack for card games with the love for your partner isn't such a bad idea after all, right? Let this design serve as inspiration.
21. Tribal King And Queen Tattoos
These tattoos are inspired by tribal patterns and are silhouette designs done in black ink. Ask your tattoo artist to use this design and add any custom elements that resonate with your personality to make a statement and turn heads everywhere you go.
22. Red Ink Chess King And Queen Tattoos
This is another variation of the usual chess king and queen tattoo design. The splash of red and black makes the symbols stand out. You can also get these tattoos done completely in red.
23. King And Queen Name Tattoos
The usual king and queen tattoos are all fine, but why not add in your names to make it even more special? This tattoo has elaborate king and queen portraits, accompanied by the respective names below.
24. Elaborate King And Queen Tattoos
How about going all the way with the person you love and making a big flashy statement declaring your affection towards each other? Well, this design is exactly what you are looking for. A simple "king" and "queen" written across your forearm in a large and elaborate font in black is a stylish idea.
25. 'One Life, One Love' Tattoo
When two people are in love and decide to spend their lives together, they can consider getting these tattoos done. These tattoos become a tribute to the life that lies ahead of them, declaring that they gave their all to their one and only soulmate. The king and queen hand tattoos with the phrases written in an elegant font makes this design truly breathtaking. While you can choose any color, they look best in hues of black and when done on the forearm or wrist.
26. Black And Red Ink King And Queen Tattoos
These king and queen tattoos depict an angel and a devil. The tattoos signify that both the partners have accepted each other completely, including the best and worst sides of their personalities. They are best placed on the elbow, palm, or the wrist.
27. King And Queen Ankle Tattoos
Walking around in your sneakers sporting these cute little nuggets would be a lovely sight. This design can be done in any different number of colors and have crowns, hearts, and the initials 'K' and 'Q,' representing both you and your partner.
28. Side Palm King And Queen Tattoos
Don't these just look like the coolest tattoos ever? You can add your own elements to it, be it your first name, your engagement date, or just the initials of your names, and make it even more personal. It is a great idea for a side palm tattoo and is best done in black and red ink.
29. Tiny Crown Ring Finger Tattoos
If you love minimalistic designs, this is a great idea. A tattoo on the ring finger is a declaration of your everlasting love for each other as the ring finger is rumored to be directly connected to the heart in various cultures. Young couples or newly engaged couples can get these tattoos done on their ring fingers. They usually look best in black ink.
30. ThumbKing And Queen Tattoos
This is one of those classic king and queen tattoos that are simple and too flashy. They look good on the thumbs, so strike a pose with yours next to your partner's exactly like the one here.
Infographic: 5 Amazing King And Queen Couple Tattoo Ideas
If you want to show off your love, this list of matching king and queen tattoo ideas is for you. Getting matching tattoos has long been the privilege of couples who want to declare their love to the world. The infographic below highlights some of the top designs that are currently popular. Take a look!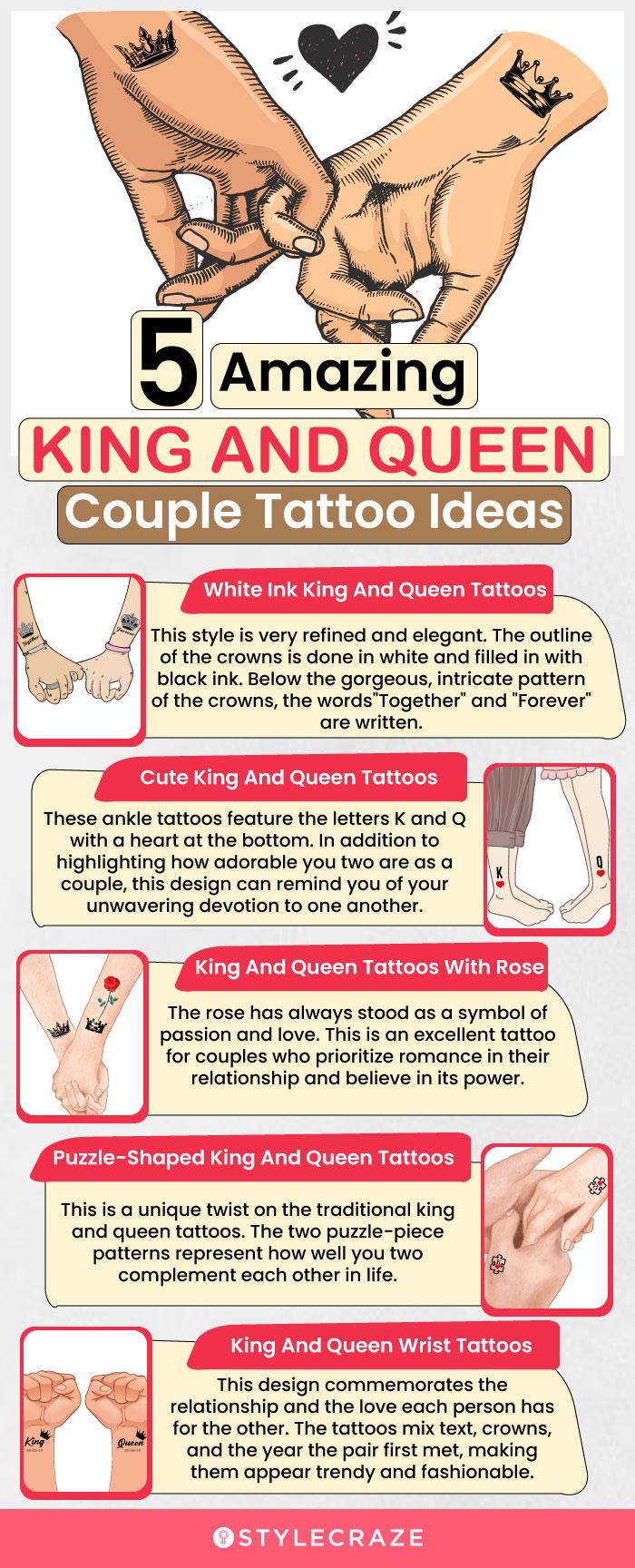 King and queen tattoo designs are a popular choice for couples to express their love for each other and showcase the strength of their bond before the whole world. These tattoos can be inked on the legs, forearms, and even fingers of the couple. Apart from traditional crowns, you can also try out heraldry symbols of a monarchy, like a throne, scepters, or coat of arms. However, you should do proper research about the design and the artist before getting the tattoo. Also, make sure you take proper care before and after getting a tattoo. Then, choose the perfect design representing your eternal love for each other and get inked!
Frequently Asked Questions
What does the queen tattoo symbolize?
The queen tattoo symbolizes independence, power, and strength.
What does the king of hearts tattoo mean?
The king of hearts tattoo symbolizes personal qualities like honesty, spirituality, and affinity for love.
What does the queen of hearts tattoo mean?
The queen of hearts tattoo has several meanings. It can represent love, passion, and sexual desires.
Key Takeaways
King and queen tattoos are a perfect way for couples to express their love for each other.
You can get these tattoos done in the colors of your choice, including white and red.
Do proper research on the artist before getting inked. Select the designs that match your personality.

Are you looking for unique couple tattoo ideas? Then check out this video for king and queen tattoo ideas! Perfect for expressing your love for each other.

The following two tabs change content below.