11 Best Kitchen Faucets For Hard Water + Buying Guide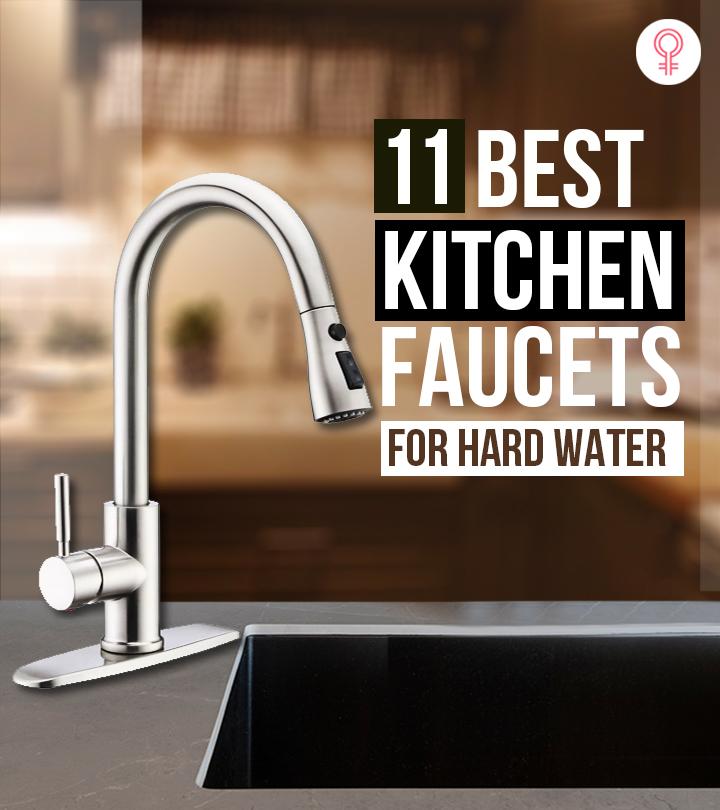 If you live in an area with hard water, your skin, hair, and dishes are the first to bear the brunt. Hard water can cause chemical buildup, residue, and clogging. Hence, you need high-quality hard water faucets to prevent these issues. A kitchen faucet for hard water is specially engineered to be used with water containing chalk, limestone, and gypsum. It is made of durable materials like ceramic surfaces and stainless steel, which are resistant to the damage caused by hard water.
If you are looking for functional and durable faucets, here are the 11 best kitchen faucets for hard water. Check them out now!
11 Best Kitchen Faucets For Hard Water
The WEWE Pullout Kitchen Faucet is one of the best kitchen faucets because of its durability and style. This faucet features a sleek tulip design to match most of the modern sinks. It also features a multi-functional outlet water effect for streaming, pausing, and spraying water. The stream setting is for filling water, the pause setting is to prevent unwanted splashing, and the spray setting is for rinsing.
Features
Dimensions: 22.7 x 11 x 3.15 inches
Weight: 5.2 pounds
Pros
Easy to install
Corrosion-free
Rust-resistant
360-degree swivel spout
Easy to operate
Easy to clean
Cons
The American Standard Pulldown Kitchen Faucet provides flexible water pressure through its pause feature and adjustable spray pattern. Its brass swivel spout and the metal silver handle make it suitable for different kitchen sinks. This faucet can be mounted with or without an escutcheon and offers a flow rate of 1.5 GPM. It also features a memory position valving system that provides water as per your preferred temperature without adjusting the handle.
Features
Dimensions: 19 x 13.25 x 3.375 inches
Weight: 0.000625 pounds
Pros
Drip-free performance
ADA approved
Adjustable spray pattern
Corrosion-resistant
Easy to install
Scratch-resistant
Cons
The nozzle might be sloppy.
If you are obsessed with brass faucets, the Yodel Faucet is a perfect pick. It features double solid-brass construction and goes through a multi-layer finishing process for a chic look. To prevent splashing in small sinks and limit the water flow, turn down the valve under the sink. Also, you can tighten and swivel the hose effortlessly with your hands for smooth operation.
Features
Dimensions: 12.6 x 6.3 x 1.6 inches
Weight: 3 pounds
Pros
Drip-free performance
Made of heavy-duty ceramic
Sleek design
Durable
Cons
The APPASO Pull Down Kitchen Faucet is a luxurious faucet that comes with a soap dispenser and a magnetic docking spray for convenience. This single-handle pull-out faucet with a 20-inch hose is integrated with a powerful magnet that secures the faucet into place. Its wand stays docked and secure when not in use and does not snag. It comes with a brush that matches the spray for hands-free brushing. With the brush, you can effortlessly wash and flush with one hand.
Features
Dimensions: 23.6 x 11.2 x 2.9 inches
Weight: 6.5 pounds
Pros
Easy to install
360-degree rotation
Fingerprint resistant
Spot resistant
Comes with a multi-function brush
5-year warranty
90-day money-back guarantee
Cons
The magnet is not powerful.
Kraus Oletto is one of the leading producers of sinks and faucets and is known for delivering exceptional kitchen accessories. This stainless steel kitchen faucet by Kraus has a bright nickel finish with an updated design. It prevents water spots, stains, and fingerprint marks and offers incredible shine. It also comes with a flexible, easy-retract, 14-inch long hose and swivel adapter to provide a better range of motion. The hose pivots, flexes, and cleans the sink easily.
Features
Dimensions: 8.75 x 2.5 x 15.75 inches
Weight: 4.91 pounds
Pros
Durable
Easy to clean
Lead-free construction
Drip-free performance
Easy to install
Heavy-duty construction
Cons
Poor plastic head and base.
The Delta Faucet Cassidy combines functionality with a trendy design. It comes with a docking spray head and a pull-out sprayer. It uses a magnetic docking system to hold the faucet in place and prevent drooping. The diamond seal technology prevents leaks and makes it last two times more than a standard faucet. The touchscreen spray holes wipe away calcium and lime buildup easily and quickly, just with a touch of a finger.
Features
Dimensions: 12.56 x 4.31 x 12.56 inches
Weight: 6.66 pounds
Pros
Easy to install
Touch spray
Easy to clean
Lifetime warranty
Includes Soap dispenser
Cons
Might leak after extended use.
The Kohler Artifacts Kitchen Sink Faucet has a unique 3-function pull-down spray head – aerated, weep, and BerrySoft spray. The sweep spray creates a forceful and wide blade of water for superior cleaning, and the BerrySoft spray creates a light spray of water for gentle cleaning of fruits and vegetables. You can fill water in pots using the aerated spray. The magnetic docking system located in the spout locks the spray head securely into place using a magnetic force. The ceramic disc valves are highly durable and provide lasting use. The single-lever handle is easy to use and adjusts water temperature easily.
Features
Dimensions: 8.5 x 4.31 x 17.63 inches
Weight: 1 pound
Pros
Light braided hose
Easy to use and clean
Durable
360-degree rotation
Cons
The spray might get lousy.
The Aimadi Faucet And Sprayer has a commercial-style spring design. It features a unique LED design, pull-down swivel, and a brushed nickel body that suits most of the kitchen sinks. It has a solid brass body and lead-free, non-toxic construction with a single-lever handle for better durability. With the single handle, you can control hot and cold water, and its 360-degree spout rotation range provides two different streams or sprays.
Features
Dimensions: 17 x 11 x 3 inches
Weight: 6.35 pounds
Pros
Durable
Drip-free
Leak-free
Stainless steel body
Hassle-free maintenance
Cons
Filler/faucet does not reach the sink.
If you want a touch feature on kitchen faucets, the Owofan touch-activated kitchen faucet is an ideal option. This high-end faucet features assistive touch control technology, so unlike the standard faucets, the water flow of this faucet is controlled by touch. When it is not convenient to press the buttons, you can use the back of your hands to touch the faucet's spout or body for controlling the water flow. It also features the stream, spray, and pause setting modes to prevent splashing and clean conveniently.
Features
Dimensions: 23 x 10 x 2.9 inches
Weight: 5.09 pounds
Pros
Touch-activated
Mess-free cleaning
Easy to clean
Spot-free
Fingerprint-free
High arc
Easy to install
Cons
Toggling the water flow is difficult with the touch function.
The elegant spiral, spring design, and easy installation process make the Gavaer Kitchen Faucet stand out. It features a single handle for pull-down kitchen fittings and offers a clean and slim look. The two lead-free nozzles made of brass are designed for meeting individual requirements and provide a robust and high volume spray while cleaning. Both the nozzles are removable and can be washed easily. It also consists of certified sedal valve insert made of premium-grade ceramic for better operation.
Features
Dimensions: 22.75 x 12.5 x 3 inches
Weight: 5.89 pounds
Pros
Extensively tested
Leak-proof valves
Easy mounting
Easy to maintain
Long-lasting
Cons
The spout is short for deep sinks.
The aqua blade design of the Soka faucet features a unique pull-down sprayer that creates a forceful splash of water than the regular spray mode. With the powerful spray, you can clean your cookware and sink conveniently. It also features the three standard-setting modes – stream mode for filling water, sweep mode to clean the dishes, and spray mode for deep and robust cleaning. The spray head is an aerator that can be removed easily for cleaning.
Features
Dimensions: 10.38 x 9.06 x 16.44 inches
Weight: 6.78 pounds
Pros
Quick installation
Made of 304 rust-resistant stainless steel
Heavy-duty ceramic cartridge
Oil-rubbed bronze finish
Cons
The powerful force may cause splashing in small sinks.
Now that you have gone through the 11 best kitchen faucets for hard water, let's go through a few things to keep in mind while buying a faucet
How To Choose The Right Kitchen Faucet For Your Needs
Determining the size of faucet you need makes the process of selecting the right one easy. The standard length of kitchen faucets is 8 inches, but if you have deeper sinks, go for taller faucets.
The durability of a faucet depends on the material you choose and the maintenance. Usually, a faucet lasts for a decade or even more with regular maintenance and cleaning. If you are looking for durable faucets, pick stainless steel or brass faucets.
The kitchen faucets are made using different types of materials, and each one has a unique finish. Chrome, nickel, polished brass, white, and oil-blushed bronze are a few standard finishes, while brass and stainless steel are the most common materials for making a faucet. These faucets are corrosion-free and last for years.
There are plenty of stylish and contemporary kitchen faucets available online. If you have a chic sink, go for modern cast iron or stainless steel faucets. The nickel, bronze, and chrome finish faucets also look good and complement different types of sinks.
The spout height is a significant factor to consider while choosing the right faucet for your sink. If you have a three-bowl kitchen sink or a very deep kitchen sink, a spout may not reach the bottom of the sink. A faucet with short reach may cause splashes and mess while cleaning. Hence, always consider the spout height.
Most of the sinks have three or more holes, but if you need a functional faucet, consider how many holes your sink has. Different types of faucets have holes in different spots, so ensure that the sink and faucet work well together.
Undoubtedly, the double-handle faucets look contemporary and stylish, but if you want a functional faucet, a single handle is convenient. Single handle faucets are not only easy to clean but also make the water temperature control more manageable. As you use the kitchen sinks more frequently than other sinks, consider the water flow control and temperature.
Most of the kitchen faucets come with pull-down sprayers. Side sprayers cause leaks and drips and are comparatively more expensive. The pull-down sprayers are durable and more reliable. These spray wands can extend for better maneuverability and reach.
You may not have enough space to clean large pots and utensils with the low-arc faucets. Prevent obstructions and choose the right arc as per the depth and design of your sink. Where high arc faucets will remain 8-10 inches above your sink plane, the low arc faucets will not offer that much gap.
Most of the faucets are long-lasting, and corrosion and rust-resistant. Well-known brands also provide a limited lifetime warranty on their faucets.
Here are a few common problems that you might face while using a faucet for hard water. Let's see what are they and how they can be overcome.
Issues That Can Happen With The Hard Water Faucet
The faucet might develop stains and buildup due to hard water. Use vinegar and soap water to clean it. You can also soak a clean rag in vinegar and wrap it around the faucet. Let it sit for 20-30 minutes and then rinse. However, vinegar might affect the finishing of your sink. Hence, using soap water is preferred for vinegar.
If your kitchen's faucet develops a white and robust buildup, it is because of hard water. The residue can cause clogging and damage the faucets. Most of the models come with washable filters, and if you clean the filters and maintain them regularly, you will not have to face this issue.
Hard water can cause buildup inside the water supply and tubes, which restricts the water flow and clogs the system. The faucets designed especially for hard water prevent such clogging and tube damage. However, you have to clean the faucet regularly prevent this issue.
A kitchen faucet is not just a fixture but a focal point of your kitchen. With the right kitchen sink faucet, you can enhance your kitchen's aesthetics and make it look stylish. Choosing the right faucet for hard water can be tricky when there are plenty of styles and varieties available online. Choose from our list of the 11 best kitchen faucets for hard water. Go buy your preferred brand now!
Frequently Asked Questions
How to clean hard water faucet?
Hard water faucets are prone to buildup and clogging, so you will have to clean them regularly to prevent such issues. If you have mineral deposits on the faucet, soak a towel in warm water and vinegar. Wrap the towel around the faucet and let it sit for 10-20 minutes. Clean it with a sponge or a cloth and rinse with water. Remember, extended use of vinegar can wear the finish of your faucet, so use it moderately and occasionally for cleaning the faucets. You clean regularly using a gentle soap and warm water.
What type of sink is best for hard water?
A stainless steel sink is the most appropriate type if you have a hard water supply in the kitchen. It will prevent buildup and stains and is highly durable. Also, stainless steel sinks are easy to clean and require less maintenance.
What is better – chrome or stainless steel faucet?
Chrome faucets are extremely shiny compared to stainless steel faucets. They are aesthetically pleasing but challenging to maintain as they are prone to stains and fingerprints. Their shine may also vanish with time. On the other hand, stainless steel faucets are durable, less prone to buildups, and easy to clean. Apart from this, you should also check which finish best suits your sink.
How to install the best kitchen faucets for hard water?
For installing a faucet for hard water, refer to the below steps:
• Keep the instruction manual by your side while installing the faucet and start by placing the gasket on the faucet holes of the sink.
• Connect the faucet to the holes.
• Install washers and nuts under the sink and attach the hose to the pipe(for pull-down faucets).
• Pull down the hose and attach the water supply lines. You can use a plumber's tape if needed.
• Turn on the water supply and check for leaks and dripping.
• Tighten the nuts and connections if you find any leaks.
• Remove the aerator and let the water run slowly for a few minutes for cleaning.
• Check if everything works well and the faucet does not leak.
Will vinegar damage finish on a faucet?
Vinegar is a highly acidic ingredient and can risk the finish of your faucet. Hence, use gentle cleaners to clean the sink.
Recommended Articles
The following two tabs change content below.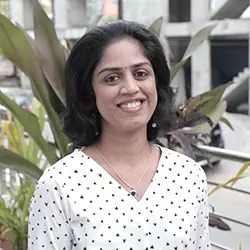 As Head Of Content Operations, Harini sets the tone and editorial direction for StyleCraze to deliver engaging, interesting, and authentic...
more