10 Best Knee Braces For Every Activity With Buying Guide
Protect your knees from injuries and keep them stress-free to avoid pain.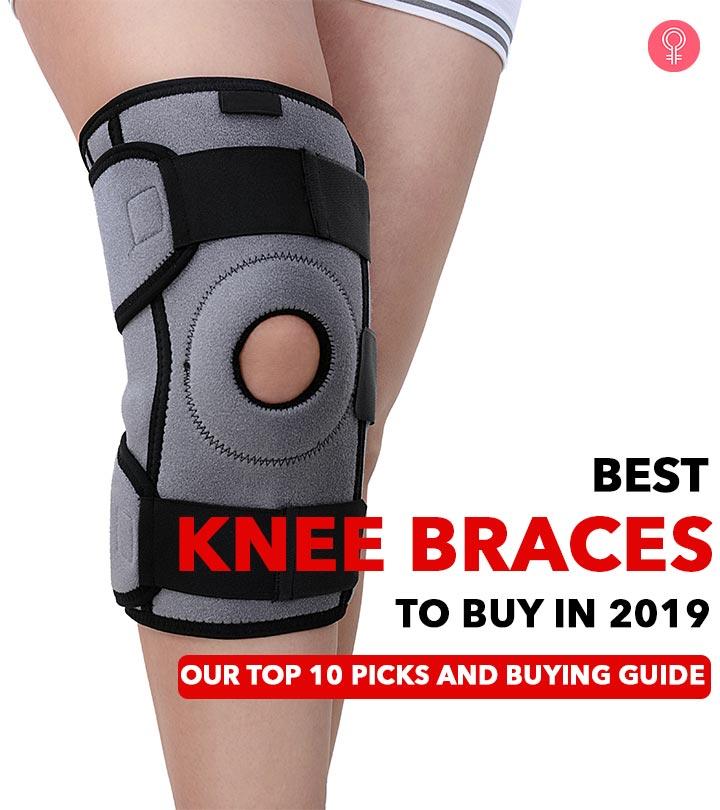 Since our knees endure the brunt of all of the movements we make in our lives, they require special attention. So give them that with the best knee braces available in the market. From walking to dancing and from running to climbing, our knees do it all, but we tend to keep them at the bottom of our priority list. We often care very little about those sprains and mild pains. Knee braces can prevent knee injuries and provide the necessary nursing too. Learn how they work and find out the best options as you scroll down.
10 Best Knee Braces – 2023
The Bracco Knee Support Brace is fully customizable. The three straps can be attached to almost any point around the support for a tailored fit and help to prevent slippage even during the most rigorous exercise and it is best knee brace for running. The open patella design relieves the stress in the knee area, and the padded stabilizer prevents displacement and guides the knee cap into proper motion.
This brace is made of extra-thick neoprene material that provides additional protection and improved blood circulation to the muscles and tendons, while the internal perforations help to draw away excess sweat from the skin for a more comfortable experience.
This brace can be worn on either of the knees and is ideal for minor tears in ligaments, sprains and strains, and joint instability. It keeps localized tendons and ligaments warm and limber during exercise, improves muscle oxygenation, and increases proprioception. This brace is hand washable with cold water.
Pros
Made from breathable neoprene
Latex-free
Fully customizable
Reinforced stabilizer ring
Open patella design
Cons
Price at the time of publication: $15.99
Techware Pro adjustable knee support is made of stretchable and breathable neoprene material, providing maximum comfort and flexibility. It is suitable for everyday use and sports activities and does not inhibit movement. It offers adjustable bi-directional support.
This brace provides better knee stability with an open patella design and four flexible string stabilizers. The alternating hooks and loop straps ensure even support and compression. This brace offers consistent pain relief for most activities from work to play.
Its constant use can heal your injuries, and the extra support will also prevent reinjuries. This product is available in four different sizes.
Pros
Adjustable bi-directional support
Open patella design for support and compression
Non-slip silicone straps
Breathable neoprene material
Easy to use
Available in 4 sizes
Cons
None

Price at the time of publication: $17.84
The Shock Doctor Knee Brace helps prevent and heal medial and lateral instability, minor patella instability, meniscus injuries, minor ligament sprains, arthritis, and other knee problems. This is the best-hinged knee brace as it is antimicrobial and equipped with airflow venting technology, which helps reduce odor, bacteria, and moisture, making for a comfortable experience during the toughest days and workouts.
The sturdy bilateral dual hinges provide support, and the four-way stretch spandex mesh lends elasticity for comfortable movement. This knee brace is made of latex-free premium material. The construction integrates flexible side stabilizers and easy-grip tabs for accurate fitting.
It provides compression to soft tissues and assists in joint alignment and relief. This knee brace boosts therapeutic heat for improved blood flow, which aids in healing tendons and muscles. This product is meant to be close-fitting for ultimate protection, so it may fit small. Take a look at the honest review for a better understanding about the product.
Pros
Antimicrobial
Odor prevention
Bilateral support hinges and tempered aluminum stays for knee stability
Pre-curved anatomical design
Latex-free
Blood therapeutic heat for improved blood flow
Flexible side stabilizers and easy-grip tabs for accurate fitting.
Cons
None
Price at the time of publication: $74.99
EXOUS Knee Brace Support Protector comes with a four-way compression system designed for all knee pain and support needs. It is made with high-quality 3.5 mm breathable neoprene with an open patella design dedicated patella band and fully adjustable 4-point system, providing a truly unique all-round support and compression.
This brace works better because of its four straps design, which comes with a built-in comfort gap and side stabilizers. All these features, when combined, give a stabilized non-slip support. This brace is ideal for sports and exercise and provides all-day comfort and pain relief.
The comfort gaps provide a full range of motion and support full knee bends as well. Its intelligent design allows heat to escape and create less bunching behind the knee for all-day comfort.
Pros
Four-way compression system
Ideal for sports and exercise
360-degree support
Creates less bunching behind the knees
Stays in place
Cons
None

Price at the time of publication: $29.97
Ezyfit Knee Brace is ideal for runners, joggers, athletes, weightlifters, and fitness conscious people who indulge in intensive workouts. This product also works great for teenagers who indulge in sports, and older adults with knee pain caused due to aging or arthritis and find it difficult to walk and climb stairs. It is the best knee braces for arthritis.
The brace is designed to look good on both men and women. It is made with flexible and breathable neoprene material. It gives effective heat therapy for joint pain relief and faster healing and recovery. It comes with dual stabilizers on both sides of your knee, providing strong yet flexible support. The three secure and fully adjustable closures ensure the right compression for your knee.
Its non-slip silicone gel ensures the brace stays firmly in place. The double-stitched curved edges prevent scratching of your skin. The open patella allows full movement of the knee joint. This brace comes in three different sizes to fit all.
Pros
Dual stabilizers
Non-slip silicone gel
Available in 3 sizes to suit most body types
Effective heat therapy
Flexible and breathable neoprene material
Best exercise support
Cons
Price at the time of publication: $24.95
The improved stability and support offered by Vive Hinged Knee Brace make it a perfect choice for exercise and daily activities. This product is ideal for active individuals with arthritis and weak or injured knees.
It is equipped with extra strength fasteners and is adjustable to your specifications. It features aluminum support hinges on both sides for lateral stability. The hinges are removable. The compression material provides support to injured ligaments, tendons, joints, and muscles.
Its slip-resistant design works well for most activities and all-day use. It is made of breathable and comfortable latex-free neoprene material that provides thermal compression. The extra strength fasteners prevent constant readjusting and allow you to customize the fit of the brace according to your specifications. If you are still unsure, check out this honest unboxing review.
Pros
Aluminum support hinges for lateral support
Extra strength fasteners
Slip-resistant design
Breathable material for comfortable all-day wear
Cons
Velcro strap not durable.
Price at the time of publication: $24.99
This knee brace is made of an extra thick and durable neoprene fabric that helps to provide additional protection and improved blood circulation to your tendons and muscles. It is lightweight, breathable, and flexible and offers maximum comfort and ease-of-movement.
The fabric absorbs the excess sweat from your skin to provide additional support while you workout and prevent skin irritation. This patella stabilizing knee brace is for both men and women, and you can use this compression knee brace as a part of your rest, ice, compress, and elevate (RICE) recovery method.
Its adjustable velcro straps quickly wrap around and fasten to almost any place on your knee brace for a superior and comfortable fit. The secure fit anti-slip silicone prevents your knee brace from slipping and sliding down your leg, even during intense workouts. This brace is easy to wear and take off.
Pros
Made from lightweight, breathable, and flexible material
Recommended by physical therapists
Adjustable straps
Easy to put on and take off
Helpful for a knee injury and surgery recovery
Great for high-intensity workouts and weightlifting
Cons
Price at the time of publication: $19.95
This dual disk hinged knee brace features two wider, more stable hinges than standard knee braces. The latex-free neoprene provides superior stretch, maximum heat insulation, and lighter, long-lasting support.
The open 360 ° padded buttress isolates and supports the patella. It gives moderate medial and lateral support for improving stability. This brace is best for moderate to major instabilities, proactive injury prevention, and post-surgery joint protection.
The bound edges prevent skin irritation, while the perforated back panel provides heat and moisture management for total comfort. The exterior layer of nylon fabric enhances durability.
Pros
High-performance neoprene
Supports the patella
The lightweight hinge has wide arms to aid in maintaining strength
Latex-free neoprene
Bound edges prevent skin irritation
Perforated back panel
Cons
Price at the time of publication: $39.88
This Mueller knee brace is ideal for active individuals during sports and other physical activities. This self-adjusting brace provides maximum medial and lateral support. Its criss-cross elastic straps located above and below your knee provide self-adjusting knee support.
Mueller braces and supports help treat or prevent common injuries and ailments, such as postoperative irritation/pain, posttraumatic irritation/pain, patellar lateralization, femoral pain syndrome, jumper's knee/runner's knee, ruptured posterior cruciate ligament (PCL), ruptured anterior cruciate ligament (ACL), complex instabilities, chondromalacia patella, and instability of varying degrees (degenerative).
This knee brace is antimicrobial and thus controls or eliminates odor, and its open back eliminates bunching. It comes in a universal size that fits most.
Pros
Self-adjustable brace
Criss-cross elastic straps for self-adjusting support and focused compression
Antimicrobial
Open back eliminates bunching
One size fits most
Cons
It contains natural rubber latex, which may cause allergic reactions.
Price at the time of publication: $20.84
The Ace Knee Brace provides stabilizing compression to weak and sore muscles and joints. It features dual side stabilizers that provide lateral support. The comfort sleeve helps to hold the brace in place, making it easier to put on and adjust.
This brace is made of soft and breathable neoprene material that keeps you cool and dry. It is designed to fit the contours of your knee and give you a comfortable fit. It comes with adjustable straps that allow customizable support. This brace is easy to use and can be worn on either of the knees hence it is the best knee brace for osteoarthritis.
Pros
Dual stabilizers with lateral support
Comfort sleeve holds the brace in place
Made of soft and breathable neoprene blend material
Easy to use
One size fits most
Cons
Neoprene blend rubber
Not for plus size
Price at the time of publication: $13.72
What Are Knee Braces?
Knee braces are supports to be put on when you have a knee injury or want to prevent one. Braces are made from combinations of metal, foam, plastic, elastic material, and straps. They are available in many sizes, colors, and designs. Each one is tailored for use in specific conditions and environments, depending on the needs of the user.
How Do They Work?
A majority of the knee braces offer one or both of the following:
Compression: A knee brace provides compression that helps in managing inflammation post-injury, which, in turn, can reduce pain and enhance mobility.
Stability: Damage to the ligaments can lead to instability, which can compromise your ability to walk, run, and jump. The straps on a knee brace act as external ligaments, and thus, wearing a knee brace can help to keep you on your feet.
Let us now take a look at the top knee braces you can buy.
These are the 10 best knee braces that are available on the market right now. Doctors have mixed opinions about the use of knee braces, and scientific research has also not given a clear answer about the benefits or side effects of knee braces.
However, if you are planning to use one, you should consult your physician to know what is best for you. Also, here's a list of a few questions that you should ask your doctor:
Do I need a knee brace?
Which knee brace should I use for my injury or provide support to my knee?
What should I do if the knee brace fails to provide relief?
There are different kinds of knee braces available on the market, and each one is used for different reasons. For more information, scroll down.
Types Of Knee Braces
1. Functional Braces: These braces control motion to prevent another injury. They are worn to give support to the knees that have been injured in the past. You will find athletes wearing them after a major injury is healed.
These braces are designed to reduce knee instability following an injury to the anterior cruciate ligament (ACL) and additional injuries during athletic activities. Recently, the functional knee brace has been recommended following reconstructive surgery to reduce strain in an ACL graft.
2. Rehabilitative Braces: People generally use these braces for weeks right after an injury or surgery. They keep the knee stable yet allow a little movement while it is healing.
These types of braces work best to protect a reconstructed or repaired ligament and allow early motion of the knee joint. They are also great to protect the knee joints and ligaments and save them from future or recurring injuries.
3. Prophylactic Knee Braces: These are designed to prevent and reduce the severity of ligamentous injuries to the knee. These braces are mostly worn by athletes who play contact sports, such as football.
They guard the medial collateral ligament against valgus knee stresses and also protect the knee joints from being injured again.
4. Unloader/Offloader Knee Braces: These knee braces are ideal for those having arthritis and especially for those individuals who have medial compartment knee osteoarthritis.
They are designed to unload stress from the affected joint and place the pressure on the thigh bone. This is a good pick for people who are waiting to have knee replacement surgery and want to take the stress off their knees beforehand.
You may have come across knee sleeves. Are they the same as knee braces?
Knee Braces Vs. Knee Sleeves: What's the Difference?
Knee Brace
Knee braces are mostly designed and worn to protect a previous knee injury from further damage. The protecting cushioning of the knee brace protects the anterior knee and patella. Knee braces provide limited room for movement of the knee that allows the patient to regain their range of motion in the knee gradually.
Knee Sleeve
Knee sleeves are made of neoprene material and slide over your knees to provide compression, which helps in reducing swelling and minimize pain. Knee sleeves come in a variety of sizes and work well for those with arthritis or mild knee pain. It is the best compression knee sleeve as it provides warmth, limits the patella movement, and can increase proprioception.
Here are the benefits of using a knee brace.
Benefits Of A Knee Brace
It corrects the alignment. It is designed to provide realignment to the knee joint by reducing the pressure on the affected area. It also prevents further wear and tear of the joint.
A knee brace reduces the load on the muscles. It takes the load off the affected muscles of the knee joint and facilitates smooth movement.
It prevents further injury by keeping the knee in a stable position. The steady posture provided by the knee brace prevents the knee joint from overexerting and further damage.
A knee brace provides mild compression and warmth that helps improve blood circulation and provides support to the cartilage and tendons.
A good knee brace is vital to keep your leg muscles and ligaments in good shape.
It can help improve your posture.
Knee braces come in a wide variety to cater to different issues and needs. Hence, it becomes difficult to pin down universal basic features that make for a good knee brace. The choice of knee brace depends on your needs and the qualities you are looking for. However, for your convenience, we have listed out a few shared qualities of all good knee braces.
Knee Brace – Buying Guide
Support: The most important feature to look for in a knee brace is the support it provides. A knee brace with a poor support system is next to useless. A poorly designed knee brace or one that uses poor quality material may not deliver the results you need.
Comfort: Knee braces are designed to be worn during relaxed or strenuous activity. Thus, it is imperative that they be comfortable. Avoid braces that cause chafing or don't fit properly. Comfort is a key factor here since it will not only define your experience of using a knee brace but also affect your movement.
Injury Type: For people with a minor knee injury, a knee sleeve is a right choice. But if your injury is more serious, you need something more sturdy and heavy-duty to provide the support required. For this, you should consult your doctor and choose the best knee brace for yourself.
Material: The material of the knee brace depends on its type. A knee brace may be made up of neoprene, while a rehabilitative knee brace that requires more than just elastic fabric to perform its intended purpose may use something else as well. Your purpose of wearing a knee brace will help you know the material you require.
Size: The size of the brace is also an important consideration. Getting a knee brace too tight or small might do more damage than good. On the other hand, a loose knee brace is just as good as useless. Hence, measure the area just below your knee cap and ensure that the knee brace fits properly. If you are finding it difficult to get a brace that fits you perfectly, consult your doctor for advice or call customer care to help you decide.
Why Trust StyleCraze?
We have compiled a list of the best knee braces for you after conducting extensive research. We have gone through many online forums to check customer reviews to make this list. These knee braces that are perfect for protecting you from knee injuries and nursing the knee when required. Given that our knees are constantly at work, these braces are a must-have.
Frequently Asked Questions
When should I wear a knee brace?
A knee brace is a good buy if you are someone who plays contact sports. Knee braces are mostly used to prevent injuries. Knee braces can also be used for rehabilitative purposes. People with arthritis can also wear a knee brace as it helps to reduce pain and inflammation. Your doctor is the best person to advise you and decide whether you need one or not.
What knee brace should I use?
The type of knee brace you prefer to buy should depend upon the purpose and needs. Consult your healthcare professional as they will be able to suggest a knee brace depending on your needs. If you are planning to buy a knee brace for support, choose a lightweight knee brace as heavier ones are better suited for those with injuries.
How long can I wear a knee brace?
A knee brace can be worn all day. If you have an injury or are participating in a sport, make sure to wear a proper brace for your injury or sport.
How tight should be the brace?
Compression is something all of us will want to experience when using a knee brace. But if the brace is uncomfortably tight, either loosen the strap or go for a bigger size brace. The brace should feel comfortable and provide a level of support based on the individualized needs of the user.
Can wearing a knee brace hurt your knee?
No, it will not cause knee pain or additional injuries if worn properly.
Does a knee brace help arthritis?
Yes, a knee brace like the Vive Hinged Knee Brace help manage the symptoms of arthritis.
Should you wear a knee brace while sitting?
Yes, you can wear a knee brace when sitting or lying down.
Recommended Articles