13 Best Knee-High Boots To Shop Right Now – 2023
Rock all your winter looks while staying warm and stylish with the right footwear.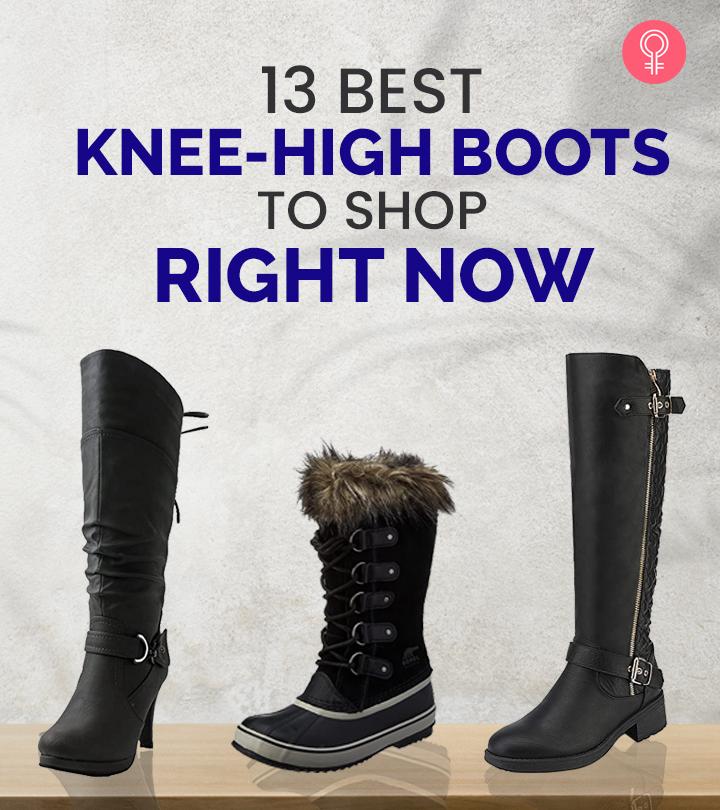 This winter, take your style a notch above with the best knee-high boots for every occasion. Wearing boots have multiple advantages. They keep your feet warm and well protected from blisters. Knee-high boots, as the name suggests, come up to the knees covering your feet and calves. They come in a large variety of colors and interesting designs. Pairing knee-high boots with almost any kind of outfit can give your look an instant upgrade with ease. They have been in trend for years and don't stop turning heads even now. You can find different toebox shapes in these boots to suit the shape of your feet for optimum comfort. Read on to know more about knee-high boots.
What Are Knee-High Boots?
Knee-high boots are fully covered shoes that come up to the knees. They are fitting around the shaft of the leg and the ankle, and are usually a little loose at the top. They look flattering and can make your outfit look much more stylish than you could ever imagine. Knee-high boots also make you look and feel more powerful and come in a large variety of styles, designs, and colors.
We have made a list of the 13 best knee-high boots available online. Check them out below.
13 Best Knee-High Boots For Every Occasion – 2023
These low-heel knee-high boots provide optimum comfort and fit like flat sandals. They are ideal for a hectic day at work or running errands as they will support your feet well. The Over Knee Long Winter Boots are 2 inches high and do not hurt your feet even after a lot of walking around. They have a cushioned latex footbed for all-day comfort. These heels are a great option for those who can't pull off stilettos. For effortless styling and chic looks, add these boots to your wardrobe. Libbie Mugrabi, a New York-based fashion designer, suggests, "These boots can be paired with jeans, a skirt, or a dress making them versatile and a great addition to your outfit."
Pros
Comfortable heels
Suitable for versatile activities
Easy pull-on
Well-cushioned
All-day comfort
Adjustable
Cons
None
Price at the time of publication: $39.98
Price at the time of publication: $66.99
The TOP Moda Page 65 Knee-High Boots are made from synthetic material and have a rounded shape towards the toe front. The slouched shaft design looks stylish and elegant. The pair has a fantastic cushioned insole that ensures all-day comfort. The heel of the boots are not too high and not too low. It is the perfect height to give a smart and stylish look. The lace-up boots can be styled in many different ways to attain an elegant look. You can wear these boots for formal and casual occasions. Libbie Mugrabi, a New York-based fashion designer, suggests, "For a more street style look, these boots are perfect. Add them with an oversized T-shirt band dress or a nice black skirt and an oversized blazer that reaches the hem of the skirt."
Pros
Cushioned insole
Smooth interior lining
All-day comfort
Round toe front
Side zipper
Cons
None
Price at the time of publication: $35.9
The Sorel Joan Of Arctic Boots are made from suede and are waterproof which makes them the perfect option for rainy days. The boots have a rubber sole which makes them non-slippery and sturdy. The extra grip and insulation qualities ensure optimum comfort for all-day wear. They are suitable for an adventurous day filled with loads of physical activities. The classic design is a staple for every wardrobe. Libbie Mugrabi, a New York-based fashion designer, says, "These are the perfect snow boots to have in your closet. They offer style and functionality and you might find yourself wearing them all season."
Pros
Extra grip
Insulation
Waterproof
Washable
Durable
Cons
None
Price at the time of publication: $84
These Globalwin Boots are women's leather knee-high boots that have a good rubber sole making them anti-slip and sturdy. These riding boots are good for multipurpose use. They have the right amount of padding and can be used for various outdoor activities. They are also practical to wear at parties for upgrading your style quotient. Wear them with jeans or skirts during winter and fall. Lastly, its full-length zip makes it very easy to slip on. Libbie Mugrabi, New York-based fashion designer, says, "Everyone needs a classic brown boot. These are perfect to wear with sweater dresses, or with your favorite pair of pants."
Pros
Vegan
High-quality material
All-day comfort
Versatile style
Full-length zip
Cons
None
Price at the time of publication: $79.99
The Hunter Original Tall Rain Boots look cool and can be styled well during the monsoons. The heels are not too high making them practical enough to be worn on a daily basis. These waterproof boots ensure to keep your feet absolutely dry even during the heaviest rains. The pair is handcrafted and designed to fit exceptionally well to give optimum comfort. It has an adjustable strap that helps in customizing the fitting as per the width of your calves. These boots have an exceptionally comforting fit.
Pros
Waterproof
Exceptional fitting
Comfortable
High-traction outsole
Adjustable strap
Cons
None
Price at the time of publication: $91.02
The LifeStride X-Anita Knee-High Boots are well cushioned and made from breathable material. They have a soft foam interior that gives comfort in every step you take. The boots offer good arch support making them a better choice for maintaining balance and stability. The outsole is highly flexible and thus, walking around becomes highly comfortable. Check out these super stylish boots for optimum practicality, ease of wear, and comfort for day-to-day use.
Pros
Flexible outsole
All-day comfort
Cushioned
Breathable
Arch and heel support
Cons
None
Price at the time of publication: $80.85
The Forever Link Strappy Lace-up Boots are super stylish and have buckles at the ankle and towards the top of the calf which makes it easy to get the right fit. It has a lace-up design that keeps the boots in place throughout the day without you having to constantly pull them up. They are made from synthetic material. The sole is made of rubber that ensures a firm grip. The heels are not very high, making them a fit for regular use.
Pros
Buckle strap
Adjustable
Comfortable
Suitable for all seasons including deep snow
Full-length lacing
Cons
The Cape Robbin Hilda Cowboy Boots are certainly a style statement. They have a pointy toe and a print that is going to make heads turn wherever you go. They are made from synthetic material and come up till over the knees. These boots also have the most comfortable block heels that look chunky and comfortable. These statement boots fit almost any leg size and stay up in place. You can style them according to your personal taste to give them a chic or peppy look.
Pros
Chunky and comfortable heels
Stylish print
True to size
Well-priced
Cons
None
If you love wearing heels but have a tough time walking around with ease, the Chinese Laundry Larisa Over The Knee Boots will be the perfect ones for you. They have comfortable and wedge-shaped heels that look stylish and chic. These boots have a rounded toe and a clean design that can instantly add glamour to any outfit. The full-length zipper makes them easy to pull on. The synthetic sole ensures good grip and helps you carry the heels with grace.
Pros
Comfortable wedge heel
Suitable for all occasions
True to size
Good fit
Cons
None
The design of the Inornever Knee-High Boots is unique in every way. Right from the intricate and beautifully designed embroidery to the side fringes, they have a personality of their own. You can pair them with skinny jeans or shorts and instantly give your outfit a ready-to-party look. The boots are made from synthetic material with a suede finish. They can be worn in any weather condition to nail the perfect look. They are the best suede knee-high boots that can be styled with various kinds of outfits and can look fantastic when styled the right way.
Pros
Timeless design
Suitable for all seasons
Suitable for all outfits
Comfortable
Vintage embroidery
Cons
None
Price at the time of publication: $71.99
The Isnom Black Knee-High Boots are super trendy and can be paired with all kinds of clothing for any occasion. It has a rubber sole for good grip and the height of the heels is less than 5 inches. These chunky boots are made from patent leather and are highly comfortable and soft. Apart from the stunning heels, they also have full-length lacing and a side zipper for ease of wearing. They are the perfect pair of boots for dancing, cosplay, and photoshoots.
Pros
High lace-up
Chunky and comfortable heels
Soft synthetic lining
Adjustable
Cons
None
Our list contains a good variety of high-quality boots for women. Among them how will you choose the perfect pair for yourself? Let's discuss some tips that you can keep in mind while choosing a new pair of boots in the section below.
How To Choose The Perfect Pair Of Knee-High Boots
Fitting: When you purchase a pair of knee-high boots for yourself, you must ensure to check how it fits the proportions of your leg. Tight knee-high bootsmay help the boots stay up in their place but they must also have enough space to fit the larger parts such as the calves. Take your measurements and check the size chart before you buy a pair.
Toe Shape: When you are looking for a pair of boots that fit your feet perfectly, it is essential to understand the importance of considering the toe shape. It can be pointy, squared, or rounded. Depending on the shape of your toes and comfort, decide which toebox will suit you the best.
Height: If you are short, then you may consider choosing a pair of boots that are a little lower than your knees. This will help you create a taller image. And if you are a tall person, knee-high boots and over-the-knee boots will look flattering. However, if you have thick legs, you may consider choosing thebest thigh-high boots for thick thighs.
Occasion:Choose a pair that suits your requirement. It can be formal, informal, casual, or party wear. Accordingly, you will be able to look for appropriate designs and styles to suit the environment you need them for.
Color and print: Choosing the right color is essential as it helps you take your look a notch level. The right shade or color will also help you pair it with your outfit with ease. Other than the color, choose a print that has a versatile look.
Material: Knee-high boots come in a variety of materials, such as suede, rexine, leather, and more. Depending on the weather and your personal preference, choose the right type of material for optimum comfort and a chic look. However, smooth leather is striking and looks the most elegant. These days, there's also an option to opt for vegan leather. Vegan leather looks and feels nearly the same as leather. They are also comparatively low-maintenance when compared to suede.
Choosing a perfect pair of the best knee-high boots for every occasion requires you to look into various factors such as style, size, material, color, and print. To ensure that your new pair of comfortable knee-high boots look flattering at all times, refer to our buying guide in order to see what is the best option for you. As the fall and winter seasons approach, your wardrobe must be ready with a good-looking pair of fitted knee-high boots that not only add style but also keep you protected from the cold weather.
Why Trust StyleCraze
The writer of this post, Srijani Roy, curates meticulously structured content to help our readers gain all the knowledge they require. Her expertise lies in the field of makeup and fashion, and she's passionate about researching the best products available across online platforms. Here, she has suggested a list of some of the best knee-high boots that will make it easier for you to choose a pair for yourself.
Frequently Asked Questions
How do I style knee-high boots for different seasons?
Depending on the season and occasion, you can choose to pair your knee-high boots with skinny jeans, skirts, jorts, or dresses. Try choosing outfits that compliment the color of your boots. A smart pair of thermal leggings, knee-high socks, or midi dresses can look equally good with knee-high boots.
Are knee-high boots comfortable?
Yes, knee-high boots are comfortable. Knee-high boots are especially popular in countries that face harsh weather that's cold and snowing. They help in keeping your feet warm and dry. Other than providing protection, it also makes your outfit look glamorous..
Do knee-high boots suit everyone?
Yes, knee-high boots can look flattering on everyone. However, try to choose an appropriate length depending on your height. If you are short, go for something that leaves a little space below your knees, and if you are tall, you can explore longer boots.
How do I keep knee-high boots up?
You can try customizable lace-up designs and tie your boots tightly. Alternatively, you can place double-sided tape in a loop that will help the boots stay up.
Can we wear knee-high boots in summer?
Yes, you can pair your knee-high boots with a denim skirt or shorts in summer and look chic.