8 Best Korean Animal Facial Sheet Masks For Every Skin Type
Keep these masks on for just 30-40 minutes and gain the skin of your dreams.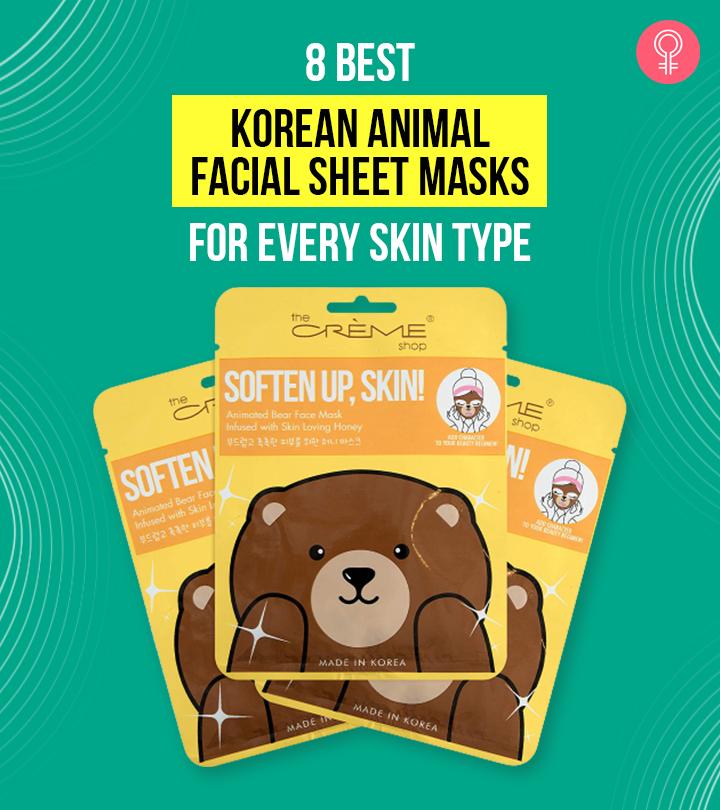 With the emerging K-beauty trends, sheet masks have become one of the quickest ways to hydrate the skin, add glow, or soothe inflammation. We have got some of the best Korean animal facial sheet masks that will treat your troubles in 30 minutes and ensure you have glowing skin at the end. Facial sheet masks are made with fabric and have eyes, nose, and mouth cutouts for easy application. The formula contains serums or nourishing oils that instantly hydrate the skin. These are easy to use, and after use, you will notice your skin has rejuvenated instantly.
If you are love natural care for your skin, you will enjoy using the animal facial sheet mask range. We have listed the 8 best for you. Have a look!
8 Best Korean Animal Facial Masks
The Animal Otter Mask from SNP is a powerhouse of hyaluronic acid, coconut water, and lotus flower extract. It hydrates dry and patchy skin and imparts a radiant and soft look. The hyaluronic acid in the animal sheet mask keeps your skin plump, glowing, and healthy right from the first application. Coconut water, rich in potassium and essential electrolytes, deeply moisturizes your skin. This mask also contains lotus extract that moisturizes the skin and imparts a healthy glow and baobab seed extract that prevents moisture loss. This pack of 10 sheets revitalizes dry and dull skin and transforms it into fresh and healthy skin.
Pros
Non-bleeding ink
Non-irritating
Cute design
Suitable for all skin types
Cons
None
Price at the time of publication: $16.99
This moisturizing sheet mask from BIOAQUA is a perfect way to add some fun to your daily skin care routine. It moisturizes and revitalizes dry and parched skin, gently clears the pores, and improves skin texture. This animal mask is packed with glycerin, jojoba oil, seaweed sugar, vitamin C, and other natural ingredients that nourish, replenish, and soothe the skin and make it soft and supple. The pack includes four variants – Panda, Tiger, Sheep, and Dog.
Pros
Gentle
100% cruelty-free
Contains natural ingredients
Cons
Price at the time of publication: $9.99
The Character Sheet Mask range from Epielle is a fun way to rejuvenate and brighten the skin. It comes in a pack of six and addresses different skin concerns. The Pink Shark mask contains aloe vera and hyaluronic acid that offer intense hydration and glow to the skin. The Dalmatian Mask is rich in charcoal and tea tree that detoxify and clarify the skin.
The Cat Mask is rich in protein and vitamin E that nourish and heal the skin. The arbutin and vitamin E-rich Mermaid Scales mask keeps the skin nourished and glowing. The Blue Narwhal mask is rich in seaweed extract and marine collagen that rejuvenate and firm the skin. The Zebra Mask contains bamboo and herbal extracts to lift and restore the skin. These masks are suitable for all skin types.
Pros
Paraben-free
Sulfate-free
Phthalate-free
Suitable for all ages
Suits sensitive skin
Cons
Price at the time of publication: $12.55
Add some fun to your daily skin care regimen with the masque BAR Pretty Animalz Sheet Mask. It comes in a pack of six with adorable animal face cut-outs. The Tiger Moisturizing Sheet Mask is infused with witch hazel and soybean and mushroom extracts, while the Pig Hydrating Sheet Mask contains extracts of coconut, honeysuckle, and mixed berry fruits.
The Otter Nourishing Sheet Mask is enriched with aloe extract, vitamin E, and collagen, the Horse Firming Sheet Mask contains grapefruit, honeysuckle, and propolis extracts, and the Shark Hydrating Sheet Mask has algae, grapefruit, and flower/leaf/stem extracts. The Monkey Nourishing Sheet Mask is infused with black truffle, soybean seed extract, and grapefruit extract. These masks deeply hydrate the skin and keep it soft and nourished. In this YouTube video, you will find a detailed review of this product.
Pros
Minimizes pores
Cruelty-free
Contains natural ingredients
Cons
Price at the time of publication: $35.88
The E5 Animal Print Sheet Masks come in a set of three cute animal face cut-outs – Panda, Tiger, and Unicorn. While the Panda mask is infused with green tea, the Tiger mask contains aloe vera, and the Unicorn mask is enriched with collagen.
Green tea detoxifies and soothes the skin, minimizes blemishes, and prevents the premature signs of aging. Aloe vera moisturizes and heals the skin, soothes sunburns, and reduces the appearance of fine lines and wrinkles. Collagen promotes cell regeneration, firms your skin, and prevents skin damage due to pollution and UV rays. Overall, these masks are a quick fix solution for your skin woes.
Pros
Vegan
Cruelty-free
Smells good
Value for money
Cons
May cause slight itching and burning.
Price at the time of publication: $17.5
Bid farewell to rough and flaky skin with The Crème Shop's Bear Face Mask. It is enriched with honey that moisturizes and nourishes the skin and tones down skin irritation and acne. Apart from sealing in moisture, this sheet mask fights blemishes for a clear and radiant complexion. It revitalizes the skin and is a great fun addition to your daily skin care routine.
Pros
Gentle
Kid-friendly
Cruelty-free
Gentle
Perfect for everyday use
Cons
None
Price at the time of publication: $10
This animal sheet mask from BRTC instantly brightens your skin to give you a radiant look. It contains nourishing chamomile extracts to calm skin irritation and impart a soothing sensation post-masking. This facial mask is made of 100% cotton.
Pros
Easy to apply
100% cotton sheet
Gentle
Cons
None
This set of nine facial sheet masks from JOSS+LYN includes three tiger masks, three penguin masks, and three panda masks. The penguin mask deeply hydrates your skin, the panda mask enhances glow, while the tiger mask boosts skin elasticity. These masks offer the perfect facial treatment for extra glow and softness. They contain natural ingredients that moisturize, purify, and cleanse your skin and make it look rejuvenated and refreshed.
Pros
Non-toxic dye
Gentle
Easy application
Non-irritating
Cons
None
Price at the time of publication: $9.99
Why Trust StyleCraze?
Shiboli Chakraborti, the author of this article, is a certified skin care coach. Her expertise in the field of skin care motivates her to choose the best Korean animal facial sheet masks for every skin type. She went through several product reviews and user feedback on trusted online sources and brand websites before compiling this list. These products are easy to use and formulated with serums and skin-nourishing ingredients that hydrate the skin.
Frequently Asked Questions
How long do you leave a Korean face mask on?
Leave the face mask on for 15 to 20 minutes for best results. Do not exceed over 30 minutes.
How often can you use a Korean face mask?
You can use a Korean face mask twice a week. Many beauty enthusiasts also recommend using a face mask everyday with your normal skincare routine.
Can I leave a face mask overnight?
Yes, some brands offer masks that may be left on overnight. Wash it off with cold water the next day.
Is it okay to put a face mask on a pimple?
Yes, in fact, some face masks also help reduce hormonal acne and may be used for reducing the appearance of pimples.
How do Korean face masks work?
Korean face masks hydrate the skin and make it plump and glowy. From hyaluronic acid to tea tree oil, the face masks contain nourishing ingredients that control acne, help retain moisture, and soothe your facial skin.
Recommended Articles: