10 Best Korean Blackhead Masks Of 2023 For Radiant Skin
No more stubborn, pesky comedones attacking your face with these salon-quality masks.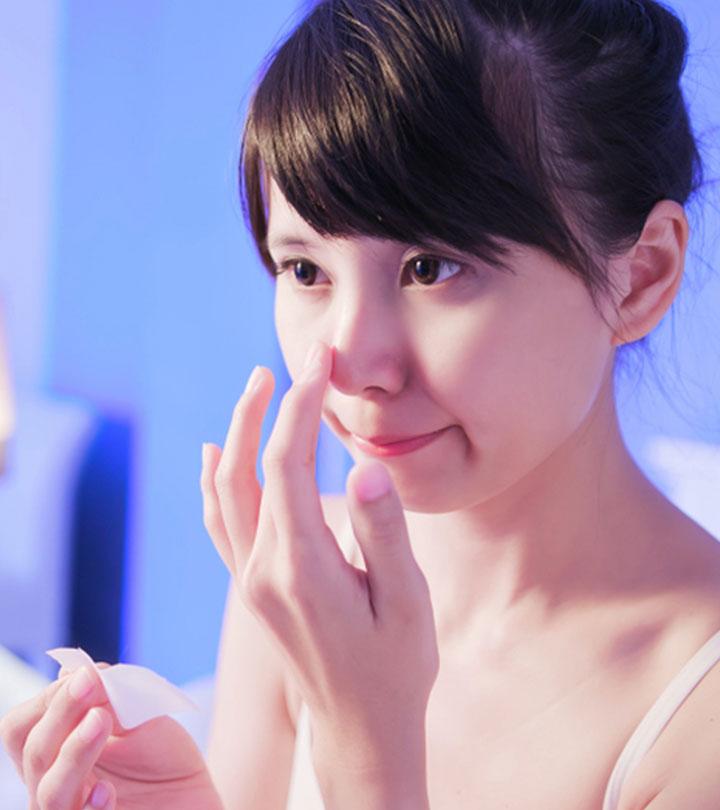 No matter how much you try, those pesky, stubborn blackheads keep coming back again and again, ruining your desire to have glowing and flawless skin. But, before you start extracting out those blackheads, you need to try the best Korean blackhead masks. As your pores, on opening, get clogged with oil, dirt, and other impurities that eventually lead to blackhead formation, you should avoid using harsh scrubs, extracting them manually, or going for suction devices. K-beauty is already popular because of its skin-focussed philosophy, and hence, Korean masks for blackheads address the main concern. It helps cleanse your skin by penetrating deep in your clogged pores and removes dirt, excess sebum, and makeup for gentle blackheads extraction. In the end, you get soft, smooth, and bright skin.
Moreover, there is no need to visit a salon, waste your precious hours, and dig a hole in your pocket. Blackhead masks are infused with many beneficial ingredients, and you can choose one that works best for you. Also, it is very important to follow the instructions correctly while using these masks because doing it the wrong way can harm your skin. We have reviewed the 10 best Korean blackhead masks for skin purification in this article after a meticulous evaluation of formulations, ratings, and user reviews, and hopefully, you will find our recommendations useful. Keep reading!
10 Best Korean Blackhead Masks For Radiant Skin
As the name suggests, this Korean blackhead peel-off mask makes a sweet promise of a glowing and dewy complexion. Its unique holographic formula is a blend of ruby powder, which fights dullness while hydrating hyaluronic acid moisturizes the skin. Rose water offers defense against blackheads by boosting elasticity and soothing inflammation. Niacinamide inhibits oil build-up and acne leaving your skin clear and glowing. In addition, it also contains wild cherry fruit extract, raspberry fruit extract, jojoba seed oil, cranberry fruit extract, cornus officinalis fruit extract, punica granatum fruit extract, amethyst powder, and pearl extract, Their intense hydration potency adds to the radiance of your skin. Ideally, it should be used 2-3 times a week for 20 minutes to give you a post-facial glow. This product is not only good for scar and blemishes but also leaves sparkle on your skin, which is all you need when you're out on that wild night with your friends. The brand does not conduct animal testing. If you like to watch reviews, you can take a look at this video from a skincare enthusiast for more information on the mask.
Pros
Cruelty-free
Vegan
Paraben-free
Sulfate-free
Phthalate-free
Gluten-free
Peels off in one piece
Pleasant fragrance
Value for money
Cons
May not be suitable for oily skin
If your skin is in need of a little pampering and a pick-me-up, this 24K gold, oil-free Korean blackhead mask works intensively to fight blackheads and other impurities in the skin and is especially good for acne-prone skin. It unclogs skin pores, thus preventing acne and blackheads and tones the skin for a clearer, cleaner, and youthful appearance. It is a blend of ingredients like 24K gold, avena sativa extract, and collagen, which absorbs unwanted oil and dirt and balances the oil and water in your skin. It also doubles as an efficient anti-scar and acne-aging treatment. Apply the 24k gold Korean peel-off face blackhead mask on the problematic areas and leave till it dries. Peel it off and enjoy the radiant results for yourself.
Pros
Oil-free
Natural ingredients
Paraben-free
Good for acne-prone skin
Cons
The mask has to be left on for at least 30 minutes.
This Korean blackhead removing charcoal mask features fine charcoal powder that tightens and detoxifies your skin. Charcoal has an unparalleled ability to draw out impurities, bacteria, dirt, and chemicals from the pores, like a magnet. Salicylic acid, a beta-hydroxy acid, does a great job of exfoliation and clears and brightens the skin by removing acne and blemishes. Tea tree, an essential oil, is hydrating and soothing and benefits the skin, nails, and hair. This instant blackhead removal mask also has anti-aging properties, minimizes the appearance of enlarged pores, and reduces blackheads for skin rejuvenation. Sounds amazing, doesn't it? Make sure to check this honest review from a skincare aficionado to understand more about the merits of the mask.
Pros
Cruelty-free
Botanical ingredients
No toxic chemicals
No added fragrance
Cons
Not suitable for sensitive skin types
The Innisfree Pore Cleansing Clay Mask 2X is specially formulated with the goodness of Jeju volcanic clay that offers sebum control and rips off impurities from pores. The presence of lactic acid in this clay helps to remove blackheads, dead skin cells, and exfoliate your skin gently. This deep pore cleansing mask purifies your skin and makes it look even textured. Moreover, AHA infused in the clay mask minimizes the skin's pores to prevent clogging and further acne formation.
Pros
Paraben-free
Suitable for all skin types
Creamy texture
East to spread
Pleasant scent
Visible results in 10 minutes
Cons
None
Need a blackhead elimination mask for your sensitive and dry skin? Try this mask that can take care of your skin woes. Suitable for sensitive skin, it's best applied for 10-15 minutes and washes off easily, giving you soft and smooth skin. Made with 66% lupeol-rich eggplant, it soothes sensitive, inflamed skin while walnut shell powder removes dead skin cells that clog pores. The clay powder absorbs excess sebum to keep the balance of oil and water. So, whether you want a smooth and soft skin texture, are troubled by dry skin, or you need to calm inflamed skin, this cleanser of skin is just the answer. This mud mask can work wonders on your skin. To know more, check this video out from a skincare enthusiast.
Pros
Natural ingredients
Doubles as spot treatment
No added fragrance
Suitable for sensitive skin
Cons
May take some time to witness results
We all have to deal with the ravages of time and the effect it has on our skin. But this fusion mask can prove to be a great help as it combines honey, lavender, and hyaluronic acid for a comprehensive and soothing facial treatment. From preventing oily skin and acne to deep pore cleaning for achieving a flawless, clear complexion, this mask treatment does everything you need. Honey in this skin detox mask works great for unclogging pores, removing blackheads, and acne treatment. Lavender is a natural antiseptic that gently but effectively treats acne and a powerhouse of antioxidants and other phytochemicals that fight free radical damage. Hyaluronic acid which is naturally present in the skin, retains moisture so that tissues are well lubricated. Together they work to exfoliate and brighten your skin while fighting acne and blackheads. The mask is also not tested on animals so put on that mask and greet the world with clear, radiant, and smooth skin.
Pros
Cruelty-free
Natural ingredients
No toxic chemicals
Especially good for oily skin
Cons
Some may find the mask flimsy
As the name itself suggests, after using this product, your skin will practically yell, 'Hey, look at me!' This Korean blackhead remover is specifically designed to remove blackheads on the nose as it unclogs pores. It contains active ingredients such as allantoin, aloe vera, and witch hazel to soothe and moisturize your skin and give it that luminous glow. When wet, the nano gel particles stick to the surface of every whitehead and blackhead, and when it dries, it effectively pulls them out without damaging your skin. And the best part is that this mask for blackheads on the nose also reduces the size of your pores so that the chances of recurrence of blackheads are reduced, and it is also formulated without animal testing.
Pros
Cruelty-free
Sulfate-free
Phthalate-free
Formaldehyde-free
Aloe vera fragrance
Suitable for even sensitive skin
Cons
Some may find that the strip doesn't come off easily
If you want to give your skin an authentic spa-like treatment, it might be a good idea to try out this face mask to get rid of blackheads. Infused with vitamins C and E, the extracts of 7 Alpine herbs, and egg yolk powder, this mask removes dead skin cells, excess oil, and residue makeup. It also maintains the balance of water and oil in your skin and effectively removes blackheads and is a great spot corrector. This Korean blackhead mask is a new concept bubble cleanser with the deep cleansing effect of the microbubble. It has a self-bubbling system as it reacts to skin temperature and makes oxygen bubbles immediately, flushing out your pores. As the microbubbles burst repeatedly, they gently exfoliate dead skin cells and unclog pores, remove excess sebum and makeup, and it just takes 30-40 seconds.
Pros
Cruelty-free
Contains antioxidants
Offers oil and water balance control
New concept bubble cleanser
Cons
If blackheads have been bothering you and you are still looking for a viable solution, do try this blackhead and whitehead remover mask. This charcoal face mask not only clears your skin but also tightens pores and its soft, creamy texture makes it quite easy to apply. This mask is a wonderful combination of black charcoal, black sugar, black garlic, black bean, black sesame, white kaolin clay, and rice extract. These oil-control ingredients absorb excess sebum and clear the skin of all impurities and gently remove dead skin cells. Witch hazel and centella extract soothe the skin and reduce inflammation while rice extract gently exfoliates the skin, leaving your skin soft, smooth, and radiant.
Pros
No paraben
No mineral oil
No phenoxyethanol
No coloring
No fragrance
Cons
May not suit extremely sensitive skin
Tired of persistent blackheads? This Korean blackhead remover mask is a great alternative to the Black Out clay mask for those who prefer peel-offs as its peel-off action gets rid of stubborn blackheads. It can completely clean pores with its healthy black and white component of black charcoal, black sugar, black garlic, black bean, black sesame, white kaolin clay, and rice extract. It also effectively removes even the minutest keratin to improve skin texture and maintains the balance of water and oil in the skin. Its gel formula forms a film on your skin that adheres to the impurities and sebum and gently removes them along with dead skin when peeled off. The end result? Radiant, soft, and smooth skin!
Pros
Paraben-free
Mineral oil-free
Phenoxyethanol-free
Color-free
Fragrance-free
Cons
May take some time to dry off
*The prices provided in this article are based on the latest available information. However, they may vary due to changes in pricing by the seller and/or promotional offers.
Now that we have looked at the 10 best Korean blackhead masks of 2023, here are a few things you need to keep in mind while buying a product for your skin so that you make the right choice for yourself.
How To Choose Korean Blackhead Masks?
Always choose scientifically formulated and clinically verified skin care products that suit your skin type.
With dry skin, you need to choose a mask that has a proven efficacy in moisturizing, nourishing, or hydrating, or you might end up with skin drier than before. Masks that contain ingredients like shea butter, avocado, hyaluronic acid, honey, aloe vera, cucumber, papaya, olive, coconut, or oatmeal, or masks that have antioxidants are great for drier skin types. These ingredients assist in skin impurity removal without harming the skin.
Try to choose a blackhead mask that mentions words like purifying or soothing. For oily or acne-prone skin, ingredients like tea tree, green tea, turmeric, or neem do a great job.
Collagen and hyaluronic acid are the best bet for anti-aging blackhead masks. You can choose a mask that mentions anti-aging, anti-wrinkles, firming, revitalizing, or renewing. Ingredients like pomegranate, blueberry, peptides, or catechin work very well if you're looking for anti-aging properties.
Look out for properties like brightening, lightening, or revitalizing and for ingredients like rice, lemon, yoghurt, milk, potato, turmeric, lotus, rose, tomato, lime, orange, ginseng, or vitamin C if you're trying to remediate dullness of the skin and promote skin renewal.
Moong beans, charcoal, rice, tea tree, camellia, black mud, and green tea are the ingredients you need to look for if you want to minimize the size of your facial pores.
Now that you know how to determine which Korean blackhead mask is best suited for your skin type, here are a few tips on the best way to use them.
How To Get Rid Of Blackheads?
Cleanse you face properly with warm water so that the pores open up. This will enable the mask to penetrate and do a deep cleaning of your pores. It will also remove residual makeup, oil, and dirt.
Apply the mask on your face, avoiding your eyes, eyebrows, hairline, lips and any area that may be sensitive. Apply an even layer and keep it a bit thicker around the edges for easy removal. Leave it on for about 15-20 minutes or as directed.
Make sure it has completely dried–it should not come off on your finger if you touch it. Gently remove it from the bottom of the face and move upwards.
Follow with your regular skin care routine.
Why Trust Stylecraze?
Kirtana Divakar is a skin care enthusiast and loves reviewing new and innovative products for her readers. She unearthed all relevant information about the best Korean blackhead masks available online and sifted hundreds of user reviews to compile this list of the best options out there. This article contains all you need to know about buying these masks, from listing the best options out there to including some pointers that you must consider before your purchase.
Frequently Asked Questions
Do blackhead masks really work?
It's wise that you do your research to see which masks have been scientifically proven to remove blackheads. Blackhead masks improve the appearance of blackheads by removing keratin plugs when used once a week or 2. For best results use steam or a hot towel for about 5-7 minutes before applying the mask as that will help open up the pores and make extraction of excess oil and dirt easier. Black peel-off masks and no-rinse peel off masks effectively remove blackheads as when the mask dries and tightens on your skin, it extracts dirt, oil, blackheads and whiteheads.
Are blackhead masks bad for your skin?
While blackhead masks are quite useful, continuous use of these masks may harm the skin's natural barrier due to their adhesive qualities, resulting in dryness, inflammation, redness, and sensitivity. Thus, using them once in a while is the best way to go about it.
The issue with the blackhead peel-off masks is they remove a layer of your skin along with the needed oil in the pore which leads to irritated, inflamed, and usually dried-out skin. A more effective and safer way to reduce the appearance of blackheads would be to use a light chemical exfoliant 2-3 times a week that contains AHA's, BHA's, and PHA's to gently exfoliate the surface layer of the skin while also breaking down the hardened, oxidized oil, reducing the appearance of blackheads without causing any stress to the skin.
How often should you use a blackhead mask?
It depends on your skin type, your individual skin needs, and also the kind of mask you're using. Some masks should be used once a week as a routine for blackheads, while others can be used upto 3 times per week.
What happens if you leave a blackhead mask on too long?
When left for too long, blackhead masks can cause redness, irritation and inflammation.
Related Articles