15 Best Korean Eye Creams That Actually Work – 2022
Say hello to rejuvenated and glowing skin with these lightweight Korean eye creams.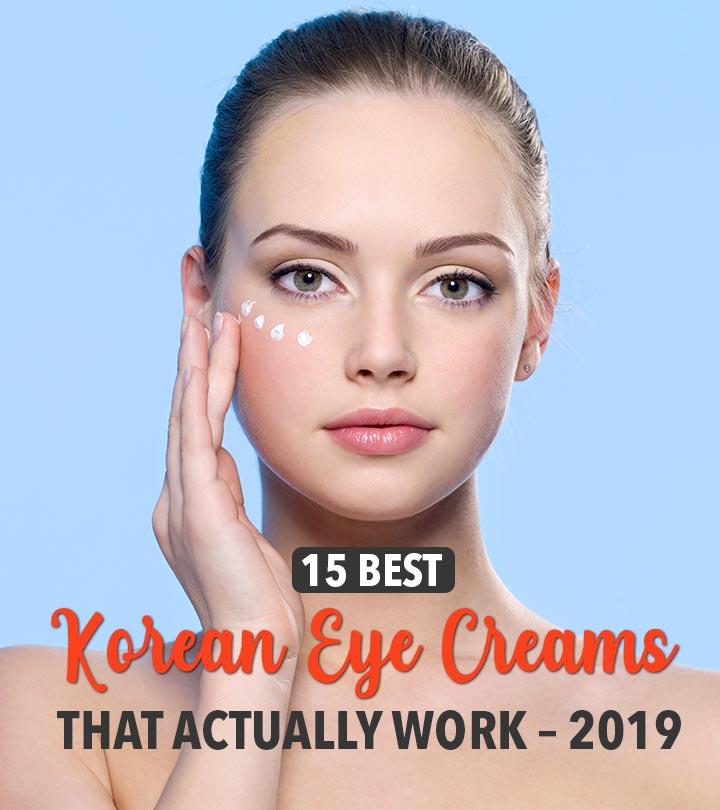 The best Korean eye creams contain hydrating ingredients that keep the skin under your eyes moisturized and glowing. They also improve blood circulation, skin texture and remove fine lines, which makes them a very good investment for your skin. Here is our list of Korean eye creams you can incorporate into your daily skincare game! Scroll down to know more!
15 Best Korean Eye Creams of 2022
Best For: Signs of aging
Product Claims
This eye cream contains one of the most extraordinary ingredients in skin care – snail secretion filtrate. It contains 80% snail mucin that has amazing skin regeneration benefits. It improves dark circles and prevents signs of aging in the area around your eyes. If you want to know more about the results, take a look at this skincare junkie's review on YouTube.
Note: No snails are harmed during product development.

Pros
Anti-aging benefits (certified)
Brightening effect (contains niacinamide)
Contains EGF (Epithelial Cell Growing Factor)
Quickly absorbed
Lightweight
Contains hyaluronic acid
Non-irritant
Cons
None
Best For: Dark circles and puffiness
Product claims
Strengthen the elasticity of the skin around your eyes with the Cosrx Advanced Snail Peptide Eye Cream. The cream is formulated with snail secretion filtrate and sodium hyaluronate that helps in reducing the appearance of dark circles and fine lines, while plumping up the delicate eye area. It is infused with 5 types of peptides that increase elasticity, debuff baggy eyes, and niacinamide that brightens up the area for a rested look. In addition, the cream effortlessly rejuvenates the skin around the eyes, moisturizes and refreshes the skin. If you are still unsure about purchasing, you can check out a review of this eye cream on YouTube.
Pros
Anti-aging
Suitable for all skin types
Lightweight
Pleasant fragrance
Cons
None
Best For: Dark spots and anti-aging effects
Product claims
Brighten the region around the eyes with the Nature Republic Snail Solution Eye Cream. It is infused with 64% snail secretion filtrate that provides radiant, bright skin and reduces the stress around the eyes. In addition, the cream effectively reduces wrinkles and fine lines with the help of snail mucin that stimulates the skin's collagen production. This under-eye cream also promotes skin cell regeneration, reduces redness and inflammation.
Pros
Anti-aging
Suitable for acne-prone skin
Gentle
Travel-friendly
Cons
Best For: Anti-aging and dark circles
Product Claims
Eye cream for the face? No, it is not a mistake. The brand named it this way because the eye cream is so effective that it can be used on the entire face. It contains 15% water and an ultrafine microemulsion system that helps deliver skin fortifying ingredients. This keeps the signs of aging at bay and your eye area bright.

Pros
Clinically tested and proven
Contains snail mucus filtrate
Contains peptides
Non-sticky
Cons
None
Best For: Anti-aging and dry skin
Product Claims
This eye cream is enriched with super collagen water and baobab oil. It rejuvenates the skin around your eyes and keeps it hydrated. It makes your skin firm and keeps it healthy. It can also be used on your face. Check out this YouTuber's review of the product if you require more details about this eye cream!

Pros
Hydrating
Mild fragrance
A little goes a long way
Doesn't irritate the skin
Suitable for all skin types
Cons
None
Best For: Dryness, dark circles, and puffy eyes
Product Claims
This product contains date seed extracts. It brightens the eye area and keeps it refreshed all day long. It is manufactured with a patented peptide formula and loaded with nutrients that improve the hydration levels of the skin and keep it firm.

Pros
Paraben-free
Sulfate-free
Phthalate-free
Suitable for all skin types
Cruelty-free
Fragrance-free
No added colors
Cons
None
Best For: Severe eye wrinkles
Product Claims
This product is specially designed for caring for the delicate and sensitive skin around the eyes. It is a perfect solution for reducing the appearance of severe wrinkles. It contains highly concentrated collagen that improves skin elasticity, keeps it moisturized, and also promotes skin regeneration.

Pros
Contains organic ingredients
Contains hyaluronic acid
Hypoallergenic
Fragrance-free
No artificial color
Paraben-free
Alcohol-free
Cons
None
Best For: Wrinkle care and dark circles
Product Claims
Reduce your dark circles with this revitalizing cream from Bellalussi. It is specially formulated with snail mucus extract that is rich in collagen and glycolic acid. It helps strengthen skin elasticity, eliminates dead skin, and regenerates cells to give you soft and wrinkle-free skin.  The fermented fucose hydrates your skin, while natural HG from fermented beans provides a calming sensation. The cream guards against the free radicals of the skin, which causes the skin to age. It effortlessly reduces the fine lines around the eyes and makes the skin firm.
Pros
Gentle
Pleasant fragrance
Suitable for all skin types
Travel-friendly
Cons
Best For: Puffiness, dryness, and dark circles
Product Claims
This is a lightweight and gel-based formula that is absorbed quickly and provides intense hydration to the delicate eye area. It reduces dark circles and puffiness to make the eye area look healthy and radiant. It has a 5-Hydra complex formulation that protects the moisture barrier of the skin.

Pros
Paraben-free
Sulfate-free
Phthalate-free
Hydrating
Quick results
Cons
None
Best For: Under eye dark skin
Product Claims
Nourish your under-eye skin and face with AHC Essential Real Eye Cream. This cream is formulated with a nutrient-rich composition of vitamins and peptides that quickly absorbs into your skin. It helps address the appearance of fine lines and dullness around the eyes by improving the texture, tone, and elasticity of the skin. The all-in-one formula comes with anti-aging properties that help to de-puff eyes. In addition, it helps to improve the overall complexion of the face.
Pros
Lightweight
Easy absorption
Suitable for all skin types
Value for money
Cons
Sensitive skin may need to follow patch test
Best For: Anti-aging, firmness, and puffiness
Product Claims
The eye cream is formulated with the BioDtox complex that helps to minimize the damaging effects of harmful free radicals on the delicate skin around your eyes and improves elasticity. It keeps the skin moisturized and reduces puffiness and dark circles.

Pros
Paraben-free
Mineral oil-free
No synthetic dyes
Suitable for all skin types
Cons
None
Best For: Wrinkle around eyes
Product Claims
Hydrate your eye region with the Papa Recipe Honey Micro Repair Eye Cream. The cream is formulated with two essential ingredients, manuka honey, and royal jelly extract. Both of these ingredients provide intense moisturization to dry, damaged, and rough skin. As a result, your eye area is nourished and free of fine lines, wrinkles, and eye bags. In addition, this anti-aging eye cream effectively takes care of the skin's elasticity to improve your skin tone.
Pros
Suitable for sensitive skin
Great absorption
Irritation-free
Non-sticky
Cons
None
Best For: Wrinkles and skin texture
Product Claims
Innisfree is one of the leading Korean skincare brands. The Jeju orchid eye cream is meant to reduce the signs of aging around the delicate eye area. It provides all-day protection to the delicate skin and prevents dryness. It is absorbed fast, reduces wrinkles, and improves the elasticity of the skin around your eyes.

Pros
Suitable for all skin types
Non-greasy
Doesn't irritate the skin
Cons
The packaging is not hygienic.
Best For: Wrinkles
Product Claims
This is a hydrating eye cream that keeps the delicate eye area moisturized. It prevents fine lines and the appearance of crow's feet and wrinkles to make your eyes look vibrant, alive, and youthful.

Pros
Contains ceramide water
Paraben-free
SLS-free
No harmful chemicals
Cons
May not suit sensitive skin types
Best For: Toning the eye area and wrinkle reduction
Product Claims
Rejuvenate the skin around the eyes with the Isntree TW-Real Eye Cream. The cream comes with a unique formulation that reduces dark circles, rejuvenates the skin around the eyes, reduces puffiness, and minimizes the dull complexion. It is enriched with moisture-rich natural ingredients like shea butter and mango seed butter for providing nutrition deep into the skin. Its patented complex containing 3GF and BIFIDA ferment lysate improves the skin barrier and protects the skin from environmental stressors. Overall, it will help make you appear youthful by brightening and toning the eye area and reducing the appearance of wrinkles.
Pros
Hypoallergenic
Non-comedogenic
Unisex product
Fragrance-free
Cons
This was our list of top 15 Korean eye creams. If you are wondering why you need an eye cream when you can use your daily moisturizer to keep your eye area in good shape, here's your answer.
Why Do You Need An Eye Cream?
The area around your eyes is more delicate than the rest of your face. Eye creams are formulated in a way that they can penetrate the skin around the area better than your regular creams. Eye creams contain more oil than your regular moisturizers and other beneficial ingredients to address issues, such as puffy eyes, wrinkles, and dark circles.
Before you pick an eye cream, there are a few things you need to consider.
Things To Consider Before Buying An Eye Cream
1. Hydration Level
This depends on your skin type. If you have dry skin, look for eye creams that are oil-based and can provide an extra layer of moisture. If you have oily skin, pick an oil-free eye cream that contains other hydrating ingredients, such as glycerin.
2. Ingredients
Checking the ingredients is essential as not all of them can address all issues. Depending on your needs, go for eye creams that contain related ingredients. However, make sure that whatever you pick contains retinol as it helps minimize signs of aging in the area around your eyes.
3. Fragrance
Artificial fragrance can often irritate sensitive skin. You can always go for fragrance-free eye creams. However, if you are picking an eye cream with fragrance, make sure that it does not irritate your skin and will maintain its natural pH balance.
4. Packaging
Eye creams often contain antioxidants. When exposed to air, these products may lose antioxidants. Good packaging is what will keep your product effective for long. Check whether the packaging is airtight or not.
Proper application is also an essential factor that you need to consider. Here are a few tips that you may follow while applying eye cream.
Tips To Apply Eye Creams Properly
Tap or press the eye cream on the skin. Apply it with extremely gentle, sweeping strokes and keep pressing and tapping lightly so that the skin absorbs it better.
Avoid applying pressure in a way that the skin stretches as you apply the eye cream. If the skin is moving and stretching along with your finger movements, you are applying too much pressure.
Let the cream settle and your skin absorb the ingredients before you apply the next product. Wait for a minute after application.
Why Trust Stylecraze?
The author, Shiboli Chakraborti, is a certified skin care coach. She reviewed an extensive range of Korean eye creams to curate this list of the best eye creams suitable for your skin. Her selection is based on in-depth research of the beneficial ingredients of the products. She also checked user reviews and feedback to shortlist only the best and effective products for the list.
Frequently Asked Questions
Which Korean under-eye cream is best?
The Mizon Cosmetics Snail Repair Eye Cream is the best Korean under-eye cream as it is infused with anti-aging benefits. This lightweight cream contains 80% of snail mucin that regenerates the under-eye area, and niacinamide and hyaluronic acid hydrate and brighten the dull areas.
How do Koreans take care of their eyes?
Koreans follow a special routine to take care of their eyes. They apply a suitable eye cream under their eyes gently in circular strokes, following up with a moisturizer and sunscreen. This is how they protect their eyes from early signs of aging and related damage.
What age should you use eye cream?
Good quality eye creams are harmless skin care essentials, and one must start using them in their 20s. Although you may not see the point of using eye creams so early, using them before the damage is done is a better way to prepare your skin for the age-related challenges.
Is it better to use eye cream at night or morning?
While you can apply an eye cream at any time of the day, using it before going to sleep at night is more effective. This allows the product to settle in properly and absorb into your skin better. A good night's sleep is all that your eye cream needs to treat your skin issues.
Should I put eye cream on my eyelids?
No, it is not recommended to put your eye cream on your eyelids as it increases the risk of getting into your eyes. This may lead to severe irritation and burning sensations in your eyes.
Can eye cream cause more wrinkles?
No. Eye creams contain essential oils and potent ingredients that prevent the development of wrinkles and fine lines. However, stay clear from products with petroleum and mineral oil that damage the delicate skin tissues around your eyes and cause premature wrinkles.
Recommended Articles