9 Best Korean Eyebrow Pencils Of 2022
Style the brows to get a perfect arch and enhance your features to make heads turn your way!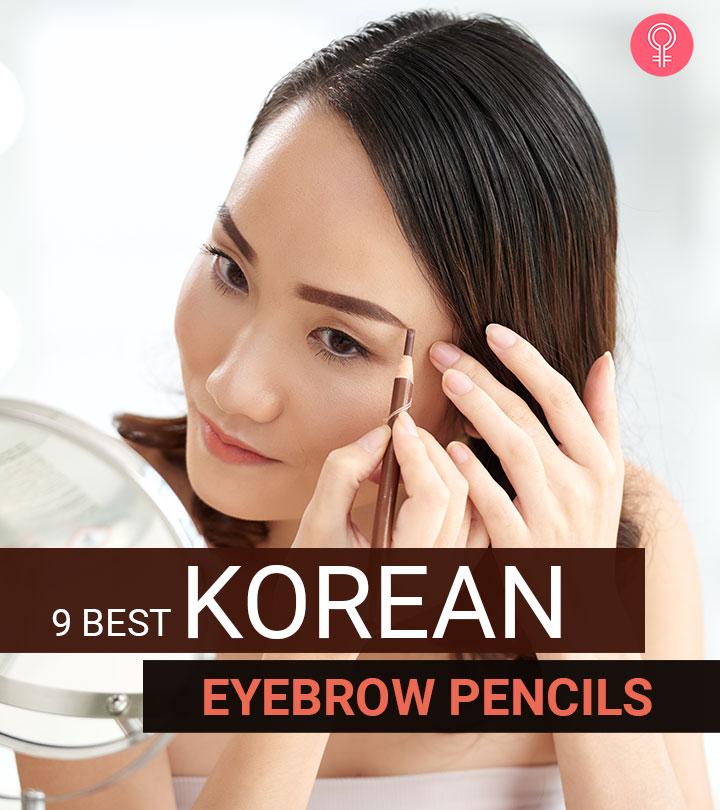 If you are looking to add more products to your Korean beauty collection, investing in one of the best Korean eyebrow pencils could be a good idea. Eyebrows are one of the most spectacular features on our faces, and the way you style them can draw attention to the best features on your face. You don't need to spend a lot of money to buy one. With a lot of colors and shapes available, you can buy the perfect Korean eyebrow pencil, and you are good to go! To help you get the perfect arch, here is our list of the top Korean eyebrow pencils you can buy. Scroll down to know more!
The Best 9 Korean Eyebrow Pencils Of 2022
If natural-looking eyebrows are what you are aiming for, try the ETUDE HOUSE Drawing Eye Brow Pencil. Its tip is triangular, and the angle allows you to create precise hair-like strokes over your eyebrows. It contains vitamin E that moisturizes your eyebrows and ensures the product goes on smoothly.
This eyebrow pencil is resistant to high temperatures – no more smudging when you step outside on a scorching day. It is not overly pigmented and is buildable, which gives you control over the color payoff. To use, fill in the brows with hair-like strokes. If you want thick eyebrows, apply the product using the wide side of the tip. Comb out the eyebrow using the brush end for a natural look.
Pros
Smudge-free
Paraben-free
Reasonably priced
Triangular tip
Cons
May cause skin irritation
YRYM HT Tattoo Eyebrow Pen comes in four colors – chestnut, brown, black, and dark gray. This microblading pen has four tips to help you fill in your eyebrows like a pro. It also lets you draw on very natural-looking brows. It is waterproof, sweat-proof, smudge-proof, and stays on for the entire day. However, ensure that you keep the lid on when you are not using it, or it will dry quickly.
Pros
Waterproof
Sweat-proof
Oil-proof
Smudge-free
Long-lasting
Easy to use
Four-tip pen head
Cons
Very little product in the pen
Dries up quickly
The Rothough Lioele Auto Eyebrow has a slanted head that makes drawing the eyebrows extremely easy. It has a creamy consistency and goes on super smoothly. The color is long-lasting and stays on until you remove it.
It is particularly suitable for brunette girls who want their eyebrows to match their hair, but do not want them to look unnaturally dark or intense. The color is buildable, so you can layer it on if you want a better color payoff.
Pros
Cool-toned
Glides easily
Buildable
Slanted tip
Cons
The Holik Holika Wonder Drawing Eyebrow Pencil is highly pigmented and great for drawing on natural-looking brows. It comes in a neutral brown shade, has a triangular applicator, and is easy to use.
The pencil glides on smoothly. It comes with a brush on the other end to comb through your eyebrows and shape them. What sets this pencil apart from others is its ability to fill in just a spot or two among eyebrows instead of drawing on the entire brow. To find out more about this product, check this video review out.
Pros
Triangular tip
Great pigmentation
Great quantity for the price
Smudge-free
Long-lasting
Cons
None
This brow pencil by PONY EFFECT has an extra-fine 1.5mm tip that allows you to make hair-like strokes for perfectly natural-looking brows. It has a spoolie brush on the other end for combing through your brows to shape them. It comes in three colors – natural brown, deep brown, and ash brown.
The long-lasting formula stays on all day – no touch-ups required! To use, start drawing hair-like strokes at the tip of the brows and keep making light strokes until you reach the brows' end. Repeat if you want darker eyebrows.
Pros
Ultra-fine tip
Smudge-free
Long-lasting
Sweat and water-resistant
Cons
If vivid eyebrows are your thing, go for the Laneige natural brow Korean pencil liner. It stays on all day without getting smeared. This pencil comes in the stone gray shade and is buildable. It has a screw brush attached to the end that allows you to brush through your eyebrows to distribute the color evenly. To use, fill in the sparse areas and comb through.
Pros
Includes extra color cartridge
Buildable
Creamy
Durable
Cons
None
The CLIO Kill Brow Auto Hard Eyebrow Pencil is double-ended and a must in your makeup arsenal. It provides the combined results of an eyebrow pencil, powder, and wax. This eyebrow pencil has a hexagon-shaped tip that lets you define and fill in the brows perfectly. For best results, use the pointed edge to outline your brows, and fill it using the wide base. The tip is retractable.
The formula is long-lasting, so you need not worry about touch-ups. It contains a balance of oil and wax, which makes it sweat-resistant, water-resistant, and oil-resistant. This eyebrow pencil is also smudge-free. It comes with a soft brush on the other end to let you blend the product and groom your eyebrows. The spoolie brush can be twisted open to access a sharpener for your pencil.
Pros
Clump-free
Hexagonal tip
Built-in sharpener and spoolie brush
Long-lasting
Cons
None
The MISSHA Perfect Eyebrow Styler comes in the shade dark brown, which goes with most hair colors. It has a long-lasting formula that stays on all day. This eyebrow pencil has a soft color that can be layered on for a more dramatic look.
It has a slanted tip that makes it extremely easy to angle and draw over your eyebrows. The eyebrow pencil comes with a spoolie brush on the other end, which allows you to brush through your eyebrow hairs and style them easily.
Pros
Buildable
Creamy
Good pigmentation
Cons
The ARITAUM Matte Formula Eyebrow Pencil provides texture and color to your eyebrows. This eyebrow pencil comes in a light brown shade. It gives you natural-looking eyebrows within minutes. The pencil has a creamy texture and glides on your eyebrows easily. You must sharpen it to get a pointed tip as it comes in a basic pencil form.
Pros
Good pigmentation
Glides on easily
Long-lasting
Cons
Breaks easily
Does not include a sharpener
These are the 9 best Korean eyebrow pencils that you can buy. Now, you must be wondering why use a Korean eyebrow pencil when there are so many good American ones available on the market? Here's your answer.
How Are Korean Eyebrow Pencils Different From American Ones?
The American eyebrow pencils can create a natural arch to highlight one's eye shape. That is precisely why American eyebrow pencils have stronger textures and are thick through the tube. They are excellent for drawing strong, dramatic, and intense brows.
However, if you prefer a more natural look, go for a Korean eyebrow pencil. Korean eyebrow pencils are more powdery, lighter, buildable, and not as bold as American eyebrow pencils. Koreans prefer softer, subtle brows. If you want to buy one, listed below are a few tips for you.
How To Choose The Best Korean Eyebrow Pencil
How do you know which Korean eyebrow pencil to choose? Well, all you have to do is determine whether the pencil features the four key elements that all quality eyebrow pencils have:
All good quality eyebrow pencils come with a spoolie brush. It makes it much easier for you to brush through your eyebrow hairs before filling them in.
Ensure that your eyebrow pencil is waterproof and preferably smudge-proof and sweat-proof. Otherwise, the color will run all over your face.
Check whether the pencil's tip is oval, square, or rectangular – get one that would be easy for you to maneuver.
Go for an eyebrow pencil color that matches your hair or is darker – unless you want a dramatic look, which is fine too!
The best Korean eyebrow pencil can make your life so much easier – you won't need to put in extra effort into looking presentable. Just fill those brows in, swipe that lipstick on – and you are done! You can even go out bare-faced and conquer the world if your eyebrows are on fleek! To get those perfect natural-looking eyebrows, get one of these amazing eyebrow pencils, and transform your brows. Happy shopping!
Why Trust StyleCraze?
Baishali Bhattacharya, the author of this article, is certified in makeup artistry and loves to provide a well-curated list of products for her readers. She suggests using the best Korean eyebrow pencils to get the perfect brows. For this article, she analyzed unbiased reviews from the users and went through various platforms for user feedback. These clump-free eyebrow pencils are long-lasting and skin-friendly.
Frequently Asked Questions
What do Koreans use for their eyebrows?
Many Koreans use eyebrow pencils and brow tints for their eyebrows. Using these products helps them achieve perfectly-defined brows.
How do you use a Korean brow pencil?
Comb your brows gently up and out. Draw hair-like strokes from the tip of your brows and repeat the process till the end. Make sure that your brows match each other.
Why do Koreans prefer straight eyebrows?
Many Koreans prefer straight eyebrows because it offers a youthful look. Straight eyebrows also make your face look naturally toned and more defined.
Is Shu Uemura eyebrow pencil good?
Yes, Shu Uemura eyebrow pencils are good. They are long-lasting and keep the natural look of your brows intact.
Recommended Articles