The 13 Best Korean Face Masks For Fresh And Healthy Skin
No one is doing skin care better than Koreans! These face masks are testimony to it.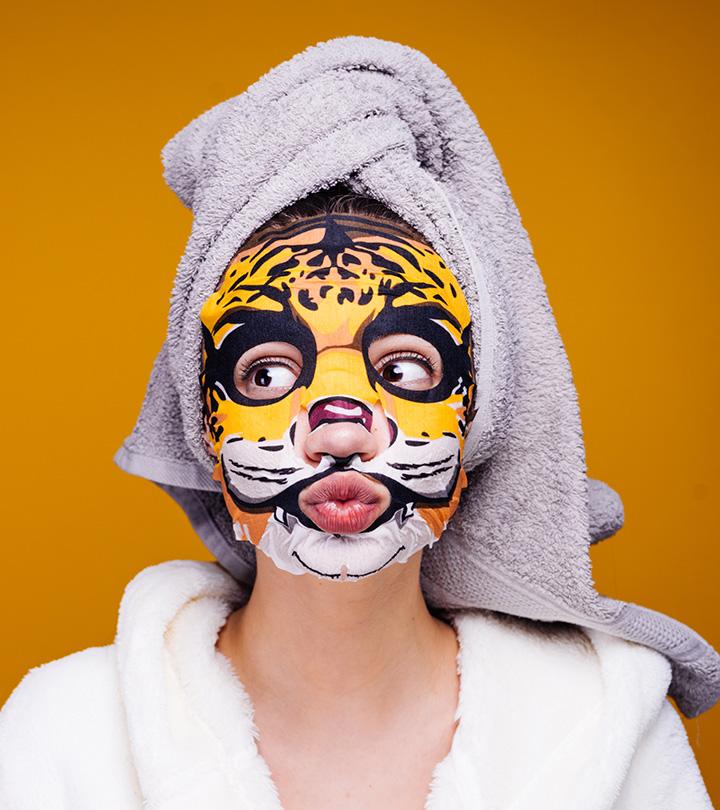 Having healthy, clear skin free from acne, dark spots, or blemishes is a dream for many. You can achieve that glossy, fresh skin with the proper skin care routine. And what better way to enhance your skin care regimen than the best Korean face masks? K-beauty products are known for their innovative formulations and effective ingredients. These Korean face masks are available in the form of gels, sheets, peel-offs, creams, and clay masks. They are easy to use – you just need to apply, wait, and remove. And they are designed with a variety of safe and natural ingredients to address several skin concerns.
Select the right face mask that is suitable for your skin type and concern to reap the maximum benefits. While tons of options are available on the market, picking the right one can be a challenge. We have made your job easier by narrowing down the options. In this article, we have listed the 13 best Korean face masks for fresh, healthy skin. These have a good number of reviews on various online platforms that show positive people's response. We are sure you will find the one suiting your needs. Use it regularly and notice how your skin improves with time. Continue reading.
13 Best Korean Face Masks To Use In 2023
Wouldn't you love to use a face mask that is clarifying and entertaining at the same time? If your answer is yes, then the Elizavecca Milky Piggy Carbonated Bubble Clay Mask is just the right product for you. It is efficient in refining pores and removing dirt, and is one of those Korean clay masks that start bubbling upon application, which is a fun sight to see. It is packed with the goodness of green tea, charcoal, lavender, rosemary, peppermint, kaolin, collagen, pomegranate, allantoin and carbonated water among others. Get a bright glow on a face that is free of clogged pores. Watch this video for more information about the product and the reviewer's experience.
Pros
Unclogs pores
Illuminates the skin tone
Organic ingredients
Cruelty-free
Fun to use
Cons
Contains parabens
Might cause skin to dry up
Users with sensitive skin might have allergic reactions
Price at the time of publication: $28.98
You'll find a solution to every skin concern with the TONYMOLY I'm Real Sheet Mask. Each mask in the collection is composed of various primary ingredients like aloe, tea tree, rice, etc., that address skin dryness, rough texture, hyperpigmentation, inflammation, and more. The anti-inflammatory masks help reduce redness, are simple to use, and provide intense nourishment with just one application. They're perfect for anyone looking for a quick boost of hydration and radiance. The sheet mask is made of eco-friendly materials and features unique fit technology for simple application anytime, anywhere.
Pros
Suitable for all skin types
Travel-friendly
Easy to use
Gentle on skin
Cruelty-free
Talc-free
Paraben-free
Artificial dye-free
Cons
None
Price at the time of publication: $3
Exfoliate to reveal a brighter looking skin with the use of Skin food Black Sugar Mask Wash Off. Enriched with minerals and vitamins, this Korean facial mask helps to remove the dead cells, helping to boost the natural glow of the skin. It has ingredients like glycerin, candelilla wax, shea butter, meadowfoam seed oil, macadamia nut oil, caramel etc. Eliminate blackheads, lift dull complexion and boost your skin with vitamins and minerals to give it a soft glow that makes the skin look supple and healthy. This video helps you know more about the product and details the reviewer's experience.
Pros
Loaded with vitamins and minerals
Exfoliates skin
Natural ingredients
Can double up as a face scrub
Cons
Contains parabens
Users with sensitive skin might have allergic reactions
Price at the time of publication: $6.99
The Sugar Kitten Holographic Hydrating Peel-Off Mask from I Dew Care helps in bringing out the brightness of the skin. This Korean peel off mask is fortified with organic ingredients like chia, gotu kola, jojoba, cranberry, raspberry, wild cherry, japanese cornel, pomegranate, etc. Apart from these it has pearl extract, ruby, topaz, amethyst, diamond and tourmaline which helps to remove dullness from the skin. The hyaluronic acid in this korean tightening face mask removes dead cells, helps in hydration and locking in the moisture of the skin.
Pros
Paraben-free
Gluten-free
Cruelty-free
Phthalate-free
Natural ingredients
No animal testing conducted
Cons
It might dry out the skin upon usage.
Why It's Worth Buying: It has received over 6,459 rave reviews on Amazon, proving it is a cult favorite product.

Price at the time of publication: $19.0
Cosrx Ultimate Nourishing Rice Overnight Spa Mask is a skincare product that is suitable to be used on all skin types. As you indulge in this spa-like treatment, your skin will be energized and rejuvenated, revealing a bright and radiant complexion. This Korean skin care mask has more than 68.9% rice extract along with other ingredients like sunflower seed oil, palm oil, palm kernel oil, glycerin, niacinamide and others. The gentle formulation of this korean overnight mask helps lock in the moisture of the skin, all the while lending it a sheen that is unmissable. Get bright skin that is intensely nourished, with the use of this spa-like overnight face mask. Check out this video to know more about this product and the tester's experience.
Pros
Vegan
Cruelty-free
Paraben-free
Organic ingredients
Suits all skin types
Cons
Users with sensitive skin might develop allergic reactions
Price at the time of publication: $18.0
Glow Recipe brings the clinically-proven Watermelon Glow Sleeping Mask that helps in hydration and brightening of the skin. This Korean sleeping mask is made with potent ingredients like watermelon extracts, pumpkin extract, alpha-hydroxy acid(AHA) and hyaluronic acid to name a few. This bouncy, fruit-powered face mask is perfect to be used after a tiring day. Just apply it, sleep, and wake up to rejuvenated skin that is glowy and radiant.
Pros
Cruelty-free
Paraben-free
Sulfate-free
Phthalate-free
Synthetic dye-free
Clinically-tested
Vegan
Cons
Some users might feel a sticky layer on the skin upon using the product
Price at the time of publication: $32.33
Are you looking for a rejuvenating skincare product for your dull and tired skin? Look no further as Laneige brings to you the dermatologically tested Water Sleeping Mask. This Korean hydrogel face mask incorporates ingredients like hydro-ionized mineral water, apricot, orange flower, rose, sandalwood, evening primrose, and others that are proven to deliver visible results. All these work to lend a calm scent and a nourishing skin experience to the user and helps them to wake up refreshed. Use this Korean moisturizing face mask and get ready to kick-start the new day.
Pros
Paraben-free
Phthalate-free
Dermatologically tested
Non-comedogenic
Cruelty-free
Clinically-tested
Cons
Might cause dryness on the skin upon usage
Price at the time of publication: $29.0
The SeoulCeuticals Hyaluronic Acid Jelly Mask is a Korean face mask made of skin care ingredients that are 99% natural and 72% organic. It contains rice bran, rosehip, vitamin B5, and hyaluronic acid, which work together to give you plump, refreshed, and healthy skin. It minimizes pores and improves skin elasticity. It has a jelly-like texture, so it won't completely dry out like a traditional clay mask. This anti-aging face mask is suitable for all skin types and can become a go-to solution for glowing, youthful skin.
Pros
Easy to use
Soothing fragrance
Paraben-free
Cruelty-free
Vegan
Visible results
Infused with all-natural and organic ingredients
Cons
None
Price at the time of publication: $19
Say bye to dull and tired eyes by using the Collagen Eye Patch from Etude House. This Korean collagen mask for the eyes is made from ingredients like collagen, vitamins, castor oil, peony root extract, pennywort, matricia flower extract and green tea among others. This formulation helps get rid of puffy eyes, dark circles and under-eye bags. This collagen bounce mask is also effective in providing instant hydration and firmness to the skin around the eyes. 
Pros
Hypoallergenic
Natural ingredients
Suits all skin types
Dermatologically tested
Cons
Contains parabens
Contains alcohol
Price at the time of publication: $9.2
Rael Bamboo Hydration Facial Sheet Mask is one of those amazing Korean sheet masks that leaves the skin feeling fresh and hydrated instantly. This skin-balancing bamboo face mask is enriched with the extracts from fruits like pineapple, grapefruit, orange, and other ingredients like sweet almond, arginine, collagen, hyaluronic acid, bergamot, anise, etc. The ingredients work together to provide optimal hydration and smoothing benefits, enhancing the overall appearance of your skin. Flaunt a dewy looking, smooth skin with the use of this bamboo sheet mask.
Pros
Vegan
Paraben-free
Silicone-free
Phthalate-free
No artificial fragrance
No artificial dyes
Cons
Some users might have allergic reactions upon usage of the product
Price at the time of publication: $14.99
 Bring home the 6 Variety Pack of Sheet Mask Heroes from Mediheal and experience the luxury of a spa just about anywhere. Each sheet is carefully enriched with a host of potent ingredients to suit different skin types. These Korean cotton face masks have ingredients like collagen, tea tree, charcoal, hyaluronic acid, witch hazel, chamomile, aloe vera, glycolic acid, jojoba, ceramide, mushroom, acai, niacinamide, etc. They help in moisturizing, calming, firming, brightening, nourishing and tightening of the skin.
Pros
Dermatologist tested
Naturally-derived ingredients
Paraben-free
Sulfate-free
Alcohol-free
Cruelty-free
Cons
Some users might find the size of the mask smaller than expected
Price at the time of publication: $16.49
Dr. Jart Vital Hydra Solution Deep Hydration Mask Sheet is a skincare product that helps to lock-in the skin's own moisture. This Korean cellulose sheet mask is fortified with aquaxyl, xylitol, algae extract, oligo-hyaluronic acid, etc. All these ingredients help in deeply nourishing the skin and hydrating it. The vital moisture of the skin is protected as it helps strengthen the functional barrier to trans-epidermal water loss. Get supple and healthy looking skin with the use of this deep hydration cellulose sheet mask.
Pros
Paraben-free
Phthalate-free
Sulfate-free
Natural ingredients
Clinically-tested
Dermatologist-tested
Cons
Users with sensitive skin might develop allergic reactions
Price at the time of publication: $11.86
Say goodbye to dull and tired-looking skin and get a powerful dose of antioxidants with the SKIN1004 Witch Pack. This creamy textured mud face pack contains green tea in various forms such as green tea water, powder, extracts, and oil, which all work together to clear and purify the skin. The mask is ideal for deep pore cleansing and helps in sebum control. It prevents acne by removing impurities from the skin and protecting it from environmental aggressors. Apply this acne-fighting mask to your face, neck, or hands with the included applicator brush for glowing skin!f
Pros
Non-irritating
Instant cooling and soothing
Enriched with natural ingredients
Easy to apply
Paraben-free
Cons
None
Price at the time of publication: $18
Buying Guide 
How to choose Korean face masks?
Buying a Korean face mask to suit the needs of your skin can be a tricky thing. To ease out this dilemma, we have listed down the face masks to choose for different skin types and other particular needs.
Dry Skin- A face mask that says hydrating, moisturizing or nourishing would be the best choice for people with dry skin. Ingredients like cucumber, aloe vera, avocado, hyaluronic acid, shea butter, honey, olive, oatmeal, papaya, coconut, antioxidants, etc help in locking in the moisture of dry skin.
Oily Skin-Oily skin easily tends to break into acne, hence ingredients like green tea, turmeric, charcoal, tea tree, neem, aloe vera, etc. control oil and help in keeping acne at bay. Masks that say purifying or soothing would be a great choice for oily skin.
Dull Skin- A brightening or lightening face mask is ideal to be used on dull skin. You can choose a mask with ingredients like rice, lemon, yogurt, milk, potato, turmeric, lotus, vitamin C, tomato, orange, ginseng, or lime.
Anti-Aging- An anti-aging mask would have collagen and hyaluronic acid as its key ingredients apart from other ingredients like pomegranate, blueberry, peptides, catechin, etc. A mask that mentions renewing, revitalizing, anti-wrinkle, firming or anti-aging can be chosen.
Pore care- If you face skin problems caused due to open pores, then a purifying or pore-care mask is the one for you. You can choose from ingredients like green tea, black mud, charcoal, mung beans, tea tree, rice, or camellia.
In addition to this, select the masks that have positive reviewer's experience for narrowing down the search.
How to use Korean face mask?
A Korean face mask is very easy to use. Cleanse your face and pat it dry. Take out the face mask from the packet, unfold it and apply it on the skin, pressing it down to make sure that it covers the face well. After letting the mask rest on the face for 15-20 minutes, gently remove it and take the extra serum left in the packet and pat it onto the skin. Do not wash your face after using the face mask; allow the serum to be absorbed well into the skin for best results.
Why Trust StyleCraze?
The author of this article, Krati Darak, is a skin care enthusiast and a big fan of sheet masks. The list of these best Korean face masks was curated after thorough exploration and reading many consumer reviews, making readers' choice easy. She says that these masks are a must-have in any skin care regime and are made with the best ingredients. Using them regularly keeps blemishes, dark spots, and acne at bay.
Frequently Asked Questions
Do Korean face masks really work?
Mostly yes. A face mask stays on the skin for a longer period of time, keeping the skin moisturized enough for it to absorb the nutrients of the mask more effectively.
How often should you use Korean face masks?
A hydrating face mask can be used daily but face masks that have anti-aging, exfoliating or detoxifying properties should be used less frequently.
Do face masks remove blackheads?
Face masks can provide a temporary solution by removing the plug of the blackheads. However, it is not proven that a face mask can remove blackheads completely.
Can you reuse Korean face masks?
Yes. It can be reused one more time, provided it is washed and sanitized and used the very next day.
Should I moisturize after using a Korean face mask?
You may moisturize your face after using a Korean face mask for an intense boost of nourishment. Then, continue with your skin care regime, including a toner, moisturizer, serum, and sunscreen to protect your skin.
When should you use a Korean face mask, morning or night for best results?
This depends on the quality of the mask. If the mask is creamier and richer, use it at night, so it stays on your skin longer. If the mask is lightweight, use it in the morning for a quick glow.
Recommended Articles: