10 Best Korean Foot Masks For Relaxing And Rejuvenating Your Feet
Pamper your feet for all the long walks, morning jogs, and endless standing.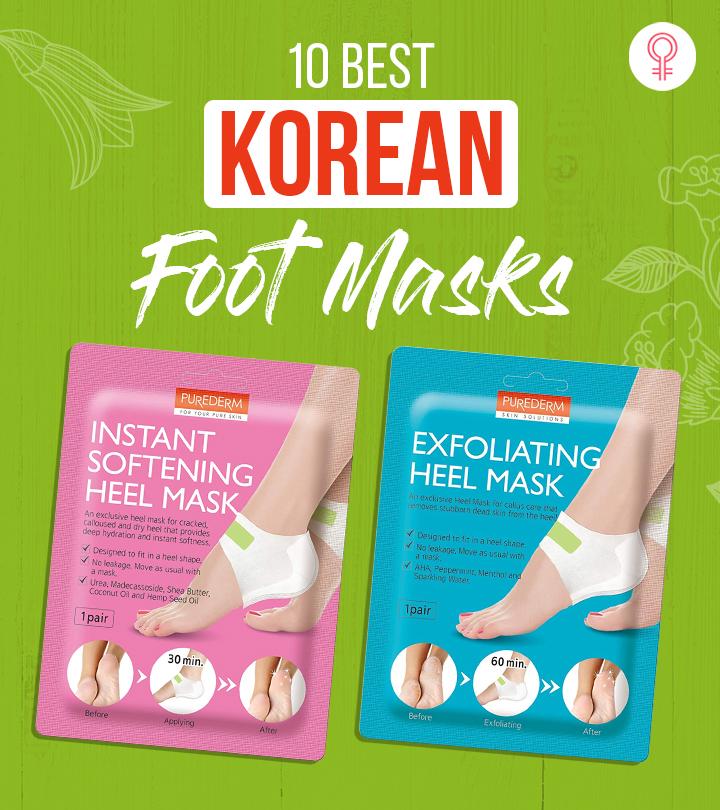 We tend to neglect our feet, except for getting an occasional pedicure or adorning them with cute shoes. Instead, pamper your feet with the best Korean foot masks for a truly relaxing and rejuvenating experience. These foot soaks have high-quality ingredients that soften, exfoliate, and soothe your tired, achy feet. You do not need to splurge a lot of money, but this little TLC goes a long way in keeping your feet healthy and beautiful! Take a pick from the 10 best Korean foot masks listed below.
10 Best Korean Foot Masks
This Korean foot peel mask is a great way to remove calluses and dead skin and make your feet silky and soft. It contains 18 botanical extracts, like lavender, rosemary, kiwi, olive, acerola, etc., all of which help soften the hardened skin on your feet without irritation or discomfort. This product also works well as a foot odor remover and an athletic foot treatment.
Note: A sensitivity test is recommended if you have sensitive skin due to the strong exfoliating nature of this mask.
Pros
Pleasant fragrance
Easy to use
Gentle
Cons
Do not fit feet of all sizes.
The LAPCOS Peppermint Foot Mask is easy to use, as all you have to do is slip on these nourishing single-use slippers and revitalize dull and dried feet. This refreshing foot mask is the perfect product to include in your at-home pedicure session. It is infused with helpful ingredients that help soothe and restore one of the hardest working parts of our body. It is formulated with soothing lavender and peppermint oils that relieve tired feet and fatigue and provide much-needed relief and nourishment for your feet and your senses.
Pros
Easy to use
Natural ingredients
Refreshing fragrance
Cons
None
The Masque BAR Exfoliating Foot Mask is formulated with vitamins, potassium, and magnesium, all of which are known for their soothing benefits on the skin. This product is easy to use as it is infused with foot exfoliant ingredients in a pair of wearable, easy-to-slip-on foot masks. It helps get rid of rough skin for visibly smooth feet within two weeks.
Pros
Gentle
Smells good
Sulfate-free
Paraben-free
Mineral oil-free
Silicone-free
Cruelty-free
Cons
None
The nu-pore Moisturizing Foot Mask provides a revitalizing and soothing relief to tired, dry, and calloused feet. This hydrating foot mask is enriched with shea butter and aloe vera to provide moisturization and leave the skin feeling soft and smooth. It also contains enriching ingredients like sunflower seed, avocado, tea tree, and jojoba oil for extra nourishment. This product is ideal to get rid of ashy feet. It transforms dry, cracked heels to soft and supple baby feet.
Pros
Easy to use
Works well for dry feet
Cons
The PUREDERM Instant Softening Heel Mask is specially created for cracked, calloused, and dry heels to provide deep hydration and softness. What sets this heel mask apart is that it is designed to fit in a heel shape without leaking. This mask is formulated with a blend of urea, madecassoside, shea butter, coconut oil, and hemp seed oil to nourish your feet.
Note: This mask is not recommended for pregnant or nursing moms.
Pros
Ideal for athletes
Pleasant fragrance
Easy to use
Cons
Works only for the heels.
Revitalize your feet with this foot repair mask from Soon. The deep-penetrating formula is infused with vitamins and minerals that nourish your feet. It intensely hydrates the skin on your feet, leaving them softer and smoother than ever before.
This foot mask heals dry and cracked skin around the heel and has anti-inflammatory and antioxidant properties that help protect and repair the skin. It also contains allantoin that helps reveal healthier skin and soothes tired feet. The combination of ginger and licorice in these booties also helps de-stress and promote relaxation for healthier and happier feet.
Pros
Pleasant fragrance
Accommodates larger feet
Cruelty-free
Paraben-free
Sulfate-free
Phthalate-free
Cons
None
The MJ Care Foot Care Pack includes five pairs of socks to treat rough and tired feet caused due to external factors. The mask contains highly moisturizing ingredients like shea butter and argan oil, which help achieve smooth skin. The lemon extract in the mask treats lackluster feet and helps improve calloused heels. It also contains snail secretion filtrate that provides elasticity and vitality and health to dull feet and Centella extract that imparts a refreshing and relieving sensation to dried skin.
Pros
Pleasant fragrance
Paraben-free
Cons
May cause burning sensation in cracked heels.
The Masque BAR Intense Moisturizing Foot Mask noticeably smoothens, softens, and improves the look and feel of even the driest of feet. It contains shea butter, which has a high concentration of fatty acids and vitamins that soften the skin. It also has anti-inflammatory and healing properties. While the lavender extract in the mask relieves stress and calms the skin, the tea tree extract reduces swelling and inflammation.
Pros
Pleasant fragrance
Cruelty-free
Sulfate-free
Paraben-free
Mineral oil-free
Silicone-free
Cons
None
This foot mask is great for at-home pedicure sessions. It brilliantly moisturizes the feet and leaves them feeling soft and smooth. It completely peels away all the dead skin cells of the feet within a few days of use and treats the most severely cracked heels and dried up calluses.
Pros
Pleasant fragrance
Removes foot odor
Repairs severely cracked heels
Cons
None
The PUREDERM Exfoliating Heel Mask is created to heal and improve calluses and skin cracking that specifically occurs around the heels. It efficiently removes stubborn dead skin from the heels and is designed to fit snugly over them. This product contains hydrating ingredients like AHA, peppermint, menthol, and sparkling water – all of which not only hydrate the heels but also relieve stress from tired and dull feet.
Note: This product is not recommended for pregnant or nursing moms.
Pros
Easy to use
Pleasant fragrance
Cons
Why Trust StyleCraze?
The author of this article, Oyendrila Kanjilal, is a certified skin care coach, and her current obsession lies in Korean foot masks. She has curated this list of foot masks after carefully researching and browsing online reviews and checking out customer feedback from e-commerce websites. Her article features products that offer a relaxing and rejuvenating experience. Not only are these Korean foot masks gentle and easy to use, but some of them are cruelty-free and made with natural ingredients to provide your feet with a refreshing glow.
Frequently Asked Questions
Is BB cream popular in Korea?
Yes, BB creams are a staple in Korean beauty. Korean beauty is all about hydration and BB creams are skincare-infused formulations that conceal and cover blemishes. They are hydrating and some may have SPF as well. Koreans are all about minimal beauty products and this product does it all.
Do Koreans use BB cream or CC cream?
Koreans are huge fans of BB creams. These beauty balms create the perfect natural glow for everyday wear.
Which company BB cream is the best for dry skin in Korea?
Klairs, LadykinConfidence, EverGlam, Skin79, and Troiareuke are some of the best Korean brands that make BB creams for dry skin.
Can we use BB cream daily?
Yes, because of their lightweight, hydrating, and sheer coverage, you can use BB creams daily.
Which one is the best for dry skin – BB or CC cream?
Both BB and CC creams are perfect for a natural makeup look as they offer sheer coverage. However, Korean BB creams are more suitable for dry skin since they are hydrating and nourishing on the skin.
Can I mix BB cream with foundation?
Yes, if you want to add more coverage and glam up your look, you can add a tiny bit of foundation to your BB cream.
Recommended Articles