9 Best Korean Hand Masks Of 2023 – Buying Guide
Give your rough and tough hands good care by nourishing them with gentle products.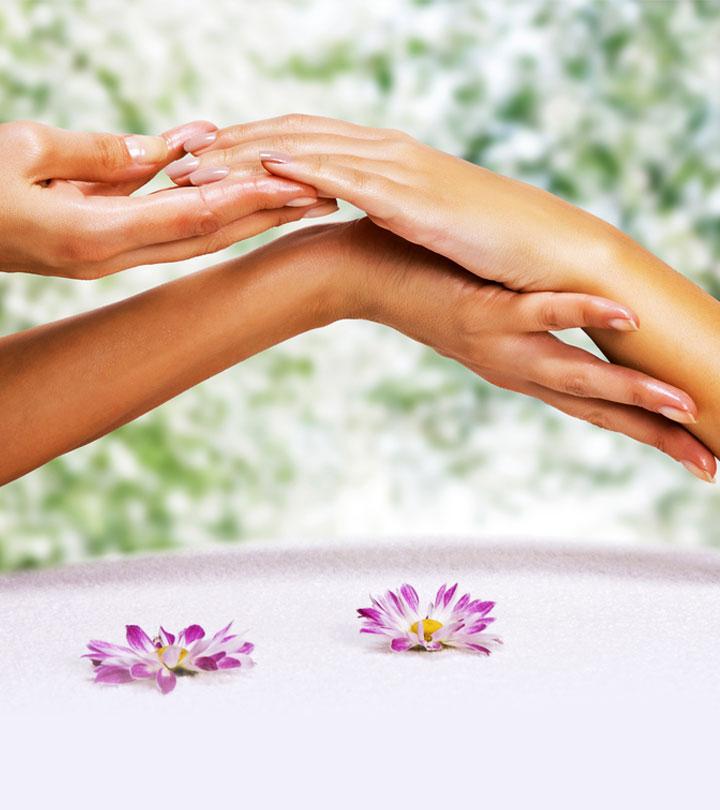 You use your hands all day long. Needless to say, they deserve some extra care. Mary Ajaka, a makeup artist, says, "Your hands can get really dry especially in winter, so try using the best Korean hand mask to nourish and hydrate your hands." The Korean hand masks make your hands appear youthful and feel soft.
Sometimes, we feel inclined toward using a face mask for our hands. This is a big NO-NO! Your hands need gentle care after daily chores and the rigorous stress they undergo. The ideal hand mask keeps your hands soft, protected, wrinkle-free, and spot-free, and fights against aging signs. They are also anti-inflammatory, making them perfect for your self-care routine.
In this article, we have put together a list of the 9 best Korean hand masks that keep your hands smooth and soft. Check them out below!
Why Should You Use A Hand Mask?
Believe it or not, your hands may wrinkle and dry out too. They need as much care, hydration, and nourishment as the skin on your face to stay supple and soft. Hence, why hand masks! These moisturizing hand mask gloves are infused with rich and skin-hydrating elements that repair from within to restore softness. Also, they keep the cuticles, fingers, and hands moisturized and younger-looking too.
Curious to try one now? Scroll on to check out our list of 9 best Korean hand masks of 2023 below:
Read on to know more!
9 Best Korean Hand Masks in 2023 (With Buying Guide!)
These moisturizing gloves with 9 botanical ingredients are like an elixir for dry hands! Enriched with shea butter, rose, olive, anise, lemon, and anti-aging ingredients, the brand claims to prevent the reduction of collagen and soothe extremely dry hands or cracked skin within minutes. These hand masks, with their moisture-locking abilities and fast-absorbing formulas, provide a soothing sensation and a cooling effect. More like a spa treatment for your hands with prolonged effects, they guarantee to restore the softness with deep hydration and exfoliation.
Pros
A nourishing blend of natural ingredients
Restores the skin's natural barrier
Touchscreen-friendly
Universal size that fits all
Prevents wrinkles and dryness
It eliminates dullness, roughness, and fatigue.
Cons
Price at the time of publication: $39.99
The Orchid Skin Hand Repair Mask Sheet Gloves contain a moisturizing and cooling serum that helps soften and smoothen your hands. This mask is specially formulated to help heal dry, cracked, damaged, and tired hands resulting from exposure to harsh chemicals. This mask also helps improve the elasticity of the skin and reduce the appearance of wrinkles. It is infused with ingredients like ginseng, honey, pot marigold, and tremella fuciformis and provides the best salon-like hand treatment in minutes. It aids anti-wrinkle and anti-blemish care, ensuring that your hands stay youthful and free from imperfections.
Pros
Customized stickers for the gloves
Travel-friendly
Easy to use
Vegan
Cruelty-free 
Cons
Contains denatured alcohol
Price at the time of publication: $12.09
How about blessing your hands with a dose of sweetness? This mask and hand glove set infused with natural honey extract is rich in antioxidants and heals the skin intensely. So, if your hands are reacting to seasonal allergies or drying up due to extensive washing, these honey-packed gloves will soothe, hydrate, and keep them glowing all day long. These hand masks provide hand rejuvenation, intensive hydration, and relief for dry skin.

Pros
Repairs dry and dull skin
Sweet fragrance
Cute packaging
It is easy to wear and remove.
Cons
They are not touchscreen-friendly.
Price at the time of publication: $14.0
The KN FLAX Madforcos Hand Mask Moisturizing Gloves are infused with vitamin E and collagen and are a must for your dry hands. These moisturizing gloves provide the best hydration to your hands to make them soft and supple. This hand mask also contains kombucha, goat milk extract, and hyaluronic acid to remove free radicals and provide proper hydration that nourishes and heals your skin. It reduces the appearance of pores, and pigmentation, and helps heal finger barbs. This mask provides the optimal care that your hands require after being exposed to harsh chemicals.
Pros
Low pH
Free of harmful ingredients
Unisex
Dermatologically approved
Suited for dry skin
Cons
None
Price at the time of publication: $13.88
Indulge in salon-worthy hand and foot spa — anywhere, anytime. Not only are these hand and foot masks made of natural moisturizing ingredients, but it is also infused with keratin, which works as a nourishing tonic for nails and cuticles. Easy to wear and ultra-nourishing, it's enriched with 100% vegetable keratin, organic herbs, peppermint, eucalyptus, peptides, milk, and green tea too. These brightening complexes boost radiance, improve cuticle care, and have good nail-strengthening properties. Just what your hands and feet deserve after a long and tiring day!
Pros
Soothes and repairs dry skin
Softens heels and calluses
Non-greasy and touchscreen-friendly tips
Cruelty-free product
Reduces hyperpigmentation and fights age spots
Eliminates dullness and rejuvenates natural glow
Free from sulfates, parabens, and phthalates.
Cons
Fragrance may be a hassle
Price at the time of publication: $22.0
Kocostar Hand Masks promise supple, hydrated, and baby soft hands in 20 minutes! Quick-acting and non-greasy, they provide a salon-worthy hand spa without creating any mess or hassle at home. Also, these hypoallergenic gloves are touchscreen-friendly, which means you can enjoy using the laptop or phone, while your skin replenishes with the goodness of 33 botanical extracts! Now that's a winning combo worth trying, isn't it?
Pros
Repairs damaged or rough skin texture
Quick-absorbing and anti-aging formula
Boost a youthful and healthy glow
Gentle and suitable for sensitive skin
Free from paraben, synthetic fragrance, and sulfates
Cons
The glove-fit may be a little uncomfortable.
Price at the time of publication: $19.0
The ultimate TLC for your hands! From nourishing, brightening to providing a mega-boost of nutrients and moisture, these Korean hand masks fight tired skin with the force of natural energy! How? The formula contains a blend of green tea, bracket fungus, morus bark, mother chrysanthemum, red ginseng, pine mushroom, and more that repairs and replenishes your skin intensively. Niacinamide ingredient, on the other hand, provides vitality and adds a natural glow! Name a better combo than this? We'll wait.
Pros
Protects and moisturizes hands
Improves blood circulation
Non-toxic and paraben-free
Counters dryness and roughness of dehydrated, chapped hands
It soothes, smoothes and softens hands.
It contains argan oil and shea butter for ultra-moisturizing.
Cons
The gloves may not be easy-wear.
Price at the time of publication: $14.5
Treat your dry and dull hands with the TOI:L Extra Silky Hand Mask. Each sheet is infused with the goodness of natural ingredients like green caviar, pearl powder, shea butter, avocado seed extract, coconut oil, and rosehip oil. These non-greasy hand masks improve skin elasticity, prevent moisture evaporation, moisturize your skin, and transform your wrinkled, cracked skin into smooth, baby skin.
Pros
Dermatologist-tested
Non-greasy
Cruelty-free
Paraben-free
Silicon-free
Great for all skin types
Cons
None
Price at the time of publication: $28
More like a nourishing balm for your hands. Treat chapped palms and fingers with these ultra-hydrating, ultra-nourishing, and moisture-rich gloves. Whether you are dealing with winter peeling or dryness, these moisturizing masks for dry skin claim to restore, replenish, and rejuvenate within minutes! Wear on to enjoy the richness of ceramides and coconut milk that adds suppleness, retains moisture, and nourishes skin with the help of Vitamin C. And, that's not all, this Korean brand is widely known in the K-beauty universe for its satisfying results. Need we say more?
Pros
Easy to use and comfortable
Highly-moisturizing hand patches
Strengthens and softens cuticles
Eases wrinkles and adds a youthful glow
Restores flexibility and elasticity
It replenishes within 20 minutes.
Cons
Gloves may not be touchscreen-friendly.
Price at the time of publication: $7.0
Give your hands a salon-worthy pamper at home with the 9 best Korean hand masks of 2023. For more tips on how to choose the best hand masks, check out our buying guide below!
Buying Guide – Best Korean Mask
How To Choose A Korean Hand Mask?
Though choosing a hand mask depends on one's suitability, having these features in a hand mask is a must for the best experience:
Skin-friendly ingredients – The key purpose is to strengthen the natural barrier, restore suppleness, and soften the skin. So, it's ideal you pick a brand with natural ingredients to provide gentle, safe, and nourishing treatment. Also, it's highly recommended you opt for a chemical-free brand.
Long-lasting – Choose a hand mask that provides intense hydration and long-lasting effect. Considering there are brands that only moisturize, hand masks with intense or deep nourishment will battle the root cause and rejuvenate the skin to its natural glow.
Comfort – Other than the snug fit, the gloves must not feel stuck on removal. So, lookout for a non-greasy or more cream-based option for best results. Also, if you have a sensitive nose, there are mildly-fragrant or fragrance-free options available too.
Versatility – For those who are working round the clock, there are gloves with touchscreen-friendly tips too. So, while your hands heal and replenish, you can continue working on your phone or laptop.
Anti-aging benefits – Dealing with fine lines, age spots, or sunspots? Some brands offer anti-aging benefits too that may reduce the appearance of wrinkles or fine lines in the long run.
How Do You Use A Hand Mask?
Hand masks are like any other hand gloves. However, before you put them on, you must wash and dry your hands first. Also, follow the time limit mentioned in the instructions. And after removing them, avoid washing your hands for an hour or so. For best results, wear them before you go to bed, so the formula stays all night (post-removal), and you don't end up washing your hands too.
What Are The Benefits Of A Hand Mask?
Here's how a hand mask will benefit your hands:
Repair the skin's natural barrier
Eliminates dullness, dryness, and rough texture
Restores plumpness and elasticity
Nourishes skin, leaving it soft and smooth
Reduces the appearance of fine lines, age spots, and sunspots
Brightens and adds a youthful glow.
Why Trust Stylecraze?
The author, Srijani Roy Chowdhury, is a certified skin care coach whose passion lies in creating well-researched beauty and lifestyle content for her readers. She advocates the importance of using hand masks because our hands deserve some extra care. According to her, Korean hand masks are the best options as they keep your hands hydrated and nourished. After sifting through various online reviews and conducting in-depth research, she has picked the best ones.
Frequently Asked Questions
Do Hand Masks Work?
Yes, they do. Hand masks are infused with natural and nourishing formulas that help repair and restore softness, suppleness, and glow. So, if you are dealing with dry or dull hands, you must try a hand mask.
How many times should I use a Korean hand mask?
Use a Korean hand mask once a month. But, wear it more often if you reside in a harsh climate that over-dries your skin.
Can I leave the Korean hand mask on overnight?
No. Leave a Korean hand mask on for 20 minutes unless recommended otherwise to avoid making the skin greasy and patchy.
How long does a Korean hand mask last?
Korean hand masks last for one to two years.
Can I reuse a Korean hand mask?
No. Do not store Korean hand masks for reusing as they can get contaminated and harm your hands.
Recommended Articles