13 Best Korean Lip Balms Of 2021 That Keep Your Lips Hydrated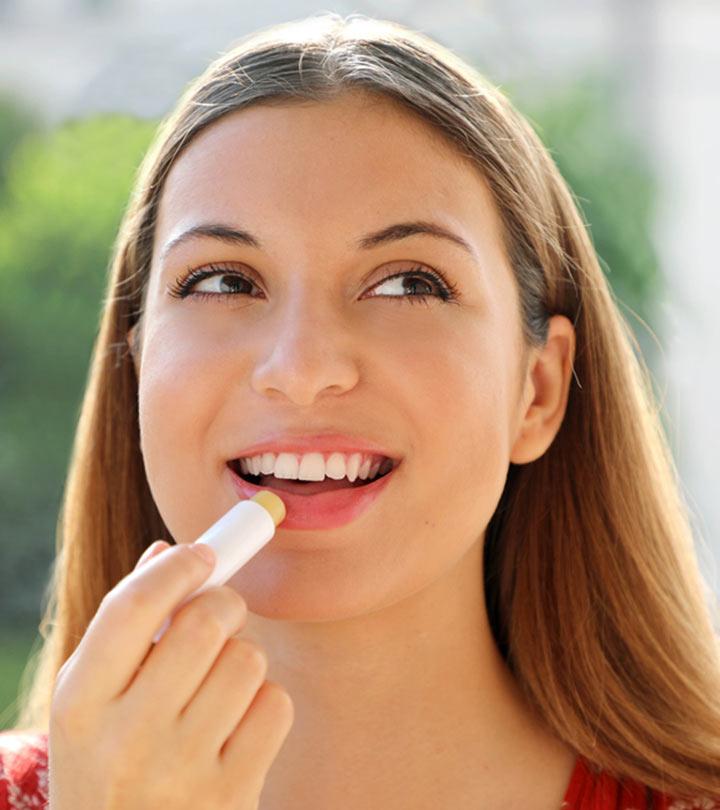 When your face feels dry, you apply moisturizer. But what about your lips? This beautiful feature also needs extra attention to prevent inflammation and cracks. Korean beauty and skincare products are gaining popularity, which also includes a wide range of lip balms that can heal chapped and painful lips.
While your lips go through a lot of wear and tear throughout the day, the skin becomes extra sensitive, which means it needs better care. Especially during the winter season, lip balm is essential; otherwise, chapped lips can become a nightmare. This is where the Korean lip balms come to the rescue. They heal the dry skin on your lips and keep them nourished. So, it's time to say goodbye to dry and chapped lips and bring back that grin on your face. And we believe our list of the top 13 best Korean lip balms will work well to keep your lips hydrated and soft.
13 Best Korean Lip Balms That Keep Your Lips Hydrated
Frustrated with your chapped lips? Worry not! This K-beauty or Korean beauty product will hydrate those cracked lips in no time. The pack includes three lip balms in different flavors — honey moisture, rose blossom, and mint. All three lip balms help lock in moisture and are formulated with ultra-hydrating oils. Enriched with manuka honey and shea butter, the honey moisture stick will condition and nourish your chapped lips. If you want to protect and repair your dry lips then the rose blossom stick is a perfect choice. This rose-tinted lip moisturizer contains rosehip oil and camellia. And the third chapstick, which is the mint stick, will provide a refreshing cooling effect on your lips. It is infused with peppermint oil, avocado oil, and coconut oil that help soothe your lips.
Pros
Non-sticky
High-quality
Smells good
Long-lasting
Easy to carry
Cons
Some may not find the peppermint flavor appealing.
Get glossy, moisturized lips with this Korean lip balm in Peach shade, which is perfect for daytime wear. Your dry lips will be healed, and also, you will not have to worry about dead skin cells when you wear matte finish lipsticks. This moisture-coating lip balm is made of shea butter and murumuru butter that help hydrate your chapped lips and keep them moisturized all day long. You can use this lightweight and pocket-friendly lip balm before or after applying lip color.
Pros
Vegan
Cruelty-free
Gluten-free
Paraben-free
No sulfates and phthalates
Cons
May not have a pleasant smell
Does your lip balm provide a gradient or ombre effect? No? Well, then this two-tone tint mint lip bar will help you achieve exactly that by creating a combination of half-color and half-glossy effect on your lips. Infused with hyaluronic acid, this Korean lip balm is a rectangular shaped bar that features a V-cut portion of shade and the rest is colorless moisturizing lip balm. When applied, it will deliver a vivid tint on the body of your lips and a soothing and moisturizing coat on the edges of your lips. Now, you can get rid of dead skin cells and achieve smooth, hydrated lips with this lip balm. If you want to increase the range of the tint, then swipe the V-cut portion on your lips more than once to get the result.
Pros
Non-sticky
Long-wearing
Lightweight
Easy to apply
Highly pigmented
Cons
Slightly expensive
May cause irritation if you're allergic to hyaluronic acid
Going for a party and can't find a lip color to hide your scaly lips? Then, you should definitely try this Korean lip balm! This tinted chapstick not only moisturizes and heals your dry lips but provides an appealing shade of rose to your lips. Now you are party-ready with a tinge of red on your lips that aren't scaly anymore! This lip balm contains castor seed oil that makes your lips supple and Bulgarian Damask rose oil that makes them glow naturally. This balm is also infused with macadamia ternifolia seed oil, beeswax, jojoba seed oil, and candelilla wax. This blend will exfoliate dry, dead skin cells and give you smooth, hydrated, and moisturized lips. Plus, it protects your lips from UV rays and other impurities.
Pros
Rich in vitamin
Organic and vegan
Preserves moisture
No synthetic preservatives or ingredients
No artificial fragrance or colors added
Cons
Are you a fan of fruit-shaped products? Then you would probably love this cherry-shaped lip balm! Formulated with antioxidant-rich ingredients, this balm's creamy formula helps hydrate and moisturize your dry, chapped lips. This Korean lip balm is loaded with fruit extracts and comes with SPF 15 that protects your lips from sun damage. It is infused with extracts of strawberry, blueberry, blackberry, cranberry, and raspberry that helps you achieve plump and soft lips. Just one layer of application is enough to repair your dry lips.
Pros
Lightweight
Long-wearing
Pocket-friendly
Fruity scent
Reusable container
Cons
A treat for tomato lovers! This SKINFOOD Tomato Jelly Tint Lip Balm is enriched with tomato extracts to keep your lips healthy and nourished every day. This Milk Tomato chapstick adds a hint of sheer pink color and subtle shine to your dry lips. This jelly-like lip balm is also infused with vitamin E, macadamia nut oil, and jojoba oil. So, keep your lips looking fresh as a tomato with this lip balm that leaves a rosy touch after application. It not only moisturizes your chapped lips but also makes them look glossy.
Pros
Compact
Affordable
Non-sticky formula
Long-lasting
Comfortable wear
Cons
Some may find it slightly greasy.
Want a lip balm that nourishes and adds color to your lips and cheeks? Then this Korean lip balm that comes in a paint tube-like packaging is perfect for you. It will moisturize your dry lips and heal the wear and tear your lips go throughout the day. This lip balm is infused with shea butter that helps your pout look soft and plump. Also, its non-drying creamy formula easily blends on your lips and cheeks. It is ideal for on-the-go application — just dab this lip balm onto your lips, cheeks, and even eyelids to add a flush of color.
Pros
Durable
Portable
Non-sticky
Multi-functional
Easy application
Suitable for all skin tones
Cons
May not work well for extremely dry lips
Get a smooth, moist finish with this Etude House Honey Cera Repair Lip Balm that nourishes your lips and repairs dryness. Enriched with honey and various oil extracts, this lip balm makes your lips look silky soft after application. It will remove the dry skin cells and preserve the moisture to give you healthy lips. You can wear it to the office, at home, or even to a party; it will give you natural-looking glossy lips. Whether you pout or grin in a photo, your smooth, glowy lips will provide a refreshing look.
Pros
Affordable
Non-adhesive
Easy to carry
Easy application
Soothing smell
Cons
Want a moisturizing lip balm that can add a little volume to your lips? Well, you will be delighted to know that this Korean chapstick helps you to achieve plump and dewy lips. This lip balm is a combination of shiny gloss and hydrating balm that prevents your lips from drying and becoming scaly. Plus, it gives a natural wash of color when applied, and is great for on-the-go application. With its melt-in texture, this lip balm provides nourishment and moisture to your lips. It is infused with botanical oils such as coconut oil, macadamia nut oil, flaxseed oil, and almond oil.
Pros
Portable
Color lasts long
Cruelty-free
Paraben-free
Smells good
Cons
It may soften and break if twisted up too high.
Who doesn't want a multi-purpose moisturizing balm, especially when traveling? This LabNo Cicaloe Intensive Lip Balm not only heals and nourishes your lips but is effective for other rough skin areas. This K-beauty product contains Cicaloe Complex that helps soothe your dry lips and moisturize them. Plus, you don't have to carry a bunch of moisturizing balms or creams for different skin areas in your bag while traveling; this one tube of lip balm will work for all. Just apply it on the dry, problematic area and see how it provides intense hydration and soothing relief.
Pros
Paraben-free
Hypoallergenic
Alcohol-free
Antioxidant-rich ingredients
No sulfate and silicone
Cons
Protect your sensitive lips from dryness with this Dr.Jart+ Ceramidin Lipair Lip Balm that is powered by five ceramide complexes. With high moisturizing properties, this chapstick is a life-saver during the winter season when your lips are scaly and peeling. This ceramide-based lip balm will soothe irritation and will make your rough lips turn soft. If you have extremely dry lips, apply this balm and leave it overnight to get soft and nourished lips in the morning. It is so lightweight that you won't feel like you have applied this balm on your lips.
Pros
Durable
Portable
Non-sticky
Easy to apply
Fragrance-free
Cons
Do you love avocados? Then this lip balm is perfect for you! With the hydrating power of olive and avocado, this Korean lip balm makes your lips moist and glossy. Plus, it contains ceramides that help to remove dead skin cells and make your lips smooth. Avocado's natural fats, vitamins, and minerals are generally healthy for your skin, and this lip balm is infused with its extracts, making it the best choice for your dry lips. You can apply this translucent balm with your finger or a lip brush anywhere, anytime.
Pros
Durable
Non-adhesive
Easy to carry
Pocket-friendly
Comfortable wear
Cons
May not entirely work for those who have extremely dry lips
No products found.
Suffering from extremely chapped lips? Then this Mamonde Lip Sleeping Mask Overnight Moisturizer Treatment will help you get rid of dryness and peeling. This lip balm works like a moisturizer and exfoliator that removes dead skin and nourishes your lips. It is formulated with murumuru butter, alpha hydroxy acid (AHA), and plum blossom extract that helps preserve moisture and provide glowing lips. After each use, you will find your lips getting softer and smoother. Ideal for the winter season, the rich, creamy formula of this balm helps repair your flaky lips and make them moist. While this lip balm can be used whenever and wherever, if your lips are extremely dry, you can apply and leave it overnight.
Pros
Subtle fragrance
Long-wearing
Vegan-friendly
Travel-friendly
Infused with antioxidant-rich ingredients
Cons
Before you pick a lip balm, take a look at our buying guide.
How To Choose The Right Korean Lip Balm
When you purchase a lip balm, you should consider the following points:
Natural ingredients: If your lips are sensitive, it is wise to choose chapsticks that are made from natural ingredients. From berries and fruit extracts to botanical oils, these are some of the ingredients that will make your lip balm a natural product.
Sun protection: Your lips need to be protected from harmful sun rays and, therefore, pick lip balms that come with SPF 15 or above.
Long-lasting: Check whether your lip balm lasts all day long or not. Lips tend to dry in a few minutes if not taken care of well. Thus, you should purchase a lip balm that keeps your lips moisturized all day.
Non-sticky: There are plenty of lip balms in the market that turn out to be sticky after application. Try to pick a lightweight and non-sticky chapstick that makes for comfortable wear.
Ingredient list: Before choosing the right Korean lip balm, you should go through the ingredients to know if you are allergic to any of the contents.
The K-beauty products are immensely popular globally, and their lip balms have received good reviews so far. While most of them are affordable, they are also quite efficient at repairing dry lips. From fruit-shaped cases to old-school chapstick design, there is a wide range of lip balms available that help moisturize your lips. Hopefully, our list of the 13 best Korean lip balms will help you pick the right one.