11 Best Korean Moisturizers For Acne-Prone Skin That Results In A Flawless Face
Korean moisturizers keep acne-prone skin nourished, hydrated, and blemish-free.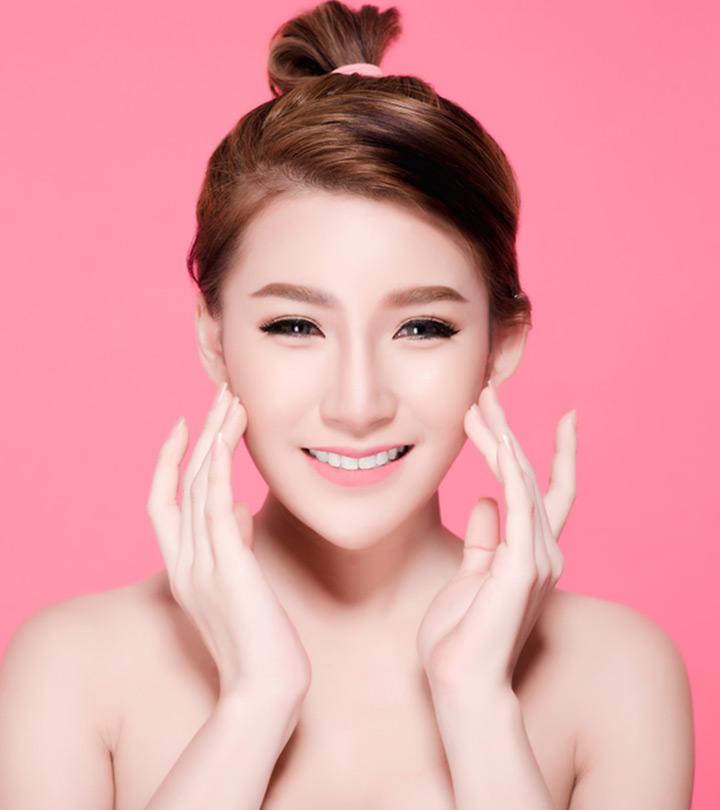 Dealing with oily or acne-prone skin can be tricky because your skin often has zits or severe breakouts that occur due to acne-causing bacteria. There is a common misconception that those with acne-prone skin should avoid moisturizers. However, while regular moisturizers may not give you promising results, the best Korean moisturizer for acne-prone skin can do the trick. If you are into religious skin care, then you must be already aware that K-beauty products have been sweeping the skin care industry off its feet. Korean moisturizers for acne-prone skin are easily accessible and have natural and potent skin-friendly formulas. You can use these moisturizers even in humid weather. They are lightweight, offer deep hydration, and help keep your skin oil-free. What's more? You don't have to worry about your pores getting clogged.
These Korean moisturizers are also packed with natural, organic, non-comedogenic, and anti-inflammatory ingredients that keep all your acne-prone skin concerns at bay. As there are many options available on the market right now, picking one that addresses your concerns perfectly might be overwhelming and challenging. But, fret not! In this article, we have curated a list of the 11 best Korean moisturizers for acne-prone skin that will prevent breakouts from reoccurring and give you blemish-free skin in no time. Keep reading to explore the list of our top picks!
11 Best Korean Moisturizers For Acne-Prone Skin For Hydrated And Smooth Skin
Pros
Non-comedogenic
Anti-microbial
Hydrating
Even skin tone
Anti-aging benefits
Naturally derived ingredients
Cons
It may not be suitable for people allergic to snail mucin
Price at the time of publication: $20.0
Pros
Ultra-hydrating
Cruelty-free
Lightweight
Smooths skin texture
Hypoallergenic
Enhances skin's natural glow
Cons
It may not be suitable for use in dry climate regions
Price at the time of publication: $20.48
Pros
Lightweight
Hypoallergenic
Fragrance-free
Chemical-free
Natural ingredients
Non-comedogenic
Doesn't leave any greasy residue
Cons
Some may find the consistency thick
Price at the time of publication: $17.0
Pros
Lightweight
Gel-like consistency
Soothing
Natural ingredients
Suitable for overly sensitive skin
Cons
May take some time to absorb into your skin
Price at the time of publication: $14.99
Pros
Lightweight
Refreshing fragrance
Suitable for all seasons
Non-greasy
Quick absorbing
Heals skin irritations
Dermatologically tested
Cons
May be mild on combination acne-prone skin types
Price at the time of publication: $22
Pros
Fades dark spots
Suitable for dry and sensitive skin
Strengthens the skin's barrier
Enhances skin's glow
Eliminates acne-causing bacteria
Soothes inflammation/redness
No greasy residue
Cons
The formula may not be lightweight
Price at the time of publication: $11.99
Pros
Color correcting
Smooth blending
Lightweight
Hydrating
Buildable
Even coverage
Natural finish
Cons
The shade range may not be diverse
Price at the time of publication: $14
Pros
Non-comedogenic
Quick absorbing
Hydrating
Reduces blemishes
Improves hyperpigmentation
Cons
It may not be suitable to use during the winter season
Price at the time of publication: $23.07
Pros
Lightweight
Natural hydrating ingredients
Smooth texture
Quick absorption
Perfect Korean moisturizer for oily, acne-prone skin
Suitable to use in warm weather
Cons
Some may find the smell overwhelming
Price at the time of publication: $23
Suppose we are talking about one of the most hydrating moisturizers in the Korean market. In that case, we have to mention Laneige. From lip masks to sleeping masks, their products guarantee glowing, supple skin every time. The dermatologist-tested, gel-like formula is infused with grape seed oil responsible for keeping your skin hydrated and targeted explicitly towards acne-prone skin. The silky smooth finish is loved by reviewers and lasts the whole day and makes your skin feel amazing; you won't feel any discomfort or greasiness once you slather on this product. Moreover, the water bank aspect doesn't fail to plump your skin after every application. It gets absorbed quickly as well.
Pros
Gel-like texture
Ultra-hydrating
Suitable for combination and sensitive skin types
All-day moisture
Quick absorption
Dermatologically tested
Cons
It may not be non-comedogenic
By now, you know the wonder that is snail mucin extract! This moisturizer has just that, and it results in smoother, brighter skin with consistent use. This product can easily be your favorite moisturizer because not only does it hydrate your skin, but it ensures that you don't get ravaged by any zits in the future. It is skin-safety tested and works well for dull and sensitive skin. It does not leave any sticky residues as well. Of course, a little bit goes a long way, so we suggest that you use the cream as part of your night skin care for visible results. This will keep your skin soft and moisturized all through the night. Do not forget to perform a patch test before application to check for allergy to snail mucin.
Pros
No sticky residue
Brightening
Suitable for acne-prone skin
Smooth formula
Cons
Some may find the consistency thick
Price at the time of publication: $24.99
Dr. Anna Chacon, a board-certified dermatologist shares, "Korea is the birthplace of pimple patches. The tiny, spherical hydrocolloid stickers aid in the healing of acne without drying it out, while also preserving the skin from future environmental aggravation." If you would like to try out some of the best Korean moisturizers for acne-prone skin that are available online, it's time to understand the crucial factors that make a great moisturizer. Keep reading our buying guide to know more!
Buying Guide To Choosing The Best Korean Moisturizer For Acne-Prone Skin
By formula, we mean the type of moisturizer you are looking for, which can range from gel-based, cream-based, or lotion-based. For sensitive skin that gets easily triggered or acne-prone skin, we highly recommend that you go for water-based moisturizers and have a gel formula; typically, these formulas are oil and fragrance-free. If you are dry or combination skin prone to acne, then look for cream-based moisturizers as they are hydrating and non-comedogenic.
It goes without saying that harsh chemicals are always a bad idea for any skin type. Hence it's always good to go for products filled with natural ingredients that are skin-friendly, hydrating, and fights acne. Look for active ingredients like aloe vera, centella asiatica, salicylic acid, niacinamide, snail mucin, etc.
Always look for the tag that says either "dermatologist-tested" or "dermatologist-recommended" because it gives the product credibility and ensures that it will provide you with the results that meet its claims. Usually, the credibility lives up to the expectations, and the moisturizers prevent acne or fight existing ones.
How To Use Korean Moisturizers For Acne-Prone Skin?
Every skincare routine starts with cleansing; this is where you use a mild face wash to wash away any dirt or oil on your skin.
Next, you can use an antibacterial face wash that is specially formulated for acne-prone skin.
Once your face is washed and clean, then you can follow up with your favorite moisturizer.
Gently pat the product all over your face, neck, and décolletage. You must start from the center and massage it in (preferably in an upward motion). Keep doing this until the moisturizer is absorbed into your skin and you feel hydrated.
Finally, finish off the routine with good quality sunscreen.
Skincare Tips For Acne-Prone Skin
Here are some tips that you must follow if you have acne-prone skin:
First, incorporate double cleansing into your routine. This ensures that the pores are cleansed and all the dirt and grime are washed away.
Exfoliate helps remove dead skin and impurities, which are one of the main culprits leading to acne.
Spot treatment and moisturizers help target problematic areas by fighting active acne and preventing the onset of new ones.
Why Trust StyleCraze?
Kirtana Divakar, the author of this article, is a skincare aficionado and is often found experimenting with various skincare products. Wanting to assist her readers in finding the best Korean moisturizers for acne-prone skin, she prepared a list of them after trying some herself and checking many product details. These products in the list keep your hair super hydrated and prevent your pores from clogging.
Frequently Asked Questions
Is moisturizer safe for acne-prone skin?
Yes, absolutely. There is a myth that moisturizers will break you out if you have oily skin. But that is far from the truth. You need to look for lightweight moisturizers that have natural acne-fighting, skin-loving ingredients, and don't clog pores with mostly water-based formulations to get the best results.
Which Korean moisturizer is the best for acne-prone skin?
All the moisturizers listed in our reviews above are some of the best Korean skincare products for acne-prone skin. Some popular ones include Belief and Laneige.
Should I moisturize at night?
Yes, it is highly recommended that you moisturize your acne-prone skin at night. This will ensure that your skin is hydrated throughout the night and you wake up with soft, nourished skin.
What are some non-greasy Korean moisturizers for acne-prone skin?
The Belief Believe In Truth The True cream is the best non-greasy Korean moisturizer suitable for acne-prone skin. The cream is lightweight and easily absorbed into the skin. In addition, it has a mild and refreshing fragrance that keeps you feeling refreshed.
What is the best Korean moisturizer for acne-prone skin during winter?
The IUNIK Centella Calming Gel cream contains natural ingredients like tea tree extracts and niacinamide that moisturizes the acne-prone skin and prevents it from drying out during winter. Use it at night to achieve the best results.