11 Best Korean Moisturizers For Acne-Prone Skin That Results In A Flawless Face
Korean moisturizers that keep acne-prone skin nourished, hydrated, and blemish-free.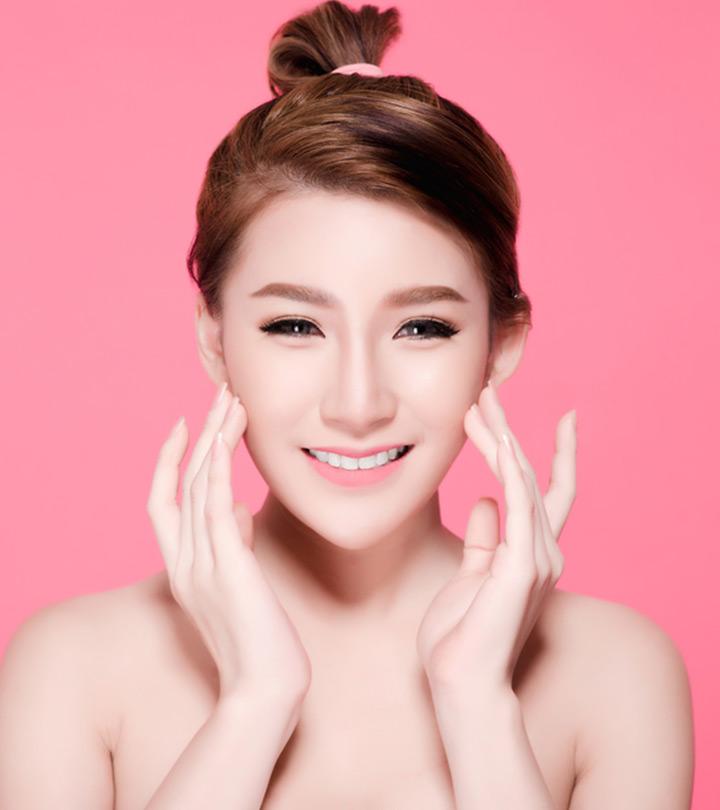 Dealing with oily or acne-prone skin can be tricky because your skin often has zits or severe breakouts that occur due to acne-causing bacteria. There is a common misconception that those with acne-prone skin should avoid moisturizers. However, while regular moisturizers may not give you promising results, the best Korean moisturizer for acne-prone skin can do the trick. If you are into religious skin care, then you must be already aware that K-beauty products have been sweeping the skin care industry off its feet. Korean moisturizers for acne-prone skin are easily accessible and have natural and potent skin-friendly formulas. You can use these moisturizers even in humid weather. They are lightweight, offer deep hydration, and help keep your skin oil-free. What's more? You don't have to worry about your pores getting clogged.
These Korean moisturizers are also packed with natural, organic, non-comedogenic, and anti-inflammatory ingredients that keep all your acne-prone skin concerns at bay. As there are many options available on the market right now, picking one that addresses your concerns perfectly might be overwhelming and challenging. But, fret not! In this article, we have curated a list of the 11 best Korean moisturizers for acne-prone skin that will prevent breakouts from reoccurring and give you blemish-free skin in no time. Keep reading to explore the list of our top picks!
11 Best Korean Moisturizers For Acne-Prone Skin For Hydrated And Smooth Skin
Now before you jump to any conclusions about the term "snail repair", you must know that snail mucin extract is a potent ingredient that helps repair acne scars. This moisturizer is unique because it contains 97.5% snail mucin compared to other Korean moisturizers, which helps boost skin with long-lasting hydration while visibly reducing fine lines/wrinkles. The formula contains shea butter, vitamin E, and jojoba oil, which lightens blemishes, leaves a dewy glow and evens your complexion. This Korean skincare for oily acne-prone skin is an excellent addition to your skincare routine because clears clogged pores and destroys any acne-causing bacteria. It, therefore, dries out any active acne and prevents new ones from springing up. To know more about the nuances of the Seoul Ceauticals Multi-Function All-In-One Anti-Aging Snail Repair Cream, have a look at this video.
Pros
Non-comedogenic
Anti-microbial
Hydrating
Even skin tone
Anti-aging benefits
Naturally derived ingredients
Cons
It may not be suitable for people allergic to snail mucin
Price at the time of publication: $20.0
Acne-prone skin can be sensitive and vulnerable to some nasty reactions, so you must choose a gentle product on your skin and provide the desired results. This hypoallergenic daily moisturizer is ultra-hydrating, and it keeps zits at bay. The lightweight formula contains 92% snail mucin and hyaluronic acid, which helps plump and soothe the skin. The consistency is lightweight and gel-like; this makes it great for dehydrated skin that is inflamed after breakouts. This is a great gel moisturizer for acne-prone skin and skin regeneration that doesn't get frequent breakouts and has a rough texture. Incorporate this cream into your 10-step skincare routine for 2 to 3 weeks, and you will start seeing excellent results in the form of smooth, glowing skin. If you are still unsure about the COSRX Advanced Snail 92 All In One Cream, check out this YouTube video for further information.
Pros
Ultra-hydrating
Cruelty-free
Lightweight
Smooths skin texture
Hypoallergenic
Enhances skin's natural glow
Cons
It may not be suitable for use in dry climate regions
Price at the time of publication: $20.48
A common myth is that acne-prone skin doesn't require moisture because it will just trigger your acne. Well, we are here to bust that myth because your acne-prone skin needs hydration more than ever. This acne combating formula includes shea butter and a complex oil formula that leaves your skin feeling supple and strengthens its protein barrier. The fragrance-free moisturizer is free from any harmful chemicals, minerals, and animal materials, making it safe to use and won't trigger any nasty reactions. This moisturizer provides relief from said side effects and doesn't clog your pores. You can watch this video for more information about the Etude House Soon Jung 2x Barrier Intensive Cream.
Pros
Lightweight
Hypoallergenic
Fragrance-free
Chemical-free
Natural ingredients
Non-comedogenic
Doesn't leave any greasy residue
Cons
Some may find the consistency thick
Price at the time of publication: $17.0
This calming Korean moisturizer for sensitive acne-prone skin is perfect for all day and night long moisturization. It contains natural ingredients like Centella Asiatica leaf water, tea tree extract, adenosine, and niacinamide that eliminate acne-causing bacteria and help fade acne scars. The facial lotion is light and soothing, so it sits comfortably on your skin without feeling sticky or greasy. The formula also has 6 sprout extracts like pak choi, broccoli, sprout wheat, clover, white radish, and cabbage, which evens your skin tone and strengthens the barrier as well. Skincare influencers and professionals rave about this Korean night moisturizer for acne-prone skin because of the amazing results, especially if you want to zap a zit overnight.
Pros
Lightweight
Gel-like consistency
Soothing
Natural ingredients
Suitable for overly sensitive skin
Cons
May take some time to absorb into your skin
Price at the time of publication: $14.99
Belief happens to be one of the most popular Korean skincare brands globally, and with good reason. The formula is ultra-comfortable on the skin, and it's designed to provide intense hydration that leaves your skin feeling smooth, soft, and deeply moisturized. The main ingredient in this moisturizer is comfrey leaf; it's a powerful hydrating ingredient that enhances the skin's water levels and doesn't leave your skin feeling greasy at all. No matter what the season, you can make this cream a part of your daily skincare routine. The cream gets absorbed pretty quickly, and it has a mild, refreshing scent that doesn't overwhelm you.
Pros
Lightweight
Refreshing fragrance
Suitable for all seasons
Non-greasy
Quick absorbing
Heals skin irritations
Cons
May be mild on combination acne-prone skin types
Price at the time of publication: $22
As mentioned before, the Centella Asiatica leaf is quite beneficial to acne-prone skin as it destroys bacteria and soothes inflammation/redness. This cream contains madecassoside, a major natural compound found in Centella Asiatica. It works wonders on dry acne-prone skin. Suppose you are looking for a moisturizer that not only calms redness and repairs skin damage, but also enhances your skin's natural glow. In that case, this is the product for you. The formula also features sodium hyaluronate, allantoin, and panthenol, which help strengthen the skin's barrier and fade dark spots. We recommend using this cream once you have washed and toned your face; finish your routine by applying it all over your face and neck; you can follow it up with sunscreen during the day.
Pros
Fades dark spots
Suitable for dry and sensitive skin
Strengthens the skin's barrier
Enhances skin's glow
Eliminates acne-causing bacteria
Soothes inflammation/redness
No greasy residue
Cons
The formula may not be lightweight
Price at the time of publication: $11.99
This product not only moisturizes your skin but also gives you the benefit of a makeup base. The smooth blending formula contains 35% snail mucin extract, which helps hydrate the skin and provides healthy coverage all over your skin. The finish is dewy and doesn't look cakey or dry. It is paraben and fragrance-free, making it safe for all skin types. With this BB cream, you can build on the coverage and don't have to worry about any cracks on fine lines, as it settles on the skin comfortably for most of the day. The texture is quite soft and lightweight so that you can blend it easily with your fingers. Lastly, this BB cream does an excellent job at color correcting and protecting you from UV rays, therefore making it an excellent choice for people who spend most of their day outdoors.
Pros
Color correcting
Smooth blending
Lightweight
Hydrating
Buildable
Even coverage
Natural finish
Cons
The shade range may not be diverse
Price at the time of publication: $14
This cream is packed with the goodness of Centella Asiatica, which prevents acne and helps improve hyperpigmentation, fade blemishes, heal acne scars, and soothe any redness. The cream is super soft and easy to apply, leaving your skin hydrated and rich with moisture. The formula also contains snail slime and madecassic acid, which calm stressed skin and enhance your glow. This cream is the perfect product for the warm summer months, as it does not clog your pores, gets absorbed quickly, and won't break you out. In addition, it is super light and can be layered with your favorite sunscreen without making you feel sticky or uncomfortable.
Pros
Non-comedogenic
Quick absorbing
Hydrating
Reduces blemishes
Improves hyperpigmentation
Cons
It may not be suitable to use during the winter season
Price at the time of publication: $23.07
Upgrade your summer skincare with this cooling moisturizer. The cream is filled with the goodness of heart-leaf extracts which help clear your pores and calm any redness. It also contains prickly pear extracts, rich in vitamin A, B, C, and potent minerals that help protect your skin and hydrate it. In addition, the aloe vera extract makes the gel lightweight and gives it a smooth texture that glides across your skin and gets absorbed quickly too. We recommend that you use this cream generously on your face and neck, every morning and night, for the desired results. It's perfect for oily, acne-prone, and sensitive skin types; it is beneficial for people who start experiencing tiny bumps or inflammation.
Pros
Lightweight
Natural hydrating ingredients
Smooth texture
Quick absorption
Perfect Korean moisturizer for oily, acne-prone skin
Suitable to use in warm weather
Cons
Some may find the smell overwhelming
Price at the time of publication: $23
Suppose we are talking about one of the most hydrating moisturizers in the Korean market. In that case, we have to mention Laneige. From lip masks to sleeping masks, their products guarantee glowing, supple skin every time. The gel-like formula is infused with grape seed oil responsible for keeping your skin hydrated and targeted explicitly towards acne-prone skin. The silky smooth finish lasts the whole day and makes your skin feel amazing; you won't feel any discomfort or greasiness once you slather on this product. Moreover, the water bank aspect doesn't fail to plump your skin after every application. It gets absorbed quickly as well.
Pros
Gel-like texture
Ultra-hydrating
Suitable for combination and sensitive skin types
All-day moisture
Quick absorption
Cons
It may not be non-comedogenic
By now, you know the wonder that is snail mucin extract! This moisturizer has just that, and it results in smoother, brighter skin with consistent use. This product can easily be your favorite moisturizer because not only does it hydrate your skin, but it ensures that you don't get ravaged by any zits in the future. It works well for dull and sensitive skin and doesn't leave any sticky residue as well. Of course, a little bit goes a long way, so we suggest that you use the cream as part of your night skincare; this will keep your skin soft and moisturized all through the night.
Pros
No sticky residue
Brightening
Suitable for acne-prone skin
Smooth formula
Cons
Some may find the consistency thick
Price at the time of publication: $24.99
Dr. Anna Chacon, a board-certified dermatologist shares, "Korea is the birthplace of pimple patches. The tiny, spherical hydrocolloid stickers aid in the healing of acne without drying it out, while also preserving the skin from future environmental aggravation." If you would like to try out some of the best Korean moisturizers for acne-prone skin that are available online, it's time to understand the crucial factors that make a great moisturizer. Keep reading our buying guide to know more!
Buying Guide To Choosing The Best Korean Moisturizer For Acne-Prone Skin
By formula, we mean the type of moisturizer you are looking for, which can range from gel-based, cream-based, or lotion-based. For sensitive skin that gets easily triggered or acne-prone skin, we highly recommend that you go for water-based moisturizers and have a gel formula; typically, these formulas are oil and fragrance-free. If you are dry or combination skin prone to acne, then look for cream-based moisturizers as they are hydrating and non-comedogenic.
It goes without saying that harsh chemicals are always a bad idea for any skin type. Hence it's always good to go for products filled with natural ingredients that are skin-friendly, hydrating, and fights acne. Look for active ingredients like aloe vera, centella asiatica, salicylic acid, niacinamide, snail mucin, etc.
Always look for the tag that says either "dermatologist-tested" or "dermatologist-recommended" because it gives the product credibility and ensures that it will provide you with the results that meet its claims. Usually, the credibility lives up to the expectations, and the moisturizers prevent acne or fight existing ones.
How To Use Korean Moisturizers For Acne-Prone Skin?
Step 1 – Cleanse
Every skincare routine starts with cleansing; this is where you use a mild face wash to wash away any dirt or oil on your skin.
Step 2 – Use antibacterial face
Next, you can use an antibacterial face wash that is specially formulated for acne-prone skin.
Step 3 – Lather on moisturizer
Once your face is washed and clean, then you can follow up with your favorite moisturizer.
Step 4 – Massage the product in
Gently pat the product all over your face, neck, and décolletage. You must start from the center and massage it in (preferably in an upward motion). Keep doing this until the moisturizer is absorbed into your skin and you feel hydrated.
Step 5 – Finish with sunscreen
Finally, finish off the routine with good quality sunscreen.
Skincare Tips For Acne-Prone Skin
Here are some tips that you must follow if you have acne-prone skin:
First, incorporate double cleansing into your routine. This ensures that the pores are cleansed and all the dirt and grime are washed away.
Exfoliate helps remove dead skin and impurities, which are one of the main culprits leading to acne.
Spot treatment and moisturizers help target problematic areas by fighting active acne and preventing the onset of new ones.
Why Trust StyleCraze?
Kirtana Divakar, the author of this article, is a skincare aficionado and is often found experimenting with various skincare products. Wanting to assist her readers in finding the best Korean moisturizers for acne-prone skin, she prepared a list of them after trying some herself and checking many product details. These products in the list keep your hair super hydrated and prevent your pores from clogging.
Frequently Asked Questions
Is moisturizer safe for acne-prone skin?
Yes, absolutely. There is a myth that moisturizers will break you out if you have oily skin. But that is far from the truth. You need to look for lightweight moisturizers that have natural acne-fighting, skin-loving ingredients, and don't clog pores with mostly water-based formulations to get the best results.
Which Korean moisturizer is the best for acne-prone skin?
All the moisturizers listed in our reviews above are some of the best Korean skincare products for acne-prone skin. Some popular ones include Belief and Laneige.
Should I moisturize at night?
Yes, it is highly recommended that you moisturize your acne-prone skin at night. This will ensure that your skin is hydrated throughout the night and you wake up with soft, nourished skin.
What are some non-greasy Korean moisturizers for acne-prone skin?
The Belief Believe In Truth The True cream is the best non-greasy Korean moisturizer suitable for acne-prone skin. The cream is lightweight and easily absorbed into the skin. In addition, it has a mild and refreshing fragrance that keeps you feeling refreshed.
What is the best Korean moisturizer for acne-prone skin during winter?
The IUNIK Centella Calming Gel cream contains natural ingredients like tea tree extracts and niacinamide that moisturizes the acne-prone skin and prevents it from drying out during winter. Use it at night to achieve the best results.