10 Best Korean Moisturizers For Oily Skin in 2023
These Korean moisturizers deserve the top spot in your oily skin care routine!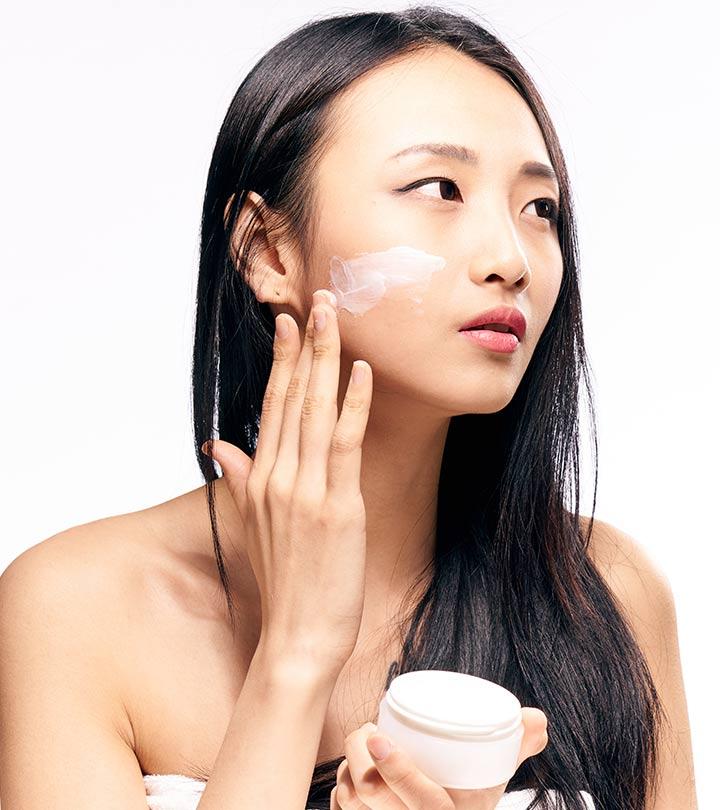 The best Korean moisturizers for oily skin assist in managing sebum production, reducing shine, and nourishing the skin. You may feel tempted to omit moisturizers in your skincare routine if you have oily skin, as you believe they make your skin look oilier and shinier. However, it is a misconception that oily skin doesn't need to be moisturized or that moisturizers do more harm than good when you have oily skin. On the contrary, not applying moisturizers can cause your skin to produce more sebum and become oilier. So, your skin needs a lightweight cream-based or gel-based moisturizer. Check out our top picks for Korean moisturizers that are ideal for your skin type. Scroll down!
Top 10 Korean Moisturizers For Oily Skin
Product Type: Lotion
This weightless and extremely mild lotion is rich in antioxidants and vitamins. It is best for oily, acne-prone, and irritated the skin. "This lotion is formulated with 70.8% birch sap which effectively soothes irritated skin, adds moisture to deeply hydrate, and restores the right oil-moisture balance. As a result, it will help control excess oil production and breakouts", adds Catie Wiggy, a licesned esthetican. It is the best Korean moisturizer for combination skin.
Pros
Cruelty-free
Paraben-free
100% vegan
Lightweight
Hygienic pump-packaging
Dermatologist tested
Hypoallergenic
Non-greasy
Cons
None
Price at the time of publication: $25.0
Product Type: Cream
If you have acne-prone skin and are battling with excess sebum, this moisturizing lotion can be your savior. It is formulated with ingredients like calamine powder (to control sebum and soothe the skin), BHAs (to improve skin turnover and remove dead skin cells), white truffle extracts, peptides, and amino acids (to improve skin firmness and elasticity). This nourishing cream has a slightly acidic pH (6.5) that prevents the breeding of bacteria on your skin and acne. It is the best Korean moisturizer for dry skin. Watch this video for a thorough understanding of the product.
Pros
Paraben-free
No artificial colors
No artificial fragrance
No animal ingredients
No mineral oil
Cons
None
Price at the time of publication: $44.0
Product Type: Gel moisturizer
Gel-based moisturizers are best suited for oily skin. Cremorlab Fresh Water Gel gets absorbed into your skin quickly and has a matte finish. It is so light that you can layer it under your makeup. It contains witch hazel that soothes your skin and keeps acne at bay, algae extracts that hydrate it, and green tea extracts that protect it from damage. It also contains Centella Asiatica and Camellia sinensis extracts that reduce inflammation and signs of aging. It also contains Bulgarian rose oil that soothes your skin. It is the best Korean moisturizer for oily skin.
Pros
Paraben-free
No artificial fragrance
No artificial colors
No mineral oil
Cons
None
Price at the time of publication: $25.0
The LANEIGE Water Bank Blue Hyaluronic cream provides long-lasting hydration. "Blue Hyaluronic Acid is a micro-sized hydrating hero, which gets absorbed into the skin faster and better and provides intense hydration", adds Wiggy. The cream's lightweight formula spreads smoothly over your skin and gets absorbed quickly. It strengthens the skin's moisture barrier and delivers bright-toned skin. It is suitable for oily, combination, sensitive, dry, and normal skin.
Pros
Paraben-free
Dermatologically-tested
Hypoallergenic
Pleasant fragrance
Suitable for sensitive skin
Cons
None
The Glow Recipe Watermelon Glow Pink Juice Face Moisturizer acts as a protective barrier and protects your skin against environmental pollution. The hyaluronic acid in the moisturizer quenches dehydrated skin and protects it against free radicals. In addition, it instantly sinks into the skin and hides dark spots. Do perform a patch test before using it on the face to avoid skin irritations.
Pros
Oil-free
Lightweight
Paraben-free
Mineral oil-free
Sulfate-free
Phthalate-free
Alcohol-free
No synthetic dyes
Vegan
Cons
The Jung Saem Mool Essential Cream has gained popularity because of its natural glowing finish. Ceramide and panthenol infused in the cream strengthen the skin's moisture barrier which, in turn, prevents moisture loss. The creamy texture of the product spreads easily and gets quickly absorbed into the skin. It provides long-lasting hydration.
Pros
Soothing fragrance
Easy to apply
Suitable for sensitive skin
Lightweight
Cons
Product Type: Gel moisturizer
This gel-based moisturizer is formulated with a unique fermented green tea extract (ChungTaeJeon) that is rich in antioxidants. It provides intense hydration to your skin without any stickiness. It contains about 63% fermented green tea extracts, lemongrass oil, and rosewood oil that have antibacterial effects and keep the skin plump. This YouTuber's review will help you get a deeper insight of the product.
Pros
Paraben-free
No mineral oils
Natural extracts
No added colors
No artificial fragrance
Cons
None
Price at the time of publication: $25.0
Product Type: Gel-cream
This oil-free gel-cream contains a powerful blend of apothecary herbs. It contains Lady's mantle, which is rich in antioxidants and prevents damage caused by free radicals. It intensely hydrates your skin and keeps it healthy and smooth.
Pros
Dermatologist tested
No mineral oils
Paraben-free
Sulfate-free
Phthalate-free
Dye-free
No synthetic preservatives
Fragrance-free
No animal ingredients
Cons
None
Price at the time of publication: $38.0
The Neogen Dermalogy Probiotics Relief Toning Pad provides skin hydration and firmness to get smoothe uneven textures. Combining super probiotics and hydrating ingredients, it strengthens the skin barrier and effectively reduces fine lines and wrinkles. It makes skin visibly healthier after just a few days of use!
Pros
Rich texture
Smells great
Affordable
Value for money
Cons
None
The Klairs Rich Moist Soothing cream restores the hydration balance while battling dry skin effectively throughout all seasons. It enhances the skin's ability to repair skin cells and strengthen the protective layer of sensitive skin. The quick-absorbing formula calms and comforts hypersensitive skin. This cream is a one-stop solution for all skin issues, including redness of the skin.
Pros
Artificial color-free
Gluten-free
Paraben-free
Non-sticky texture
Vegan
Cons
None
Korean moisturizers are deemed to be most sought-after for flawless skin and tackling almost all regular skin concerns. To help you pick the best Korean moisturizers for oily skin you need to consider some key factors. Check them out below!
How To Select The Best Korean Moisturizers For Oily Skin
Look for key ingredients like dimethicone, glycolic acid, hyaluronic acid, niacinamide, vitamin B3, retinol, alpha hydroxy acid, or salicylic acid. These help in sloughing off old skin cells, reduces pore size, minimizes excess sebum, and balances oil production. Remember that not all oil-based ingredients are harmful for oily skin. Tea tree oil, rosehip oil, jojoba oil, grapeseed oil, hazelnut oil, and hemp seed oil can soothe, cleanse, and hydrate the skin without clogging your pores. They are lightweight and will help to deliver the perfect amount of moisture for oily skin without feeling sticky or greasy.
Avoid ingredients like silicones, lanolin, coconut oil, castor oil, alcohol, parabens, sulfates, siloxane, stearates, mineral oils, petroleum, paraffin, and beeswax. These may clog your pores and aggravate acne breakouts.
Heavy moisturizers on oily skin are generally pore-clogging and leave skin feeling oilier than before. It is therefore best to pick non-greasy, lightweight moisturizers that are water or gel-based creams or lotions. Choose oil-free, non-comedogenic, and hypoallergenic products that contain antibacterial, and anti-inflammatory.
Choose a moisturizer that also caters to other skin concerns like acne, sensitivity, hyperpigmentation, fine lines and wrinkles, redness and dull skin tone. An antioxidant-rich formula protects your skin from pollutants, heat, and free-radical damage.
Why Trust StyleCraze?
Shiboli Chakraborti, the author of this article, is a certified skin care coach and provides research-backed articles to her readers. She believes that moisturizers are an essential skin care product, even for oily skin. Therefore, she browsed several products and their reviews to provide you with the best Korean moisturizers for oily skin. These moisturizers are chemical-free, lightweight, and non-greasy.
Frequently Asked Questions
Are Korean skin care products good for oily skin?
Yes, Korean skin care products are good for oily skin. The excess sebum in oily skin can be controlled using water-based K-beauty products that are effective on clogged pores.
What moisturizer do K-pop idols use?
Different K-pop idols have different choices of moisturizers. However, they use moisturizers with ingredients that are gentle and hydrating.
Do Koreans use moisturizers?
Yes, Koreans use moisturizers to keep their skin soft and supple. However, they mostly couple a moisturizer with sunscreen to keep their skin tan-free and flawless.
Can I skip moisturizer if I have oily skin?
Yes, you can skip moisturizer if you have oily skin. But a lightweight moisturizer especially made for your skin type can help keep your skin hydrated and supple.
Why is Korean skin care different?
Korean skin care puts essential nutrients back into your skin. It does not take the harder approach of applying expensive exfoliators, rather, it plumps your skin with its unique and innovative skin care products.
Recommended Articles