13 Best Korean Powder Reviews of 2021 Guide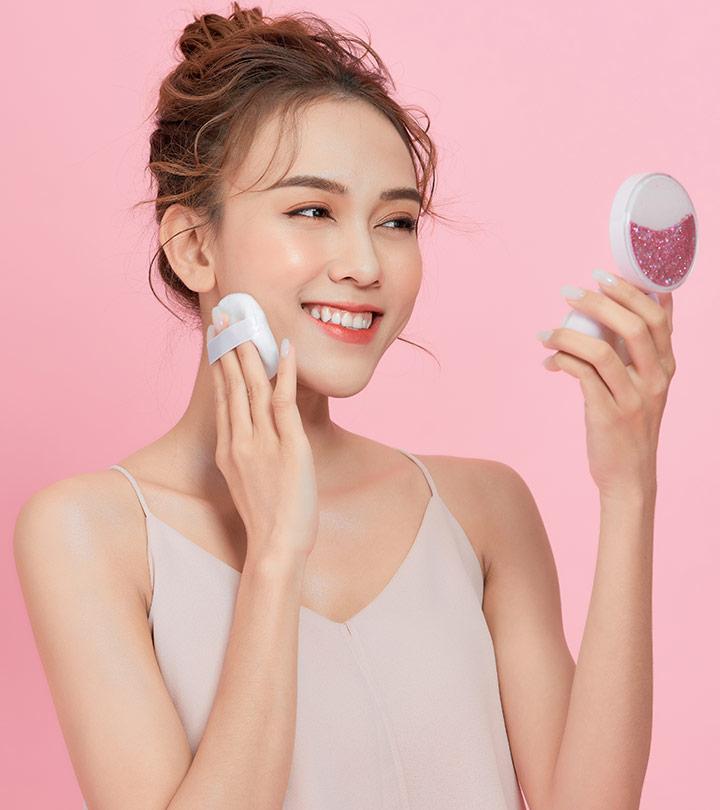 Wondering what's special about Korean powders? Tbh, everything! They are all-natural, lightweight, breathable, and for oily skin – they are no less than a boon! Eliminating greasiness and controlling sebum instantly, their powerful puffs are giving every makeup look, a seamless finish. So yes, it is no surprise why more and more people are picking Korean powders over local brands to get that natural radiance. And why wouldn't they? Given how flawless Koreans look and considering how effective these powders are, it's high time to give them a try!
Now, who's ready to glow up like the Asians? Whether you are looking for the best Korean powder or curious to know more about it, check out our list of 13 best Korean powders of 2021 below!
Read on to know more!
13 Best Korean Powder Reviews of 2021 Guide
One powder to get rid of all the greasiness! Use it as a face powder, eye primer, or on greasy hair, this zero-sebum drying powder will matte away all the excess oil, instantly! With no talc, and 80% mineral, it strengthens the skin's barrier with sugar polymer and cotton extracts. Finish your makeup routine with this Korean setting powder that'll keep your skin bright and shine-free all day.
Pros:
Controls and mattifies sebum
Ensures clear and smooth skin
Made of natural ingredients
Clump-free drying powder
Contains no mineral oil, artificial fragrance, animal raw material, and pigment synthesis
Long-lasting
Cons:
Not recommended for dry skin
Enriched with the goodness of Jeju's natural mineral and mint extracts, puff on this no-sebum powder to enjoy a grease-free day! Formulated with organic ingredients, it controls and absorbs all the excess oil, sweat, and water in a few puffs. And that's not all, this Korean mineral powder for dry skin delivers a healthy and natural glow with every use! Just what your skin deserves be it any season or occasion, Innisfree is also a well-known Korean brand worldwide for its organic skincare products.
Pros:
Infused with natural ingredients
Moisturizes the skin
Controls sebum
Paraben-free powder
No artificial pigment, fragrance, mineral oil and animal ingredients included
Longwear
Ideal for peach and cream complexions
Cons:
Applying too much may leave a whitish cast
Are open pores giving you a hard time? Let Mineral Fusion Pressed Powder Foundation airbrush them for you! Setting on a layer so smooth and stunning that you can't help but be wowed. What's the secret? Its powerful and natural formula, which contains pomegranate, sea kelp, red tea, and white tea. Indulge in this paraben-free Korean pressed powder to nourish your skin and control the excess oil. Getting you photo-ready within seconds, glow up your skin with touch of Mineral Fusion.
Pros:
Triple-milled pressed powder foundation
Gives a buildable coverage
Keep your skin shine-free
Hides fine lines and enhances complexion
Free of fragrance, gluten, and talc
Cruelty-free and 100% vegan
Contains no artificial colors or phthalates
Cons:
May not last long
Not ideal for dry skin
Oily skin is not the problem, excess sebum is! And unlike drugstore powders that may turn cakey, Peach Sake Silky Finish Powder by Skin Food is extremely lightweight and translucent. Giving your cheeks a kiss of peaches (yummy peach fragrance, btw!), it also contains sake extracts. From controlling excess oil to alleviating skin issues, finish your makeup with this Korean face powder for that flawless look.
Pros:
Smooth and seamless finish
Ultra-fine micro silica powder
Eliminates extra shine
Prevents sebum build-up
Skin feels soft and silky
Suitable for all skin types
Trusted brand since 1957
Cons:
It does not moisturize.
It may not conceal blemishes.
How about calling it the ultimate grease eliminator! Why? Because this loose and setting powder guarantees to eliminate excess sebum in a dab! Be it oily t-zone or greasy hair, its setting power is ultra-satisfying too, hence why it can be used as an eye primer! Enhancing the skin with its all-natural ingredients, the formula is made of bilberry, orange, sugarcane, noni, lemon, lotus, and saccharum. A must-try for makeup users with oily skin, it offers a long-lasting matte coverage and is one of the best finishers to add to your makeup collection.
Pros:
Conceals fine lines, wrinkles, and blemishes
Soften skin and adds a silky touch
Lightweight and translucent
Covers uneven skin tones
No chalky appearance
A good powder for oily skin
Cute packaging
Cons:
May fade after a few hours
Not suitable for dry skin
If staying outdoors is a part of your job, then this Korean face powder with SPF should be a part of your makeup kit! Protecting your skin from harmful sun rays, while keeping it oil-free and stunning, this Asian product is a savior for frequent travelers. A great alternative to those cream-based sunscreens that may cause sebum build-up, try Privacy UV Face Powder for its unique combination.
Pros:
Translucent face powder
Lightens skin and enhances complexion
Protects against UV rays
Travel-friendly compact powder
Easy-to-clean, Non-drying and non-flaky
Suitable for sensitive skin
Makeup puff included
Cons:
It may leave a whitish cast.
More like pamper than a powder! With green tea extract, aloe vera, vitamin E, and flower waxes, your face powder can't get more nourishing and gentle than this. Dab on your skin to brighten up on no-makeup days or use it to set the makeup, it only guarantees one thing— a flawless finish. Don't believe us? Try it to experience its all-natural, organic, and vegan bliss. Also, did you notice the vintage and premium design? Class apart and worth a flaunt, totally.
Pros:
Brightens the skin
Delivers light to medium coverage
Protects the skin's natural barrier
Travel-friendly and environment-friendly product
Non-talc setting powder
Fragrance-free, gluten-free, and cruelty-free
Suitable for all skin types
Cons:
It may flake on dry skin.
Sweat or greasiness spoiling your makeup? Control them with this advanced sun pact that also protects your skin from harmful UVA and UVB rays. Powered with SPF50+, this lightweight and smooth powder can do wonders in a few dabs. Not only does it mattify, but it also contains lecithin coating powder that moistures and delivers a hydrated look. Besides this, collagen ensures your makeup stays intact, all day long! Need we say more, makeup lovers?
Pros:
Sunscreen-powered face powder
Silky texture
Soaks up excess sebum
Softens and brightens skin
Conceals uneven skin tones
Cares and conceals pores
Cons:
Fragrance may be overpowering
It may turn creasy after a few hours.
Dealing with wrinkles, open pores, or uneven skin tones? Try Eglips Blur Powder for its super concealing power. From promising a matte and smooth finish on the skin, it covers all the pores, and blemishes seamlessly. Also, the formula is all-natural and contains rose mose extract, jewel powder, cliff swallow extracts, pearl powder, and more. Use it on a no-makeup day or finish your makeup with Eglips, this Korean powder guarantees to deliver pure radiance.
Pros:
Lightweight face powder
Ultra-fine texture
Boosts a youthful glow
Non-toxic and paraben-free
It contains no synthetic perfumes.
Cons:
Not ideal for dry skin
It may not last long.
Need an extra seamless touch after you apply makeup? SkinFood Buckwheat Loose Powder is ideal for you! Enhancing your makeup with infused buckwheat oil, the powder is ultra-fine and soft on the skin. But what really makes this Korean loose powder a perfect go-to for makeup artists and beginners is the bright and blooming effect it promises. It's just what you and your makeup need to look perfectly flawless all day. So, don't make your makeup wait anymore, go nab this setting powder today!
Pros:
Gives makeup a stunning and smooth finish
Brightens skin tone
Silky-smooth texture
Shine-free and grease-free skin
Deliver a transparent cast
Available for all skin types
Cons:
Dull skin ruining your mood, or worse your makeup look? You need something light, bright, and wonderful, like this radiant dust by Mistine. Promising a Korean glow, just pat the puff lightly on your skin and watch it brighten up instantly. With crystal-clear powder and soft pearl adding a glowing radiance to the skin, get ready to turn heads wherever you go!
Pros:
Soft and fine texture
Enhances complexion
Contains fine glitter particles
Ideal for post-makeup finishing
Suitable for all skin types
Longwear
Cons:
Not recommended for oily skin
Wrinkles and open pores stand no chances against this fine mineral powder! Blurring out blemishes and concealing the pores, this powder is no less than a boon for makeup lovers. Given how quickly it absorbs the greasiness, you don't have to worry about frequent touch-ups too. Just dab on gently and look beautiful anywhere, anytime!
Pros:
Contains fine pearls that deliver a stunning glow
Smoothens and soften skin
Enhances the complexion
Fine texture
Clump-free powder
Longwear
Cons:
Rather than airbrushing photos, switch to this no-sebum compact for a flawless look! Other than concealing open pores, it delivers a finish so matte and smooth that you won't believe your eyes. Eliminating all the excess oil in a glide, get ready to look selfie-ready with IPKN Selfie HD Finish Pact daily! After all, going shine-free never looked this easy.
Pros:
Formulated with white sebum powder
Conceals fine lines
Strong adhesion and stay power
Long-lasting
Sets makeup seamlessly
Suitable for all skin types
Cons:
There you have it, 13 best Korean powders to go flawless this season! Still unsure which one to pick? Get tips from our buying guide below.
Buying Guide – How To Choose The Best Korean Powder?
Consistency – Korean powders are available in loose and pressed consistency. Loose powders are mostly used to mattify the greasiness or to control excess sebum. Pressed powders not only control sebum but enhance makeup looks too by adding a seamless finish.
Suitability – Choose a mattifying powder based on your suitability as to whether you need it to control sebum or to set the makeup look. Also, choose a powder that lasts long and does not deliver a whitish cast.
Skin Type – Pick a powder that suits your skin type. Not necessary all Korean powders eliminate excess sebum, some hydrate, and are suitable for all skin types too.
Ingredients – Most of the Korean oil control powders or in fact products are natural or organic. However, some powders may have talc or may not be entirely chemical-free.
Difference between Korean and American Powders?
Korean and American powders are extremely different. American powder may be heavier, pigmented, and cream-based, whereas Korean makeup powder is lightweight and has an ultra-fine and soft texture. Also, it's a natural face powder that brightens up the skin instantly with a translucent and matte glow, unlike American powders.
Now that you know the difference – Go puff on some glamor, Korean style! Given how powders are an essential part of the Asian makeup routine, it's time you dab on an extra layer of gorgeousness too. Hurry, pick the best Korean powder from our list of 13 best Korean powders and say goodbye to oily and greasy skin forever.
Expert's Answers For Readers' Questions
Which Is The Best K-beauty Touch-up Powder To Keep Your Makeup Intact This Summer?
Though, it would be ideal to choose depending on the skin type, Etude House Zero Sebum Drying Powder and Innisfree No Sebum Mineral Powder are some of the best K-beauty touch-up powders to try this summer.
What Does A Touch-up Powder Do?
A touch-up powder especially a no-sebum touch-up powder helps control excess oil, keeps the makeup intact and skin looking fresh and shine-free for prolonged hours.