7 Best Korean Rubber Face Masks To Try in 2021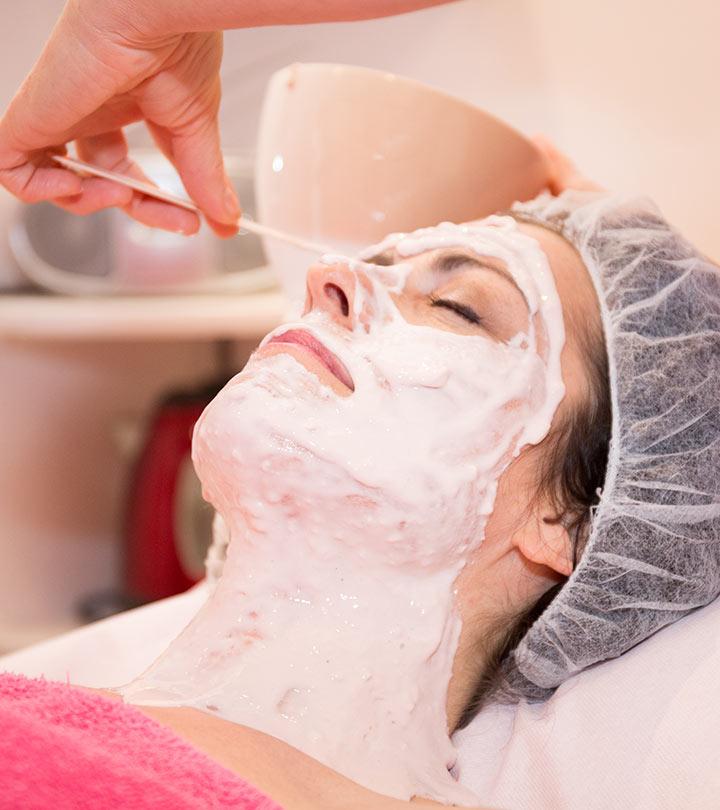 Korean rubber face masks are the latest skincare trend people are going gaga over. These rubber masks are widely used in Korean skin spas. They are more detoxifying, hydrating, and nourishing than regular sheet masks. That is the reason they have gained significant traction not just in South Korea but all over the world. Check out the best Korean rubber face masks currently available and how to use them in this article.
7 Best Korean Rubber Face Masks For Your Skin
Dr. Jart+ Hydration Lover Rubber Mask employs a two-step system to provide intense hydration to your skin. First, you apply a highly concentrated ampoule serum. Then, the rubber mask, infused with algae and botanical extracts, prevents the ingredients from evaporating and calms your skin. The mask also contains vitamin C, essential minerals, green seaweed extracts, and lipophilic and hydrophilic actives that enrich your skin.
Pros
Paraben-free
Phthalate-free
Sulfate-free
Cons
None
Similar Products
This two-step facial treatment consists of a hyaluronic cushion gel and an activating powder. This product is meant to help your skin revive through oxygen exchange. The two-step gel and powder formula contains humectants, medical-grade marine algae (harvested in the Norwegian seas), and hyaluronic acid that keep your skin smooth and supple, reduce fine lines, and even out your skin tone.
Pros
Cruelty-free
Oil-free
Clinically tested
Paraben-free
Cons
None
Similar Products
This anti-aging rubber mask is enriched with gold extracts and Asian botanical extracts. It contains ginseng, jojoba, and caviar extracts along with silk amino acids. These ingredients rejuvenate your skin cells and promote the cell renewal process. This mask provides 72 hours of lasting hydration and improves the moisture retention of your skin. The package contains a gold gel and collagen powder.
Pros
Paraben-free
Phthalate-free
Sulfate-free
Cons
None
Similar Products
This two-step brightening mask treatment is rich in vitamins A, B, C, and E that help boost collagen development. It also contains seaweed extracts (Laminaria japonica and Undaria pinnatifida) that correct uneven skin tone, reduce dullness, and make your skin radiant.
Pros
Paraben-free
Sulfate-free
Phthalate-free
Cons
None
Similar Products
If you have dry and aging skin, this rubber mask is perfect for you. It contains calcium, iron, and hydrolyzed collagen that tighten your skin and make it firm. These custom rubber masks also contains charcoal extracts that cleanse your skin pores and get rid of blackheads.
Pros
Paraben-free
Sulfate-free
No harmful chemicals
Cons
None
Similar Products
All the rubber masks by Dr. Jart+ are designed to perform specific functions. This white rubber mask promises to give you thoroughly clean skin. Its ingredients penetrate deep into your skin pores to clean them. It helps prevent breakouts and soothe your stressed skin. It is formulated with a Pore Clear Complex that purifies the skin pores and reduces their size. This mask also contains a multi-seaweed complex that includes Laminaria japonica and Gelidium cartilagineum extracts.
Pros
Paraben-free
Sulfate-free
Phthalate-free
Contains botanical extracts
Cons
None
The skyn ICELAND Arctic Hydration Rubberizing Mask is enriched with vitamin C that rejuvenates dull and tired skin and helps combat free radical damage. It provides an instant dose of hydration while locking the potent nutrients on the skin. This peel-off face mask contains Arctic cloudberry seed oil, red algae complex, and sodium hyaluronate. Arctic cloudberry seed oil soothes the skin, and sodium hyaluronate protects it from environmental stressors.
This mask locks the natural moisture of your skin and eliminates impurities. It tightens and tones your skin and boosts its elasticity. This product conforms to the contours of your face and creates an airtight barrier, revealing bright skin.
Pros
Boosts skin elasticity
Hydrates dull skin
Value for money
Cons
None
Tempted to try out a rubber mask? Scroll down to learn how to use it!
How To Use Rubber Masks
Cleanse and exfoliate your face.
Mix the powder or liquid properly. Beat it until it dissolves and reaches a gooey consistency.
Start applying it to your face immediately. Apply a thick layer to make it easy to peel off later.
Wait for 20 minutes (or the duration recommended by the brand) to let the mask dry.
Peel off the mask.
Follow up with a toner, serum, and moisturizer to seal all the ingredients in.
Doesn't that sound fun? Why don't you try it out and share your experience with us in the comments section below?
Recommended Articles