7 Best Korean Rubber Face Masks To Try in 2023
The trending beauty routine for the soft, smooth, and supple skin of your dreams.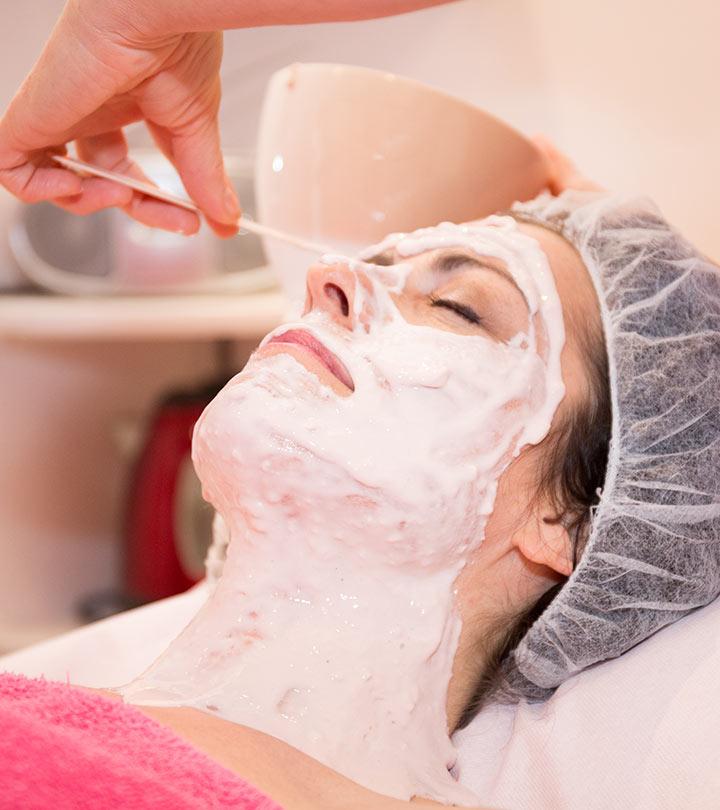 There's no denying it – Korean face masks are the hottest trend right now! However, choosing the best Korean rubber face mask isn't easy because there are so many out there! This craze is taking the world by storm! It works more effectively to detoxify, hydrate, and nourish your skin than regular sheet masks. Their success abroad, as well as in South Korea, is due to this very reason. Here is the ultimate guide on the best Korean rubber face masks available right now, as well as tips for using them. Keep scrolling!
7 Best Korean Rubber Face Masks For Your Skin
Dr. Jart+ Hydration Lover Rubber Mask employs a two-step system to provide intense hydration to your skin. First, you apply a highly concentrated ampoule serum. Then, the rubber mask, infused with algae and botanical extracts, prevents the ingredients from evaporating and calms your skin. The mask also contains vitamin C, essential minerals, green seaweed extracts, and lipophilic and hydrophilic actives that enrich your skin. Check the demo and review of the Dr. Jart+ Hydration Lover Rubber Mask from this video.
Pros
Paraben-free
Phthalate-free
Sulfate-free
Cons
None
Price at the time of publication: $19.87
This two-step facial treatment consists of a hyaluronic cushion gel and an activating powder. This product is meant to help your skin revive through oxygen exchange. The two-step gel and powder formula contains humectants, medical-grade marine algae (harvested in the Norwegian seas), and hyaluronic acid that keep your skin smooth and supple, reduce fine lines, and even out your skin tone. Becky Sturm, an esthetician, says, "I am a fan of rubber masks with hyaluronic acid for the collagen stimulating effect, reduction of fine lines, and immediate hydration. It has the most long-term effect." If you need more information, watch the review of the Dr. Dennis Gross Hyaluronic Marine Hydrating Modeling Mask.
Pros
Cruelty-free
Oil-free
Clinically tested
Paraben-free
Cons
None
Price at the time of publication: $42.0
The Esthekin Modeling Rubber Mask is suitable for mature skin types that need slightly more care nourishment to remain youthful. The potent formula is enriched with collagen that lifts and firms the skin and increases skin elasticity. The moisturizing formula is made of good-quality ingredients and is excellent for a quick facial that leaves the skin feeling soft and clear.
Pros
Easy to use
Long-lasting hydration
Value for money
Suitable for mature and normal skin types
Cons
Difficult to achieve the right consistency
Unpleasant odor
This two-step brightening mask treatment is rich in vitamins A, B, C, and E that help boost collagen development. It also contains seaweed extracts (Laminaria japonica and Undaria pinnatifida) that correct uneven skin tone, reduce dullness, and make your skin radiant.
Pros
Paraben-free
Sulfate-free
Phthalate-free
Cons
None
Price at the time of publication: $34.89
If you want glowing, firmer-looking skin, this rubber mask is perfect for you. It contains vitamin C, allantoin, and strawberry extract that gently exfoliate the skin, remove all clogged dirt and impurities, tighten the pores, and improve elasticity. This pore-tightening mask reveals brighter and youthful skin.
Pros
 Made for all skin types
 Best for dull, oily, and dehydrated skin
 Easy to use
Cons
None
Price at the time of publication: $24.99
The Environmental Esthetics Jelly Mask 24K Gold is the perfect purifying formula for your self-care Sundays. This gentle anti-aging product comes in powder form and needs a quick mix with water to create the perfect jelly consistency. Along with exfoliating, moisturizing, and revitalizing, this product also stimulates collagen and elastin formation in the skin. It shrinks pores, fades dark spots, and smoothens the skin. This detox mask is enriched with the goodness of goji berry, eight amino acids, and antioxidant-rich chamomile. It also regulates the oil production in the skin.
Pros
100% natural
Suitable for all skin types
Reduces acne scars
Tightens the pores
Reduce the appearance of stretch marks
Cons
The skyn ICELAND Arctic Hydration Rubberizing Mask is enriched with vitamin C that rejuvenates dull and tired skin and helps combat free radical damage. It provides an instant dose of hydration while locking the potent nutrients on the skin. This peel-off face mask contains Arctic cloudberry seed oil, red algae complex, and sodium hyaluronate. Arctic cloudberry seed oil soothes the skin, and sodium hyaluronate protects it from environmental stressors.
This mask locks the natural moisture of your skin and eliminates impurities. It tightens and tones your skin and boosts its elasticity. This product conforms to the contours of your face and creates an airtight barrier, revealing bright skin.
Pros
Boosts skin elasticity
Hydrates dull skin
Value for money
Cons
None
Price at the time of publication: $22.98
Korean rubber mask is a fantastic way to moisturize your skin and enhance its appearance. But, before selecting any face masks, you need to go through some important points to prevent your skin from any side effects and to get effective results. Given below is a detailed buying guide along with some factors to consider while choosing the best Korean rubber face mask.
Tips To Choose The Best Korean Rubber Face Masks
When selecting a rubber face mask for yourself, take extra precautions. These face masks' active ingredients are typically listed on the package in a clear manner. Choose the one that is appropriate for your skin type to avoid any allergies. Look for ingredients like vitamins A, B, C, and E, hyaluronic acid, allantoin, strawberry extract, botanical extracts, and other natural ingredients. Avoid using rubber face masks that contain parabens, sulfates, phthalates, mineral oils, and any other harsh or harmful ingredients.
Some Korean rubber masks are suitable for all skin types while some work best only for a particular type of skin. If you have acne-prone skin, select rubber masks that contain charcoal, salicylic acid, and tea tree oil. For hyperpigmentation, look for masks with vitamin C, niacinamide, and hyaluronic acid. If you have sensitive skin, stay away from masks with fragrances as they often irritate the skin. Your best bet is to use hydrating masks regularly.
For mature skin types, look for ingredients such as collagen and marine algae complex to improve skin elasticity and rescue the signs of aging skin.
If you have latex allergies and are afraid that rubber masks can cause some side effects on your face then you must know that rubber face masks are not generally made of latex. To be sure, though, before using a rubber mask check the manufacturer's labeling.
Tempted to try out a rubber mask? Scroll down to learn how to use it!
How To Use Rubber Masks
Cleanse and exfoliate your face.
Mix the powder or liquid properly. Beat it until it dissolves and reaches a gooey consistency.
Start applying it to your face immediately. Apply a thick layer to make it easy to peel off later.
Wait for 20 minutes (or the duration recommended by the brand) to let the mask dry.
Peel off the mask.
Follow up with a toner, serum, and moisturizer to seal all the ingredients in.
Why Trust StyleCraze?
Shiboli Chakraborti, the author of this article, is a certified skin care coach who loves to review different skin care products. She went through numerous reviews and feedback on multiple online forums and websites to curate a list of the best Korean rubber face masks. These face masks effectively detoxify, hydrate, and nourish your skin. They also tighten and tone your skin and boost its elasticity.
Frequently Asked Questions
Can I wear a Korean rubber face mask every day?
No, using a Korean rubber face mask once a week is enough.
Is Korean rubber mask good for sensitive skin?
Yes, a Korean rubber mask is suitable for sensitive skin. These masks are ideal for delicate skin since they are easy to remove and do not pull at the skin They also clarify, tone, deep cleanse, and hydrate the skin without any irritation.
Can I sleep with a Korean rubber mask on?
Yes, you can sleep with a Korean rubber mask on as it includes essences that are most effective when left on the skin overnight. But, always check for the specific product usage instructions.
When should I use a Korean rubber mask in my skincare routine?
Use it after double cleansing and exfoliating your face at night to get the best results.
Can I put a korean rubber face mask in the fridge?
Yes, you can put a rubber face mask in the fridge for the cooling effect but not for an extended period as it will start to freeze and lose its effectiveness.
Recommended Articles