10 Best Korean Sleeping Masks And Packs Of 2023
Get flawless, glowing skin overnight with the nourishing and moisturizing formulas from Korea.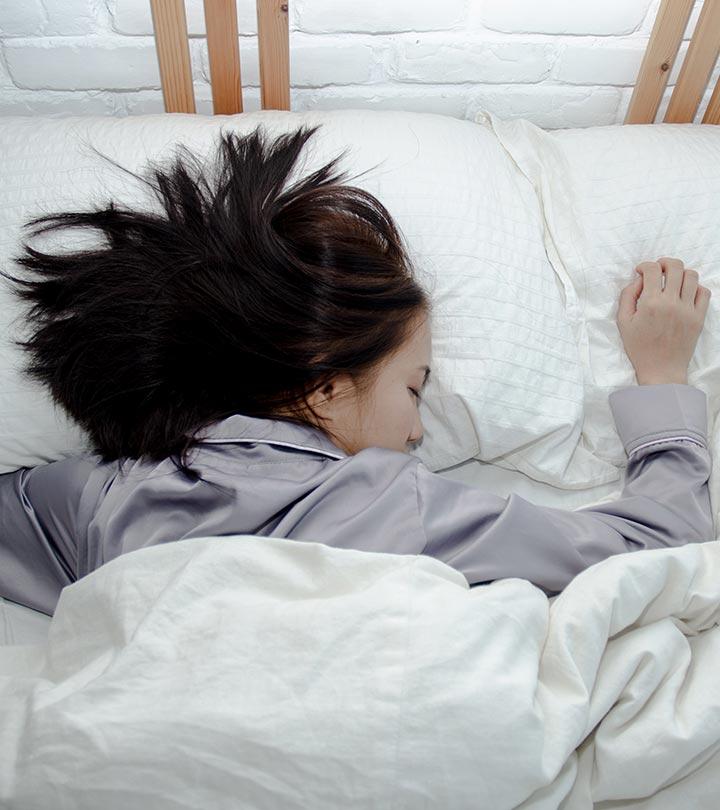 Does sleeping with an overnight face mask seem a little excessive? Well, not if you consider the plethora of benefits they provide. Here, we have listed the best Korean sleeping masks for you to try. Sleeping masks are a new addition to the skincare regime that originated in South Korea. Your skin performs a variety of activities while you are sleeping. It rejuvenates and repairs itself. To assist your skin in reaching its peak while it heals, you should use an overnight sleeping mask. They are popular because they contain skin-boosting elements. Scroll down to take a look at our top picks.
10 Best Korean Sleeping Masks and Packs
Solution For: Dryness, wrinkles, fine lines, and uneven skin texture
This overnight gel mask recharges your dehydrated skin while you sleep. The Laneige Water Mask has a unique formula that contains highly concentrated hydro-ionized mineral water that provides intense moisturization to stressed and dehydrated skin. Its unique Sleepscent Technology is infused with calming rose, orange blossom, and sandalwood fragrances that help relax your senses while you snooze. The evening primrose and apricot extracts in it brighten your skin. Here's a personal review video to help you get a better understanding of the product
Pros
SLS- and SLES-free
Paraben-free
No formaldehyde and formaldehyde-releasing agents
No mineral oil
Phthalate-free
No coal tar
Lightweight
Mild and pleasing fragrance
Dermatologist tested
Non-comedogenic
Cruelty-free
Suitable for all skin types
Cons
None
Price at the time of publication: $19.5
Pros
Alcohol-free
Paraben-free
No artificial fragrances
No synthetic colors
Cruelty-free
Developed by dermatologists
Cons
None
Price at the time of publication: $21.99
Pros
Paraben-free
100% vegan
Cruelty-free
Fragrance-free
Suitable for all skin types
Cons
None

Price at the time of publication: $18.0
Pros
Safe for sensitive skin
Lightweight
Moisturizing
Non-greasy
Non-sticky
Hypoallergenic
Maintains pH balance of the skin
Vegan
Absorbed quickly
Minimizes pores
Cons
Price at the time of publication: $19.9
Solution For: Sensitive skin, dryness, and redness
If you have sensitive skin that reacts to whatever you put on it, this sleeping pack will help calm it down. The Soonjung 5-Panthensoside Cica Sleeping Pack is enriched with panthenol, a compound that is closely related to vitamin B5. It hydrates the skin and prevents moisture loss. The pack also contains Madecassoside (a compound derived from Centella Asiatica) that protects the natural barrier of the skin and repairs any damage. It has a dense gel-like consistency, but it feels light on the skin.
Pros
SLS- and SLES-free
Paraben-free
No mineral oils
Cons
None
Price at the time of publication: $19.99
Solution For: Distressed and dehydrated skin
This product is recommended for people in their 20s and 30s who have moderate signs of aging and dehydrated skin. It contains snail secretion that helps in skin regeneration, reduces acne and redness, and keeps your skin replenished. This sleeping pack also contains botanical extracts, including the extracts of the Baobab tree, that relieve skin stress and soothe it while you sleep. Dr. Patricia Gaile Espinosa, says, "Baobab extract contains palmitic and oleic acids. It makes a good moisturizer and hydrates the skin well. It is also non-irritating to the skin."
Pros
Botanical extracts
No mineral oils
No harmful chemicals
Paraben-free
Cons
None
Price at the time of publication: $20
Solution For: Dryness and pigmentation
This gel-based overnight mask contains peppermint extracts, holy basil, and neem extracts that boost your skin immunity, fight acne, reduce pigmentation and spots, and improve your skin tone. Its Water Gel Network formula is enriched with bamboo and lotus extracts that create a protective barrier on your skin and maintain its moisture. It is the best Korean night mask.
Pros
Paraben-free
Sulfate-free
Phthalate-free
No mineral oils
Cons
None
Price at the time of publication: $7.16
Solution For: Dryness, Brightening, Wrinkle Care
This overnight sleeping mask is enriched with propolis extract, vitamin tree fruit extract, and gotu kola extracts. These ingredients soothe and brighten up your skin while providing deep nourishment as you sleep. The hyaluronic acid deeply moisturizes the skin, providing all-day hydration. The non-greasy mask gets quickly absorbed, reducing fine lines and wrinkles to give you smooth and glowing skin. Additionally, it can also be used as a daytime moisturizer.
Pros
Non-comedogenic
Alcohol-free
Non-irritating
Fast-absorbing formula
Suitable for all skin types
Natural ingredients
Cons
None


Pro Tip
Use this sleeping mask for at least half an hour before bed. This allows the product to absorb better into the skin and not cling to the pillow.
Price at the time of publication: $14.99
Solution For: Fine lines, dryness, redness
This overnight sleeping mask is formulated with Korean medicinal herbs, such as Scutellaria root, Angelica acutiloba, walnut, and white mulberry extracts. All the herbs used in the cream helps revitalize your skin by delivering essential nutrients and prevent cell damage. The Organic Respiration Layer technology used to develop this product gives it a creamy, soft, and light texture that keeps your skin hydrated without feeling heavy on it.
Pros
Medicinal ingredients
Paraben-free
SLS-free and SLES-free
No mineral oils
Cons
Price at the time of publication: $33.99
Solution For: Dull, hyperpigmentation, and dryness
The Good Night White Sleeping Mask by Mizon is developed with a Whitening System (with niacinamide, mulberry root extract, and Broussonetia extract) for dull skin that lacks luster and has spots and marks. It contains a Moisture Shield made of hyaluronic acid, glycerine, and Biosaccharide Gum-1 that prevents dryness and keeps your skin hydrated. This overnight mask has a delicate lavender fragrance to help you slip into slumber comfortably. This is the best Korean overnight mask.
Pros
Hypoallergenic
SLS- and SLES-free
No mineral oils
Cons
Price at the time of publication: $9.0
It's easy to get carried away while shopping for eye masks and packs because Korean products are simply too awesome. However, it's not necessary that everything you add to your cart is going to suit your skin. To narrow your search and zero in on the perfect product, keep the following guidelines in mind.
Points To Remember While Purchasing Korean Sleeping Masks And Packs
Choose masks that are made from natural ingredients and do not include any harsh chemicals or alcohol, which are very drying. Make sure the masks and packs you use don't contain parabens, SLS- and SLES, mineral oil, formaldehyde or formaldehyde-releasing agents, phthalate, coal tar, or sulfates. Bonus points if it is dermatologist-tested.
Korean masks with hyaluronic acid are great if you have dry skin. They maintain the skin's hydration and forestall the formation of fine lines and wrinkles that come with age. Some masks also contain retinol and niacinamide, which have anti-aging and skin-repairing properties.
People who have oily skin have a harder time finding the perfect overnight masks. Many Korean cosmetics companies have responded to this problem by creating masks that moisturize and repair your skin deeply but don't allow over-secretion of oil – so get one especially formulated for your skin type. On the other hand, people with dry skin can use hydrating masks and packs that target the drier areas of your skin and keep them well nourished.
If you have sensitive skin that often breaks out, opt for a non-comedogenic product. There are sleeping masks designed specifically to treat dryness, dullness, and dark spots. If you have any of these issues, opt for a product formulated especially for your skin type. Those with hypersensitive skin might also consider purchasing hypoallergenic alternatives. If you are over 30, opt for sleeping masks and packs that promise skin repair and rejuvenation.
Korean overnight masks usually focus on hydration and skin regeneration. Therefore, you will usually find hydrating ingredients such as glycerin and hyaluronic acid in them. Some masks may also contain anti-aging and skin-repairing ingredients such as retinol and niacinamide and have a gel-like or thick creamy consistency. However, they are non-comedogenic. Sleeping masks do not transfer onto your pillows and clothes, so you can sleep without any worries.
In case you are using any prescription topical medication or cream, consult your dermatologist before using any sleeping mask and the best way to apply or layer the sleeping mask with the topical medication.
Infographic: Korean Skin Care Routine With Sleeping Masks
Sleeping masks are applied before bed and left on overnight to provide intense hydration and nourishment to the skin. They are particularly popular in Korean skin care routines and known for their ability to brighten the skin. Check out the below infographic to learn how to use a Korean sleeping mask the right way to get the maximum benefits.

It is said that your skin will heal while you are sleeping at night. And the right product used at night absorbs thoroughly into the skin, offering you a radiant glow. Sleeping masks are a great addition to the regular skin care regimen. They minimize the fine lines, wrinkles, and other aging signs. In addition, the masks improve your skin tone, hydrate it, and keep it nourished. Some sleeping masks work like a magic product, exfoliate your skin, restore its health, and prevent skin damage. And the products listed in our article are free from harmful chemicals and effectively rejuvenate your skin.
Why Trust Stylecraze?
Shiboli Chakraborti is a certified skin care coach who advocates the importance of using Korean sleeping masks to repair and restore your skin. Before sleeping, she prefers using these masks because they provide a number of benefits for the skin. She has curated this list by researching about the products and analyzing their user feedback available on online platforms. The recommended masks will leave your skin feeling smooth and glowing the next morning.
Frequently Asked Questions
How do you wear a Korean sleep mask?
Take a glob of the sleeping mask on your fingers and gently rub it in your palms to warm it. Now, pat it on your skin. After waking up the next day, wash your face and gently towel dry to remove the dried sleep mask.
Can I use a sleeping mask every night?
No. Use a sleeping mask 1-2 times a week.
Do sleeping masks cause wrinkles?
No, sleeping masks reduce wrinkles and fine lines and moisturize dry skin.
Do you put moisturizer on before a sleeping mask?
A sleeping mask is the last step of your skin care routine. You should put moisturizer on before a sleeping mask to prevent your skin from getting dry too much when you sleep.
Can I use a sleeping mask in the morning?
Yes, you can wear a sleeping mask in the morning at the end of your skin care routine.