17 Best Korean Snail Creams In 2022
These specialize in hydrating your skin and boosting collagen to make your skin firmer.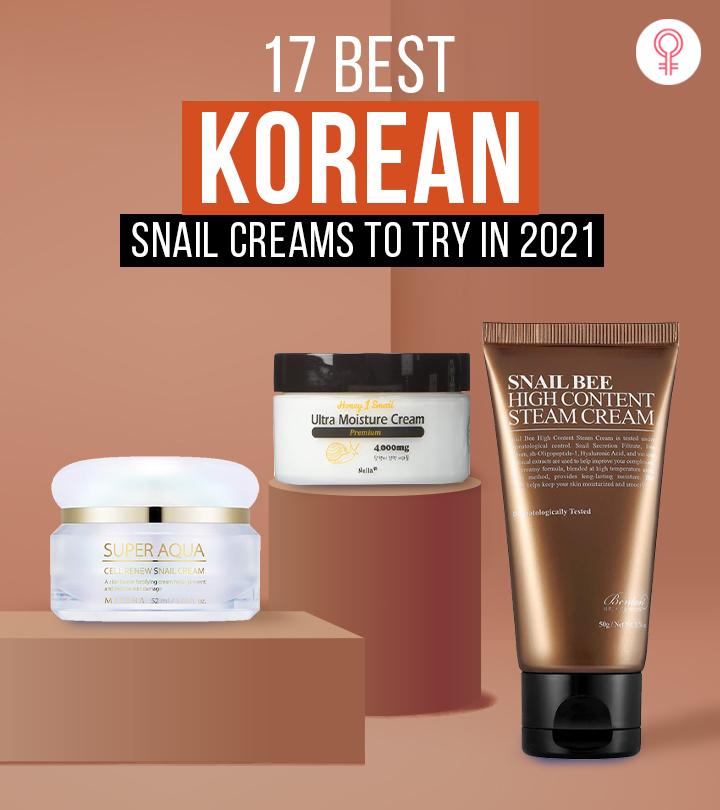 Korean beauty products seem to be all the rage nowadays, and the product that has caught everyone's attention is snail cream. If you happen to spot some fine lines or wrinkles on your skin, use the best Korean snail cream available on the market. It contains snail slime that helps in skin healing, fights inflammation, and promotes collagen production, giving you firm and tight skin. Due to its hydrating properties, snail cream is used to combat dry skin.
If you haven't tried one yet, take a look at our list of the best Korean snail creams you can add to your daily skin care routine. Scroll down for more information!
17 Best Korean Snail Creams
The Healing Moisture Black Snail Cream by APLB has a skin nurturing formula enhanced with the mucus filtrate of black snails. This luscious cream contains centella asiatica extracts, madecassic acid, asiatic acid, and asiaticoside. Together, these components promote skin regeneration, provide intense hydration, heal the skin, and have anti-inflammatory benefits. This product prevents moisture loss by forming a protective barrier over the skin and improves skin elasticity. Additionally, it enhances skin complexion, minimizes enlarged pores, fades fine lines, and reduces wrinkles. The cream has a light texture and gets absorbed effectively.  It gives your skin a healthy glow, reverses skin damages, and provides prolonged moisturization.
Pros
Fast absorbing
Lightweight
Non-greasy texture
Anti-aging properties
Calms down redness
Hydrating formula
Paraben-free
Synthetic dye-free
Cruelty-free
Cons
The rejuvenating snail cream from Benton is ideal for super dry and matured skin. The cream helps moisturize, balances sebum production, and tightens the skin. It is infused with snail secretion filtrate, hyaluronic acid, bee venom, and essential botanical oils formulated in high-temperature and pressure steaming settings for enhanced effectiveness. The snail mucus is rich in allantoin, elastin, mucin, and collagen, which reverses skin damage. Bee venom, with its anti-inflammatory properties, protect your skin from further damages. The jojoba seed oil in the cream controls excess sebum production. This lotion is super creamy, free from synthetic additives, and quick absorbing. Here's a personal review video to help you get a better understanding of the product.
Pros
Matte finish
Non-greasy
Boosts hydration
Doesn't clog your pores
Nondrying formula
Fragrance-free
Color free
Cons
The  Bergamo Pure Snail Wrinkle Care Cream work wonders on matured skin. The duo of aloe vera leaf extract and snail filtrate provides a moisturizing layer over the skin and locks in hydration. The formula soothes irritation and eliminates redness effectively. It has a lightweight texture and absorbs easily into your skin, leaving it super soft and plump. The snail cream is ideal for sensitive skin.
Pros
Non-greasy formula
Absorbs quickly
Hydrating formula
Softens skin
Improves complexion
Pleasant fragrance
Cons
This super hydrating snail cream from COSRX is fortified with 92% snail secretion filtrate. It is super hydrating, replenishes lost moisture, reverses skin damage, and strengthens the skin's natural barrier. Due to its lightweight gel-like texture, this cream gets quickly absorbed into the skin. The age-defying formula enriches with hyaluronic acid, betaine, and allantoin, reverses early signs of aging, and gives a youthful glow. The cream glides effortlessly on your skin and leaves it plump and revived. It heals redness, skin damages, irritations and provides deep moisturization and nourishment to your face with regular use. Watch this YouTuber's honest review to get a better idea about the product and its functions.
Pros
Lightweight
Absorbs effectively
Super hydrating formula
Dermatologically tested
Hypoallergenic
100% natural
Cruelty-free
Paraben-free
Sulfate-free
Phthalates free
Silicone free
Cons
Contains alcohol
Medicinal odor
This intense repair formula by Deoproce gives remarkable results with its unique ingredients. It contains Dioscorea japonica and licorice root extracts, which promote clear and even skin. The snail mucus filtrate retains moisture and keeps the face hydrated. It also helps fade acne scars and fastens your skin's healing process. The niacinamide present in this cream is a powerful anti-aging component that fades fine lines and wrinkles with ease. This regenerating formula contains various other potent ingredients like ginkgo biloba, aloe vera, olive leaf, and camellia acid that fortifies your skin. Click here to check out a detailed personal review of this product.
Pros
Stimulates collagen production
Minimizes enlarged pores
Artificial fragrance-free
Artificial dye-free
Lightweight
Gentle on skin
Softens skin
Cons
May cause breakouts
Greasy texture
Not quick-absorbing
This nourishing snail cream by Laikou is specifically formulated for acne-prone skin. It induces a healthy radiance, eliminates rough skin, adds deep hydration, and leaves your skin soft and supple. The snail mucus in the product has age-defying properties and reduces wrinkles, fine lines, blemishes, and pigmentation by promoting collagen production. The cream is fortified with essential antioxidants and nutrients that enhance skin regeneration. The formula is lightweight, absorbs easily into your skin, and can be used all year round.
Pros 
Quick-absorbing
Instant results
Boosts hydration
Non-comedogenic
Reduces acne scars
Reduces inflammation
Fades spots
Improves skin complexion
Cons
May cause irritation
Expensive
This eye cream by EyeNlip is enhanced with the power of black snail filtrate. It prevents moisture loss by forming a protective barrier over the skin and improves skin elasticity. The snail filtrate contains vital nutrients like allantoin, mucin, and glycolic acid, which keeps your skin healthy and smooth. The effective formula diminishes signs of aging like dark circles, wrinkles, puffiness and leaves the area around your eyes revived.
Pros
Creamy texture
Smooth application
Non-greasy
Super hydrating formula
Budget-friendly
Cons
The effective repair cream by Seoul Ceuticals has a high snail mucin filtrate concentration. This potent formula gives you a youthful appearance and healthier skin with regular use. It contains shea butter and jojoba oil, which forms a protective barrier over your skin, and provides intense nourishment. The organic green tea extracts fight acne and breakouts while soothing irritation. Vitamin E and provitamin B5 protect your skin from environmental aggressors and free radical damages. The organic aloe vera provides a cooling effect and calms redness. After application, it leaves behind a refreshing and rejuvenating citrus fragrance. This snail extract cream is suitable for oily, dry, combination, normal and acne-prone skin types.
Pros 
Non-comedogenic
Cruelty-free
Absorbs well
Mild scent
Cons
This potent elixir transforms your skin's complexion effortlessly. The LadyKin Affinitic Snail Cream is enriched with snail secretion extract that tones your skin and improves its texture. The cream smoothly glides over the skin while penetrating deep into its multiple layers to provide intense hydration and nourishment. The shea butter, peppermint, and lavender extracts rejuvenate your skin. This cream also contains loads of vitamins and minerals, promoting a youthful appearance and improving your complexion.
Pros
Non-irritating formula
Super moisturizing
Adorable packaging
Unscented
Absorbs effectively
Paraben-free
Colo- free
Fragrance- free
Cons
This nourishing Super Aqua Cell Renew Snail Cream by MISSHA fortifies your skin and addresses skin concerns while preventing further damage. It contains a higher concentration of snail mucus and physical stem extracts. These ingredients improve skin texture, while deep-sea ocean water and baobab extracts enhance your skin's elasticity. This nourishing cream possesses anti-aging properties like minimizing enlarged pores, fading fine lines, and smoothing wrinkles.
Pros
Lightweight
Non-greasy formula
Absorbs quickly
Induces a healthy glow
Hydrating formula
Pleasant fragrance
Cons
This premium moisturizing cream by Nella is enhanced with 4000 mg of snail mucus filtrate that stimulates collagen and elastin production. It works wonders on damaged, mature, and aging skin. The honey and snail mucin duo reverse premature aging. At the same time, macadamia nut oil and shea butter form a protective barrier over your skin to prevent moisture loss and provide intense nourishment. Vitamin E protects your skin from free radical damages, while hyaluronic acid retains lost moisture. This effective cream can be used as a sleeping pack, moisturizer, or makeup base.
Pros
Quick absorbing
Instant results
Calms redness
Hydrating
Cons
This super luscious snail cream contains 9000mg of premium snail mucin extracts. The formula leaves your skin feeling smooth, supple, and clean. The snail secretion filtrate helps improve your skin's texture and brightens your skin's complexion while fighting signs of aging. The royal jelly and honey extracts provide deep hydration and long-lasting nourishment, which gives your skin a natural and healthy glow.
Pros
Intense hydration
Quick absorbing
Induces a healthy glow
Cons
This anti-aging day cream by Victoria Beauty is enriched with the goodness of snail extracts and ingredients like retinol, vitamins C and E, elastin, allantoin, glycolic acid, and collagen. These ingredients help fight wrinkles, rejuvenate your skin and strengthen your skin's natural barrier. The hyaluronic acid replenishes the lost moisture in your skin and locks in hydration. The chamomile extracts soothe itchiness, dryness, redness, and irritation with ease. The potent plant extracts like shea butter, grapeseed, argan, and cocoa oils provide a boost of moisturization and nourishment to your skin to keep it youthful and bright.
Pros
Prolonged hydration
Lightweight
Absorbs effectively
Long-lasting
Cruelty-free
Comes with a money-back guarantee
Cons
This unique Black Snail Collagen Eye Cream by COXIR repairs, firms, and lifts the skin around the eyes. The powerful formula contains collagen, snail mucin extract, and black bean extract and has anti-aging and restorative properties. This eye cream gives the skin a youthful glow and radiant appearance by diminishing dark circles and wrinkles. The snail mucin protects your skin from moisture loss and improves its elasticity. Moreover, this cream has a light texture and absorbs effectively into your skin without leaving a sticky feeling.
Pros
Quick absorbing
Spreads easily
Enhances skin texture
Reduces puffiness
Cons
Slimy texture
Takes time to show results
This powerful formula contains 27 botanical extracts and 90% black snail filtrate. This makes it a potent potion that effectively heals all skin problems with ease. The Black Snail All In One Cream by Mizon evens out the skin tone, minimizes the enlarged pores, and induces a healthy shine to your skin. Other ingredients like peptides, essential vitamins, and adenosine fortify your skin and nourish it. This cream has age-defying properties and minimizes blemishes, wrinkles, acne scars by improving collagen production and your skin's elasticity.
Pros
Absorbs easily
Semi-matte finish
Doesn't clog pores
Lightweight
Fades scars
Induces natural glow
Cons
This super lightweight gel-cream by Mizon comes with a fast-absorbing formula. The cream is infused with snail mucin extract that helps reverse skin damage and promote a healthy glow. It also contains centella asiatica that promotes skin regeneration, provides intense hydration, and fastens healing. The green tea extracts fight environmental aggressions, soothe your skin, and prevent acne. This cream also contains adenosine that improves the appearance of wrinkles to give a youthful appearance.
Pros
Fast absorbing
Lightweight
Non-sticky
Paraben-free
Artificial color-free
Artificial fragrance-free
Natural ingredients
Cons
The Snail Repair Eye Cream from Mizon has a multifunctional formula containing 80% snail filtrate extract. This cream is ideal for fading dark circles and improving crow's feet. Key ingredients like adenosine and peptides help improve skin elasticity and skin regeneration. Niacinamide improves the skin tone by removing dark spots giving a radiant complexion. This unisex cream deeply hydrates and tightens the skin around the eyes.
Pros
Hydrating formula
Dermatologically tested
Paraben-free
Color-free
Fragrance-free
Cons
Why Trust StyleCraze?
The author, Shiboli Chakraborti, is a certified skin care coach who believes K-beauty is gaining traction in the beauty industry today. Korean snail slime is her favorite skin care regimen, as it promotes firm, tight skin. After conducting extensive research and going through numerous online reviews, she listed the best Korean snail creams. Snail slime is a magical ingredient in skin care that promotes skin healing and fight inflammation.
Frequently Asked Questions
Does Korean snail cream lighten the skin?
Yes, Korean snail creams visibly lighten your skin while reducing the appearance of hyperpigmentation and discoloration. Also, they help promote the skin regeneration process.
Is a Korean snail cream a bleaching cream?
No, Korean snail cream is not a bleaching cream. It offers skin regeneration and adds radiance to your skin while reducing dark spots and hyperpigmentation. A Korean snail cream does not contain bleaching ingredients like hydroquinone.
Can a teenager use Korean snail creams?
Yes, teenagers can use Korean snail creams devoid of bleaching ingredients. Check the formula to ensure that you are not allergic to the ingredients listed.
Which is better for the face: snail cream or almond oil?
While both almond oil and snail cream have the potential to reduce hyperpigmentation and scars, snail creams offer visible results faster than almond oil.
Can I use sunscreen after Korean snail cream?
Yes, you can go ahead with your skin care routine after applying a Korean snail cream. However, do not forget to top it off with moisturizer and sunscreen to keep your skin smooth and free of UV damage.
Recommended Articles