10 Best Korean Sunscreens For All Skin Types – 2021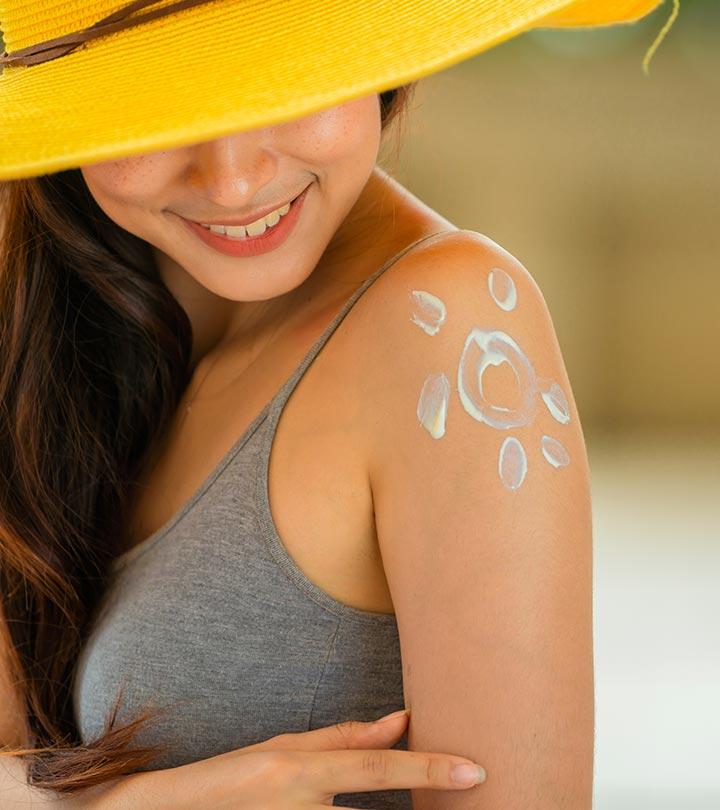 If there is one skin care product that you must never skip, it has got to be sunscreen. It is the first line of defense when it comes to protecting your skin from UV damage and photoaging.
Korean sunscreens are formulated with a special system (other than SPF) called the Persistent Pigmentation Darkening Test (or PA system). SPF protects you from UVB rays, but Korean sunscreens with SPF and PA protect you from both UVB and UVA rays. They are also more lightweight. Here are the best Korean sunscreens that you need to check out.
10 Best Korean Sunscreens For All Skin Types
This quick-absorbing and ultra-lightweight sunscreen contains natural ingredients and other active agents that have anti-aging benefits. It has broad-spectrum SPF along with PA+++ protection. It contains raspberry extracts that provide additional hydration to the skin.
Pros
Paraben-free
Sulfate-free
Phthalate-free
No greasiness
No white cast
Cruelty-free
SPF 50
Cons
None
Similar Products:
Make P:rem UV Defense Me contains natural ingredients and claims to lower your skin temperature. It has a 100% mineral filter the protects your skin from harmful UV rays. It is suitable for all skin types, including sensitive skin. It contains the stem cells of Rubus arcticus, a kind of berry that is rich in antioxidants.
Pros
SPF 50+
PA++++ (highest protection against UVA rays)
No white cast
100% safe ingredients
Cons
None
Similar Products:
You will be surprised by the way Etude House Sunprise Mild Airy Finish Sunscreen feels on your skin. It is so lightweight that it glides like a breeze on your skin. It also makes your makeup set effortlessly. If you have oily skin, this is the sunscreen for you. It does not irritate the skin and does not leave behind a white cast. Also, it provides high sun protection.
Pros
SPF 50+
PA +++ (high UVA protection)
Non-sticky
Non-greasy
100% mineral filter
Natural ingredients
Cons
None
Similar Products:
The ETUDE HOUSE Soon Jung Mild Defence Sun Cream protects your skin from external stress and the harmful effects of UV rays. It is enriched with panthensoside, a soothing ingredient that restores damaged skin. The pH-balanced formula with SPF 49 PA++ soothes irritated skin. This sunscreen moisturizes and brightens the skin without letting dust and impurities stick to it.
Pros
Hypoallergenic
Vegan
Non-sticky
Paraben-free
Mineral oil-free
No colorants
Fragrance-free
Talc-free
Urea-free
Paraben-free
Non-comedogenic
Contains SPF 49 PA++
Cons
Similar Products:
This is an ultra-mild sunscreen that is fit for people of all ages, including kids and infants. If you have extremely sensitive skin, try this product. It is formulated with mineral ingredients and does not contain any irritants or allergens.
Pros
SPF 50
PA++++ (highest UVA protection)
Paraben-free
Phthalate-free
No artificial fragrances
No mineral oils
No artificial colors
Cons
None
Similar Products:
Dr.Jart+ UV Every Sun Day Sun Fluid protects your skin not only from UV rays but also fine dust. It works on the same principle as magnets repelling each other. The product has the same electrical charge as fine dust, thus repelling it. The seaweed extracts and Cypress water extracts in this product soothe your skin and keep it moisturized.
Pros
SPF 50
PA+++
Paraben-free
Sulfate-free
Talc-free
Dermatologist tested
Hypoallergenic
No dyes and artificial fragrances
No mineral oils
No harmful chemicals
Cons
None
All A'Pieu products are tested on sensitive skin. A'Pieu Pure Block Natural Sun Cream has a creamy texture that prevents oil build-up on your skin. It contains natural extracts of apple blossom and aloe vera. It spreads easily and gets absorbed quickly. It contains a physical sunblock that protects your skin from harmful UV rays.
Pros
SPF 45
PA+++
Non-irritating
Safe for all skin types
Cons
None
This soft finish sun milk from Missha has a double layer UV blocking system that ensures longer than usual sun protection. It can hold up to water and sweat, and it does not melt in humid weather. It has a silky and porous powder-like texture that glides smoothly onto your skin.
Pros
SPF 50+
PA+++
Contains natural barrier complex
Gets absorbed quickly
Non-greasy
Cons
None
This product by Earth's Recipe has a serum-like lightweight texture. After applying it to your face, you won't feel like you have applied anything. It does not clog your pores, and it lets your skin breathe. Moreover, it does not leave behind any residue on your skin. It has a refreshing scent that fades away after a few minutes. It is suitable for all skin types.
Pros
SPF 50
PA++++
Paraben-free
Dermatologist tested
Hypoallergenic
PABA-free
No synthetic dyes and fragrances
No mineral oils
Cons
None
If your skin needs a serious boost of hydration along with sun protection, this product has got you covered. The Sun Cream by Cosrx contains aloe vera extracts that keep your skin moisturized and protect it from UVA and UVB rays. This cream gets absorbed quickly and does not irritate your skin.
Pros
SPF 50+
PA+++
Contains botanical extracts
Lightweight
Cons
May feel a bit greasy on oily skin
That was our list of the top-rated Korean sunscreens that you can buy. However, there are a few factors that you should always keep in mind before buying sunscreen. Check them out below!
Factors To Consider Before Buying A Sunscreen
Always choose a sunscreen that has broad-spectrum protection. This ensures that your skin is protected from both UVA and UVB rays.
Buy a sunscreen that has at least SPF 30. Avoid buying anything lower than that. Sunscreens with SPF 30 can filter 97% of the UVA and UVB rays.
When a sunscreen claims to be 'water-resistant', it does not mean that it won't wash off your skin. Check for the duration for which it lasts. It should be either 40 or 80 minutes. That means water-resistant sunscreen will stay on your skin for 40 or 80 minutes while you sweat or swim. You will then need to reapply for it.
When it comes to ingredients, it depends on how your skin reacts to different ingredients. Some may be allergic to chemical UV blockers while others may get skin rashes after using physical UV blockers. Which ingredient works best for you depends on how your skin reacts to it.
You will also notice a difference between ingredients used in US sunscreens and Korean sunscreens. The US FDA considers sunscreens as OTC drugs, so they have strict parameters for the ingredients that can be used in them. These rules do not apply to Asian products. However, you don't have to worry. Most manufacturers test all the ingredients used in skin care products for any adverse reactions.
Most Korean sunscreens are broad-spectrum products. Anyone who has used one will vouch for their spreadability and the fact that they never leave a white cast on the skin. Moreover, Korean sunscreens also contain antioxidants and other ingredients that are great for improving skin health. If you are yet to try out these K-beauty gems, grab one right now and give it a go!
Recommended Articles