Look Radiant With The 12 Best Korean Toners For Oily Skin
Rejuvenate your oily skin with the Korean beauty secret everyone's talking about.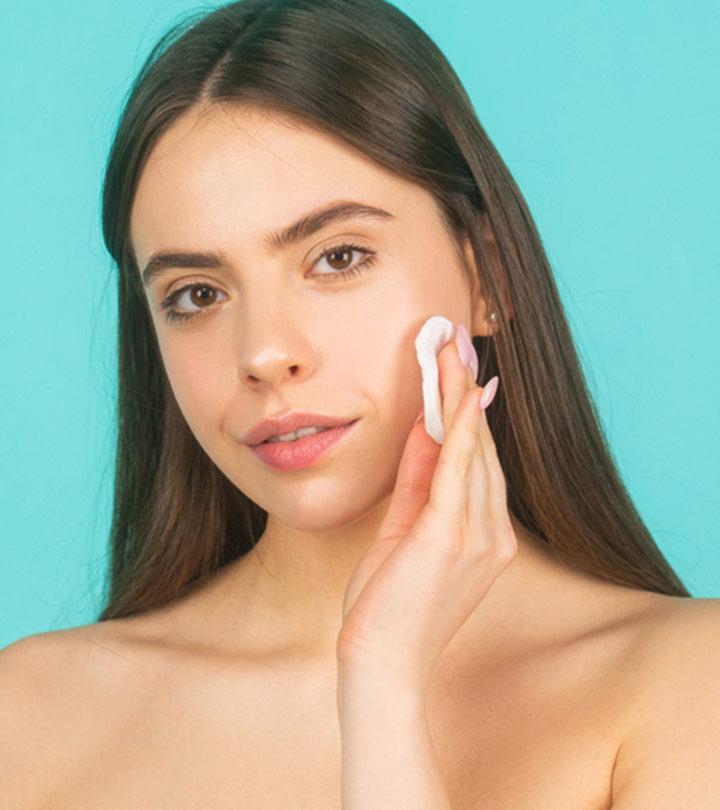 Sometimes, a single product is all you need to get rid of excess oil from your skin. That is when you turn to the best Korean toners for oily skin for help! Unlike the rest of the toners out there, Korean toners are full of organic ingredients that exfoliate, hydrate, and heal your skin. If you have oily skin, then the right toner will balance the pH level of your skin while reducing the extra greasiness. It can also control acne and prevent any irritation from developing on your skin. What's more? Korean toners cleanse your skin so well that they leave it with a shiny and radiant finish.
We have made a list of the best Korean toners out there to help you combat oily skin and give you the lovely skin you want. Scroll down to check them out right now!
What Exactly Does a Toner Do?
Facial toners for oily skin are responsible for removing any traces of dirt, sweat, grime, or makeup clogged in your pores. When used regularly, you will notice visible changes in tone, texture, and complexion. Consistent use will result in a glowing complexion without dark spots. With the right toner, smooth and firm skin is only one skincare step away.
12 Best Korean Toners For Oily Skin That's Worth Every Penny
This Korean toner for oily, combination skin is a crowd favorite, and for the right reasons! Its formula is filled with exfoliating ingredients like AHA and BHA acids and botanical ingredients like apple fruit water and willow bark water that hydrate and nourish the skin. Shawnda Dorantes, a skin care expert says, "Apple fruit water is rich in natural sugars and vitamins that can help attract and retain moisture in the skin, leaving it hydrated and plump. It also contains natural antioxidants, such as vitamin C and polyphenols, which can help reduce the appearance of fine lines and wrinkles, and promote skin elasticity and firmness." This toner soothes and balances oily skin without overdrying it. It is hypoallergenic, making it a suitable option for oily skin.  You can check this review of the product before adding it to your skincare regime.
Pros
Vegan
Cruelty-free
Paraben-free
Balances pH levels
Reduces excess sebum production
Cons
May not be best suited for sensitive skin types
Price at the time of publication: $18.6
How can we not bring up Klairs when we talk about Korean products for oily skin? With its enhanced formula, this toner is filled with anti-inflammatory properties that are suitable for oily and sensitive skin, too. It is crafted with nourishing ingredients like aloe vera, licorice root extract, and natural essential oils that your skin will love. Not only does it balance your skin's pH levels, but it also rejuvenates and restores the tone and texture of the skin. This hydrating toner for oily skin contains no synthetic fragrances, alcohol, or toxic chemicals, that make it a suitable option for all skin types. Watch this video on YouTube for a detailed analysis of the product.
Pros
No alcohol
Anti-inflammatory properties
Suitable for sensitive skin
No synthetic fragrances
Cons
In rare cases, it may cause skin irritation.
Price at the time of publication: $10
This Korean hydrating toner for oily skin is known for its gentle and refreshing formula that contains ingredients like organic rose water and lactic acid. It results in a glowing and exfoliated complexion. There are many benefits of adding this toner to your daily skincare routine, including calming inflammation and redness and its antioxidant-rich formula that hydrates and nourishes the skin. If this wasn't all, it also smoothes out your skin's texture and evens skin tone. If you need more information before purchasing, check this video on YouTube right now!
Pros
Provides hydration and exfoliation
Organic ingredients
Alcohol-free formula
Vegan
Cons
The smell may be overwhelming for some
Price at the time of publication: $23
Not only is this a good toner for oily, acne-prone skin because of its ability to soak up excess sebum, but it also provides 24-hour hydration. The formula is filled with active ingredients like green tea extract, white willow bark, hyaluronic acid, minerals, amino acids, and cica extract that relieve skin stress and provides a refreshing feeling. Shawnda Dorantes, a skin care expert explains, "Green tea extract contains natural antioxidants, which can help protect the skin from free radicals that can cause damage and premature ageing." The natural ingredients are non-irritating and can moisturize your skin without adding to the oiliness.
Pros
Non-toxic
Paraben-free
Sulfate-free
No synthetic fragrances
Organic ingredients
Dermatologist-tested
Provides 24-hour hydration
Hypoallergenic
Cons
Some may find the texture of this toner to be a bit watered-down.
Price at the time of publication: $19.9
This Korean toner for oily, sensitive skin is a triple threat that exfoliates, cleanses, and nourishes your skin for a smooth and glowing complexion. It contains glycolic acid and BHAs that make for excellent exfoliants, and its astringent properties are perfect for cleansing oily skin and controlling excess oil production. The BHA component unclogs pores, prevents breakouts from occurring, and ensures skin is cleansed deep within.
Pros
Prevents breakouts
Exfoliates skin
Controls sebum production
Improves skin texture
Cons
It may be too harsh for sensitive skin
Price at the time of publication: $16.5
Skinfood is considered one of the best Korean toner for oily skin brands in the market. This is because it is known for using organic ingredients like fermented rice wine, peach, and vitamins A and E, which improves the skin's overall health and brightens your complexion. The kojic acid results in a mild exfoliating effect that provides a smooth skin texture adored by all. It also has antioxidants that prevent free radical damage and protect the skin against environmental stressors.
Pros
Prevents free radical damage
Provides a brightening effect
Minimizes large pores
Controls excessive oil production
Cons
Price at the time of publication: $12
This is a must-have Korean skincare for oily skin because of its cleansing and hydrating properties. The gentle formulation includes aloe vera, snail mucus filtrate, usnea extract, and guava extract. All you have to do is apply a small amount on your whole face with the help of a cotton pad, and wait until the skin has absorbed it before moving on with your usual moisturizer. Within no time, you will have a refreshed, cleansed face that is smoother and firmer.
Pros
Hydrating properties
Paraben-free
No mineral oils
Contains 13 botanical extracts
Cons
May contain ingredients that are not cruelty-free
Price at the time of publication: $8.45
If you've been on the lookout for the best toner for oily skin and large pores, you can breathe a sigh of relief. We bring you this toner from Thank you, Farmer, which includes a concentrated formula that removes dirt, enhances skin texture, and balances its pH levels. It's filled with hydrating and nourishing ingredients like lotus flower extract, rice water, and cica extract that soothe, refresh, and prevent irritation for smooth textured skin and luminous glow.
Pros
Hypoallergenic
Dermatologist-tested
Paraben-free
No artificial colors
Cons
Some may not prefer the thick consistency
Price at the time of publication: $25.0
Your skin will thank you for adding this refreshing toner to your skincare routine. You can slather on this toner during the day and stay hydrated without looking greasy. This hydrating toner for oily skin does not over-dry the skin, and it includes nourishing ingredients like sake rice water, niacinamide, licorice root, cica extract, and prebiotic complex. All of them work together for firm, spot-free, soft, and healthy skin.
Pros
Paraben-free
No mineral oils
Alcohol-free
Moisturizing
Vegan
Cruelty-free
Cons
May not yield immediate results
Price at the time of publication: $15.99
The Soon Jung toner from Etude House is a Korean brand that heals damaged and irritated skin. The formula contains panthenol and madecassoside that have a cooling effect and naturally balance the skin's pH levels. The toner is especially suitable for sensitive skin as its pH level calms and soothes the skin. It is made from 97% natural ingredients.
Pros
Hypoallergenic
Dermatologically-tested
Non-comedogenic
Fragrance-free
Cruelty-free
Mineral oil-free
Synthetic perfume-free
Silicone-free
Paraben-free
Surfactant-free
Color additive-free
Cons
May cause tingling on the skin
Price at the time of publication: $27
This brand has a growing fan-following when it comes to Korean skincare for oily skin. Its main ingredient is cica extract, which helps calm the skin and balance its pH levels. It is also packed with antioxidants that protect the skin from free radical damage while preventing the onset of early aging signs like fine lines and wrinkles. The ingredients are plant-based, and there are no synthetic dyes or fragrances added to the formula, making it perfect for all skin types.
Pros
Vegan
Cruelty-free
No synthetic dyes or colors
All ingredients are EWG Green-Grade
Cons
May not be as hydrating as expected
Price at the time of publication: $13.2
Pyunkang Yul is a 46-year-old Korean brand treating skin-related issues. It focuses on the fundamental solution for long-term results. This mist toner is light on the skin and works deeper to provide the necessary nutrition for a healthy, glowy complexion. The key ingredient is milk vetch root extract that has powerful anti-inflammatory and anti-aging properties that improve skin elasticity.
Pros
EWG-safe ingredients
Color-free
Fragrance-free
Vegan
Certified as zero-irritation
Non-sticky
Suits sensitive skin
Cons
None
Price at the time of publication: $16.99
Those were our top 12 picks of the best Korean toner for oily skin. Many factors can influence your purchase and help you decide on the best Korean toner for oily skin. Here is a buying guide that will help you understand the main elements to look for when shopping for a toner.
How To Choose The Best Korean Toner For Oily Skin?
When you are looking for the best Korean toner for acne-prone skin, you have to look for ingredients that will help keep your skin healthy and oil-free. Look for exfoliates like AHA and BHA acids that will clean pores and reduce excess sebum production. Including green tea and aloe vera in your toners prevent inflammation and hydrate the skin. Always go for products that have natural ingredients.
When you are looking for the perfect Korean toner, you need to keep your skin type in mind. If you have oily or sensitive skin you must select products that will cleanse your skin and hydrate it as well. The toner should not clog your pores or cause an allergic reaction.
It is best always to steer away from harmful chemicals, regardless of what the skincare product is. Parabens, sulfates, mineral oils, and petroleum may strip your skin from its natural oils, bleeding it dry. Hence, stick to natural formulas that are hydrating and nourishing without the use of these chemicals.
Why Trust StyleCraze?
Kirtana Divakar, who wrote this article, is a zealous skin care fiend with a passion for Korean products. Korean products, like toners, have overtaken the skin care industry because of their natural ingredients and skin-enriching formulations. If you want to tone your oily skin, the author recommends using the products on this list. She studied each of these products and reviews across forums. Each of these toners offers benefits such as balancing pH levels, managing acne breakouts, regulating sebum production, and the absence of harsh elements.
Frequently Asked Questions
Are toners good for oily skin?
Yes, but you have to look for toners with ingredients that won't cause breakouts, clog pores and are paraben-free.
Should you use a toner every day?
If you want to see desired results, then yes, you need to use it daily. You can use them once or twice a day, after cleansing. If you notice that your skin is drying out, then reduce the usage to once a day.
Can toner cause acne?
Yes, some toners with harsh chemicals, alcohol, or allergens can cause skin irritations, breakouts, and acne.
What are the benefits of toners?
• Moisturizes the skin.
• Removes greasiness from the skin.
• Balances the pH level of the skin.
• Cleanses excessive sebum and dirt from the skin.
What is the best way to use a toner?
Wash your face with a cleanser and pat your skin dry. Apply toner to your skin with the help of a cotton pad. Finally, moisturize your skin with a cream or serum.
Recommended Articles