9 Best Korean Toners For Acne-Prone Skin Worth Your Money – 2022
Get the perfect glow on your skin with the best Korean toners for acne-prone skin.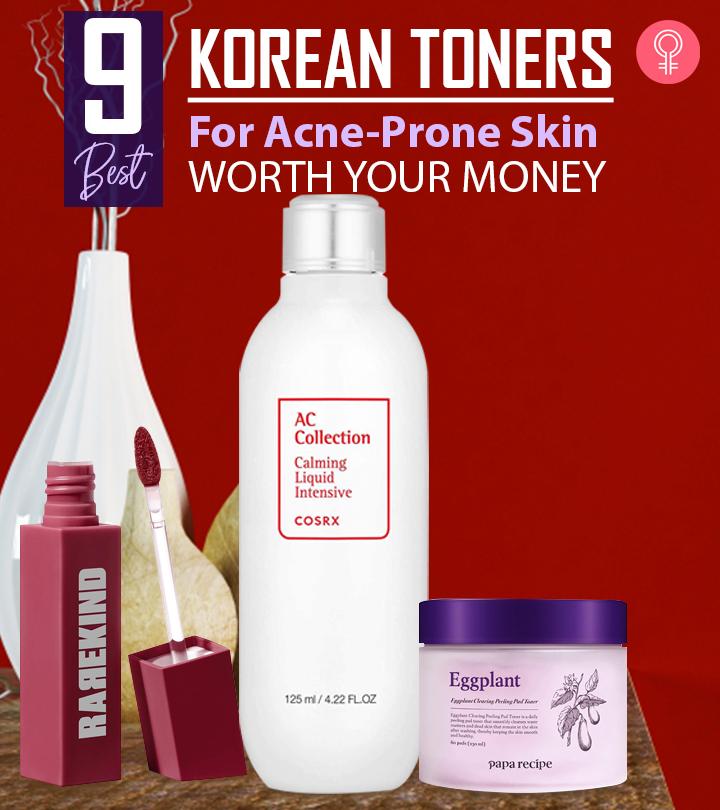 Oily skin can be incredibly frustrating, especially when you follow the ten steps of a daily beauty regime yet still can't seem to get that perfect glow. The best Korean toner for oily skin just might be the answer! Who better than Koreans, the masters of beautiful, youthful skin, know what to do about skin problems. Dr. Priya Gill, one of Malaysia's leading dermatologists, says," Korean toners seem to be very rich in hydrating elements and may be less drying than other toners."
What Is A Toner?
A facial toner is essentially a water-based skincare product that mildly cleanses the skin and shrinks the pores. It is an in-between step in your skincare routine that comes after cleansing and before moisturizing.
Toners have evolved from being basic hydrating sprays to complex formulations that address different skincare concerns, such as acne, dryness, redness, inflammation, dark spots, and sebum control.
How To Use A Toner?
Once you have cleansed your face with a cleanser, soak a cotton pad with the toner solution and wipe it across your entire face, neck, and chest area. Alternatively, you can also pour a few drops of the toner on your palm and gently dab it across your face or use a spray bottle to spritz it all over.
Let's now look at the best Korean toners for acne-prone skin.
9 Best Korean Toners For Acne-Prone Skin
The A.STOPClear Face & Body Toner is designed to control excess oil on the face and body, heal existing acne, and prevent the appearance of new pimples. It is formulated with raspberry extract, rich in glycolic acid, vitamin C, and antioxidants, to remove dead skin cells from the skin surface and make it smoother. The salicylate acid-rich white willow bark extract unclogs pores, and the propolis extract soothes irritated skin. This multi-functional full-body toner can heal acne around the face, chest, back, legs, shoulders, thighs, and buttocks.
Key Ingredients: Raspberry extract, White willow bark extract, and Propolis extract
Pros
Gentle
Non-irritating
Pleasant scent
Alcohol-free
PEG-free
Dermatologist-tested
Cons
The IOPE Derma Trouble Toner's lightweight and gentle formula is custom-made to target acne and other skin concerns, making it the best Korean toner for oily and acne-prone skin. It unclogs pores and reduces dark spots to revitalize dull skin. This toner is infused with willow bark extract that targets acne, controls excess oil production, and soothes irritation. It also contains peppermint extract that heals the skin and keeps it smooth and rejuvenated all day long.
Key Ingredients: Peppermint extract and Willow bark extract
Pros
Oil-free
Imparts glow
Gentle
Hypoallergenic
Non-comedogenic
Dermatologist-tested
Mineral oil-free
Fragrance-free
Cons
The Pyunkang Yul Acne Toner is a multi-functional astringent that addresses multiple skin concerns. It is the best Korean toner for acne-prone and sensitive skin due to its incredible calming properties. The Asiatic pennywort and tiger lily in the formula lends it anti-inflammatory and antibacterial properties. This duo works together with the Centella Asiatica extract to soothe skin irritation and minimize pores. The copper tripeptide helps in regenerating damaged skin.
The white willow bark extract in the toner contains natural salicylic acid and tannins to gently exfoliate the skin, unclog pores, boost cell turnover, and target acne breakouts. Other ingredients like green tea, niacinamide, and chamomile flower extract control excess sebum, heal damage and soothe the skin.
Key Ingredients: White willow bark extract, Green tea extract, Chamomile extract, Asiatic pennywort, Niacinamide, Centella Asiatica extract, Copper Tripeptide, and Tiger lily
Pros
Non-drying
Gentle
Non-greasy
Vegan
Cruelty-free
Alcohol-free
Fragrance-free
Colorant-free
Cons
None
The COSRX AC Collection Calming Liquid Intensive is designed to target acne and heal your skin for an overall healthy appearance. It is infused with propolis extract, which has anti-inflammatory and antimicrobial properties, to treat infected and cystic acne. It also hydrates the skin. While zinc PCA calms irritation and provides protection from external aggressors, the plant-derived alcohol exfoliates dead skin cells and controls excess sebum production. This toner is powered by the exclusive CentellAC-Rx Complex that soothes irritation, strengthens the skin's protective barrier, maintains its pH balance, and evens out the skin tone.
Key Ingredients: Propolis extract, Zinc PCA, Plant-derived alcohol, and Centella-Rx Complex
Pros
Gentle
No redness or irritation
Lightweight
Paraben-free
Cruelty-free
Cons
Contains alcohol
Expensive
The Problem-Solution Toner from Belief is a gentle herbal formula suitable for acne-prone skin. It is infused with tea tree oil and willow bark extract that prevent breakouts and naturally exfoliate the skin to make it look clearer. This skin-softening solution restores the skin pH level and tones down redness, giving your skin a silky-smooth appearance.
Key Ingredients: Tea tree oil and Willow bark extract
Pros
Alcohol-free
Lightweight
Non-drying
Gentle
A little goes a long way
Cons
None
The One Thing Citrus Unshiu Fruit Extract is a 100% organic toner with citrus unshiu fruit extract from Jeju island. It is filled with vitamin C, polyphenol, and flavonoids that improve skin tone and reduce blemishes. The citrus unshiu fruit extract contains hyaluronic acid to lock moisture in the skin.
Key Ingredients: Citrus unshiu fruit extract
Pros
Mild fragrance
Brightens the skin
Vegan
Cruelty-free
Cons
May cause a tingling sensation.
The Papa Recipe Eggplant Clearing Peeling Pad Toner is a soft and moisturizing exfoliator designed for acne-prone, sensitive skin. The 100% naturally derived, vegan viscose pads help in the gentle exfoliation of dead skin cells. They are infused with eggplant, tea tree leaf, and birch sap extract that moisturizes your skin and soothes irritation. These toner pads also contain a blend of fruit-derived AHA, BHA, and PHA that targets dead skin cells and improves nutrient absorption.
Key Ingredients: Eggplant extract, Tea tree leaf extract, Birch sap extract, and AHA Fruits Complex
Pros
100% vegan
Soft
Large size for full coverage
Cons
Strong scent
Contains alcohol
This toner from BE PLAIN is gentle, lightweight, and designed to restore the natural pH balance of the skin while deeply hydrating it. It is enriched with French chamomile flower extract that calms irritation, prevents breakouts, reduces acne, targets discoloration, and soothes and nourishes the skin for a natural glow. The Centella Asiatica extract strengthens and calms sensitive skin, promotes healing, and prevents future scarring and new blemishes without stripping the skin and making it dry.
Key Ingredients: Centella Asiatica extract and French chamomile flower extract
Pros
Lightweight
Gentle
pH-balanced
SLES-free
Paraben-free
Phthalate-free
Value for money
Cons
None
The Pyunkang Yul Essence Toner has a deeply nourishing and clean formula that hydrates and revitalizes dry skin. It contains milk vetch root extract, which is deeply absorbed into the skin to improve skin vitality and elasticity. It also has anti-inflammatory and soothing properties that calm troubled skin.
Key Ingredients: Milkvetch root extract
Pros
Non-irritating
A little goes a long way
Absorbed quickly
Vegan
Fragrance-free
Color-free
Cons
None
Why Trust Stylecraze?
The author of this post, Shiboli Chakraborti, is a certified skin care coach. After thorough research and an extensive read of many different products, she recommends these listed best Korean toners for oily skin. She also adds that these products help you reach your skincare goals faster. These toners are a must-have for oily skin. They are non-comedogenic, non-greasy, and are perfect for daily use.
Frequently Asked Questions
Are toners good for acne-prone skin?
Absolutely! Using a toner for acne-prone skin is an ideal way to remove impurities, nourish the skin, and tighten the pores.
What happens if you use toner every day?
Toners are gentle on the skin. You can use it once or twice every day to remove dirt and pollution from the skin. It also helps in shrinking the pores and improving skin texture.
How long do I leave the toner on my face?
Toner gets absorbed into the skin within minutes as they are water-based and skin-friendly. Leave it on and apply other skin care products like serum and moisturizer.
How do I know if my toner is working?
The results of using toner are not seen immediately. The results are only visible after 1 to 2 weeks of regular use. The skin starts appearing softer, brighter, and smoother.
Can toners make acne worse?
Alcohol-based toners can trigger acne and also increase the risk of breakouts, especially on acne-prone or sensitive skin types. However, if you use acne-friendly toner, they will instead be beneficial to the skin.
Why am I getting pimples after using a toner?
Adding new skin care products to your skin care routine can lead to breakouts or skin flaking. This process is called purging. This is quite normal, and will only exist for a short term. However, if you have acne-prone skin, always use an alcohol-free toner.
Recommended Articles