12 Best Makeup Products From Kylie Cosmetics
Kylie Jenner's makeup line has taken the beauty world by storm. The 21-year-old reality TV star has outdone herself by building a cosmetics empire worth $900 million. Whether or not she's really the 'youngest-ever self-made billionaire' is secondary (though a valid debate to have) – because her makeup line is utterly rad. Once you try out some of the products from her line, we bet you will think so too! So, here's a round-up of the 12 hottest makeup products by Kylie Cosmetics.
Top 12 Makeup Products From Kylie Cosmetics That You Need To Try
1. Skin Concealer
Review
The Skin Concealer from Kylie Cosmetics is truly special. Besides the fact that it comes in 30 different shades for every skin tone, its formula is a bliss to use. It is incredibly lightweight and provides medium buildable coverage, giving you a skin-like finish. So, whether you want to spot conceal, hide redness and other imperfections, or lighten your dark circles – this concealer gets the job done perfectly. If you wish to achieve a gorgeous, luminous finish, this is one concealer that you absolutely need to try!
Pros
Long-wearing
Suitable for every skin type
Available in a range of 30 shades
Great packaging
Cons
Needs to be set with a powder or it tends to crease
Purchase Link
www.kyliecosmetics.com
2. The Burgundy Palette
Review
This eyeshadow palette from Kylie Cosmetics is another best-selling product from her makeup line. It contains 9 warm-toned pressed powder eyeshadows – 5 mattes, 3 shimmers, and 1 satin finish pigment – to help you create a bunch of different looks. The packaging is pretty basic with its cardboard box and a magnetic enclosure. There is no mirror included or shade names printed on the palette. The pigment and texture vary from shade to shade, and they are all quite long-lasting.
Pros
Very blendable pigments
No creasing
Long-wearing
A good variety of shades
Cons
Purchase Link
www.kyliecosmetics.com
3. Lip Kit In Kristen
Review
Kylie's Lip Kits attained cult status the moment they were released. This one in the shade 'Kristen' is a warm brown berry lip color. You get a matte liquid lipstick and a pencil lip liner in the kit to help you create the perfect pout. The lip liner has a creamy texture that just glides across your lips, giving you easy and comfy application. The matte liquid lipstick is intensely pigmented and long-wearing. It does tend to dry out your lips – so, make sure you exfoliate and moisturize them before application.
Pros
Easy to use
Long-wearing
Pigmented
Available in a wide range of shades
Cons
Not suitable for dry, parched lips
Purchase Link
www.amazon.com
4. Lip Liner In Iced Latte
Review
On the hunt for a nude lip liner? Your search ends here with this creamy lip pencil in a deep nude brown shade. This shade can either be worn alone or layered with your favorite lipstick or gloss. It provides an extremely easy and comfortable application, so there is no tugging or pulling involved. It stays on well and also extends the staying power of your lipstick considerably.
Pros
Easy application
Pigmented color
Creamy and smooth texture
Blends well
Cons
Slightly pricey for a lip liner
Purchase Link
www.kyliecosmetics.com
5. The Wet Set Pressed Illuminating Powder
Review
Kylie's Wet Set Pressed Illuminating Powder features four cream-based highlighter shades – a silvery champagne, a rose gold, a pinky silver, and a deep champagne gold. All the four shades have a silky-smooth texture and provide intense color with just a single stroke. What's unique about this highlighter palette is the ultra soft shimmer in it that makes the highlighters go on metallic and add a lovely, radiant glow to your skin. Do give this palette a shot if you're into a more natural-looking highlight.
Pros
Blends well
Can be layered on
Sturdy packaging
Comes with a mirror
Cons
Purchase Link
www.kyliecosmetics.com
6. Lip Kit In Posie K
Review
This cool mid-tone berry lip color is very trendy at the moment. It's the winner of the 2017 Allure Magazine Best of Beauty Award for 'Best Bright Pink Lipstick.' The kit includes a matte liquid lipstick and a matching lip liner to go with it. Its comfortable formula also contains moisturizing ingredients that prevent your lips from drying out. The color definitely brightens up your entire look and is perfect for spring or summer.
Pros
Easy to use
Extremely pigmented
Long-wearing
Pleasant smell
Cons
If you have dry lips, you will have to moisturize thoroughly before applying this liquid lipstick.
Purchase Link
www.kyliecosmetics.com
7. Salted Caramel Kylighter
Review
The Kylie highlighters or Kylighters are available in six shades for every complexion. This one in 'Salted Caramel' is a warm mid-tone gold shade that looks gorgeous on medium skin tones. Its texture is soft and creamy and blends easily on the skin. The shimmer particles are very fine, so it leaves you with a subtle radiant glow.
Pros
Very pigmented
Looks natural
Blends easily
Available in six shades
Cons
Getting your hands on this can be a little difficult since it sells out very fast.
Purchase Link
www.kyliecosmetics.com
8. In Love With The Koko Liquid Lip Kollection
Review
Kylie's In Love With The Koko Liquid Lip Kollection consists of three matte liquid lipsticks and one lip gloss. The three liquid lipsticks go on very smoothly and last all day long without bleeding or budging. Their matte finish is soft and beautiful. Their formula is also transfer-proof. Coming to the lip gloss – it is a soft, shimmery mid-tone nude shade with a buttery yet non-sticky finish. This collection is good value for money and makes for the perfect addition to your lipstick stash.
Pros
Very pigmented colors
Comfortable to wear
Transfer-proof
Reasonably priced
Cons
The liquid lipsticks can be a tad bit drying.
Purchase Link
www.kyliecosmetics.com
9. The Royal Peach Palette
Review
The Royal Peach Palette contains 12 stunning pressed powder eyeshadows. Each color is super pigmented, and it has a good range of neutrals, peachy-toned shades, and also a bright royal blue. The palette also includes a big mirror and a brush that does an excellent job at blending. Overall, this is a really nice palette (even for beginners) that can be used to create a whole bunch of different eye makeup looks.
Pros
Extremely saturated
Blendable
Comes with a brush and mirror
Suits every skin tone
Cons
Purchase Link
www.kyliecosmetics.com
10. Blush In Barely Legal
Review
This blush in the shade 'Barely Legal' is a soft baby pink. This matte formula has a creamy, velvety texture and blends like a dream. What you will love most about this blush is how buildable the color really is – you can achieve a natural flush or a more intense one by adding a few more swipes. If you are looking for a subtle yet buildable blush, this one is perfect!
Pros
No shimmer
Buildable color
Blends well
Looks natural
Cons
Purchase Link
www.kyliecosmetics.com
11. Ultra Glow Highlighter In Santorini
Review
This shimmering silver champagne highlighter in the shade 'Santorini' is your secret weapon for creating that perfect Kylie glow. Its formula is extremely pigmented, and a little goes a long way. If you're someone with fair skin, this will look gorgeous on your skin tone. It is also easy to apply and blend, which makes it a great option for beginners.
Pros
Adds an intense glow
Long-wearing
Easy to apply
Blends well
Cons
Purchase Link
www.kyliecosmetics.com
12. Kylie's Coconut + Bare Lip Kit Combo
Review
Looking for a nude lip color? This kit is a must-try! It includes Kylie's famous coconut lip liner and a matte liquid lipstick in the shade 'Bare Velvet.' The liner and the lipstick make a great pair to give your pout perfect definition and volume. Coming to the formula of the liquid lipstick – it has a creamy texture that glides across your lips and settles into a heavenly matte finish. The staying power is what takes the cake with this one – it stays on all day long without budging.
Pros
Long-wearing
Creamy texture
Not very drying
Cons
Purchase Link
www.kyliecosmetics.com
Buying new makeup can be utterly satisfying, especially when you know it's going to be great! It is also fun to experiment and play around with new shades and palettes. So, don't be afraid to try something that you haven't before.
That was our round-up of the 12 best makeup products from Kylie Cosmetics. We hope this article helps you make the right choices, and you end up with makeup that works for you. What are you looking forward to trying? Let us know in the comments section below.

The following two tabs change content below.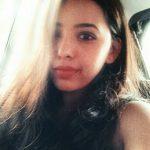 Latest posts by Esha Saxena (see all)