10 Best Lace Front Wigs For A Natural-Looking Mane
Get a strong wig that can withstand the craziest of days with a secure lace-front.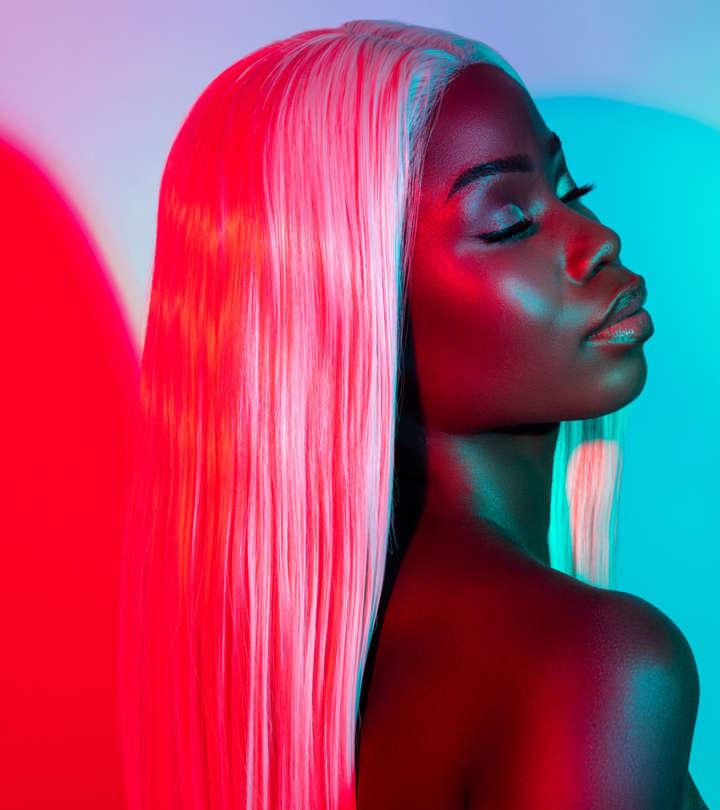 The best lace front wigs offer a very natural look suitable for multiple occasions. All you women who love experimenting with your hair but do not have the time or desire to cut, color, and style your hair often, lace wigs are at your rescue! These are extremely popular because of how seamless they appear.
If you have lost your hair for medical reasons and would like to have voluminous hair, you too can invest in lace front wigs. These are a quick and easy way to flaunt various hairstyles without spending a fortune at the salon. Choose from luscious curls to straight, sleek hair, or beachy waves to fancy brunette locks with these wigs. One thing to note is that some of these wigs are customizable which makes it an absolute beauty to flaunt. You can heat-style them and use products too to achieve different hairstyles. So, go ahead and check out our list of the best lace front wigs and find out more about them in this article.
10 Best Lace Front Wigs For A Seamless Hairline
One of the best synthetic lace wigs, this one by Joedir is undetectable and blends in with your hairline. It is made with high-quality heat-resistant synthetic fiber, which means you can style it according to your preference. 30 inches long, the wig has a cap that can be adjusted with straps and 3 steel combs for a firmer and comfortable fit. The cap has a 4-inch deep parting in the center and is made of breathable material. If you feel like the gloss dulls, you can wash the synthetic wig with some lukewarm water and shampoo for maintenance. Check out this video showcasing a tester's experience for a detailed review of the product.
Pros
 Made of heat-resistant fiber
 Easy to clean
 Long-lasting
 4-inch middle parting
 Adjustable cap
 Breathable material
 Available in 11 colors
 Easy maintenance
Cons
Price at the time of publication: $43.99
If you've been looking for short lace front wigs, this one is made of 100% human hair and has baby hair already cut out. Soft, tangle-free, and with minimal shedding, you can also wash and style this wig however you like. With 150% density, it gives you a voluminous boost and with the premium Swiss lace, you can achieve an effortless hairline. For a tight fit, the lightweight wig cap features combs and adjustable straps, so you have one less thing to worry about! Take a look at this video featuring a reviewer's experience to learn more about the product.
Pros
 100% human hair
 Beginner-friendly
 Soft and minimal shedding
 Tangle-free
 Adjustable cap with combs
 Adds volume
 Can be washed and styled
Cons
 The curl pattern might loosen up with time
Price at the time of publication: $69.8
For those on the hunt for lace front straight wigs, this one by ANDRIA uses heat-resistant synthetic fibers for silky strands. The flexible and adjustable cap features 3 small combs and breathable fabric. With the Swiss lace frontal cap, you can expect unmatched comfort and a hairline that blends in with your own for a natural look. The hairline is pre-plucked for convenience and a free parting ensures that you can part the wig however you like. Watch this YouTuber's honest review to get a better idea about the tester's experience of using the product and its features.
Pros
 Pre-plucked hairline
 Flexible and adjustable cap
 Breathable material
Heat-resistant synthetic fibers
 Natural-looking hairline
 Free parting
Cons
Price at the time of publication: $39.99
Made with 100% heat-resistant synthetic fibers, eNilecor's lace front wigs are ideal for sprucing up your look. Not only is the ash pink mane soft to the touch, it is half hand-tied with a natural-looking hairline that looks just like yours! The breathable net cap can be fixed firmly with the help of 3 combs and won't aggravate the scalp or cause hair loss. Style this pre-plucked lace front celebrity-inspired wig for parties or fun occasions to match your outfit.
Pros
 Soft
 100% heat resistant synthetic fiber
 Breathable net cap
 3 combs for tight fit
Easy to install and clean
Cons
Price at the time of publication: $47.99
At 24 inches, Elesty's curly blonde natural-looking lace front is what dreams are made of. It is also heat-resistant for up to 160°, so you can use heat styling tools with no worries whatsoever. A Swiss lace cap with 3 combs can be fitted securely and works even if your head is bigger than the average head side. Reviewers highly recommend its smooth and silky synthetic fibers, giving you a mane that will definitely turn heads.
Pros
 Heat-resistant
 Adjustable cap
 Silky and smooth
 Available in 9 colors and styles
 Secure fit
Cons
 Some might find it to be too thick and heavy
Price at the time of publication: $43.99
TaBeWay's real-looking premium lace front wig can be fastened with 2 adjustable straps and 3 combs. The soft hair wig is odor-free and gives you a natural hairline along with realistic-looking baby hair. With a sheer lace material mesh cap, your scalp gets enough blood flow and the installation is painless. Made with synthetic material that is resistant to heat, it has become a favorite for many reviewers. You can pick from 17 colors and types of wigs for cosplaying and themed-parties!
Pros
 Heat-resistant
 Breathable mesh cap
 Available in 17 colors
 Soft and odor-free
 Adjustable cap
Cons
 Some may find that it tangles quickly
Price at the time of publication: $42.9
One of the best human hair lace front wigs, this one from U-Nice comes pre-plucked with a flexible parting design. The added baby hair lends it a natural look and the wig can be permed, bleached, and styled however you prefer. With straps on the back, the mesh cap is adjustable and fits most head sizes. No split ends with minimal shedding and tangles makes this piece one of the best quality lace front wigs out there.
Pros
 Provides versatile parting options
 100% unprocessed hair
 Adjustable mesh cap
 No split ends
 Tangle-free
 Minimal shedding
Cons
 Some might find it to be too fine
Price at the time of publication: $186.98
NAYASA's got some of the best affordable lace front wigs and this ombre one has a soft texture and a glossy finish. The wig allows for freedom of movement while still holding its shape. With a T-part lace, the open construction enables breathability while the bands and clips can be used to adjust your size. To make the wig look realistic, a simulation scalp is attached to the crown. Manageable, easy to wear, remove, and style, this wig with highlights will take your hair game from 1 to 100 real quick. Several reviewers recommend this product for its comfortable fit and extremely natural look.
Pros
 Soft texture
 Holds shape
 Breathable simulation scalp
 Adjustable cap
 Easy to clean
 Glossy finish
Cons
 Some might find the lace to be thick to work with
Price at the time of publication: $39.99
These blonde human hair lace front wigs by HELLOSH are soft with minimal tangling and shedding. Pre-plucked with a 150% density, the wig is super voluminous with a T-parting. A medium cap with 4 combs and adjustable straps allows for a firm fit, so that the wig doesn't come undone and allows you to move freely. If you fancy something a little different, you can dye, bleach, or style the wig for a change as well.
Pros
 Adjustable cap with 4 combs
 Can be bleached and dyed
 Voluminous
 Soft texture
 Minimal tangling and shedding
 Made with 100% human hair
Cons
Price at the time of publication: $66.99
Aceolave's lace front wigs for African-American women use soft and silky natural human hair. With no odor or tangling, these wigs are bouncy and can be styled or dyed if you prefer. The natural pre-plucked hairline with a free parting and baby hairs gives a realistic hairline look. Fitting comfortably, the Swiss lace elastic net is breathable and has straps for adjustment. With no split ends, Aceolave's wig gives you a head full of natural-looking hair density that is sure to earn you lots of compliments.
Pros
 Natural human hair
 Thick and soft
 Breathable cap
 Odor-free
 No tangling
 Pre-plucked hairline and free parting
Cons
  Might not be resistant to shedding
Price at the time of publication: $84.99
Now that we've taken a look at some of the best lace front wigs on the market, let's learn how you can choose the best one for yourself.
How To Choose The Best Lace Front Wig
In order for the wig to flatter you, it needs to frame your face. Different shapes suit different types of wigs. Taking into consideration your face shape, you can move forward with the style, length, and color of your wig.
If your face shape is oval, a long wavy hairstyle, a shoulder-length flip, or an A-line bob will complement it. With this face shape, there's nothing you should avoid as most hairstyles can suit you.
Round face shapes will look great with long layers, lobs with side parting, or side wavy ponytails. However, you would do well to avoid a flat-looking pixie cut, mid-length voluminous curls, or bobs with blunt bangs.
A square-shaped face looks good with long waves, an A-line chin-length bob, or long layers with side bangs. You might want to steer clear of a sleek ponytail, a jaw-length blunt bob, or a pixie cut with blunt bangs.
Long face shapes would look good with long voluminous curls and medium bouncy curls. Long straight hair with side bangs might look less flattering.
Finally, heart face shapes can choose between curly side ponytails with or without side bangs and a medium layered hairstyle. They should avoid a voluminous bob that's extra short or blunt bangs.
If it's your first time trying out a lace front wig, it is recommended that you stick to your natural hair color and texture as much as possible. However, if you want to dye the wig with a color of choice later on, pick one that is made free of any artificial dyes. Ensure that the wig can also be bleached with no issues.
If you want a wig that is already colored, figure out your skin tone and work accordingly. Fair skin with cool undertones will look good with a warm red, a golden blonde, or a neutral brunette shade. Warmer undertones can opt for reddish or ashy tones like golden copper, strawberry or honey blonde, rich brown, or beige brown. Deeper skin tones can pick between shades of mahogany or copper if you have warm undertones. Cooler hues will suit a rich black, an icy dark brown, or a cool red brown well.
This is an incredibly important factor as it determines the fit and comfort of your wig. You can choose a wig size from small, average, and medium. A medium-sized wig fits almost all head sizes and is quite popular. A full lace wig cap that allows a bit of a stretch between the ears gives you a good fit at the back of your ears. Look for an elastic band that has adjustable straps behind the cap. 3 to 4 combs on the sides and back are also ideal so that the wig stays in place without moving. You should pick a cap made of a mesh or a net material to allow your skin to breathe.
Lace front wigs can be made of human hair or synthetic fibers. For the ultimate natural look, real human hair serves the purpose. Not only is this type of hair durable, it can also be styled easily and creatively. However, these types of wigs are generally more expensive and need some extra maintenance as they are quite similar to your natural hair.
Synthetic hair, if made of high-quality materials, can look and feel like human hair. But if it's cheaply made, you can easily tell the difference. This type doesn't offer as many options when you want to style it. They are more affordable when compared to human hair wigs but also slightly less durable. Lasting anywhere between 4 to 8 months, synthetic wigs don't need as much maintenance as the other kind. If you're opting for heat-friendly synthetic hair, however, you can use your heat styling tools to create a variety of hairstyles. They might be more prone to tangling and are the least durable, lasting anywhere between 2 to 3 months.
Check for a transparent lace front that suits all skin tones. Brown lace can be used on deeper skin tones. A pre-plucked wig that comes with baby hairs in the front looks realistic and blends well into your natural hairline.
After you've bought a wig of your choice, let's learn how you can install it to turn heads!
How To Install A Lace Front Wig
 Step 1: Before being able to wear your wig, you must first prep it. If you're using a human or synthetic wig that is unstyled, you can shampoo it before use. Using baby shampoo or dishwashing liquid, clean the wig to remove grease. Alternatively, you could also use a shampoo and conditioner made especially for wigs. The key is to use a formula that isn't loaded with chemicals.
 Step 2: If the lace of your wig doesn't match your skin tone, try a lace tint spray in your shade. You could also use makeup like a foundation or concealer, but this might give a caked-on look. A lace spray can be used on the inside, after which you can blow-dry the area to lock in the color. This will give you a seamless hairline.
 Step 3: Some wigs come pre-plucked, and this saves you time, effort, and trouble. However, if your wig isn't already prepared, you can use tweezers to get the job done. Just keep in mind to not let a harsh line show by plucking out 1 or 2 strands in different areas. Don't pluck out too many hairs from any one section only.
 Step 4: Before installing your wig, get your own hair out of the way by braiding or twisting it. You could also tie it into a bun or a ponytail. Wear the wig cap in such a way that all of your hair is fully covered. Use the straps at the back and the small combs to adjust the size of the cap according to your head.
 Step 5: If you're going to be using wig glue, use some alcohol pads to clean the skin beneath your hairline as makeup or oils can prevent the wig from sitting properly.
 Step 6: Place your wig where you want it and where you think it looks most flattering. If you find this difficult, you could draw some marks with an eyeliner in places where your natural hairline is.
 Step 7: Use the pointy end of a comb and part the hair right above your ear. Cut off the excess lace that is around your hairline and your ear. This step must be done neatly as we don't want to cover our ears or make the wig apparent.
 Step 8: Add some glue along the edges of your wig cap at the hairline without getting any on the hair itself. Blow-dry this glue on a low heat or cool setting such that it dries without looking tacky.
 Step 9: Pull the lace forward and ensure that it is where you want it to be before pressing it down. Dab some rubbing alcohol around your hairline edge to eliminate excess glue without wiping it on the lace.
 Step 10: Now your wig is ready to be styled or left as is!
Why Trust StyleCraze?
The author, Krati Darak, is a hair care enthusiast and writes well-researched product reviews for the readers. She also has an excellent understanding of different wigs and put together the list of the best lace-front wigs after researching tens of products and scrolling through a large number of user reviews. These seamless wigs sit naturally and look like original hair, and help you experiment with different hairstyles. Moreover, they come with breathable net caps and are easy to clean.
Frequently Asked Questions
Do lace front wigs damage hair?
If worn and maintained correctly, lace front wigs will not damage your natural hair.
Are lace front wigs reusable?
Yes, lace front wigs can be used repeatedly, are easy to style, and can last you for up to a year with proper care.
Can lace front wigs be taken off everyday?
Yes, it is best to remove your lace front wig before bed or a shower as this extends their lifespan. They might get damaged easily during sleep or when in contact with water.
How long do lace front wigs last?
With proper care and maintenance, lace front wigs can last you anywhere from 9 to 12 months depending on the quality and brand.
Which is better – full lace or front lace?
Front lace and full lace wigs have their unique benefits. While front lace wigs are budget-friendly, full lace wigs are expensive. However, full lace wigs provide better breathability to hair than front lace wigs.
What wigs do celebrities wear?
Most celebrities prefer front lace wigs as they are easy to wear, versatile, and less expensive. These wigs impart a perfect look for events and help style hair as per personal preferences.
Is it OK to sleep with your front lace wig on?
Yes, it is okay to sleep while wearing a front lace wig, but this can decrease the wig's durability.

Recommended Articles