12 Best Lactic Acid Products Of 2022: Benefits & Buying Guide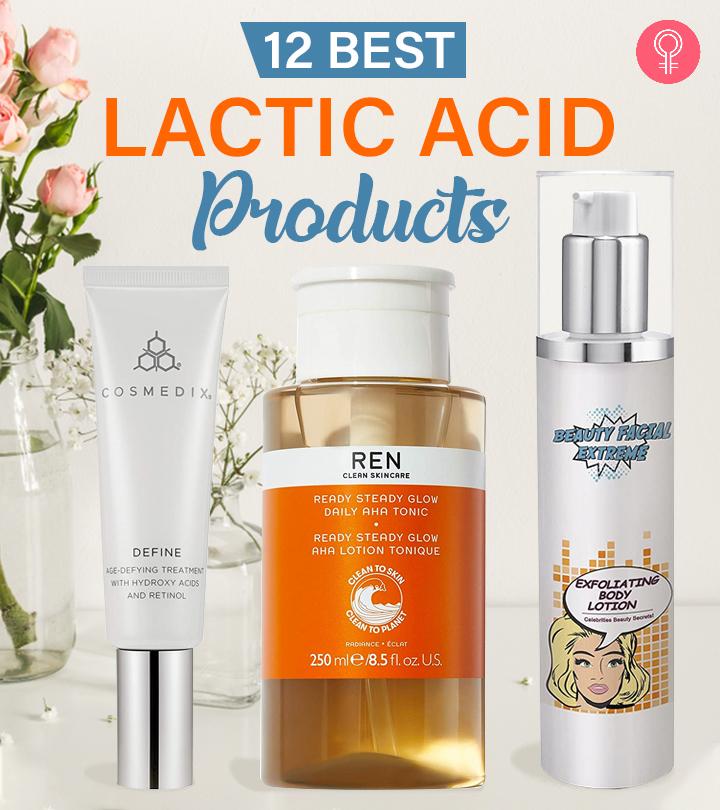 If you're looking for a one-stop solution for your skin woes, the best lactic acid skincare products are a must-have! The mild alpha hydroxy acid (AHA) exfoliates dead skin cells gently while reducing acne scars, dark spots, and wrinkles. With daily use of lactic acid, you can get firmer, softer, and smoother skin. If you are new to the world of skincare using lactic acid, then start here. Listed below are a few products with lactic acid. So, take your pick from the range of moisturizers, exfoliants, and everything else you need for glowing skin! It's time to give your skin some lovin'!
12 Best Lactic Acid Products For Flawless Skin
Have combination skin and are looking for a good moisturizer? Try the Mario Badescu Buttermilk Moisturizer. It contains the goodness of lactic acid that helps fade dark spots, acne scars, and blemishes.
This lightweight, breathable moisturizer contains allantoin and chamomile that soothes and calms irritated skin. It has an instant hydrating effect, gets absorbed into the skin quickly, makes it soft and smooth, and minimizes pores. Use a pea-sized amount to reveal beautiful and glowing skin. This product is suitable for combination and dry skin types.
Pros
Lightweight
Reduces fine lines and wrinkles
Corrects uneven skin tone
Improves texture
Cruelty-free
Cons
The REN Ready Steady Glow Daily AHA Tonic is a dual-action exfoliator formulated with fruit acids that help remove dead cells and cleanses the pores. The natural lactic acid (AHA) in this toner helps slough off the upper dead skin layer and smoothes the skin texture. Salicin (BHA) from willow bark extract dissolves pore buildup and unclogs and refines the pores to brighten and re-energize the skin. Azelaic acid from grains helps boost the skin's natural glow, reduces hyperpigmentation, and evens the skin tone.
If you have sensitive skin, use it once a week to prevent irritating your skin. To use the toner, dab it on a clean cotton pad and swipe it across the face and neck in an upward motion. Click on the video to find an honest review of the REN Ready Steady Glow Daily AHA Tonic.
Pros
Prevents breakouts
Vegan
Cruelty-free
Gluten-free
Recyclable packaging
Cons
If you are struggling with a host of skin problems like dull skin, hyperpigmentation, wrinkles, and enlarged pores, you will be surprised how well Sunday Riley Good Genes All-in-One Lactic Acid Treatment works. This multi-tasking lactic acid serum rapidly exfoliates the skin and reveals naturally youthful radiance. It visibly reduces fine lines, wrinkles, sunspots, and dark spots.
The high potency, pure-grade lactic acid exfoliates dull and dead skin cells while removing dirt and gunk from clogged pores to clarify and reveal smooth and clear skin instantly. The skin-brightening licorice reduces discoloration and hyperpigmentation caused by sun exposure for a brighter, even-toned skin. Apply it after toning to leave your skin feeling hydrated, firm, and plump. Take a look at the honest review of the Sunday Riley Good Genes All-in-One Lactic Acid Treatment to better understand the product.
Pros
Paraben-free
Sulfate-free
Mineral oil-free
Vegan
Cruelty-free
Gluten-free
Recyclable packaging
Cons
If you have an extremely dull skin that needs immediate and regular attention, try the theraderm Fruit Acid Exfoliant. It is a toner with 10% lactic acid that helps exfoliate dead skin cells and reveal healthy, smooth, and soft skin underneath.
This lactic acid toner minimizes pores, improves the skin's permeability to other products, prevents premature aging, and reduces the visible signs of aging like wrinkles and fine lines. It also brightens the skin and evens the skin tone, revealing younger-looking and healthy skin.
Pros
Contains unbuffered lactic acid
Can be used regularly
Paraben-free
Gluten-free
Cons
Expensive
Contains alcohol
Not just face, your whole body needs equal attention. And if you are on the lookout for a good lactic acid lotion for your body, try the DRMTLGY Exfoliating Body Lotion with 12% lactic acid. It is perfect for dry, rough, bumpy, peeling skin, and also works well for keratosis pilaris and folliculitis. The clinically proven formula stimulates cellular regeneration for younger and smoother skin. With a balanced blend of alpha hydroxy acids, this lotion exfoliates and moisturizes the skin, leaving it feeling soft all day long.
Pros
Suitable for dry and flaking skin
Oil-free
Paraben-free
Sulfate-free
Hormone-free
Gluten-free
Formaldehyde-free
Cruelty-free
Pump dispenser
Cons
If you have dry and aging skin, COSMEDIX Define with alpha-hydroxy acids can help brighten and smoothen it. This multi-tasking cream formulated with lactic acid, malic acid, and tartaric acid exfoliates and refines the skin texture. It prevents free radical damage, and the soothing botanical ingredients improve skin tone without dryness.  The 2% AGP in the cream visibly reduces fine lines and wrinkles. Use a small amount on a clean face 2-4 times a week at night to get a firm, hydrated, and youthful skin.
Pros
Improves skin texture
Hydrating
Fragrance-free
No harsh chemicals
Cons
Expensive
Contains alcohol
If you have age spots, sunspots, hyperpigmentation, wrinkles, and fine lines, consider using QRxLabs Lactic Acid 50% Gel Peel. This professional-grade chemical peel contains lactic acid (50%), kojic acid, bearberry extract, and licorice root extract. It effectively fades dark spots, sun spots, age spots, acne scars, and hyperpigmentation.
The peel improves skin texture and reduces wrinkles and fine lines to make it appear even-toned and healthy. This exfoliating gel is as effective as any other expensive spa treatments. The thicker texture prevents it from trickling down. However, remember, it is a potent exfoliating agent. Always do a patch test before using it on your face.
Pros
Thick texture
Artificial color-free
No fragrance
Paraben-free
Cons
The perfect image Lactic 50% Gel Peel is enhanced with kojic acid, licorice, and bearberry extracts. This highly concentrated lactic acid peel exfoliates dead skin cells, fades hyperpigmentation, acne marks, and promotes collagen and elastin synthesis. The kojic acid inhibits melanin production to brightens the skin, while the green tea and cucumber extracts revitalize it and add a youthful glow. Use it once or twice a week, along with following a regular skin care routine, to see a visible improvement.
Pros
Cruelty-free
Paraben-free
Gluten-free
Phthalate-free
SLS-free
GMP certified
Cons
Not suitable for sensitive skin
Rough, dry, and scaly skin requires hydration. But first, you must get rid of the upper dry and dead skin layer. The Mystic Moments Biorigins Lactic Acid is the perfect peeling solution for that. This 80% pure lactic acid must be diluted down to 5%-20% to make it milder and non-irritating to the skin. It helps slough off the top dead and flaky skin layer to reveal soft and glowing skin. However, you must use sunscreen if you step out, as alpha hydroxy acids (AHAs) make the skin photosensitive.
Pros
Vegan
100% natural
Professional-grade face acid
Cons
May not suit sensitive skin
The Beauty Facial Extreme Exfoliating Body Lotion contains 12% lactic acid. It is formulated with a unique blend of fruit acids and rich emollients that helps smooth rough and dry skin and promotes cellular regeneration. This lotion work wonders for dry and flaky skin on the feet and hands and softens stubborn calluses. It also effectively manages keratosis pilaris and body acne. Check out the video to know all about the Beauty Facial Extreme Exfoliating Body Lotion.
Pros
Clinically proven
Not tested on animals
GMP certified
FDA-approved
30 days money-back guarantee
Cons
None
The Biossance Squalane + Lactic Acid Resurfacing Night Serum is perfect for your nighttime skin care routine. This 10% vegan lactic acid serum is formulated with lavender, clover, and squalane. It gently exfoliates dull and dead skin, accelerates skin cell turnover, locks moisture, calms irritated skin, and minimizes the damaging effects of dust, pollution, and overexposure to blue light. This serum works overnight and gives you baby soft, firm, bright, and glowing skin by the morning.
Pros
Vegan lactic acid
Reduces redness
Brightens the skin
Adds a youthful glow
No toxins
Free of harsh chemicals
Eco-conscious packaging
Cons
Aging is a natural process. But if you want lock time and throw away the key, Instaderm Anti-Aging Exfoliating Peel Pads can be your calling. These clinically proven, anti-aging chemical peel pads are recommended by top dermatologists and are infused with lactic, salicylic, and glycolic acids to lighten and brighten your complexion.
The medical-grade botanical extracts improve dullness, sagging, age spots, enlarged pores, and rough skin. They smooth fine lines and wrinkles and prevent cellular damage. These peeling pads gently exfoliate and reduce acne scars, regulate sebum production, and eliminate blemishes for healthier and younger-looking skin. You can use them on your face, hands, and neck. They are suitable for sensitive skin, oily, and dry skin.
Pros
Clinically proven
Medical-grade botanical
Paraben-free
Alcohol-free
Sulfate-free
Cruelty-free
Cons
These are the 12 best lactic acid skin care products you can use to get a beautiful, radiant, younger-looking skin. But before you decide which one to go for, here's a list of benefits of using skin care products with lactic acid. Scroll down.
Benefits Of Using Skin Care Products With Lactic Acid
It exfoliates dead skin cells and encourages new cell formation. This, in turn, makes the skin healthy and glowing.
It smoothens and softens the skin.
It reduces hyperpigmentation, dark spots, and sunspots.
It improves skin permeability, enhancing the efficacy of other skin care products.
It clears pores, whiteheads, and blackheads.
It reduces fine lines and wrinkles.
For sure, you will see visible results in just a few weeks of using lactic acid products. But things can go wrong if you do not choose the right product. How to do that? Take a look at the following checklist.
How To Choose A Good Lactic Acid Skin Care Product
Choose a lactic acid skin care product with at least 10% lactic acid for visible results.
Check if the product contains any ingredient that you are allergic to.
Use a product that has soothing ingredients like aloe vera and lavender.
Use a gentle exfoliator with lactic acid, glycolic acid, and skin-soothing botanicals.
Should You Avoid Using Lactic Acid Products?
Lactic acid is good for your skin, but in higher concentrations, it can burn sensitive skin. If you have active cystic acne, it is best to wait for a few days before using a lactic acid peel or exfoliant. The best way to go about it is to do a patch test and see if your skin swells or becomes red.
Why Trust StyleCraze?
Oyendrila Kanjilal, who penned this article, is a certified skin care coach and our resident skin and hair expert. She has a penchant for finding the best products to cater to your skin type and needs. She poured through many reviews and feedback to find the best lactic acid skin care products so you can make your skin bright and firm. She selected this list on the basis of ingredients added, and additional skin care benefit like exfoliation.
Frequently Asked Questions
What percentage of lactic acid is most effective?
Any concentration between 10%-30% is the most effective
Can you use lactic acid if you are allergic to milk?
Yes. You can use a lactic acid peel if you are allergic to milk protein as the issue is related to the digestive system.
Which is stronger – glycolic or lactic acid?
Glycolic acid is the strongest AHA as it has the smallest molecule size.
Is it okay to use lactic acid every day?
No. If used too often, the acid may irritate the skin. It is best to use any face acid, not more than once or twice a week.
Can you use lactic acid and vitamin C together?
No, you should never use lactic acid and vitamin C together. It can destabilize the pH of your skin and make it burn and breakout.
Is lactic acid good for acne?
Lactic acid is good for improving acne. However, if you have active acne, use the lowest concentration (2%-5%) of lactic acid to minimize flare-ups. This will dry the acne and speed up healing.
Recommended Articles