 Ladies, if you love makeup, we're sure you understand the significance of finding the perfect eyeshadow palette. Playing up your peepers with some color not only makes them pop but also adds a whole lot of depth and dimension to them. Lakme's present range of eyeshadows offers a variety of colors that are insanely pigmented and super long-wearing. We've rounded up 7 of the best Lakme eyeshadow palettes that are available in India right now. If you're on the hunt for good-quality, budget-friendly options, read on to find out more.
7 Must-Have Lakme Eyeshadows For Every Occasion
(The Most Underrated Eyeshadow Formulas From Your Favorite Local Drugstore Brand)
Review
With the four-in-one magic of this quartet from Lakme's 9 To 5 range, unleash the ultimate drama within your eyes. This little palette consists of three rosy colors and a golden beige that work beautifully together. Its radiant color pigments are combined with a bit of shimmer, making this quartet ideal both for daily wear and special occasions. Also, just FYI, these rose gold shades flatter every skin tone.
Price at the time of publication: ₹506
2. Lakme Absolute Illuminating Eyeshadow Palette – French Rose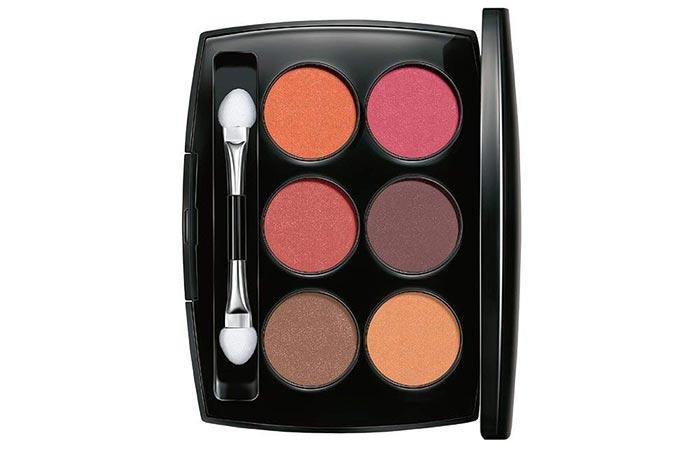 Review
The French Rose palette from Lakme's Absolute range is one of the most popular eyeshadow palettes from the makeup line. Why? Well, it's the perfect composition of six essential shades that can be used to create an array of looks for every mood and occasion. You get a rosy pink, a muted pink, a shimmery orange, a muted matte brown, a deep purple, and a shimmery gold. Did we mention how pigmented these colors are? This is the ultimate go-to palette for every skin tone.
3. Lakme Absolute Illuminating Eyeshadow Palette – Nude Beach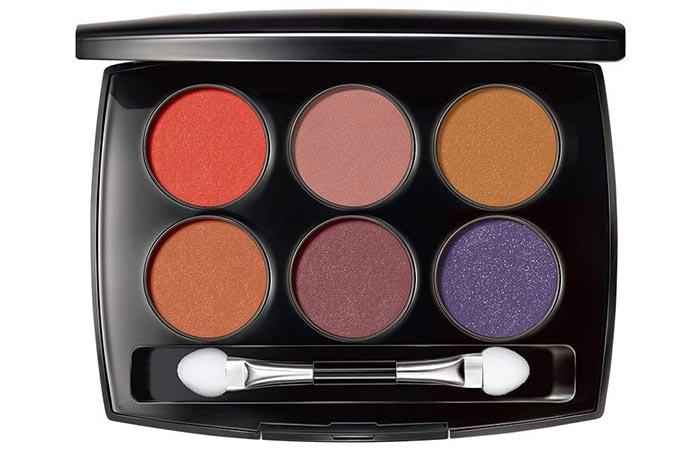 Review
Nude Beach is the newest eyeshadow palette from Lakme Absolute's Nudes Collection. This pretty palette has six warm-toned satin and shimmer finish shades that are perfect for creating the classic earthy princess look. We love how versatile these shades are, and how there is something for everyone in this palette. Whether you're getting ready for work or a party, this is one palette that will certainly come in handy for every kind of avatar, be it simple or bold.
Review
If you're looking for something that is a little edgy, you need to check out this palette. This quartet has four unique shimmery shades: a dark purple, an emerald green, a rusty copper, and a yellow gold. These shades are so vivid that they leave you with a high-intensity, defined finish. It's the perfect palette for your next night out. You won't even have to worry about fallout with these shimmers as they stay in place no matter what.
Review
Like its name, Royal Persia from Lakme's Absolute range is curated to create a glamorous and exotic Arabian look (think of Princess Jasmine from Aladdin). It consists of six shades: a cool-toned teal-blue, a matte plum, a matte rich gray (with blue undertones,) a satin cranberry, a satin coral pink, and a pale gold shimmer. If you're into bright and vibrant colors, this palette will make you very happy. It's especially great for parties and special occasions.
Price at the time of publication: ₹995
Review
If you are a fan of smokey eye makeup and dirty golds, this quartet has got to be your pick. It contains four shimmery shades: a gold, a bronze-gold, a silvery gray, and a metallic gray. You can't use these shades on their own, but they amp up your glam level when combined with matte eyeshadows. Don't forget to apply a primer before applying these shadows are they are oh-so-soft and buttery!
Price at the time of publication: ₹520
Review
Silk Route from Lakme's 9 to 5 range contains four distinct shimmery shades: royal purple, salmon, dusty gold, and metallic blue-gray. All the colors are incredibly pigmented and have a smooth texture. However, you will have to combine this quartet with matte shadows for a complete look. It's ideal for evenings and nightwear.
Price Range
Eyeshadows from Lakme's 9 To 5 range cost Rs. 650. The eyeshadow palettes from its Absolute range cost Rs. 950. For their level of quality, they are considered to be quite affordable as opposed to eyeshadow palettes from other more luxurious brands.
Eyeshadow palettes are a great investment. (I mean, come on, they usually last you for like an eternity.) They also make for great holiday gifts for your friends because they'll definitely love to add them to their collection.
That was our round-up of the 7 best Lakme eyeshadow palettes. Which one are you excited to try? Let us know in the comments section below!
Frequently Asked Questions
Are there any specific tips or techniques for applying Lakme Eyeshadows effectively?
• Start with priming your lips with eye primer.
• Apply and blend a nude eyeshadow that complements your skin tone.
• Color your eyes with the eyeshadow shade you want and again use nude eyeshadow to blend the color and create a softer effect.
• Define your lash line with an eyeliner and use a mascara to amp up your lashes.
How often is it safe to use Lakme Eyeshadows on my eyes?
You can safely use the Lakme eyeshadows daily.
What color eyeshadow looks natural?
Brown, tan, and beige are a few natural eyeshadow colors. They are ideal for a subtle everyday look.
Recommended Articles
The following two tabs change content below.